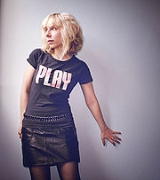 Leather skirt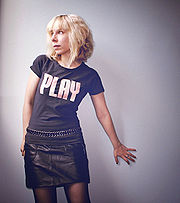 A
leather skirt
is a
skirt
Skirt
A skirt is a tube- or cone-shaped garment that hangs from the waist and covers all or part of the legs.In the western world, skirts are usually considered women's clothing. However, there are exceptions...
made of
leather
Leather
Leather is a durable and flexible material created via the tanning of putrescible animal rawhide and skin, primarily cattlehide. It can be produced through different manufacturing processes, ranging from cottage industry to heavy industry.-Forms:...
. Although durable material, the particular combination of style and material makes for a certain fashion statement. Leather skirts appear in a variety of lengths and styles.
Fashion
Use varies with current trends in fashion, eg. during the 80s and 90s they were a popular item on the catwalks with popularity dwindling in the early 2000s.
Suitability
A short leather skirt might be regarded as more sexy than an equivalent short skirt of other material, and thus as more suitable to a night out than as office wear. A long leather skirt might look professional and chic without looking too sexy for the office.
Subculture
Leather garments, including skirts, see use in
heavy metal
Heavy metal fashion
Heavy metal fashion is the style of dress, body modification, make-up, hairstyle, and so on, taken on by fans of heavy metal, or, as they are often called, metalheads or headbangers.-Origins:...
,
goth
Gothic fashion
Gothic fashion is a clothing style worn by members of the Goth subculture; a dark, sometimes morbid, eroticized fashion and style of dress. Typical Gothic fashion includes dyed black hair, black lips and black clothes. Both male and female goths wear dark eyeliner and dark fingernails. Styles are...
and BDSM subcultures.
Gender
Like other skirts in
western culture
Western culture
Western culture, sometimes equated with Western civilization or European civilization, refers to cultures of European origin and is used very broadly to refer to a heritage of social norms, ethical values, traditional customs, religious beliefs, political systems, and specific artifacts and...
they are almost exclusively worn by women, but there are movements, such as MIS that fight for making them acceptable for everyday wear by men.