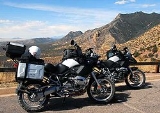 Motorcycle
A
motorcycle
is a
single-track
Single-track vehicle
A single-track vehicle is a vehicle that leaves a single ground track as it moves forward. Single-track vehicles usually have little or no lateral stability when stationary but develop it when moving forward or controlled...
, two-wheeled
motor vehicle
Motor vehicle
A motor vehicle or road vehicle is a self-propelled wheeled vehicle that does not operate on rails, such as trains or trolleys. The vehicle propulsion is provided by an engine or motor, usually by an internal combustion engine, or an electric motor, or some combination of the two, such as hybrid...
. Motorcycles vary considerably depending on the task for which they are designed, such as
long distance
Touring motorcycle
A touring motorcycle is a type of motorcycle designed for touring. Although any motorcycle can be used to tour with, manufacturers have brought specific models designed to address the particular needs of these riders...
travel, navigating congested urban traffic,
cruising
Cruiser (motorcycle)
Cruiser is the term for motorcycles that mimic the design style of American machines from the 1930s to the early 1960s, including those made by Harley-Davidson, Indian, Excelsior and Henderson. The market for models evocative of the early cruisers has grown to embrace 60 percent of the U.S...
, sport and racing, or
off-road
Off-roading
Off-roading is a term for driving a vehicle on unsurfaced roads or tracks, made of materials such as sand, gravel, riverbeds, mud, snow, rocks, and other natural terrain.-Off-road vehicle:...
conditions.
Motorcycles are one of the most affordable forms of motorised transport in many parts of the world and, for most of the world's population, they are also the most common type of motor vehicle.