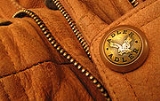 Suede
Suede
ˈsweɪd is a type of
leather
Leather
Leather is a durable and flexible material created via the tanning of putrescible animal rawhide and skin, primarily cattlehide. It can be produced through different manufacturing processes, ranging from cottage industry to heavy industry.-Forms:...
with a
napped
Nap (textile)
Primarily, nap is the raised surface on certain kinds of cloth, such as velvet. Nap can refer additionally to other surfaces that look like the surface of a napped cloth, such as the surface of a felt or beaver hat....
finish, commonly used for
jacket
Jacket
A jacket is a hip- or waist-length garment for the upper body. A jacket typically has sleeves, and fastens in the front. A jacket is generally lighter, tighter-fitting, and less insulating than a coat, which is outerwear...
s,
shoe
Shoe
A shoe is an item of footwear intended to protect and comfort the human foot while doing various activities. Shoes are also used as an item of decoration. The design of shoes has varied enormously through time and from culture to culture, with appearance originally being tied to function...
s,
shirt
Shirt
A shirt is a cloth garment for the upper body. Originally an undergarment worn exclusively by men, it has become, in American English, a catch-all term for almost any garment other than outerwear such as sweaters, coats, jackets, or undergarments such as bras, vests or base layers...
s,
purse
Purse
A purse is a small bag that may refer to:* Coin purse, in British English* Handbag, in American English* Money bag* WalletPurse may also refer to:...
s,
furniture
Furniture
Furniture is the mass noun for the movable objects intended to support various human activities such as seating and sleeping in beds, to hold objects at a convenient height for work using horizontal surfaces above the ground, or to store things...
and other items. The term comes from the French "gants de Suède", which literally means "gloves of Sweden".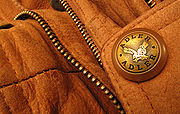 Suede leather is made from the underside of the skin, primarily
lamb
Domestic sheep
Sheep are quadrupedal, ruminant mammals typically kept as livestock. Like all ruminants, sheep are members of the order Artiodactyla, the even-toed ungulates. Although the name "sheep" applies to many species in the genus Ovis, in everyday usage it almost always refers to Ovis aries...
, although
goat
Goat
The domestic goat is a subspecies of goat domesticated from the wild goat of southwest Asia and Eastern Europe. The goat is a member of the Bovidae family and is closely related to the sheep as both are in the goat-antelope subfamily Caprinae. There are over three hundred distinct breeds of...
,
pig
Pig
A pig is any of the animals in the genus Sus, within the Suidae family of even-toed ungulates. Pigs include the domestic pig, its ancestor the wild boar, and several other wild relatives...
,
calf
Calfskin
Calfskin is a leather or membrane produced from the hide of a calf. Calfskin is particularly valuable because of its softness, and non fine grain. It is commonly used for high-quality shoes, wallets and similar products, as well as traditional leather bookbindings...
and
deer
Deer
Deer are the ruminant mammals forming the family Cervidae. Species in the Cervidae family include white-tailed deer, elk, moose, red deer, reindeer, fallow deer, roe deer and chital. Male deer of all species and female reindeer grow and shed new antlers each year...
are commonly used. Splits from thick hides of cow and deer are also sueded, but, due to the fiber content, have a shaggy nap. Because suede does not include the tough exterior skin layer, suede is less durable but softer than standard ("full-grain") leather. Its softness, thinness, and pliability make it suitable for clothing and delicate uses; suede was originally used for women's gloves. Suede leather is also popular in
upholstery
Upholstery
Upholstery is the work of providing furniture, especially seats, with padding, springs, webbing, and fabric or leather covers. The word upholstery comes from the Middle English word upholder, which referred to a tradesman who held up his goods. The term is equally applicable to domestic,...
,
shoe
Shoe
A shoe is an item of footwear intended to protect and comfort the human foot while doing various activities. Shoes are also used as an item of decoration. The design of shoes has varied enormously through time and from culture to culture, with appearance originally being tied to function...
s,
bags
Handbag
A handbag, or purse in American English, is a handled medium-to-large bag that is often fashionably designed, typically used by women, to hold personal items such as wallet/coins, keys, cosmetics, a hairbrush, pepper spray, cigarettes, mobile phone etc....
, and other accessories, and as a
lining
Lining (sewing)
In sewing and tailoring, a lining is an inner layer of fabric, fur, or other material inserted into clothing, hats, luggage, curtains, handbags and similar items....
for other leather products. Due to its textured nature and open pores, suede may become dirty and absorb liquids quickly.
Alternatives to suede
Fabrics are often manufactured with a brushed or napped finish to resemble suede leather. These products often provide a similar look and feel to suede, but have advantages such as increased liquid or stain resistance, and may appeal to consumers who prefer a non-animal product.
Sueded silk, sueded cotton and similar sueded fabrics are brushed, sanded or chemically treated for extra softness. 'Suede' yarns are generally thick and plush.
Alcantara
Alcantara (material)
Alcantara is a tradename given to a composite material used to cover surfaces and forms in a variety of applications. The material was developed in the early 1970s by Miyoshi Okamoto, a scientist working for the Japanese chemical company Toray Industries, as a variation of their other product...
and
Ultrasuede
Ultrasuede
Ultrasuede is the trade name for a synthetic microfiber fabric invented in 1970 by Dr. Miyoshi Okamoto, a scientist working for Toray Industries. It was the world's first ultra-microfiber. Fabric content is 100% polyester. Ultrasuede feels like natural suede, but it is resistant to stains and...
are trademarked terms for a
microfiber
Microfiber
Microfiber or microfibre refers to synthetic fibers that measure less than one denier. The most common types of microfibers are made from polyesters, polyamides , and or a conjugation of polyester and polyamide.Microfiber is used to make non-woven, woven and knitted textiles...
plush with a hand resembling the soft suede, but more durable, resistant to liquid, stains and crushing and can be used in upholstery, accessories, clothing or shoes.
Microsuede is a microfiber knit blend fabric with a soft finish, but is easily distinguishable from actual suede leather. It has a great deal of stretch, and is very popular in upholstery as well as garments.