Gucci
The House of Gucci
, better known simply as
Gucci
(ˈɡuttʃi), is an Italian fashion and leather goods label, part of the Gucci Group, which is owned by French company
PPR
PPR (company)
PPR is a French multinational holding company specializing in retail shops and luxury brands. The company was founded in 1963 by the businessman François Pinault and is now run by his son François-Henri Pinault. It is quoted on Euronext Paris and is a constituent of the CAC 40 index...
. Gucci was founded by
Guccio Gucci
Guccio Gucci
Guccio Gucci was an Italian businessman and fashion designer, the founder of The House of Gucci and son of an Italian merchant from the country's northern manufacturing region.-Founding Gucci:...
in
Florence
Florence
Florence is the capital city of the Italian region of Tuscany and of the province of Florence. It is the most populous city in Tuscany, with approximately 370,000 inhabitants, expanding to over 1.5 million in the metropolitan area....
in 1921.
Gucci generated circa € 4.2 billion in revenue worldwide in 2008 according to
BusinessWeek
BusinessWeek
Bloomberg Businessweek, commonly and formerly known as BusinessWeek, is a weekly business magazine published by Bloomberg L.P. It is currently headquartered in New York City.- History :...
magazine and climbed to 41st position in the magazine's annual 2009 "Top Global 100 Brands" chart created by
Interbrand
Interbrand
Interbrand, a division of Omnicom, is a global branding consultancy, specializing in vast brand services, including brand analytics, brand strategy, brand valuation, corporate design, digital brand management, and naming...
. Gucci is also the biggest-selling Italian brand. Gucci operates about 278 directly operated stores worldwide (as of September 2009) and it wholesales its products through franchisees and upscale department stores.
History
From modest beginnings at the end of the 19th century, the Gucci company became one of the world's most successful manufacturers of high-end leather goods, clothing, and other fashion products. As an immigrant in Paris and then London, working in exclusive hotels, young Guccio Gucci (1881–1953) was impressed with the luxurious luggage he saw sophisticated guests bring with them. Upon returning to his birthplace of Florence, a city distinguished for high-quality materials and skilled artisans, he established a shop in 1920 that sold fine leather goods with classic styling. Although Gucci organized his workrooms for industrial methods of production, he maintained traditional aspects of fabrication. Initially Gucci employed skilled workers in basic Florentine leather crafts, attentive to finishing. With expansion, machine stitching was a production method that supported construction.
Together with three of his sons, Aldo Gucci (1905–1990), Vasco Gucci (1907–1975), and Rodolfo Gucci (1912–1983), Gucci expanded the company to include stores in Milan and Rome as well as additional shops in Florence. Gucci's stores featured such finely crafted leather accessories as handbags, shoes, and his iconic ornamented loafer as well as silks and knitwear in a signature pattern. The Gucci loafer is the only shoe in the collection of the Museum of Modern Art in New York.
The company made handbags of cotton canvas rather than leather during World War II as a result of material shortages. The canvas, however, was distinguished by a signature double-G symbol combined with prominent red and green bands. After the war, the Gucci crest, which showed a shield and armored knight surrounded by a ribbon inscribed with the family name, became synonymous with the city of Florence.
Aldo and Rodolfo Gucci further expanded the company's horizons in 1953 by establishing offices in New York City. Film stars and jet-set travelers to Italy during the 1950s and 1960s brought their glamour to Florence, turning Gucci's merchandise into international status symbols. Movie stars posed in Gucci's clothing, accessories, and footwear for lifestyle magazines around the world, contributing to the company's growing reputation.
Gucci's distinctive lines made its products among the most frequently copied in the world in the early 2000s. Pigskin, calf, and imported exotic animal skins were subjected to various methods of fabrication. Waterproof canvas and satin were used for evening bags. Bamboo was first used to make handbag handles by a process of heating and molding in 1947, and purses made with a shoulder strap and snaffle-bit decoration were introduced in 1960. In 1964 Gucci's lush butterfly pattern was custom-created for silk foulards, followed by equally luxuriant floral patterns. The original Gucci loafer was updated by a distinctive snaffle-bit ornament in 1966, while the "Rolls-Royce" luggage set was introduced in 1970. Watches, jewelry, ties, and eyewear were then added to the company's product lines. A particularly iconic touch, introduced in 1964, was the use of the double-G logo for belt buckles and other accessory decorations.
The company prospered through the 1970s, but the 1980s were marked by internal family disputes that brought Gucci to the brink of disaster. Rodolfo's son Maurizio took over the company's direction after his father's death in 1983, and dismissed his uncle Aldo—who eventually served a prison term for tax evasion. Maurizio proved to be an unsuccessful president; he was compelled to sell the family-owned company to Investcorp, a Bahrain-based company, in 1988. Maurizio disposed of his remaining stock in 1993. Tragically, Maurizio was murdered in Milan in 1995, and his former wife, Patrizia Reggiani, was convicted of hiring his killers. Meanwhile, the new investors promoted the American-educated Domenico De Sole from the position of family attorney to president of Gucci America in 1994 and chief executive in 1995.
The company had previously brought in Dawn Mello in 1989 as editor and ready-to-wear designer in order to reestablish its reputation. Well aware of Gucci's tarnished image and the value of its name brand, Mello hired
Tom Ford
Tom Ford
Thomas Carlyle "Tom" Ford is an American fashion designer and film director. He gained international fame for his turnaround of the Gucci fashion house and the creation of the Tom Ford label before directing the Oscar-nominated film A Single Man.-Early life :Tom Ford was born August 27, 1961 in...
in 1990 to design a ready-to-wear line. He was promoted to the position of creative director in 1994. Before Mello returned to her post as president of the American retailer Bergdorf Goodman, she initiated the return of Gucci's headquarters from the business center of Milan to Florence, where its craft traditions were rooted. There she and Ford reduced the number of Gucci products from twenty thousand to a more reasonable five thousand.
Tom Ford came to the foundering company with vision and style. Having the strong support of Dominico De Sole, Ford wished to maintain a sense of the company's history while updating Gucci's trademarks. In 1994 Ford became responsible for creative direction, and by 1996 he directed all aspects of the company—including ready-to-wear clothing, visual merchandising, packaging, interior design, and advertising. Ford and De Sole struggled to restore the former reputation of Gucci, while redirecting the growing brand to a new level for the market of the late 1990s.
There were seventy-six Gucci stores around the world in 1997, along with numerous licensing agreements. Ford was instrumental in the process of decision-making with De Sole when the Gucci Group acquired Yves Saint Laurent Rive Gauche, Bottega Veneta, Boucheron, Sergio Rossi, and, in part-ownership with Stella McCartney, Alexander McQueen and Balenciaga. By 2001 Ford and De Sole shared the responsibility for major business decisions, while Ford concurrently directed design at Yves Saint Laurent as well as at Gucci.
The French conglomerate Pinault-Printemps-Redoute, however, gained ownership of 60 percent of the Gucci Group's stock in 2003. Women's Wear Daily then announced the departure of both Domenico De Sole and Tom Ford from the Gucci Group when their contracts expired in April 2004. The last spring collection under the direction of Ford and De Sole was a critical and commercial success. Amid widespread speculation in the fashion press about Ford's heir, the company announced in March 2004 that he would be replaced by a team of younger designers promoted from the ranks of the company's staff.
In 2005,
Frida Giannini
Frida Giannini
Frida Giannini is an Italian fashion designer and currently the Creative Director of the Italian fashion house Gucci.Giannini studied fashion design at Rome's Fashion Academy. In 1997, she worked for Fendi to design ready-to-wear. After three seasons, she was promoted to designer of leather goods...
was appointed as the creative director for women's ready-to-wear and accessories, previously joining Gucci in 2002. In 2006, she also became the creative director for men's ready-to-wear and the entire Gucci label.
Corporate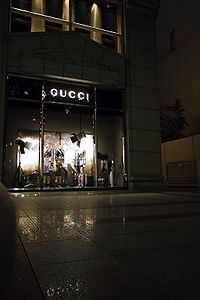 A turnaround of the company devised in the late 1980s made Gucci a global contender and notable fashion label. In October 1995 Gucci went public and had its first
initial public offering
Initial public offering
An initial public offering or stock market launch, is the first sale of stock by a private company to the public. It can be used by either small or large companies to raise expansion capital and become publicly traded enterprises...
on the
AMEX
AMEX
AMEX, AmEx or Amex may refer to:*American Stock Exchange*American Express, a global financial services corporation*American Express Community Stadium, association football stadium in Brighton, England, currently sponsored by American Express...
and NYSE for $22 per share. November 1997 also proved to be a successful year as Gucci acquired a watch licensee, Severin-Montres, and renamed it Gucci Timepieces.
The firm was named "European Company of the Year 1998" by the European Business Press Federation for its economic and financial performance, strategic vision as well as management quality.
Gucci world offices and headquarters are in Florence, Milan, Paris, London, Hong Kong, Japan, and New York.
PPR
PPR (company)
PPR is a French multinational holding company specializing in retail shops and luxury brands. The company was founded in 1963 by the businessman François Pinault and is now run by his son François-Henri Pinault. It is quoted on Euronext Paris and is a constituent of the CAC 40 index...
headquarters are in Paris.
New management
In 1989, Maurizio managed to persuade Dawn Mello, whose revival of New York's
Bergdorf Goodman
Bergdorf Goodman
Bergdorf Goodman is a luxury goods department store based on Fifth Avenue in Midtown Manhattan in New York City. The company was founded in 1899 by Herman Bergdorf and was later owned and managed by Edwin Goodman, and later his son Andrew Goodman....
in the 1970s made her a star in the retail business, to join the newly formed Gucci Group as Executive Vice President and Creative Director Worldwide. At the helm of Gucci America was Domenico De Sole, a former lawyer who helped oversee Maurizio's takeover of ten 1987 and 1989. The last addition to the creative team, which already included designers from
Geoffrey Beene
Geoffrey Beene
Geoffrey Beene was an American fashion designer.Beene was born in Haynesville, Louisiana. He studied medicine at Tulane University, but dropped out in 1946, after three years. He moved to New York in 1947 to attend the Traphagen School of Fashion...
and
Calvin Klein
Calvin Klein
Calvin Richard Klein is an American fashion designer who launched the company that would later become Calvin Klein Inc. in 1968. In addition to clothing, Klein has also given his name to a range of perfumes, watches, and jewelry....
, was a young designer named
Tom Ford
Tom Ford
Thomas Carlyle "Tom" Ford is an American fashion designer and film director. He gained international fame for his turnaround of the Gucci fashion house and the creation of the Tom Ford label before directing the Oscar-nominated film A Single Man.-Early life :Tom Ford was born August 27, 1961 in...
.
Raised in Texas and
New Mexico
New Mexico
New Mexico is a state located in the southwest and western regions of the United States. New Mexico is also usually considered one of the Mountain States. With a population density of 16 per square mile, New Mexico is the sixth-most sparsely inhabited U.S...
, he had been interested in fashion since his early teens but only decided to pursue a career as a designer after dropping out of Parsons School of Design in 1986 as an architecture major. Dawn Mello hired Ford in 1990 at the urging of his partner, writer and editor Richard Buckley.
In the early 1990s, Gucci underwent what is now recognized as the poorest time in the company's history. Maurizio riled distributors,
Investcorp
Investcorp
Investcorp is a manager of alternative investment products, serving high-net-worth private and institutional clients. Its principal client base is in the six countries of the Gulf Co-operation Council, but it also has institutional clients in North America and Europe...
shareholders, and executives at Gucci America by drastically reining in on the sales of the Gucci Accessories Collection, which in the United States alone generated $110 million in revenue every year. The company's new accessories failed to pick up the slack, and for the next three years the company experienced heavy losses and teetered on the edge of bankruptcy. Maurizio was a charming man who passionately loved his family's business, but after four years most of the company's senior managers agreed that he was incapable of running the company. His management had had an adverse effect on the desirability of the brand, product quality, and distribution control. He was forced to sell his shares in the company to Investcorp in August 1993. Dawn Mello returned to her job at Bergdorf Goodman less than a year after Maurizio's departure, and the position of creative director went to Tom Ford, then just 32 years old. Ford had worked for years under the direction of Maurizio and Mello and wanted to take the company's image in a new direction. De Sole, who had been elevated to President and Chief Executive Officer ofGucci Group NV, realized that if Gucci was to become a profitable company, it would require a new image, and so he agreed to pursue Ford's vision.
In early 1999 the luxury goods conglomerate
LVMH
LVMH
LVMH Moët Hennessy • Louis Vuitton S.A., better known as LVMH, is a French multinational luxury goods conglomerate headquartered in Paris, Île-de-France, France. The company was formed after the 1987 merger of fashion house Louis Vuitton with Moët Hennessy, a company formed after the 1971 merger...
, headed by
Bernard Arnault
Bernard Arnault
Bernard Arnault is a French business magnate who is best known as the chairman and CEO of the French conglomerate LVMH. According to Forbes Magazine, Arnault is the world's 4th and Europe's richest person, with a 2011 net worth of US$41 billion.-Education and business career:Arnault was born...
, increased its shareholdings in Gucci with a view to a takeover. Domenico De Sole was incensed by the news and declined Arnault's request for a spot on the board of directors, where he would have access to Gucci's confidential earnings reports, strategy meetings, and design concepts. De Sole reacted by issuing new shares of stock in an effort to dilute the value of Arnault's holdings. He also approached French holding company Pinault-Printemps-Redoute (PPR) about the possibility of forming a strategic alliance.
Francois Pinault
François Pinault
François Pinault is a French businessman who runs the retail company PPR. He is a friend of former French President Jacques Chirac....
, the company's founder, agreed to the idea and purchased 37 million shares in the company, or a 40% stake. Arnault's share was diluted to a paltry 20%, and a legal battle ensued to challenge the legitimacy of the new Gucci-PPR partnership, with the law firm of
Skadden, Arps, Slate, Meagher & Flom
Skadden, Arps, Slate, Meagher & Flom
Skadden, Arps, Slate, Meagher & Flom LLP and Affiliates , founded in 1948, is a prominent law firm based in New York City. With over 2,000 attorneys, it is one of the largest and highest-grossing law firms in the world. Forbes magazine calls Skadden "Wall Street's most powerful law firm"...
representing Gucci. Courts in the Netherlands ultimately upheld the PPR deal, as it did not violate that country's business laws. The second largest shareholder is
Crédit Lyonnais
Crédit Lyonnais
Crédit Lyonnais is a historic French bank. In the early 1990s it was the largest French bank, majority state-owned at that point. Crédit Lyonnais was the subject of poor management during that period which almost led to its bankruptcy in 1993...
with 11%. As of September 2001 a settlement agreement was put into place between Gucci Group, LVMH, and PPR.
Following Ford's departure, Gucci Group retained three designers to continue the success of the company's flagship label: John Ray,
Alessandra Facchinetti
Alessandra Facchinetti
Alessandra Facchinetti is an Italian fashion designer. In 2007 she was appointed the creative director at the fashion House of Valentino, on the retirement of Valentino Garavani. Previously she had been a designer at the House of Gucci...
and
Frida Giannini
Frida Giannini
Frida Giannini is an Italian fashion designer and currently the Creative Director of the Italian fashion house Gucci.Giannini studied fashion design at Rome's Fashion Academy. In 1997, she worked for Fendi to design ready-to-wear. After three seasons, she was promoted to designer of leather goods...
, all of whom had worked under Ford's creative direction. Facchinetti was elevated to Creative Director of Womenswear in 2004 and designed for two seasons before leaving the company. Ray served as Creative Director of Menswear for three years. 32-year-old Giannini, who had been responsible for designing men's and women's accessories, currently serves as Creative Director for the entire brand.
Frida Giannini, formerly Creative Director of accessories, is named sole Creative Director in 2006. In 2009, Patrizio di Marco replaces Mark Lee as CEO of Gucci.
Children's line
Gucci's president and chief executive officer Patrizio di Marco revealed that Gucci is set to launch a children's line in June 2010. The line will initially be unveiled in Italy and to 40 stores around the world. Frida Giannini serves as the creative director of the line. Giannini has been applauded on her fresh, feminine take on contemporary fashion.
Born in Rome in 1972 to an architect father and art history professor mother she studied fashion design at Rome's Fashion Academy. Once she completed her education she went on to apprentice at a small-scale fashion house. In 1997 Giannini began a career at fashion house Fendi, where after just three seasons of designing for ready-to-wear she was promoted to designer of leather goods. In 2002 she moved to Gucci as director of handbags, and in 2004 was promoted to designer of all accessories. A year later in 2005 the designer was promoted to creative director of women's ready-to-wear at Gucci, in addition to her role as designer of accessories. In 2006 Giannini was named creative director of the label when she became responsible for design of menswear. In addition to clothing design, she has also developed retail concepts for Gucci stores, and creative control of advertising.
Automobile culture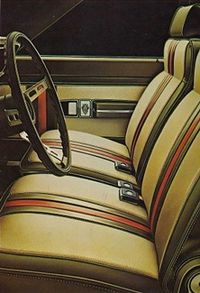 American Motors Corporation
Aldo Gucci expanded into new markets including an agreement with American Motors Corporation (AMC). The 1972 and 1973
AMC Hornet
AMC Hornet
The AMC Hornet was a compact automobile made by the American Motors Corporation in one generation beginning with the 1970 model year and continuing through the 1977 model year. The Hornet replaced the compact Rambler American marking the end of the Rambler marque in the American and Canadian markets...
compact "Sportabout"
station wagon
Station wagon
A station wagon is a body style variant of a sedan/saloon with its roof extended rearward over a shared passenger/cargo volume with access at the back via a third or fifth door , instead of a trunk lid...
became one of the first American cars to offer a special luxury
trim package
Trim package
A trim package is an automotive package composed by a set of cosmetic embellishments to a vehicle. In some cases the trim package may include a specific model or ending name...
created by a famous fashion designer. The Gucci cars sported boldly striped green, red, and buff upholstery and on the door panels, as well as the designer's emblems and exterior color selections. American Motors also offered a Pierre Cardin Edition of its Javelin automobile.
General Motors
In 1979 and 1980, a Miami-based aftermarket company offered the
Cadillac Seville
Cadillac Seville
The Cadillac Seville is a luxury-type car that was manufactured by the Cadillac division of American automaker General Motors from 1975 to 2004, as a smaller-sized top-of-the-line Cadillac...
by Gucci edition. The exterior included a "facing double G" Gucci logo, an emblem actually featuring Guccio Gucci's initials, as a hood ornament and the c-pillar covered
vinyl roof
Vinyl roof
Vinyl roof refers to a vinyl covering for an automobile's top. This covering was originally designed to give the appearance of a convertible to models with a fixed roof, but eventually it evolved into a styling statement in its own right. Vinyl roofs were most popular in the American market, and...
. The interior had a headliner of the logo and headrests adorned with the logo as well. The dashboard carried the "Gucci script" logo in bold lettering. Inside the trunk was a full set of Gucci luggage.
Ford Motor Company
A 1989 Gucci Series
Lincoln Town Car
Lincoln Town Car
The Lincoln Town Car is a full-size luxury sedan that was sold by the upscale Lincoln division of Ford Motor Company; it was produced from 1981 to the 2011 model years...
was scheduled to be offered, per pricing guides, but never came to fruition. Lincoln offered Emilio Pucci, Bill Blass, Gianni Versace, Hubert de Givenchy, and Valentino designer editions during the 1970s and 1980s.
Partnerships
Gucci has had a partnership with UNICEF since 2005. Gucci stores worldwide donate a percentage of the sales for special collections made specifically for UNICEF to go toward the United Nations Children's Fund. The annual Gucci Campaign to Benefit UNICEF supports education, healthcare, protection and clean water programs for orphans and children affected by HIV/AIDS in sub-Saharan Africa. For the campaign in 2009,
Michael Roberts
Michael Roberts (fashion journalist)
Michael Roberts is a British fashion journalist. He is currently the fashion and style director of Vanity Fair magazine. Previously, he has worked as fashion director for The New Yorker, fashion editor of The Sunday Times, style director and art director of Tatler, design director of British...
promoted a children's book, "Snowman in Africa" with proceeds going to UNICEF. In five years, Gucci donated over $7 million to UNICEF. Gucci is the largest corporate donor to UNICEF's "Schools for Africa" that was established in 2004 by UNICEF, the Nelson Mandela Foundation, and the Hamburg Society. Its goal is to increase access to basic schooling for all, with a special emphasis on children orphaned by HIV/AIDS and children living in extreme poverty.
Record
In 1998
Guinness World Records
Guinness World Records
Guinness World Records, known until 2000 as The Guinness Book of Records , is a reference book published annually, containing a collection of world records, both human achievements and the extremes of the natural world...
cited the Gucci "Genius Jeans" as the most expensive pair of jeans in existence. These jeans were distressed, ripped and covered with African beads and were offered for sale for US$3,134 in Milan.
This record has since been surpassed in June 2005 by
Levi Strauss & Co.
Levi Strauss & Co.
Levi Strauss & Co. is a privately held American clothing company known worldwide for its Levi's brand of denim jeans. It was founded in 1853 when Levi Strauss came from Buttenheim, Franconia, to San Francisco, California to open a west coast branch of his brothers' New York dry goods business...
's 115-year-old 501® jeans that was sold to an anonymous Japanese collector for $60,000.
External links