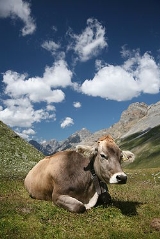 Cattle
Cattle
are the most common type of large
domesticated
Domestication
Domestication or taming is the process whereby a population of animals or plants, through a process of selection, becomes accustomed to human provision and control. In the Convention on Biological Diversity a domesticated species is defined as a 'species in which the evolutionary process has been...
ungulates. They are a prominent modern member of the subfamily
Bovinae
Bovinae
The biological subfamily Bovinae includes a diverse group of 10 genera of medium to large sized ungulates, including domestic cattle, the bison, African buffalo, the water buffalo, the yak, and the four-horned and spiral-horned antelopes...
, are the most widespread species of the
genus
Genus
In biology, a genus is a low-level taxonomic rank used in the biological classification of living and fossil organisms, which is an example of definition by genus and differentia...
Bos
Bos
Bos is the genus of wild and domestic cattle. Bos can be divided into four subgenera: Bos, Bibos, Novibos, and Poephagus, but these divisions are controversial. The genus has five extant species...
, and are most commonly classified collectively as
Bos primigenius
. Cattle are raised as
livestock
Livestock
Livestock refers to one or more domesticated animals raised in an agricultural setting to produce commodities such as food, fiber and labor. The term "livestock" as used in this article does not include poultry or farmed fish; however the inclusion of these, especially poultry, within the meaning...
for meat (
beef
Beef
Beef is the culinary name for meat from bovines, especially domestic cattle. Beef can be harvested from cows, bulls, heifers or steers. It is one of the principal meats used in the cuisine of the Middle East , Australia, Argentina, Brazil, Europe and the United States, and is also important in...
and
veal
Veal
Veal is the meat of young cattle , as opposed to meat from older cattle. Though veal can be produced from a calf of either sex and any breed, most veal comes from male calves of dairy cattle breeds...
), as
dairy animals
Dairy cattle
Dairy cattle are cattle cows bred for the ability to produce large quantities of milk, from which dairy products are made. Dairy cows generally are of the species Bos taurus....
for
milk
Milk
Milk is a white liquid produced by the mammary glands of mammals. It is the primary source of nutrition for young mammals before they are able to digest other types of food. Early-lactation milk contains colostrum, which carries the mother's antibodies to the baby and can reduce the risk of many...
and other
dairy product
Dairy product
Dairy products are generally defined as foods produced from cow's or domestic buffalo's milk. They are usually high-energy-yielding food products. A production plant for such processing is called a dairy or a dairy factory. Raw milk for processing comes mainly from cows, and, to a lesser extent,...
s, and as
draft animal
Ox
An ox , also known as a bullock in Australia, New Zealand and India, is a bovine trained as a draft animal. Oxen are commonly castrated adult male cattle; castration makes the animals more tractable...
s (oxen / bullocks) (pulling
cart
Cart
A cart is a vehicle designed for transport, using two wheels and normally pulled by one or a pair of draught animals. A handcart is pulled or pushed by one or more people...
s, plows and the like). Other products include
leather
Leather
Leather is a durable and flexible material created via the tanning of putrescible animal rawhide and skin, primarily cattlehide. It can be produced through different manufacturing processes, ranging from cottage industry to heavy industry.-Forms:...
and
dung
Feces
Feces, faeces, or fæces is a waste product from an animal's digestive tract expelled through the anus or cloaca during defecation.-Etymology:...
for
manure
Manure
Manure is organic matter used as organic fertilizer in agriculture. Manures contribute to the fertility of the soil by adding organic matter and nutrients, such as nitrogen, that are trapped by bacteria in the soil...
or
fuel
Fuel
Fuel is any material that stores energy that can later be extracted to perform mechanical work in a controlled manner. Most fuels used by humans undergo combustion, a redox reaction in which a combustible substance releases energy after it ignites and reacts with the oxygen in the air...
.