 Pulley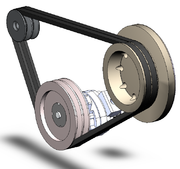 A
pulley
, also called a
sheave
Sheave (mechanical)
A sheave is a wheel or roller with a groove along its edge for holding a belt, rope or cable. When hung between two supports and equipped with a belt, rope or cable, one or more sheaves make up a pulley. The words sheave and pulley are sometimes used interchangeably.A sheave can also refer to a...
or a
drum
Drum
The drum is a member of the percussion group of musical instruments, which is technically classified as the membranophones. Drums consist of at least one membrane, called a drumhead or drum skin, that is stretched over a shell and struck, either directly with the player's hands, or with a...
, is a mechanism composed of a
wheel
Wheel
A wheel is a device that allows heavy objects to be moved easily through rotating on an axle through its center, facilitating movement or transportation while supporting a load, or performing labor in machines. Common examples found in transport applications. A wheel, together with an axle,...
on an
axle
Axle
An axle is a central shaft for a rotating wheel or gear. On wheeled vehicles, the axle may be fixed to the wheels, rotating with them, or fixed to its surroundings, with the wheels rotating around the axle. In the former case, bearings or bushings are provided at the mounting points where the axle...
or shaft that may have a
groove
Groove (machining)
In manufacturing or mechanical engineering a groove is a long and narrow indentation built into a material, generally for the purpose of allowing another material or part to move within the groove and be guided by it. Examples include:...
between two
flange
Flange
A flange is an external or internal ridge, or rim , for strength, as the flange of an iron beam such as an I-beam or a T-beam; or for attachment to another object, as the flange on the end of a pipe, steam cylinder, etc., or on the lens mount of a camera; or for a flange of a rail car or tram wheel...
s around its
circumference
Circumference
The circumference is the distance around a closed curve. Circumference is a special perimeter.-Circumference of a circle:The circumference of a circle is the length around it....
. A
rope
Rope
A rope is a length of fibres, twisted or braided together to improve strength for pulling and connecting. It has tensile strength but is too flexible to provide compressive strength...
,
cable
Cable
A cable is two or more wires running side by side and bonded, twisted or braided together to form a single assembly. In mechanics cables, otherwise known as wire ropes, are used for lifting, hauling and towing or conveying force through tension. In electrical engineering cables are used to carry...
,
belt
Belt (mechanical)
A belt is a loop of flexible material used to link two or more rotating shafts mechanically. Belts may be used as a source of motion, to transmit power efficiently, or to track relative movement. Belts are looped over pulleys. In a two pulley system, the belt can either drive the pulleys in the...
, or
chain
Chain
A chain is a sequence of connected links.Chain may also refer to:Chain may refer to:* Necklace - a jewelry which is worn around the neck* Mail , a type of armor made of interlocking chain links...
usually runs over the wheel and inside the groove, if present. Pulleys are used to change the direction of an applied
force
Force
In physics, a force is any influence that causes an object to undergo a change in speed, a change in direction, or a change in shape. In other words, a force is that which can cause an object with mass to change its velocity , i.e., to accelerate, or which can cause a flexible object to deform...
, transmit rotational motion, or realize a
mechanical advantage
Mechanical advantage
Mechanical advantage is a measure of the force amplification achieved by using a tool, mechanical device or machine system. Ideally, the device preserves the input power and simply trades off forces against movement to obtain a desired amplification in the output force...
in either a linear or rotational system of motion. It is one of the six
simple machine
Simple machine
A simple machine is a mechanical device that changes the direction or magnitude of a force.In general, they can be defined as the simplest mechanisms that use mechanical advantage to multiply force. A simple machine uses a single applied force to do work against a single load force...
s. Two or more pulleys together are called a
block and tackle
Block and tackle
A block and tackle is a system of two or more pulleys with a rope or cable threaded between them, usually used to lift or pull heavy loads.The pulleys are assembled together to form blocks so that one is fixed and one moves with the load...
.
Belt and pulley systems
A belt and pulley system is characterized by two or more pulleys in common to a belt. This allows for
mechanical power
Power (physics)
In physics, power is the rate at which energy is transferred, used, or transformed. For example, the rate at which a light bulb transforms electrical energy into heat and light is measured in watts—the more wattage, the more power, or equivalently the more electrical energy is used per unit...
,
torque
Torque
Torque, moment or moment of force , is the tendency of a force to rotate an object about an axis, fulcrum, or pivot. Just as a force is a push or a pull, a torque can be thought of as a twist....
, and
speed
Speed
In kinematics, the speed of an object is the magnitude of its velocity ; it is thus a scalar quantity. The average speed of an object in an interval of time is the distance traveled by the object divided by the duration of the interval; the instantaneous speed is the limit of the average speed as...
to be transmitted across axles. If the pulleys are of differing diameters, a mechanical advantage is realized.
A belt drive is analogous to that of a
chain drive
Chain drive
Chain drive is a way of transmitting mechanical power from one place to another. It is often used to convey power to the wheels of a vehicle, particularly bicycles and motorcycles...
, however a belt sheave may be smooth (devoid of discrete interlocking members as would be found on a chain sprocket, spur gear, or timing belt) so that the mechanical advantage is approximately given by the ratio of the pitch diameter of the sheaves only, not fixed exactly by the ratio of teeth as with gears and sprockets.
In the case of a drum-style pulley, without a groove or flanges, the pulley often is slightly convex to keep the flat belt centered. It is sometimes referred to as a crowned pulley. Though once widely used in factory
line shaft
Line shaft
A line shaft is a power transmission system used extensively during the Industrial Revolution. Prior to the widespread use of electric motors small enough to be connected directly to each piece of machinery, line shafting was used to distribute power from a large central power source to machinery...
s, this type of pulley is still found driving the rotating brush in upright
vacuum cleaner
Vacuum cleaner
A vacuum cleaner, commonly referred to as a "vacuum," is a device that uses an air pump to create a partial vacuum to suck up dust and dirt, usually from floors, and optionally from other surfaces as well. The dirt is collected by either a dustbag or a cyclone for later disposal...
s.
Rope and pulley systems
Also called block and tackles, rope and pulley systems (the rope may be a light line or a strong cable) are characterized by the use of one rope transmitting a linear motive force (in tension) to a load through one or more pulleys for the purpose of pulling the load (often against gravity.) They are often included in lists of
simple machine
Simple machine
A simple machine is a mechanical device that changes the direction or magnitude of a force.In general, they can be defined as the simplest mechanisms that use mechanical advantage to multiply force. A simple machine uses a single applied force to do work against a single load force...
s.
In a system of a single rope and pulleys, when
friction
Friction
Friction is the force resisting the relative motion of solid surfaces, fluid layers, and/or material elements sliding against each other. There are several types of friction:...
is neglected, the mechanical advantage gained can be calculated by counting the number of rope lengths exerting force on the load. Since the tension in each rope length is equal to the force exerted on the free end of the rope, the mechanical advantage is simply equal to the number of ropes pulling on the load. For example, in Diagram 3 below, there is one rope attached to the load, and 2 rope lengths extending from the pulley attached to the load, for a total of 3 ropes supporting it. If the force applied to the free end of the rope is 10 lb, each of these rope lengths will exert a force of 10 lb. on the load, for a total of 30 lb. So the mechanical advantage is 3.
The force on the load is increased by the mechanical advantage; however the distance the load moves, compared to the length the free end of the rope moves, is decreased in the same proportion. Since a slender cable is more easily managed than a fat one (albeit shorter and stronger), pulley systems are often the preferred method of applying mechanical advantage to the pulling force of a
winch
Winch
A winch is a mechanical device that is used to pull in or let out or otherwise adjust the "tension" of a rope or wire rope . In its simplest form it consists of a spool and attached hand crank. In larger forms, winches stand at the heart of machines as diverse as tow trucks, steam shovels and...
(as can be found in a lift
crane
Crane (machine)
A crane is a type of machine, generally equipped with a hoist, wire ropes or chains, and sheaves, that can be used both to lift and lower materials and to move them horizontally. It uses one or more simple machines to create mechanical advantage and thus move loads beyond the normal capability of...
).
Pulley systems are the only simple machines in which the possible values of mechanical advantage are limited to whole numbers.
In practice, the more pulleys there are, the less efficient a system is. This is due to sliding friction in the system where cable meets pulley and in the rotational mechanism of each pulley.
It is not recorded when or by whom the pulley was first developed. It is believed however that
Archimedes
Archimedes
Archimedes of Syracuse was a Greek mathematician, physicist, engineer, inventor, and astronomer. Although few details of his life are known, he is regarded as one of the leading scientists in classical antiquity. Among his advances in physics are the foundations of hydrostatics, statics and an...
developed the first documented block and tackle pulley system, as recorded by
Plutarch
Plutarch
Plutarch then named, on his becoming a Roman citizen, Lucius Mestrius Plutarchus , c. 46 – 120 AD, was a Greek historian, biographer, essayist, and Middle Platonist known primarily for his Parallel Lives and Moralia...
. Plutarch reported that Archimedes moved an entire warship, laden with men, using compound pulleys and his own strength.
Types of systems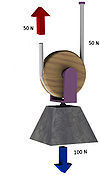 These are different types of pulley systems:
Fixed A fixed or class 1 pulley has a fixed axle. That is, the axle is "fixed" or anchored in place. A fixed pulley is used to change the direction of the force on a rope (called a belt). A fixed pulley has a mechanical advantage of 1. A mechanical advantage of one means that the force is equal on both sides of the pulley and there is no multiplication of force.
Movable A movable or class 2 pulley has a free axle. That is, the axle is "free" to move in space. A movable pulley is used to multiply forces. A movable pulley has a mechanical advantage of 2. That is, if one end of the rope is anchored, pulling on the other end of the rope will apply a doubled force to the object attached to the pulley.
Compound A compound pulley is a combination of a fixed and a movable pulley system.

Block and tackle - A block and tackle is a type of compound pulley where several pulleys are mounted on each axle, further increasing the mechanical advantage. Block and tackles usually lift objects with a mechanical advantage greater than 2.
How it works
The simplest theory of operation for a pulley system assumes that the pulleys and lines are weightless, and that there is no energy loss due to friction. It is also assumed that the lines do not stretch.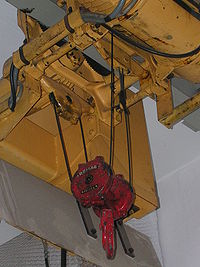 In equilibrium, the total force on the pulley must be zero. This means that the force on the axle of the pulley is shared equally by the two lines looping through the pulley. The situation is schematically illustrated in diagram 1. For the case where the lines are not parallel, the tensions in each line are still equal, but now the vector sum of all forces is zero.
A second basic equation for the pulley follows from the conservation of energy: The product of the weight lifted times the distance it is moved is equal to the product of the lifting force (the tension in the lifting line) times the distance the lifting line is moved. The weight lifted divided by the lifting force is defined as the
advantage
of the pulley system.
It is important to notice that a system of pulleys does not change the amount of
work
Mechanical work
In physics, work is a scalar quantity that can be described as the product of a force times the distance through which it acts, and it is called the work of the force. Only the component of a force in the direction of the movement of its point of application does work...
done. The work is given by the force times the distance moved. The pulley simply allows trading force for distance: you pull with less force, but over a longer distance.
In diagram 2, a single movable pulley allows weight
W
to be lifted with only half the force needed to lift the weight without assistance. The total force needed is divided between the lifting force (red arrow) and the "ceiling" which is some immovable object (such as the earth). In this simple system, the lifting force is directed in the same direction as the movement of the weight. The advantage of this system is 2. Although the force needed to lift the weight is only
W/2
, we will need to draw a length of rope that is twice the distance that the weight is lifted, so that the total amount of work done (Force x distance) remains the same.
A second pulley may be added as in diagram 2a, which simply serves to redirect the lifting force downward; it does not change the advantage of the system.
The addition of a fixed pulley to the single pulley system can yield an increase of advantage. In diagram 3, the addition of a fixed pulley yields a lifting advantage of 3. The tension in each line is
W/3
, and the force on the axles of each pulley is
2W/3
. As in the case of diagram 2a, another pulley may be added to reverse the direction of the lifting force, but with no increase in advantage. This situation is shown in diagram 3a.
This process can be continued indefinitely for ideal pulleys with each additional pulley yielding a unit increase in advantage. For real pulleys friction among rope and pulleys will increase as more pulleys are added to the point that no advantage is possible. It puts a limit for the number of pulleys usable in practice. The above pulley systems are known collectively as block and tackle pulley systems. In diagram 4a, a block and tackle system with advantage 4 is shown. A practical implementation in which the connection to the ceiling is combined and the fixed and movable pulleys are encased in single housings is shown in figure 4b.
Other pulley systems are possible, and some can deliver an increased advantage with fewer pulleys than the block and tackle system. The advantage of the block and tackle system is that each pulley and line is subjected to equal tensions and forces. Efficient design dictates that each line and pulley be capable of handling its load, and no more. Other pulley designs will require different strengths of line and pulleys depending on their position in the system, but a block and tackle system can use the same line size throughout, and can mount the fixed and movable pulleys on a common axle.
See also