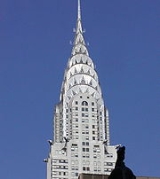 Art Deco
Art deco
(ˌ), or
deco
, is an
eclectic
Eclecticism in art
Eclecticism is a kind of mixed style in the fine arts: "the borrowing of a variety of styles from different sources and combining them" . Significantly, Eclecticism hardly ever constituted a specific style in art: it is characterized by the fact that it was not a particular style...
artistic and design style that began in Paris in the 1920s and flourished internationally throughout the 1930s, into the World War II era. The style influenced all areas of design, including architecture and interior design,
industrial design
Industrial design
Industrial design is the use of a combination of applied art and applied science to improve the aesthetics, ergonomics, and usability of a product, but it may also be used to improve the product's marketability and production...
, fashion and jewelry, as well as the
visual arts
Visual arts
The visual arts are art forms that create works which are primarily visual in nature, such as ceramics, drawing, painting, sculpture, printmaking, design, crafts, and often modern visual arts and architecture...
such as painting,
graphic arts
Graphic arts
A type of fine art, graphic art covers a broad range of art forms. Graphic art is typically two-dimensional and includes calligraphy, photography, drawing, painting, printmaking, lithography, typography, serigraphy , and bindery. Graphic art also consists of drawn plans and layouts for interior...
and film. The term "art deco" was first used widely in 1926, after an exhibition in Paris, 'Les Années 25' sub-titled Art Deco, celebrating the 1925
Exposition Internationale des Arts Décoratifs et Industriels Modernes
Exposition Internationale des Arts Décoratifs et Industriels Modernes
The International Exposition of Modern Industrial and Decorative Arts was a World's fair held in Paris, France, from April to October 1925. The term "Art Deco" was derived by shortening the words Arts Décoratifs, in the title of this exposition, but not until the late 1960s by British art critic...
(International Exhibition of Modern Decorative and Industrial Arts) that was the culmination of style moderne in Paris.