 Alligator farm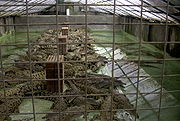 An
alligator farm
or
crocodile farm
is an establishment for breeding and raising of crocodilians in order to produce
meat
Meat
Meat is animal flesh that is used as food. Most often, this means the skeletal muscle and associated fat and other tissues, but it may also describe other edible tissues such as organs and offal...
,
leather
Leather
Leather is a durable and flexible material created via the tanning of putrescible animal rawhide and skin, primarily cattlehide. It can be produced through different manufacturing processes, ranging from cottage industry to heavy industry.-Forms:...
, and other goods. Many species of both alligators and crocodiles are farmed internationally, and occasionally the term ranch is also used.
History
Though not truly domesticated, alligators and crocodiles have been bred in farms since at least the early 20th century. However, the vast majority of these early businesses were farms in name only; primarily keeping alligators and crocodiles as a
tourist attraction
Tourist attraction
A tourist attraction is a place of interest where tourists visit, typically for its inherent or exhibited cultural value, historical significance, natural or built beauty, or amusement opportunities....
. The
St. Augustine Alligator Farm Zoological Park
St. Augustine Alligator Farm Zoological Park
The St. Augustine Alligator Farm Zoological Park is one of Florida's oldest continuously running attractions, having opened on May 20, 1893. Not only does it have over 20 species of crocodilians, but also a variety of other reptiles, mammals, and birds, as well as exhibits, animal performances and...
, established in 1893, is a prime example of this early type of alligator farm. Only in the 1960s did commercial operations that either harvested eggs from the wild or bred alligators on-site begin to appear. This was largely driven by diminishing stocks of wild alligators, which had been hunted nearly to extinction around this time.
As the
American Alligator
American Alligator
The American alligator , sometimes referred to colloquially as a gator, is a reptile endemic only to the Southeastern United States. It is one of the two living species of alligator, in the genus Alligator, within the family Alligatoridae...
was placed under official protection in 1967 (under a law preceding the 1973
Endangered Species Act
Endangered Species Act
The Endangered Species Act of 1973 is one of the dozens of United States environmental laws passed in the 1970s. Signed into law by President Richard Nixon on December 28, 1973, it was designed to protect critically imperiled species from extinction as a "consequence of economic growth and...
) farming alligators for skins became the most viable option for producing leather (outside illegal
poaching
Poaching
Poaching is the illegal taking of wild plants or animals contrary to local and international conservation and wildlife management laws. Violations of hunting laws and regulations are normally punishable by law and, collectively, such violations are known as poaching.It may be illegal and in...
). Mostly concentrated in the Southern U.S. states of
Louisiana
Louisiana
Louisiana is a state located in the southern region of the United States of America. Its capital is Baton Rouge and largest city is New Orleans. Louisiana is the only state in the U.S. with political subdivisions termed parishes, which are local governments equivalent to counties...
,
Florida
Florida
Florida is a state in the southeastern United States, located on the nation's Atlantic and Gulf coasts. It is bordered to the west by the Gulf of Mexico, to the north by Alabama and Georgia and to the east by the Atlantic Ocean. With a population of 18,801,310 as measured by the 2010 census, it...
, and
Georgia
Georgia (U.S. state)
Georgia is a state located in the southeastern United States. It was established in 1732, the last of the original Thirteen Colonies. The state is named after King George II of Great Britain. Georgia was the fourth state to ratify the United States Constitution, on January 2, 1788...
, the practice quickly spread to other nations. Both the American and
Chinese Alligator
Chinese Alligator
The Chinese alligator or Alligator Alligator sinensis) is one of two known living species of Alligator, a genus in the family Alligatoridae. The Chinese alligator is native only to China...
are farmed intensively today, mostly within each species' respective native region. The
Nile crocodile
Nile crocodile
The Nile crocodile or Common crocodile is an African crocodile which is common in Somalia, Ethiopia, Uganda, Kenya, Egypt, Tanzania, Zambia, Zimbabwe, Gabon, South Africa, Malawi, Sudan, Botswana, and Cameroon...
is found in ranches all over Africa, and the
Saltwater crocodile
Saltwater Crocodile
The saltwater crocodile, also known as estuarine or Indo-Pacific crocodile, is the largest of all living reptiles...
is farmed in Australia and other areas. The smaller caimans are generally not of enough market value to farm, though some captive breeding of the
spectacled caiman
Spectacled Caiman
The spectacled caiman , also known as the white caiman or common caiman, is a crocodilian reptile found in much of Central and South America. It lives in a range of lowland wetland and riverine habitat types and can tolerate salt water as well as fresh; due in part to this adaptability it is the...
does take place in South America.
Farming alligators and crocodiles first grew out of the demand for skins, which can fetch hundreds of dollars apiece. But alligator and crocodile meat, which was long a part of
Southern cooking
Cuisine of the Southern United States
The cuisine of the Southern United States is defined as the historical regional culinary form of states generally south of the Mason Dixon Line dividing Pennsylvania from Maryland and Delaware as well as along the Ohio River, and extending west to Southern Missouri, Oklahoma and Texas.The most...
(especially
Cajun cuisine
Cajun cuisine
Cajun cuisine is the style of cooking named for the French-speaking Acadian or "Cajun" immigrants deported by the British from Acadia in Canada to the Acadiana region of Louisiana, USA. It is what could be called a rustic cuisine — locally available ingredients predominate, and preparation...
) and some Asian and African cuisines, began to be sold later and shipped around the world to markets unfamiliar with crocodilian meat. Chinese cuisine based on
traditional Chinese medicine
Traditional Chinese medicine
Traditional Chinese Medicine refers to a broad range of medicine practices sharing common theoretical concepts which have been developed in China and are based on a tradition of more than 2,000 years, including various forms of herbal medicine, acupuncture, massage , exercise , and dietary therapy...
considers alligator meat to be a curative food for colds and
cancer
Cancer
Cancer , known medically as a malignant neoplasm, is a large group of different diseases, all involving unregulated cell growth. In cancer, cells divide and grow uncontrollably, forming malignant tumors, and invade nearby parts of the body. The cancer may also spread to more distant parts of the...
prevention, although there is no
scientific evidence
Scientific evidence
Scientific evidence has no universally accepted definition but generally refers to evidence which serves to either support or counter a scientific theory or hypothesis. Such evidence is generally expected to be empirical and properly documented in accordance with scientific method such as is...
to support this.
In culture
A crocodile farm is featured in the 1973
James Bond
James Bond
James Bond, code name 007, is a fictional character created in 1953 by writer Ian Fleming, who featured him in twelve novels and two short story collections. There have been a six other authors who wrote authorised Bond novels or novelizations after Fleming's death in 1964: Kingsley Amis,...
film
Live and Let Die
Live and Let Die (film)
Live and Let Die is the eighth spy film in the James Bond series, and the first to star Roger Moore as the fictional MI6 agent James Bond. The film was produced by Albert R. Broccoli and Harry Saltzman...
. Tee Hee Johnson, one of the villain's henchman, attempts to feed James Bond to the crocodiles.