 German cuisine
German cuisine
is a style of cooking derived from the nation of
Germany
Germany
Germany , officially the Federal Republic of Germany , is a federal parliamentary republic in Europe. The country consists of 16 states while the capital and largest city is Berlin. Germany covers an area of 357,021 km2 and has a largely temperate seasonal climate...
. It has evolved as a national
cuisine
Cuisine
Cuisine is a characteristic style of cooking practices and traditions, often associated with a specific culture. Cuisines are often named after the geographic areas or regions that they originate from...
through centuries of social and political change with variations from region to region. The southern regions of Germany, including
Bavaria
Bavaria
Bavaria, formally the Free State of Bavaria is a state of Germany, located in the southeast of Germany. With an area of , it is the largest state by area, forming almost 20% of the total land area of Germany...
and neighbouring
Swabia
Swabia
Swabia is a cultural, historic and linguistic region in southwestern Germany.-Geography:Like many cultural regions of Europe, Swabia's borders are not clearly defined...
, share many dishes. Furthermore, across the border in Austria one will find many similar dishes. However, ingredients and dishes vary by province. There are many significant regional dishes that have become both national and regional. Many dishes that were once regional, however, have proliferated in different variations across the country into the present day.
Staple foods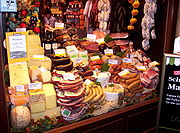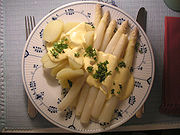 Meat
Pork
Pork
Pork is the culinary name for meat from the domestic pig , which is eaten in many countries. It is one of the most commonly consumed meats worldwide, with evidence of pig husbandry dating back to 5000 BC....
,
beef
Beef
Beef is the culinary name for meat from bovines, especially domestic cattle. Beef can be harvested from cows, bulls, heifers or steers. It is one of the principal meats used in the cuisine of the Middle East , Australia, Argentina, Brazil, Europe and the United States, and is also important in...
, and
poultry
Poultry
Poultry are domesticated birds kept by humans for the purpose of producing eggs, meat, and/or feathers. These most typically are members of the superorder Galloanserae , especially the order Galliformes and the family Anatidae , commonly known as "waterfowl"...
are the main varieties of meat consumed in Germany, with pork being the most popular. The average person in Germany will consume up to 61 kg (134.5 lb) meat in a year. Among poultry,
chicken
Chicken (food)
Chicken is the most common type of poultry in the world, and is prepared as food in a wide variety of ways, varying by region and culture.- History :...
is most common, although
duck
Duck (food)
Duck refers to the meat of several species of bird in the Anatidae family, found in both fresh and salt water. Duck is eaten in many cuisines around the world.-Types of ducks:The most common duck meat consumed in the United States is the Pekin duck...
,
goose
Goose
The word goose is the English name for a group of waterfowl, belonging to the family Anatidae. This family also includes swans, most of which are larger than true geese, and ducks, which are smaller....
, and
turkey
Domesticated turkey
The domesticated turkey is a large poultry bird. The modern domesticated form descends from the wild turkey , one of the two species of turkey ; in the past the ocellated turkey was also domesticated.The turkey is raised throughout temperate parts of the world and is a popular form of poultry,...
are also enjoyed.
Game meats
Game (food)
Game is any animal hunted for food or not normally domesticated. Game animals are also hunted for sport.The type and range of animals hunted for food varies in different parts of the world. This will be influenced by climate, animal diversity, local taste and locally accepted view about what can or...
, especially
boar
Boar
Wild boar, also wild pig, is a species of the pig genus Sus, part of the biological family Suidae. The species includes many subspecies. It is the wild ancestor of the domestic pig, an animal with which it freely hybridises...
,
rabbit
Rabbit
Rabbits are small mammals in the family Leporidae of the order Lagomorpha, found in several parts of the world...
, and
venison
Venison
Venison is the meat of a game animal, especially a deer but also other animals such as antelope, wild boar, etc.-Etymology:The word derives from the Latin vēnor...
are also widely available all year round.
Lamb
Domestic sheep
Sheep are quadrupedal, ruminant mammals typically kept as livestock. Like all ruminants, sheep are members of the order Artiodactyla, the even-toed ungulates. Although the name "sheep" applies to many species in the genus Ovis, in everyday usage it almost always refers to Ovis aries...
and
goat
Goat
The domestic goat is a subspecies of goat domesticated from the wild goat of southwest Asia and Eastern Europe. The goat is a member of the Bovidae family and is closely related to the sheep as both are in the goat-antelope subfamily Caprinae. There are over three hundred distinct breeds of...
are also available, but are not as popular.
Meat is usually pot-roasted; pan-fried dishes also exist, but these recipes usually originate from France. Several cooking methods used to soften often tough cuts have evolved into national specialties, including Sauerbraten, involving marinating beef or venison in a vinegar or wine vinegar mixture over several days. A long tradition of sausage-making exists in Germany, including hundreds of regional variations. There are more than 1500 different types of sausage in Germany. Most Wurst is still made by German sausage makers with natural casings derived from pork, sheep or lamb intestine. Among the most popular and most common are the Bratwurst, usually made of ground pork and spices, the Wiener, which may be pork or pork/beef and is smoked and fully cooked in a water bath, and Blutwurst or Schwarzwurst made from blood (often of pigs or geese). There are literally thousands of types of cold cuts. Regional specialties, such as the Münchner Weißwurst popular in Bavaria, can also be found from all regions of the country.
Fish
Trout
Trout
Trout is the name for a number of species of freshwater and saltwater fish belonging to the Salmoninae subfamily of the family Salmonidae. Salmon belong to the same family as trout. Most salmon species spend almost all their lives in salt water...
is the most common freshwater fish on the German menu; pike,
carp
Carp
Carp are various species of oily freshwater fish of the family Cyprinidae, a very large group of fish native to Europe and Asia. The cypriniformes are traditionally grouped with the Characiformes, Siluriformes and Gymnotiformes to create the superorder Ostariophysi, since these groups have certain...
, and
European perch
European perch
The European perch, Perca fluviatilis, is a predatory species of perch found in Europe and Asia. In some areas it is known as the redfin perch or English perch, and it is often known simply as perch. The species is a popular quarry for anglers and has been widely introduced beyond its native area,...
also are listed frequently. Seafood traditionally was restricted to the northern coastal areas, except for pickled
herring
Herring
Herring is an oily fish of the genus Clupea, found in the shallow, temperate waters of the North Pacific and the North Atlantic oceans, including the Baltic Sea. Three species of Clupea are recognized. The main taxa, the Atlantic herring and the Pacific herring may each be divided into subspecies...
, often served as
Rollmops
Rollmops
Rollmops are pickled herring fillets, rolled into a cylindrical shape around slices of onion, pickled gherkin, or green olive with pimento. Rollmops can be served held together with one or two small wooden skewers....
(a pickled herring fillet rolled into a cylindrical shape around a piece of pickled gherkin or onion) or
Brathering
Brathering
Brathering is a simple German dish of fried, marinated herring.In a common recipe, whole, green herrings are either breaded or simply turned in flour, then fried, and finally pickled in a marinade of vinegar and briefly boiled water, onion, salt, spices like pepper, bay leaves and mustard seeds...
(fried,
marinated
Marination
Marination is the process of soaking foods in a seasoned, often acidic, liquid before cooking. The origins of the word allude to the use of brine in the pickling process, which led to the technique of adding flavor by immersion in liquid...
herring
Herring
Herring is an oily fish of the genus Clupea, found in the shallow, temperate waters of the North Pacific and the North Atlantic oceans, including the Baltic Sea. Three species of Clupea are recognized. The main taxa, the Atlantic herring and the Pacific herring may each be divided into subspecies...
). Today many sea fish, like fresh herring,
tuna
Tuna
Tuna is a salt water fish from the family Scombridae, mostly in the genus Thunnus. Tuna are fast swimmers, and some species are capable of speeds of . Unlike most fish, which have white flesh, the muscle tissue of tuna ranges from pink to dark red. The red coloration derives from myoglobin, an...
,
mackerel
Mackerel
Mackerel is a common name applied to a number of different species of fish, mostly, but not exclusively, from the family Scombridae. They may be found in all tropical and temperate seas. Most live offshore in the oceanic environment but a few, like the Spanish mackerel , enter bays and can be...
,
salmon
Salmon
Salmon is the common name for several species of fish in the family Salmonidae. Several other fish in the same family are called trout; the difference is often said to be that salmon migrate and trout are resident, but this distinction does not strictly hold true...
and
sardine
Sardine
Sardines, or pilchards, are several types of small, oily fish related to herrings, family Clupeidae. Sardines are named after the Mediterranean island of Sardinia, around which they were once abundant....
s are well established throughout the country. Prior to the industrial revolution and the ensuing pollution of the rivers, salmon were common in the rivers of
Rhine
,
Elbe
Elbe
The Elbe is one of the major rivers of Central Europe. It rises in the Krkonoše Mountains of the northwestern Czech Republic before traversing much of Bohemia , then Germany and flowing into the North Sea at Cuxhaven, 110 km northwest of Hamburg...
, and
Oder
Oder
The Oder is a river in Central Europe. It rises in the Czech Republic and flows through western Poland, later forming of the border between Poland and Germany, part of the Oder-Neisse line...
.
Vegetables
Vegetables are often used in
stew
Stew
A stew is a combination of solid food ingredients that have been cooked in liquid and served in the resultant gravy. Ingredients in a stew can include any combination of vegetables , meat, especially tougher meats suitable for slow-cooking, such as beef. Poultry, sausages, and seafood are also used...
s or vegetable soups, but are also served as a side dish. Carrots, turnips, spinach, peas, beans, broccoli and many types of cabbage are very common. Fried onions are a common addition to many meat dishes throughout the country.
Asparagus
Asparagus
Asparagus officinalis is a spring vegetable, a flowering perennialplant species in the genus Asparagus. It was once classified in the lily family, like its Allium cousins, onions and garlic, but the Liliaceae have been split and the onion-like plants are now in the family Amaryllidaceae and...
, especially white asparagus known in English as spargel (the German name for asparagus), is a common side dish or may be prepared as a main dish. Restaurants will sometimes devote an entire menu to nothing but white asparagus when it is in season. Spargel season ( or ) traditionally begins in mid-May and ends on St. John's Day (24 June).
Side dishes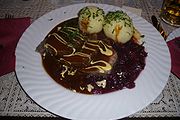 Noodle
Noodle
The noodle is a type of food, made from any of a variety of doughs, formed into long thin ribbons, strips, curly-cues, waves, helices, pipes, tubes, strings, or other various shapes, sometimes folded. They are usually cooked in a mixture of boiling water and/or oil. Depending upon the type, noodles...
s, made from wheat flour and egg, are usually thicker than the Italian flat pasta. Especially in the southwestern part of the country, the predominant variety of noodles are
spätzle
Spätzle
Spätzle are a type of egg noodle of soft texture found in the cuisine of Germany and of Austria, Switzerland, Hungary, Alsace and South Tyrol.-History:The geographic origin of spätzle is not precisely...
, made with large amounts of egg yolk, and maultaschen, traditional stuffed noodles reminiscent of
ravioli
Ravioli
Ravioli are a traditional type of Italian filled pasta. They are composed of a filling sealed between two layers of thin egg pasta dough and are served either in broth or with a pasta sauce. The word ravioli is reminiscent of the Italian verb riavvolgere , though the two words are not...
.
Besides noodles, potatoes are common. Potatoes entered the German cuisine in the late 18th century, and were almost ubiquitous in the 19th century and since. Potatoes most often are boiled (in salt water), but
mashed
Mashed potato
Mashed potato is made by mashing freshly boiled potatoes with a ricer, fork, potato masher, food mill, or whipping them with a hand beater. Dehydrated and frozen mashed potatoes are available in many places...
and
fried
Fried
-People:* Avraham Fried, a popular musical entertainer in the Orthodox Jewish community* Charles Fried, a prominent conservative American jurist and lawyer* Daisy Fried American poet* Daniel Fried, a United States career diplomat, Ambassador and Special Envoy...
potato
Potato
The potato is a starchy, tuberous crop from the perennial Solanum tuberosum of the Solanaceae family . The word potato may refer to the plant itself as well as the edible tuber. In the region of the Andes, there are some other closely related cultivated potato species...
es also are traditional.
French fries
French fries
French fries , chips, fries, or French-fried potatoes are strips of deep-fried potato. North Americans tend to refer to any pieces of deep-fried potatoes as fries or French fries, while in the United Kingdom, Australia, Ireland and New Zealand, long, thinly cut slices of deep-fried potatoes are...
, called or in German, are a common style of fried potatoes; they are traditionally offered with either
ketchup
Ketchup
Ketchup is a sweet-and-tangy condiment typically made from tomatoes, vinegar, sugar or high-fructose corn syrup and an assortment of...
or
mayonnaise
Mayonnaise
Mayonnaise, , often abbreviated as mayo, is a sauce. It is a stable emulsion of oil, egg yolk and either vinegar or lemon juice, with many options for embellishment with other herbs and spices. Lecithin in the egg yolk is the emulsifier. Mayonnaise varies in color but is often white, cream, or pale...
, or, as , with both.
Also common, especially in the south of Germany, are
dumpling
Dumpling
Dumplings are cooked balls of dough. They are based on flour, potatoes or bread, and may include meat, fish, vegetables, or sweets. They may be cooked by boiling, steaming, simmering, frying, or baking. They may have a filling, or there may be other ingredients mixed into the dough. Dumplings may...
s (including
klöße
Klose
Klose is a surname, and may refer to*Adolf Klose , German railroad engineer and inventor* Anastasia Klose, , Australian artist* Bob Klose, , British musician and photographer* Dennie Klose, , German Comedian...
or
knödel
Knödel
Knödel or Klöße are large round poached or boiled potato or bread dumplings, made without yeast. They are typical components of Austrian, German, Hungarian and Czech cuisine, and come in many different forms. They can be made from flour, potatoes, old bread, semolina and many more...
) and potato noodles including
schupfnudel
Schupfnudel
Schupfnudel , also called Fingernudeln or Bubespitzle , is the name of a type of dumpling or thick noodle in southern German and Austrian cuisine, similar to the more internationally familiar Italian gnocchi...
which is similar to Italian
gnocchi
Gnocchi
Gnocchi are various thick, soft dumplings. They may be made from semolina, ordinary wheat flour, flour and egg, flour, egg, and cheese, potato, bread crumbs, or similar ingredients. The smaller forms are called gnocchetti....
.
Spices and condiments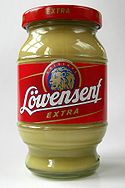 Generally, with the exception of mustard for sausages, German dishes are rarely hot and spicy; the most popular herbs are traditionally
parsley
Parsley
Parsley is a species of Petroselinum in the family Apiaceae, native to the central Mediterranean region , naturalized elsewhere in Europe, and widely cultivated as an herb, a spice and a vegetable.- Description :Garden parsley is a bright green hairless biennial herbaceous plant in temperate...
,
thyme
Thyme
Thyme is a culinary and medicinal herb of the genus Thymus.-History:Ancient Egyptians used thyme for embalming. The ancient Greeks used it in their baths and burnt it as incense in their temples, believing it was a source of courage...
,
laurel
Bay Laurel
The bay laurel , also known as sweet bay, bay tree, true laurel, Grecian laurel, laurel tree, or simply laurel, is an aromatic evergreen tree or large shrub with green, glossy leaves, native to the Mediterranean region. It is the source of the bay leaf used in cooking...
,
chives
Chives
Chives are the smallest species of the edible onions. A perennial plant, they are native to Europe, Asia and North America.. Allium schoenoprasum is the only species of Allium native to both the New and the Old World....
,
black pepper
Black pepper
Black pepper is a flowering vine in the family Piperaceae, cultivated for its fruit, which is usually dried and used as a spice and seasoning. The fruit, known as a peppercorn when dried, is approximately in diameter, dark red when fully mature, and, like all drupes, contains a single seed...
(used in small amounts),
juniper berries
Juniper berry
A juniper berry is the female seed cone produced by the various species of junipers. It is not a true berry but a cone with unusually fleshy and merged scales, which give it a berry-like appearance. The cones from a handful of species, especially Juniperus communis, are used as a spice,...
and
caraway
Caraway
Caraway also known as meridian fennel, or Persian cumin is a biennial plant in the family Apiaceae, native to western Asia, Europe and Northern Africa....
.
Cardamom
Cardamom
Cardamom refers to several plants of the genera Elettaria and Amomum in the ginger family Zingiberaceae. Both genera are native to India and Bhutan; they are recognised by their small seed pod, triangular in cross-section and spindle-shaped, with a thin papery outer shell and small black seeds...
,
anise seed
Anise
Anise , Pimpinella anisum, also called aniseed, is a flowering plant in the family Apiaceae native to the eastern Mediterranean region and Southwest Asia. Its flavor resembles that of liquorice, fennel, and tarragon.- Biology :...
, and
cinnamon
Cinnamon
Cinnamon is a spice obtained from the inner bark of several trees from the genus Cinnamomum that is used in both sweet and savoury foods...
are often used in sweet cakes or beverages associated with Christmas time, and sometimes in the preparation of sausages, but are otherwise rare in German meals. Other herbs and spices like
basil
Basil
Basil, or Sweet Basil, is a common name for the culinary herb Ocimum basilicum , of the family Lamiaceae , sometimes known as Saint Joseph's Wort in some English-speaking countries....
,
sage
Common sage
Salvia officinalis is a small, perennial, evergreen subshrub, with woody stems, grayish leaves, and blue to purplish flowers. It is a member of the family Lamiaceae and is native to the Mediterranean region, though it has naturalized in many places throughout the world...
,
oregano
Oregano
Oregano – scientifically named Origanum vulgare by Carolus Linnaeus – is a common species of Origanum, a genus of the mint family . It is native to warm-temperate western and southwestern Eurasia and the Mediterranean region.Oregano is a perennial herb, growing from 20–80 cm tall,...
, and hot
chili pepper
Chili pepper
Chili pepper is the fruit of plants from the genus Capsicum, members of the nightshade family, Solanaceae. The term in British English and in Australia, New Zealand, India, Malaysia and other Asian countries is just chilli without pepper.Chili peppers originated in the Americas...
s have become more popular in recent times.
Mustard
Mustard (condiment)
Mustard is a condiment made from the seeds of a mustard plant...
("Senf") is a very common accompaniment to sausages and can vary in strength, the most common version being "Mittelscharf" (lit. "medium hot"), which is somewhere between traditional English and French mustards in strength. Düsseldorf and the surrounding area is known for its particularly spicy mustard, which is used both as a table condiment and in local dishes such as
Senfrostbraten
(roasted steak with mustard). In the southern parts of the country, a sweet variety of mustard is made which is almost exclusively served with the Bavarian speciality
Weißwurst
Weißwurst
Weisswurst is a traditional Bavarian sausage made from very finely minced veal and fresh pork bacon. It is usually flavoured with parsley, lemon, mace, onions, ginger and cardamom, though there are some variations...
. German mustard is usually considerably less acidic than American varieties.
Horseradish
Horseradish
Horseradish is a perennial plant of the Brassicaceae family, which also includes mustard, wasabi, broccoli, and cabbages. The plant is probably native to south eastern Europe and the Arab World , but is popular around the world today...
is commonly used as a condiment either on its own served as a paste, enriched with cream ("Sahnemeerrettich"), or combined with mustard. In some regions of Germany it is used with meats and sausages where mustard would otherwise be used.
Garlic
Garlic
Allium sativum, commonly known as garlic, is a species in the onion genus, Allium. Its close relatives include the onion, shallot, leek, chive, and rakkyo. Dating back over 6,000 years, garlic is native to central Asia, and has long been a staple in the Mediterranean region, as well as a frequent...
was long frowned upon for causing
halitosis
Halitosis
Halitosis is a term used to describe noticeably unpleasant odors exhaled in breathing. Halitosis is estimated to be the third most frequent reason for seeking dental aid, following tooth decay and periodontal disease.- General :...
and thus has never played a large role in traditional German cuisine, but has risen in popularity in recent decades due to the influence of
French
French cuisine
French cuisine is a style of food preparation originating from France that has developed from centuries of social change. In the Middle Ages, Guillaume Tirel , a court chef, authored Le Viandier, one of the earliest recipe collections of Medieval France...
,
Italian
Italian cuisine
Italian cuisine has developed through centuries of social and political changes, with roots as far back as the 4th century BCE. Italian cuisine in itself takes heavy influences, including Etruscan, ancient Greek, ancient Roman, Byzantine, Jewish and Arab cuisines...
,
Spanish
Spanish cuisine
Spanish cuisine consists of a variety of dishes, which stem from differences in geography, culture and climate. It is heavily influenced by seafood available from the waters that surround the country, and reflects the country's deep maritime roots...
,
Portuguese
Portuguese cuisine
Portuguese cuisine is characterised by rich, filling and full-flavored dishes and is closely related to Mediterranean cuisine. The influence of Portugal's former colonial possessions is also notable, especially in the wide variety of spices used. These spices include piri piri and black pepper, as...
, Greek, and
Turkish
Turkish cuisine
Turkish cuisine is largely the heritage of Ottoman cuisine, which can be described as a fusion and refinement of Central Asian, Middle Eastern and Balkan cuisines. Turkish cuisine has in turn influenced those and other neighbouring cuisines, including that of western Europe...
cuisine. Bear's garlic, a rediscovered spice from earlier centuries, has become quite popular again since the 1990s.
Desserts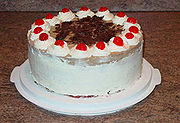 A wide variety of
cake
Cake
Cake is a form of bread or bread-like food. In its modern forms, it is typically a sweet and enriched baked dessert. In its oldest forms, cakes were normally fried breads or cheesecakes, and normally had a disk shape...
s and
tart
Tart
A tart is a baked dish consisting of a filling over a pastry base with an open top not covered with pastry. The pastry is usually shortcrust pastry; the filling may be sweet or savoury, though modern tarts are usually fruit-based, sometimes with custard....
s are served throughout the country, most commonly made with fresh fruit. Apples, plums, strawberries, and cherries are used regularly in cakes.
Cheesecake
Cheesecake
Cheesecake is a dessert consisting of a topping made of soft, fresh cheese, usually on a crust or base made from biscuit , pastry or sponge cake. They may be baked or unbaked...
is also very popular, often made with
quark
Quark (cheese)
Quark is a type of fresh cheese, also known as tvorog , topfen , biezpiens , and varškė . It is made by warming soured milk until the desired degree of denaturation of milk proteins is met, and then strained...
. Schwarzwälder Kirschtorte (Black Forest cake) is another very well known cake, made with cherries. German
doughnut
Doughnut
A doughnut or donut is a fried dough food and is popular in many countries and prepared in various forms as a sweet snack that can be homemade or purchased in bakeries, supermarkets, food stalls, and franchised specialty outlets...
s (which have no hole) are usually balls of yeast dough with jam or other fillings, and are known as
Berliner
Berliner (pastry)
A Berliner Pfannkuchen is a predominantly...
,
Pfannkuchen
(only in the Berlin area),
Kreppel
or
Krapfen
depending on the region.
Eierkuchen
or
Pfannkuchen
are large, and relatively thin pancakes, comparable to the French
crêpe
Crêpe
A crêpe or crepe , is a type of very thin pancake, usually made from wheat flour or buckwheat flour . The word is of French origin, deriving from the Latin crispa, meaning "curled". While crêpes originate from Brittany, a region in the northwest of France, their consumption is widespread in France...
s. They are served covered with sugar, jam or syrup. Salty variants with cheese, ground meat or bacon exist as well, but they are usually considered to be main dishes rather than desserts. In some regions
Eierkuchen
are filled and then wrapped, in others they're cut into small pieces and arranged in a heap. The word
Pfannkuchen
can either mean German doughnuts (see
Berliner
) or pancakes (see
Eierkuchen
), depending on the region.
A popular dessert in northern Germany is "Rote Grütze", red fruit pudding, which is made with black and red currants, raspberries and sometimes strawberries or cherries cooked in juice with corn starch as a thickener. It is traditionally served with cream, but also is served with
vanilla
Vanilla
Vanilla is a flavoring derived from orchids of the genus Vanilla, primarily from the Mexican species, Flat-leaved Vanilla . The word vanilla derives from the Spanish word "", little pod...
sauce, milk or whipped cream. "Rhabarbergrütze" (rhubarb pudding) and "Grüne Grütze" (gooseberry fruit pudding) are variations of the "Rote Grütze". A similar dish,
Obstkaltschale
, may also be found all around Germany.
Ice cream
Ice cream
Ice cream is a frozen dessert usually made from dairy products, such as milk and cream, and often combined with fruits or other ingredients and flavours. Most varieties contain sugar, although some are made with other sweeteners...
and sorbets are also very popular. Italian-run ice cream parlours were the first large wave of foreign-run eateries in Germany, becoming widespread in the 1920s. Spaghettieis, which resembles spaghetti, tomato sauce, and ground cheese on a plate, is a popular ice cream dessert.
Bread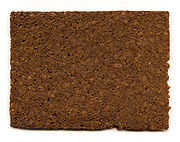 Bread
Bread
Bread is a staple food prepared by cooking a dough of flour and water and often additional ingredients. Doughs are usually baked, but in some cuisines breads are steamed , fried , or baked on an unoiled frying pan . It may be leavened or unleavened...
(
Brot
) is a significant part of German cuisine and is considered necessary for a healthy diet. About 600 main types of breads and 1,200 different types of pastries and rolls are produced in about 17,000 bakeries and another 10,000 in-shop bakeries.
Bread is served usually for breakfast and in the evening as sandwiches, but rarely as a side dish for the main meal. The importance of bread in German cuisine is also illustrated by words such as
Abendbrot
(meaning supper, literally
Evening Bread
) and
Brotzeit
(snack, literally
Bread Time
). In fact, one of the major complaints of the German
expatriate
Expatriate
An expatriate is a person temporarily or permanently residing in a country and culture other than that of the person's upbringing...
s in many parts of the world is their inability to find acceptable local breads.
Regarding
bread
Bread
Bread is a staple food prepared by cooking a dough of flour and water and often additional ingredients. Doughs are usually baked, but in some cuisines breads are steamed , fried , or baked on an unoiled frying pan . It may be leavened or unleavened...
, German cuisine is more varied than that of either Eastern or Western Europe. Bread types range from white
wheat
Wheat
Wheat is a cereal grain, originally from the Levant region of the Near East, but now cultivated worldwide. In 2007 world production of wheat was 607 million tons, making it the third most-produced cereal after maize and rice...
bread to grey (
Graubrot
) to black (
Schwarzbrot
), actually dark brown
rye
Rye
Rye is a grass grown extensively as a grain and as a forage crop. It is a member of the wheat tribe and is closely related to barley and wheat. Rye grain is used for flour, rye bread, rye beer, some whiskeys, some vodkas, and animal fodder...
bread. Most breads contain both wheat and rye flour (hence
Mischbrot
, mixed bread), and often wholemeal and whole seeds (such as linseed,
sunflower
Sunflower
Sunflower is an annual plant native to the Americas. It possesses a large inflorescence . The sunflower got its name from its huge, fiery blooms, whose shape and image is often used to depict the sun. The sunflower has a rough, hairy stem, broad, coarsely toothed, rough leaves and circular heads...
seed, or
pumpkin
Pumpkin
A pumpkin is a gourd-like squash of the genus Cucurbita and the family Cucurbitaceae . It commonly refers to cultivars of any one of the species Cucurbita pepo, Cucurbita mixta, Cucurbita maxima, and Cucurbita moschata, and is native to North America...
seed) as well. Darker, rye-dominated breads such as
Vollkornbrot
or
Schwarzbrot
are typical of German cuisine.
Pumpernickel
Pumpernickel
Pumpernickel is a type of very heavy, slightly sweet rye bread traditionally made with coarsely ground rye. It is often made with a combination of rye flour and whole rye berries. It has been long associated with the Westphalia region of Germany. The first written mention of the black bread of...
, a steamed, sweet-tasting bread, is internationally well known, although not representative of German black bread as a whole. Most German breads are made with
sourdough
Sourdough
Sourdough is a dough containing a Lactobacillus culture, usually in symbiotic combination with yeasts. It is one of two principal means of biological leavening in bread baking, along with the use of cultivated forms of yeast . It is of particular importance in baking rye-based breads, where yeast...
. Whole grain is preferred for high fibre. Germans use almost all available types of grain for their breads: wheat, rye, barley, spelt, oats, millet, corn and rice. Some breads are made with potato starch flour.
Germany's most popular breads are:
Rye-wheat ("Roggenmischbrot")
Toast bread ("Toastbrot")
Whole-grain ("Vollkornbrot")
Wheat-rye ("Weizenmischbrot")
White bread ("Weißbrot")
Multi-grain, usually wheat-rye-oats with sesame or linseed ("Mehrkornbrot")
Rye ("Roggenbrot")
Sunflower seeds in dark rye bread

Rye bread

Rye bread is a type of bread made with various percentages of flour from rye grain. It can be light or dark in color, depending on the type of flour used and the addition of coloring agents, and is typically denser than bread made from wheat flour...


("Sonnenblumenkernbrot")
Pumpkin seeds in dark rye bread ("Kürbiskernbrot")
Roasted onions in light wheat-rye bread ("Zwiebelbrot")
Bread rolls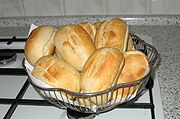 Bread roll
Bread roll
A bread roll is a piece of bread, usually small and round and is commonly considered a side dish. Bread rolls are often used in the same way as sandwiches are—cut transversely, with fillings placed between the two halves.-Various forms:...
s, known in Germany as
Brötchen
(a diminutive of "Brot"),
Semmel
,
Schrippe
,
Rundstück
or
Weck
/
Weckle
/
Weckli
/
Wecken
, depending on the region, are common in German cuisine. A typical serving is a roll cut in half, and spread with butter or margarine. Cheese, honey, jam,
Nutella
Nutella
Nutella is the brand name of a chocolate spread. Nutella, manufactured by the Italian company Ferrero, was introduced on the market in 1963. The recipe was developed from an earlier Ferrero spread released in 1944. Nutella is now sold in over 75 countries....
, meat, fish, or preserves are then placed between the two halves, or on each half separately, known as a "Belegtes Brötchen".
Rolls are also used for snacks, or like a hot-dog/hamburger style roll for
Bratwurst
Bratwurst
A bratwurst is a sausage usually composed of veal, pork or beef. The plural in German is Bratwürste....
, Brätel, or
Schwenker
Schwenker
The term Schwenker is a local term from the German state of Saarland and is used in three ways, all relating to the same grilled meat:# Schwenker or Schwenkbraten is a marinated pork neck steak which originates from the Saarland and is grilled on a Schwenker ...
/Schwenkbraten.
A sweet roll which originated in the area of Hamburg is the
Franzbrötchen
Franzbrötchen
A Franzbrötchen is a small, sweet pastry, baked with butter and cinnamon. Sometimes other ingredients are used as well, such as chocolate or raisins. It is a type of pastry commonly found in northern Germany, especially Hamburg, and it is usually served for breakfast, but is also enjoyed along with...
, small, sweet pastry, baked with butter and cinnamon.
Structure of meals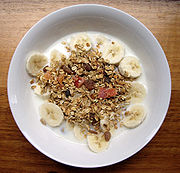 Breakfast (Frühstück) commonly consists of bread, toast, and/or bread rolls with cold cut, cheese or jam ("Konfitüre" or more commonly called "Marmelade"), marmalade or honey, eggs, and strong coffee or tea (milk, cocoa or juice for children). Deli meats, such as ham, salted meats and salami, are also commonly eaten on bread in the morning, as are various cheeses. A variety of meat-based spreads such as Leberwurst (liverwurst) are eaten during breakfast as well.
Traditionally, the main meal of the day has been lunch (
Mittagessen
), eaten around noon. Dinner (
Abendessen
or
Abendbrot
) was always a smaller meal, often consisting only of a variety of breads, meat or sausages, cheese and some kind of vegetables, similar to breakfast, or possibly sandwiches. However, in Germany, as in other parts of Europe, dining habits have changed over the last 50 years.
Today, many people eat only a small meal in the middle of the day at work, and enjoy a hot dinner in the evening at home with the whole family. This is also the reason why the availability of cheap restaurants close to the office or the existence of a factory canteen cannot be assumed automatically.
For others, the traditional way of eating is still rather common, and not only in rural areas. Breakfast is still very popular and may be elaborated and extended on weekends, with friends invited as guests. Since the 1990s the Sunday
brunch
Brunch
Brunch is a meal eaten between breakfast and lunch. The word is a portmanteau of breakfast and lunch.-Origin of the word:The 1896 supplement to the Oxford English Dictionary cites Punch magazine which wrote that the term was coined in Britain in 1895 to describe a Sunday meal for "Saturday-night...
has also become common, especially in city cafés.
Drinks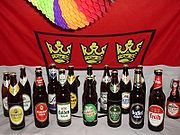 Beer
Beer
Beer is the world's most widely consumed andprobably oldest alcoholic beverage; it is the third most popular drink overall, after water and tea. It is produced by the brewing and fermentation of sugars, mainly derived from malted cereal grains, most commonly malted barley and malted wheat...
is very common throughout all parts of Germany, with many local and regional breweries producing a wide variety of superb beers. The
pale lager
Pale lager
Pale lager is a very pale to golden-coloured beer with a well attenuated body and a varying degree of noble hop bitterness. The brewing process for this beer developed in the mid 19th century when Gabriel Sedlmayr took pale ale brewing techniques back to the Spaten Brewery in Germany and applied it...
pilsener
Pilsener
Pilsner is a type of pale lager. It takes its name from the city of Pilsen , Bohemia, in today's Czech Republic, where it has been developed since 1842, when a bottom-fermented beer was first produced. The original Pilsner Urquell beer is produced there today.-Origin:Until the mid-1840s, most ...
, a style developed in the mid-19th century, is predominant in most parts of the country today, whereas
wheat beer
Wheat beer
Wheat beer is a beer that is brewed with a large proportion of wheat. Wheat beers often also contain a significant proportion of malted barley. Wheat beers are usually top-fermented...
(Weißbier) and other types of
lager
Lager
Lager is a type of beer made from malted barley that is brewed and stored at low temperatures. There are many types of lager; pale lager is the most widely-consumed and commercially available style of beer in the world; Pilsner, Bock, Dortmunder Export and Märzen are all styles of lager...
are common, especially in Bavaria. A number of regions have local specialties, many of which, like Weissbier, are more traditionally brewed ales. Among these are
Altbier
Altbier
Altbier is a German top-fermenting beer brewed in Düsseldorf and other parts of North Rhine-Westphalia.The name Altbier, which means old beer, refers to the pre-lager brewing method of using a warm top-fermenting yeast...
, a dark beer available around the lower Rhine,
Kölsch
Kölsch (beer)
Kölsch, also written Koelsch, is a local beer specialty brewed in Cologne, Germany. It is a clear beer with a bright straw-yellow hue, and it has a prominent, but not extreme, hoppiness. It is less bitter than the standard German pale lager. Furthermore, Kölsch is warm fermented at a temperature...
, a similar style in the Cologne area, and the low-alcohol
Berliner Weiße
Berliner Weisse
Berliner Weisse is a cloudy, sour wheat beer of around 3% abv. It is a regional beer from Northern Germany, mainly Berlin, dating back to the 16th century. By the 19th century, Berliner Weisse was the most popular alcoholic drink in Berlin, and 700 breweries produced it...
, a sour beer made in Berlin that is often mixed with raspberry syrup. Since the reunification of 1990,
Schwarzbier
Schwarzbier
, or "black beer", is a German dark lager beer. It has an opaque, black colour and a full, chocolatey or coffee flavour. Although they share some similar flavours they are milder tasting and less bitter than British stouts or porters, owing to the use of lager rather than ale yeast and no roasted...
, which was common in East Germany but could hardly be found in
West Germany
West Germany
West Germany is the common English, but not official, name for the Federal Republic of Germany or FRG in the period between its creation in May 1949 to German reunification on 3 October 1990....
, has become increasingly popular in Germany as a whole. Beer may also be mixed with other beverages:
pils or lager and carbonated lemonade (in Europe and the UK, lemonade is a carbonated drink, in America, lemonade is a non-carbonated drink): Radler

Radler

The Radler is a Biermischgetränk with a long history in German-speaking regions. Consisting of a 50%/50% or 60%/40% mixture of various types of beer and German-style soda pop or lemonade, the invention of the Radler has been widely attributed to the Munich gastronomer Franz Xaver Kugler in 1922...


, Alsterwasser
pils or lager and cola: Diesel, Schmutziges or simply Colabier
Altbier and Malzbier: Krefelder
Altbier and cola: Altcola or Aco (also called Krefelder in some regions, which might lead to misunderstandings)
wheat beer and lemonade: Russ
wheat beer and cola: Colaweizen
Since a beer tax law was changed in 1993, many breweries served this trend of mixing beer with other drinks by selling bottles of already-mixed beverages. Examples are
Bibob
(from
Köstritzer
Köstritzer
The Köstritzer brewery has been owned by the Bitburger Brauerei since 1991. It is located in Bad Köstritz, which is close to Gera in Thuringia. The brewery was founded in 1543 and it is one of the oldest producers of Schwarzbier in Germany...
),
Veltins V+
,
Mixery
(from Karlsberg), Dimix (from Diebels) and
Cab
(from
Krombacher
Krombacher
Krombacher Brauerei is one of the largest privately owned breweries in Germany and ranks number 2 among Germany's best selling breweries.- History :...
).
Beer is generally sold in bottles or from draught. Canned beer is available, but cans almost vanished after the introduction of a deposit in 2003.
Wine
Wine
Wine is an alcoholic beverage, made of fermented fruit juice, usually from grapes. The natural chemical balance of grapes lets them ferment without the addition of sugars, acids, enzymes, or other nutrients. Grape wine is produced by fermenting crushed grapes using various types of yeast. Yeast...
is also popular throughout the country.
German wine
German wine
German wine is primarily produced in the west of Germany, along the river Rhine and its tributaries, with the oldest plantations going back to the Roman era. Approximately 60 percent of the German wine production is situated in the federal state of Rhineland-Palatinate, where 6 of the 13 regions ...
comes predominantly from the areas along the upper and middle
Rhine
and its tributaries.
Riesling
Riesling
Riesling is a white grape variety which originated in the Rhine region of Germany. Riesling is an aromatic grape variety displaying flowery, almost perfumed, aromas as well as high acidity. It is used to make dry, semi-sweet, sweet and sparkling white wines. Riesling wines are usually varietally...
and
Silvaner
Silvaner
Sylvaner or Silvaner is a variety of white wine grape grown primarily in Alsace and Germany, where its official name is Grüner Silvaner. In Germany it is best known as a component of Liebfraumilch and production boomed in the 1970s to the detriment of quality, but it has long enjoyed a better...
are among the best-known varieties of white wine, while
Spätburgunder
Pinot Noir
Pinot noir is a black wine grape variety of the species Vitis vinifera. The name may also refer to wines created predominantly from Pinot noir grapes...
and
Dornfelder
Dornfelder
Dornfelder is a dark-skinned variety of grape of German origin used for red wine. It was created by August Herold at the grape breeding institute in Weinsberg in the Württemberg region in 1955. Herold crossed the grape varieties Helfensteiner and Heroldrebe, the latter which bears his name, to...
are important German red wines. The sweet German wines sold in English speaking countries seem mostly to cater to the foreign market, as they are rare in Germany.
Korn
Korn (liquor)
Korn is a German colorless spirit that is usually made from fermented rye but may also be made from corn, barley, or wheat. Korn differs from vodka in that it is less rigorously filtered, which leaves more of the cereal taste in the finished spirit.Korn is the cheapest kind of spirit available in...
is a German spirit made from malt (wheat, rye and/or barley), that is consumed predominantly in the middle and northern parts of Germany.
Obstler
on the other hand, distilled from apples and pears (
"Obstler"
), plums, cherries (
Kirschwasser
Kirschwasser
Kirschwasser is a clear, colorless fruit brandy traditionally made from double distillation of morello cherries, a dark-colored cultivar of the sour cherry. However, it is now also made from other kinds of cherries. The cherries are fermented complete...
), or mirabelle plums, is preferred in the southern parts. The term
Schnaps
refers to both kinds of hard liquors.
Coffee
Coffee
Coffee is a brewed beverage with a dark,init brooo acidic flavor prepared from the roasted seeds of the coffee plant, colloquially called coffee beans. The beans are found in coffee cherries, which grow on trees cultivated in over 70 countries, primarily in equatorial Latin America, Southeast Asia,...
is also very common, not only for breakfast, but also accompanying a piece of cake in the afternoon, usually on Sundays or special occasions and birthdays. It is generally
filter coffee
Drip brew
Drip brewing, or filtered coffee, is a method for brewing coffee which involves pouring water over roasted, ground coffee beans contained in a filter. Water seeps through the coffee, absorbing its oils and essences, solely under gravity, then passes through the bottom of the filter...
, which is weaker than
espresso
Espresso
Espresso is a concentrated beverage brewed by forcing a small amount of nearly boiling water under pressure through finely ground coffee. Espresso is widely known throughout the world....
.
Tea
Tea
Tea is an aromatic beverage prepared by adding cured leaves of the Camellia sinensis plant to hot water. The term also refers to the plant itself. After water, tea is the most widely consumed beverage in the world...
is more common in the Northwest. East Frisians traditionally have their tea with cream and rock candy ("Kluntje").
Popular soft drinks include
Schorle
Schorle
Schorle is a German beverage made from diluting juice or wine with carbonated water. The most common variety is Apfelschorle . Large bottles of Schorle can be found at most grocers, stores, supermarkets and anywhere else where carbonated drinks are sold, next to the soda...
, juice or wine mixed with sparkling mineral water, with
Apfelschorle
Apfelschorle
, also Apfelsaftschorle, is a popular soft drink in Germany. It consists of carbonated mineral water and apple juice. The broader category Fruchtschorle consists of any fruit juice mixed with carbonated water, but Apfelschorle is by far the most common...
being especially popular in southern Germany, and
Spezi
Spezi
Spezi, in some areas also known as "Cola-Mix", is a genericized trademark for a soft drink made with cola and orange soda. Owner of the trademark is Brauhaus Riegele in Augsburg, Germany. When the brand was registered in 1956, Riegele at first was selling beer under the trademark.In most of Germany...
, made with cola and an orange-flavored drink such as
Fanta
Fanta
Fanta is a global brand of fruit-flavored carbonated soft drinks from the Coca-Cola Company. There are over 90 flavors worldwide. The drink debuted in Germany in 1941 and originally sold only in Europe.-History:...
. Germans are unique among their neighbors in preferring
bottled
Bottled water
Bottled water is drinking water packaged in plastic or glass water bottles. Bottled water may be carbonated or not...
, carbonated
mineral water
Mineral water
Mineral water is water containing minerals or other dissolved substances that alter its taste or give it therapeutic value, generally obtained from a naturally occurring mineral spring or source. Dissolved substances in the water may include various salts and sulfur compounds...
, either plain (
"Sprudel"
) or flavored (usually lemon) to non-carbonated ones.
Drinking water of excellent quality is available everywhere and at any time in Germany. Water provided by the public water industry can be had without hesitation directly from the tap. No chlorine is added. Drinking water is controlled by state authority to ensure it is potable. Regulations are even stricter than those for bottled water (see Trinkwasserverordnung). There is no need at all to buy water in bottles in Germany for health reasons, though the taste of the tap water varies widely.
Regional cuisine

German regional cuisine can be divided into many varieties such as
Bavarian cuisine
Bavarian cuisine
Bavarian cuisine is a style of cooking derived from Bavaria.The origins of Bavarian cuisine are rural. The cuisine typically includes many meat and Knödel dishes, and the prominent use of flour....
(Southern Germany),
Thuringia
Thuringia
The Free State of Thuringia is a state of Germany, located in the central part of the country.It has an area of and 2.29 million inhabitants, making it the sixth smallest by area and the fifth smallest by population of Germany's sixteen states....
n (Central Germany),
Lower Saxon cuisine
Lower Saxon cuisine
Lower Saxon cuisine covers a range of regional, North German culinary traditions, which in many cases are very similar to one another, for example cuisine from the areas of Oldenburg, Brunswick, or East Frisia...
or those of
Saxony-Anhalt
Saxony-Anhalt
Saxony-Anhalt is a landlocked state of Germany. Its capital is Magdeburg and it is surrounded by the German states of Lower Saxony, Brandenburg, Saxony, and Thuringia.Saxony-Anhalt covers an area of...
.
Thuringia
Agriculture figures highly in the diet of
Thuringia
Thuringia
The Free State of Thuringia is a state of Germany, located in the central part of the country.It has an area of and 2.29 million inhabitants, making it the sixth smallest by area and the fifth smallest by population of Germany's sixteen states....
with about half of the state being used for agriculture.
Wheat
Wheat
Wheat is a cereal grain, originally from the Levant region of the Near East, but now cultivated worldwide. In 2007 world production of wheat was 607 million tons, making it the third most-produced cereal after maize and rice...
,
rapeseed
Rapeseed
Rapeseed , also known as rape, oilseed rape, rapa, rappi, rapaseed is a bright yellow flowering member of the family Brassicaceae...
, sugarbeet, and
barley
Barley
Barley is a major cereal grain, a member of the grass family. It serves as a major animal fodder, as a base malt for beer and certain distilled beverages, and as a component of various health foods...
grow well, along with a variety of vegetables, which grow near
Erfurt
Erfurt
Erfurt is the capital city of Thuringia and the main city nearest to the geographical centre of Germany, located 100 km SW of Leipzig, 150 km N of Nuremberg and 180 km SE of Hannover. Erfurt Airport can be reached by plane via Munich. It lies in the southern part of the Thuringian...
, the state's capital.
Cauliflower
Cauliflower
Cauliflower is one of several vegetables in the species Brassica oleracea, in the family Brassicaceae. It is an annual plant that reproduces by seed...
(740 acres (3 km²)),
cabbage
Cabbage
Cabbage is a popular cultivar of the species Brassica oleracea Linne of the Family Brassicaceae and is a leafy green vegetable...
(savoy, red, white) (25 acres (101,171.5 m²)),
kohlrabi
(37 acres (149,733.8 m²)),
broccoli
Broccoli
Broccoli is a plant in the cabbage family, whose large flower head is used as a vegetable.-General:The word broccoli, from the Italian plural of , refers to "the flowering top of a cabbage"....
(37 acres (149,733.8 m²)) grow by traditional means near Erfurt.
Tomato
Tomato
The word "tomato" may refer to the plant or the edible, typically red, fruit which it bears. Originating in South America, the tomato was spread around the world following the Spanish colonization of the Americas, and its many varieties are now widely grown, often in greenhouses in cooler...
es,
lettuce
Lettuce
Lettuce is a temperate annual or biennial plant of the daisy family Asteraceae. It is most often grown as a leaf vegetable. It is eaten either raw, notably in salads, sandwiches, hamburgers, tacos, and many other dishes, or cooked, as in Chinese cuisine in which the stem becomes just as important...
, broad beans,
onion
Onion
The onion , also known as the bulb onion, common onion and garden onion, is the most widely cultivated species of the genus Allium. The genus Allium also contains a number of other species variously referred to as onions and cultivated for food, such as the Japanese bunching onion The onion...
s, and
cucumber
Cucumber
The cucumber is a widely cultivated plant in the gourd family Cucurbitaceae, which includes squash, and in the same genus as the muskmelon. The plant is a creeping vine which bears cylindrical edible fruit when ripe. There are three main varieties of cucumber: "slicing", "pickling", and...
s are grown in the eastern portion of the region near
Jena
Jena
Jena is a university city in central Germany on the river Saale. It has a population of approx. 103,000 and is the second largest city in the federal state of Thuringia, after Erfurt.-History:Jena was first mentioned in an 1182 document...
under glass centers on about 12 acres (48,562.3 m²) of land. Thuringia is the second largest
herb
Herb
Except in botanical usage, an herb is "any plant with leaves, seeds, or flowers used for flavoring, food, medicine, or perfume" or "a part of such a plant as used in cooking"...
-growing region in Germany; the town of
Kolleda
Kölleda
Kölleda is a town in the district of Sömmerda, in Thuringia, Germany. It is situated 10 km east of Sömmerda, and 24 km north of Weimar....
was once considered the "
peppermint
Peppermint
Peppermint is a hybrid mint, a cross between the watermint and spearmint . The plant, indigenous to Europe, is now widespread in cultivation throughout all regions of the world...
town", where herb growers used to congregate to study herb cultivation.
One-third of Thuringia is covered in forest, and is considered to be one of the best game hunting regions in Germany. Until the unification of East and West Germany, the game meats were reserved for those privileged enough to obtain it in luxury hotels, or it was exported. Today anyone with a proper permit may hunt for game such as
red deer
Red Deer
The red deer is one of the largest deer species. Depending on taxonomy, the red deer inhabits most of Europe, the Caucasus Mountains region, Asia Minor, parts of western Asia, and central Asia. It also inhabits the Atlas Mountains region between Morocco and Tunisia in northwestern Africa, being...
,
roe deer
Roe Deer
The European Roe Deer , also known as the Western Roe Deer, chevreuil or just Roe Deer, is a Eurasian species of deer. It is relatively small, reddish and grey-brown, and well-adapted to cold environments. Roe Deer are widespread in Western Europe, from the Mediterranean to Scandinavia, and from...
, wild boar,
rabbit
Rabbit
Rabbits are small mammals in the family Leporidae of the order Lagomorpha, found in several parts of the world...
,
duck
Duck (food)
Duck refers to the meat of several species of bird in the Anatidae family, found in both fresh and salt water. Duck is eaten in many cuisines around the world.-Types of ducks:The most common duck meat consumed in the United States is the Pekin duck...
, and
mouflon
Mouflon
The mouflon is a subspecies group of the wild sheep Ovis aries. Populations of Ovis aries can be partitioned into the mouflons and urials or arkars...
(mountain sheep).
Pheasant
Pheasant
Pheasants refer to some members of the Phasianinae subfamily of Phasianidae in the order Galliformes.Pheasants are characterised by strong sexual dimorphism, males being highly ornate with bright colours and adornments such as wattles and long tails. Males are usually larger than females and have...
,
capercaillie
Capercaillie
The Western Capercaillie , also known as the Wood Grouse, Heather Cock or Capercaillie , is the largest member of the grouse family, reaching over 100 cm in length and 6.7 kg in weight. The largest one ever recorded in captivity had a weight of 7.2 kg....
are all protected game species that may not be hunted. The wooded areas also contain a wide variety of edible mushrooms such as
chestnut mushroom
Mushroom
A mushroom is the fleshy, spore-bearing fruiting body of a fungus, typically produced above ground on soil or on its food source. The standard for the name "mushroom" is the cultivated white button mushroom, Agaricus bisporus; hence the word "mushroom" is most often applied to those fungi that...
s, porcini, and
chanterelle
Mushroom
A mushroom is the fleshy, spore-bearing fruiting body of a fungus, typically produced above ground on soil or on its food source. The standard for the name "mushroom" is the cultivated white button mushroom, Agaricus bisporus; hence the word "mushroom" is most often applied to those fungi that...
, along with wild berries such as
blueberries
Blueberry
Blueberries are flowering plants of the genus Vaccinium with dark-blue berries and are perennial...
,
cranberries
Cranberry
Cranberries are a group of evergreen dwarf shrubs or trailing vines in the subgenus Oxycoccus of the genus Vaccinium. In some methods of classification, Oxycoccus is regarded as a genus in its own right...
,
raspberries
Raspberry
The raspberry or hindberry is the edible fruit of a multitude of plant species in the genus Rubus, most of which are in the subgenus Idaeobatus; the name also applies to these plants themselves...
, and
blackberries
Blackberry
The blackberry is an edible fruit produced by any of several species in the Rubus genus of the Rosaceae family. The fruit is not a true berry; botanically it is termed an aggregate fruit, composed of small drupelets. The plants typically have biennial canes and perennial roots. Blackberries and...
which are all traditional accompaniments to game dishes.
The most famous foods from Thuringia are
Thuringian sausages
and
Thuringian dumplings
. The state is also known for its
sausage
Sausage
A sausage is a food usually made from ground meat , mixed with salt, herbs, and other spices, although vegetarian sausages are available. The word sausage is derived from Old French saussiche, from the Latin word salsus, meaning salted.Typically, a sausage is formed in a casing traditionally made...
s; steamed, scaled, and cured varieties are all prepared. Popular varieties include
Thüringer mettwurst
Mettwurst
Mettwurst is a strongly flavoured German sausage made from raw minced pork, which is preserved by curing and smoking. The southern German variety is soft and similar to Teewurst. Braunschweiger mettwurst is smoked somewhat but still soft and spreadable, while other northern German varieties such...
(a spreadable cured sausage),
Feldkieker
(a cured, air-dried sausage dried up to eight months),
Thüringer leberwurst
(a steamed pork and liver sausage),
Thüringer rotwurst
(a steamed blood sausage packed in a bladder or other natural casing).
Saxony-Anhalt
Cereal grain cultivation occupies 62% of the cultivated land in
Saxony-Anhalt
Saxony-Anhalt
Saxony-Anhalt is a landlocked state of Germany. Its capital is Magdeburg and it is surrounded by the German states of Lower Saxony, Brandenburg, Saxony, and Thuringia.Saxony-Anhalt covers an area of...
.
Wheat
Wheat
Wheat is a cereal grain, originally from the Levant region of the Near East, but now cultivated worldwide. In 2007 world production of wheat was 607 million tons, making it the third most-produced cereal after maize and rice...
,
barley
Barley
Barley is a major cereal grain, a member of the grass family. It serves as a major animal fodder, as a base malt for beer and certain distilled beverages, and as a component of various health foods...
,
oat
Oat
The common oat is a species of cereal grain grown for its seed, which is known by the same name . While oats are suitable for human consumption as oatmeal and rolled oats, one of the most common uses is as livestock feed...
s, and
rye
Rye
Rye is a grass grown extensively as a grain and as a forage crop. It is a member of the wheat tribe and is closely related to barley and wheat. Rye grain is used for flour, rye bread, rye beer, some whiskeys, some vodkas, and animal fodder...
are grown, with the rye being grown near
Borde
Börde
Börde, a district in Saxony-Anhalt in Germany, is arguably best known as the area of the former repository for radioactive waste Morsleben. The disposal of waste into the facility ended in 1998.- History :...
, where the rye is used to make
Burger Knäckebrot
Crisp bread
Crisp bread or hard bread is a flat and dry type of bread or cracker, containing mostly rye flour...
, a flatbread produced there since 1931. Another ten percent of the cultivated area is planted in
sugar beet
Sugar beet
Sugar beet, a cultivated plant of Beta vulgaris, is a plant whose tuber contains a high concentration of sucrose. It is grown commercially for sugar production. Sugar beets and other B...
s for conversion to sugar, popularized after the 19th century when the region had an economic boom.
Whitefish
Freshwater whitefish
The freshwater whitefish are fish of the subfamily Coregoninae in the salmon family Salmonidae. Along with the freshwater whitefish, the Salmonidae includes the freshwater and anadromous trout and salmon species as well as graylings...
have figured into the regional diet after a fisherman introduced them to the
Arendsee
Arendsee
Arendsee is a municipality in the Altmarkkreis Salzwedel, Saxony-Anhalt, Germany. It is named after the lake Arendsee, located north of the town.-Geography:...
over 110 years ago. Fishing was once prominent in the Elbe river, which contains 33 of the 40 species of fish caught in the region.
Mercury
Mercury (element)
Mercury is a chemical element with the symbol Hg and atomic number 80. It is also known as quicksilver or hydrargyrum...
,
hexachlorobenzene
Hexachlorobenzene
Hexachlorobenzene, or perchlorobenzene, is a chlorocarbon with the molecular formula C6Cl6. It is a fungicide formerly used as a seed treatment, especially on wheat to control the fungal disease bunt...
,
DDT
DDT
DDT is one of the most well-known synthetic insecticides. It is a chemical with a long, unique, and controversial history....
,
musk
Musk
Musk is a class of aromatic substances commonly used as base notes in perfumery. They include glandular secretions from animals such as the musk deer, numerous plants emitting similar fragrances, and artificial substances with similar odors. Musk was a name originally given to a substance with a...
compounds and
heptachlor
Heptachlor
Heptachlor is an organochlorine compound that was used as an insecticide. Usually sold as a white or tan powder, heptachlor is one of the cyclodiene insecticides. In 1962, Rachel Carson's Silent Spring questioned the safety of heptachlor and other chlorinated insecticides. Due to its highly...
have caused the Elbe to become contaminated, so commercial fishing has been banned since 1989.
Würchwitzer Spinnenkäse (Milbenkäse) is a cheese produced in
Würchwitz
Würchwitz
Würchwitz is a village and a former municipality in the Burgenlandkreis district, in Saxony-Anhalt, Germany. Since 1 July 2009, it is part of the town Zeitz. It is the only place in the world that produces Milbenkäse , a German speciality cheese which dates back to the Middle Ages....
made by allowing
quark
Quark (cheese)
Quark is a type of fresh cheese, also known as tvorog , topfen , biezpiens , and varškė . It is made by warming soured milk until the desired degree of denaturation of milk proteins is met, and then strained...
to sit amongst thousands of dust mites that transforms the cheese into a highly desired delicacy. The mites excrete an enzyme that ripens the cheese; after one month the cheese turns to a yellowish color, after three months it turns reddish brown, and after a year the cheese turns to a blackish lump, which is desirable to some aficionados. The flavor is characterized as being bitter; it is also suggested that the cheese may have curative effects that keep the people who consume it non-allergic to house dust. The mites are consumed along with the cheese.
The Eichstrich
All cold drinks in bars and restaurants are sold in glasses with a calibration mark (
Eichstrich
) that is frequently checked by the
Eichamt
(~ Bureau of Weights and Measures) to ensure that the guest is getting as much as is offered in the menu. The
Eichamt
is a public authority controlling all measurements in sales, health care and so on, i.e., each scale in a German butcher shop or physician's office carries a stamp from the
Eichamt
, including a date of expiration, to show the weight is correct.
If the liquid of a served drink is below that line, the guest may refuse the drink or require a correctly filled one. A common rule for beer — with foam — is that the liquid-foam-line must not be more than one centimeter below the
Eichstrich
, otherwise a Munich resident could refuse the
Maß
at the
Oktoberfest
Oktoberfest
Oktoberfest, or Wiesn, is a 16–18 day beer festival held annually in Munich, Bavaria, Germany, running from late September to the first weekend in October. It is one of the most famous events in Germany and is the world's largest fair, with more than 5 million people attending every year. The...
.
Specialities from the former German Democratic Republic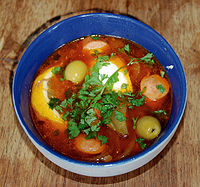 The cuisine of the former German Democratic Republic (GDR or East Germany) differed in several ways from the cuisine of West Germany and today's united Germany.
East German cuisine was strongly influenced by
Russian
Russian cuisine
Russian cuisine is diverse, as Russia is the largest country in the world. Russian cuisine derives its varied character from the vast and multi-cultural expanse of Russia. Its foundations were laid by the peasant food of the rural population in an often harsh climate, with a combination of...
, Hungarian,
Bulgarian
Bulgarian cuisine
Bulgarian cuisine is a representative of the cuisine of Southeastern Europe. Essentially South Slavic, it shares characteristics with other Balkans cuisines...
and other Eastern European countries from the 1960s on. East Germans travelled abroad to these countries on holiday and immigrants to East Germany from these countries brought their dishes with them. A typical dish that came to the East German kitchen this way is Soljanka.
Another dissimilarity was the lack of certain spices in the GDR. Oregano, for example, was totally unknown and the price of garlic and
Worcestershire sauce
Worcestershire sauce
Worcestershire sauce , or Worcester sauce is a fermented liquid condiment; primarily used to flavour meat or fish dishes.First made at 60 Broad Street, Worcester, England, by two dispensing chemists, John Wheeley Lea and William Henry Perrins, the Lea & Perrins brand was commercialised in 1837 and...
reached extremes.
Lemon juice
Lemon juice
The lemon fruit, from a citrus plant, provides a useful liquid when squeezed. Lemon juice, either in natural strength or concentrated, is sold as a bottled product, usually with the addition of preservatives and a small amount of lemon oil.-Uses:...
had to be replaced with vinegar and instead of
caper
Caper
Capparis spinosa, the caper bush, is a perennial winter-deciduous species that bears rounded, fleshy leaves and large white to pinkish-white flowers. A caper is also the pickled bud of this plant...
s,
Marsh Marigold
Caltha palustris
Caltha palustris is a herbaceous perennial plant of the buttercup family, native to marshes, fens, ditches and wet woodland in temperate regions of the Northern Hemisphere....
buds soaked in
brine
Brine
Brine is water, saturated or nearly saturated with salt .Brine is used to preserve vegetables, fruit, fish, and meat, in a process known as brining . Brine is also commonly used to age Halloumi and Feta cheeses, or for pickling foodstuffs, as a means of preserving them...
were used. While cooking with wine (as is typical in the wine-growing regions of Franconia and Hesse) was known, the lack of good wine on the East German market reserved this for special occasions. For these reasons
Ragout fin
Ragout fin
Ragout fin is a time-consuming entrée. Its origin in France is not confirmed but the dish is also known in Germany as Würzfleisch, although use of the French name is more common nowadays....
(commonly known as Würzfleisch) became a highly sought-after delicacy.
East German
cafeteria
Cafeteria
A cafeteria is a type of food service location in which there is little or no waiting staff table service, whether a restaurant or within an institution such as a large office building or school; a school dining location is also referred to as a dining hall or canteen...
s had a unified cuisine. Over the entire country cafeterias in companies and schools served the same food. The cafeterias were commonly run by the national trading organisation (
Handelsorganisation
Handelsorganisation
The Handelsorganisation was a national retail business owned by the central administration of the Soviet Zone of occupation in Germany and from 1949 on by the state of the German Democratic Republic. It was created in 1948...
- HO). Dishes on the menu were picked from a list of about 300 dishes that tasted almost the same everywhere, since the recipes were standardised. The lack of supplies and the pressure of cooking for large numbers of people gave rise to several typical East German inventions, such as "Jägerschnitzel" - large and thin slices of
Jagdwurst
Jagdwurst
Jagdwurst is a German cooked sausage made of lean beef and pork, as well as belly of pork, salt, pepper, garlic, mustard seed, capsicum, mace, cardamom and water, which makes the sausage juicy. Part of the meat is very finely minced, but another part retains its structure...
, covered with bread crumbs, pan-fried and served with tomato sauce and noodles and should not be confused with
Jägerschnitzel
Wiener schnitzel
Schnitzel is a traditional Austrian dish made with boneless meat thinned with a mallet , coated in bread crumbs and fried. It is a popular part of Viennese, Austrian cuisine and German Cuisine...
in western Germany, which there means a normal schnitzel served with dark mushroom sauce.
An effort has been made to preserve this cultural East German heritage, and a collection of East German HO recipes are available online in German.
Foreign influences
With the influx of foreign workers after
World War II
World War II
World War II, or the Second World War , was a global conflict lasting from 1939 to 1945, involving most of the world's nations—including all of the great powers—eventually forming two opposing military alliances: the Allies and the Axis...
, many foreign dishes have been adopted into German cuisine —
Italian
Italian cuisine
Italian cuisine has developed through centuries of social and political changes, with roots as far back as the 4th century BCE. Italian cuisine in itself takes heavy influences, including Etruscan, ancient Greek, ancient Roman, Byzantine, Jewish and Arab cuisines...
dishes like
spaghetti
Spaghetti
Spaghetti is a long, thin, cylindrical pasta of Italian origin. Spaghetti is made of semolina or flour and water. Italian dried spaghetti is made from durum wheat semolina, but outside of Italy it may be made with other kinds of flour...
and
pizza
Pizza
Pizza is an oven-baked, flat, disc-shaped bread typically topped with a tomato sauce, cheese and various toppings.Originating in Italy, from the Neapolitan cuisine, the dish has become popular in many parts of the world. An establishment that makes and sells pizzas is called a "pizzeria"...
have become a staple of the German diet. Turkish immigrants also have had a considerable
influence
Turkish cuisine
Turkish cuisine is largely the heritage of Ottoman cuisine, which can be described as a fusion and refinement of Central Asian, Middle Eastern and Balkan cuisines. Turkish cuisine has in turn influenced those and other neighbouring cuisines, including that of western Europe...
on German eating habits;
Döner kebab
Döner kebab
Doner kebab is a dish made of roasted meat cooked on a vertical spit. It is also known regionally as gyro , shawarma, and al pastor . It consists of shaved lamb, goat, chicken, turkey, beef, or mixed meats roasted on a spit. Less common alternatives include fish and sausage...
is Germany's favourite fast food, selling twice as much as the major
burger
Hamburger
A hamburger is a sandwich consisting of a cooked patty of ground meat usually placed inside a sliced bread roll...
chains put together (namely Mc Donald's and
Burger King
Burger King
Burger King, often abbreviated as BK, is a global chain of hamburger fast food restaurants headquartered in unincorporated Miami-Dade County, Florida, United States. The company began in 1953 as Insta-Burger King, a Jacksonville, Florida-based restaurant chain...
, being the only widespread burger chains in Germany).
Chinese
Chinese cuisine
Chinese cuisine is any of several styles originating in the regions of China, some of which have become highly popular in other parts of the world – from Asia to the Americas, Australia, Western Europe and Southern Africa...
and Greek food also are widespread and popular.
Indian
Indian cuisine
Indian cuisine consists of thousands of regional cuisines which date back thousands of years. The dishes of India are characterised by the extensive use of various Indian spices, herbs, vegetables and fruit. Indian cuisine is also known for the widespread practice of vegetarianism in Indian society...
, Vietnamese, Thai and other Asian cuisines are rapidly gaining in popularity. Many of the more expensive restaurants served mostly French dishes for many decades, but since the 1990s, they have been shifting to a more refined form of German cuisine .
External links