 Bratwurst
A
bratwurst
is a
sausage
Sausage
A sausage is a food usually made from ground meat , mixed with salt, herbs, and other spices, although vegetarian sausages are available. The word sausage is derived from Old French saussiche, from the Latin word salsus, meaning salted.Typically, a sausage is formed in a casing traditionally made...
usually composed of
veal
Veal
Veal is the meat of young cattle , as opposed to meat from older cattle. Though veal can be produced from a calf of either sex and any breed, most veal comes from male calves of dairy cattle breeds...
,
pork
Pork
Pork is the culinary name for meat from the domestic pig , which is eaten in many countries. It is one of the most commonly consumed meats worldwide, with evidence of pig husbandry dating back to 5000 BC....
or
beef
Beef
Beef is the culinary name for meat from bovines, especially domestic cattle. Beef can be harvested from cows, bulls, heifers or steers. It is one of the principal meats used in the cuisine of the Middle East , Australia, Argentina, Brazil, Europe and the United States, and is also important in...
. The plural in German is
Bratwürste
.
The name is
German
German language
German is a West Germanic language, related to and classified alongside English and Dutch. With an estimated 90 – 98 million native speakers, German is one of the world's major languages and is the most widely-spoken first language in the European Union....
, derived from
Old High German
Old High German
The term Old High German refers to the earliest stage of the German language and it conventionally covers the period from around 500 to 1050. Coherent written texts do not appear until the second half of the 8th century, and some treat the period before 750 as 'prehistoric' and date the start of...
Brätwurst
, from
brät-
, which is finely chopped meat and
Wurst
, or sausage. Though the
brat
in bratwurst described the way the sausages are made, nowadays Germans associate it with German verb "braten", which means to pan fry or roast. Bratwurst is usually
grilled
Grilling
Grilling is a form of cooking that involves dry heat applied to the surface of food, commonly from above or below.Grilling usually involves a significant amount of direct, radiant heat, and tends to be used for cooking meat quickly and meat that has already been cut into slices...
or
pan fried
Frying
Frying is the cooking of food in oil or another fat, a technique that originated in ancient Egypt around 2500 BC. Chemically, oils and fats are the same, differing only in melting point, but the distinction is only made when needed. In commerce, many fats are called oils by custom, e.g...
, and sometimes cooked in broth or beer.
History
The first documented evidence of the
Bratwurst
in Germany dates back to 1313, and can be found in the Franconian city of
Nuremberg
Nuremberg
Nuremberg[p] is a city in the German state of Bavaria, in the administrative region of Middle Franconia. Situated on the Pegnitz river and the Rhine–Main–Danube Canal, it is located about north of Munich and is Franconia's largest city. The population is 505,664...
, which is still an internationally renowned centre for the production of grill sausages.
Germany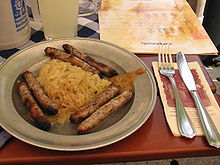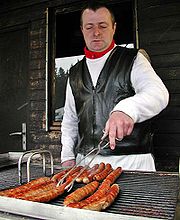 Recipes for the sausage vary by region and even locality; some sources list over 40 different varieties of German bratwurst, many of the best known originating in
Franconia
Franconia
Franconia is a region of Germany comprising the northern parts of the modern state of Bavaria, a small part of southern Thuringia, and a region in northeastern Baden-Württemberg called Tauberfranken...
(today for the most part situated in northern
Bavaria
Bavaria
Bavaria, formally the Free State of Bavaria is a state of Germany, located in the southeast of Germany. With an area of , it is the largest state by area, forming almost 20% of the total land area of Germany...
, but still culturally quite distinct), its northern neighbour
Thuringia
Thuringia
The Free State of Thuringia is a state of Germany, located in the central part of the country.It has an area of and 2.29 million inhabitants, making it the sixth smallest by area and the fifth smallest by population of Germany's sixteen states....
and adjacent areas. How the sausages are served is also locally different, but most commonly they are regarded as a snack served with or in a
Brötchen
(white
bread roll
Bread roll
A bread roll is a piece of bread, usually small and round and is commonly considered a side dish. Bread rolls are often used in the same way as sandwiches are—cut transversely, with fillings placed between the two halves.-Various forms:...
made from
wheat
Wheat
Wheat is a cereal grain, originally from the Levant region of the Near East, but now cultivated worldwide. In 2007 world production of wheat was 607 million tons, making it the third most-produced cereal after maize and rice...
flour) and eaten with hot German
mustard
Mustard (condiment)
Mustard is a condiment made from the seeds of a mustard plant...
. As a pub dish, it is often accompanied by
sauerkraut
Sauerkraut
Sauerkraut , directly translated from German: "sour cabbage", is finely shredded cabbage that has been fermented by various lactic acid bacteria, including Leuconostoc, Lactobacillus, and Pediococcus. It has a long shelf-life and a distinctive sour flavor, both of which result from the lactic acid...
or
potato salad
Potato salad
Potato salad is a dish made from boiled potatoes, the versions of which vary throughout different regions and countries of the world. Although called a salad, it is generally considered a side dish, as it generally accompanies the main course....
and sometimes served with dark, crusty country bread made predominantly from
rye
Rye
Rye is a grass grown extensively as a grain and as a forage crop. It is a member of the wheat tribe and is closely related to barley and wheat. Rye grain is used for flour, rye bread, rye beer, some whiskeys, some vodkas, and animal fodder...
flour, less commonly with a Brezel. It is a very popular form of
fast food
Fast food
Fast food is the term given to food that can be prepared and served very quickly. While any meal with low preparation time can be considered to be fast food, typically the term refers to food sold in a restaurant or store with preheated or precooked ingredients, and served to the customer in a...
in German-speaking countries, often cooked and sold by street vendors from small stands.
Fränkische Bratwurst
The Franconian sausage is a relatively long (10–20cm), thick, coarse sausage, common to the whole Franconian region with slight variations. It dates back to 1573. With
marjoram
Marjoram
Marjoram is a somewhat cold-sensitive perennial herb or undershrub with sweet pine and citrus flavours...
as a characteristic ingredient, it is close in taste to the
Nürnberger Bratwurst
but juicier, due to its size and coarseness. The
Fränkische Bratwurst
is traditionally served with sauerkraut or potato salad, but with no mustard — although many customers disregard this tradition and demand plenty of it.
Coburger Bratwurst
Bratwurst
originating in the city of
Coburg
Coburg
Coburg is a town located on the Itz River in Bavaria, Germany. Its 2005 population was 42,015. Long one of the Thuringian states of the Wettin line, it joined with Bavaria by popular vote in 1920...
in Franconia was first documented there in 1498. It is made from a minimum of 15% veal or beef, and its seasonings include only salt, pepper, nutmeg, and lemon zest. It is coarse in texture and measures about 25cm in length. Traditionally, it is grilled over pinecones and served in a bread roll (
Brötchen
).
Kulmbacher Bratwurst
The
Kulmbacher Bratwurst
, from the city of
Kulmbach
Kulmbach
Kulmbach is the capital of the district of Kulmbach in Bavaria in Germany. The town is famous for Plassenburg Castle, which houses the largest tin soldier museum in the world, and for its famous sausages, or Bratwürste.-Location:...
in Franconia, made mainly from finely ground veal, is long and thin.
Nürnberger Rostbratwurst
The small, thin bratwurst from Franconia's largest city, Nuremberg, was first documented in 1313; it is surprisingly small, being only 7 to 9cm in length and weighing between 20 and 25 g. Perhaps the most popular sausage in Germany, the denominations
Nürnberger Bratwurst
and
Nürnberger Rostbratwurst
(
Rost
refers to the cooking grate above the flames) are
Protected Geographical Indications (PGI)
Protected Geographical Status
Protected Geographical Status is a legal framework defined in European Union law to protect the names of regional foods. Protected Designation of Origin , Protected Geographical Indication and Traditional Speciality Guaranteed are distinct regimes of geographical indications within the framework...
under EU law since 2003, and may therefore only be produced in the city of Nürnberg, where an "Association for the Protection of
Nürnberger Bratwürste
" was established in 1997.
Pork
Pork
Pork is the culinary name for meat from the domestic pig , which is eaten in many countries. It is one of the most commonly consumed meats worldwide, with evidence of pig husbandry dating back to 5000 BC....
-based and typically seasoned with fresh marjoram which gives them their distinctive flavour, these sausages are traditionally grilled over a beechwood fire. As a main dish, they are served in sets of six, eight, 10 or 12 on a
pewter
Pewter
Pewter is a malleable metal alloy, traditionally 85–99% tin, with the remainder consisting of copper, antimony, bismuth and lead. Copper and antimony act as hardeners while lead is common in the lower grades of pewter, which have a bluish tint. It has a low melting point, around 170–230 °C ,...
plate (round but also frequently heart- or bell-shaped) with either sauerkraut or potato salad, and accompanied by a dollop of horseradish or mustard. They are also sold as a snack by street vendors as
Drei im Weckla
(three in a bun; the spelling
Drei im Weggla
is also common,
Weggla
/
Weckla
being the Nuremberg slang for
Brötchen
), with mustard being offered to spice them up to personal taste.
A particular way of preparing Nuremberg sausages without grilling them is to cook them in a spiced vinegar and onion stock; this variety is called
Blaue Zipfel
(blue lobes).
Würzburger Bratwurst
The
Würzburger Bratwurst
, also known as the
Winzerbratwurst
, comes from the city of
Würzburg
Würzburg
Würzburg is a city in the region of Franconia which lies in the northern tip of Bavaria, Germany. Located at the Main River, it is the capital of the Regierungsbezirk Lower Franconia. The regional dialect is Franconian....
in Franconia. Its size is similar to the
Thüringer Rostbratwurst
, but its ingredients include white
Franken-Wine
Franconia (wine region)
Franconia is a region for quality wine in Germany situated in the north west of Bavaria in the district of Franconia, and is the only wine region in the federal state of Bavaria...
.
Thüringer Rostbratwurst
The
Thüringer Rostbratwurst
is a spicy sausage from Thuringia. It is 15–20cm long and thin in shape, traditionally grilled over a charcoal fire and eaten with mustard and bread. The name
Thüringer Rostbratwurst
is also recognised as a PGI under EU law.
Triggered by the discovery in 2000 of an account entry of 1404 first mentioning the
Bratwurst
in Thuringia in the town of
Arnstadt
Arnstadt
Arnstadt is a town in Ilm-Kreis, Thuringia, Germany, situated on the Gera River. It is one of the oldest towns in Thuringia and is nicknamed Das Tor zum Thüringer Wald, The Gate to the Thuringian Forest....
, the association "Friends of the
Thuringian Bratwurst
" was founded in 2006. In the same year, the association established the
Erste Deutsches Bratwurstmuseum
(First German Bratwurst Museum) in the village of
Holzhausen
Wachsenburggemeinde
Wachsenburggemeinde is a municipality in the district Ilm-Kreis, in Thuringia, Germany. The municipality is named after the castle Veste Wachsenburg which is located in its center. It consists of the five villages named Bittstädt, Haarhausen, Holzhausen, Röhrensee, and Sülzenbrücken....
. A two-metre-high wooden monument of a
Bratwurst
in a bun on a local traffic roundabout advertises the museum.
Nordhessische Bratwurst
The
Nordhessische Bratwurst
(from northern Hessen) is similar to the
Thüringer Rostbratwurst
in taste. It is made from coarsely ground pork and is heavily seasoned. It measures around 20cm in length. Traditionally, it is grilled over a wood fire and served on a cut-open roll with mustard.
Rote Wurst
The
Rote Wurst
(red sausage) is a favorite
Bratwurst
of the
Swabian
Swabia
Swabia is a cultural, historic and linguistic region in southwestern Germany.-Geography:Like many cultural regions of Europe, Swabia's borders are not clearly defined...
region. It is similar to the
Bockwurst
Bockwurst
Bockwurst is a kind of German sausage invented in 1889 by restaurant owner R. Scholtz of Berlin. It is one of the most popular varieties within Germany, and can be found abroad. The sausage is traditionally made from ground veal and pork...
, and is made from finely ground pork and bacon. Its taste is spicy. To prevent splitting during grilling or pan frying, an X is cut into the ends of the sausage. The ends open during cooking, but the rest of the sausage remains intact, giving it its traditional shape.
United States
Bratwurst is a common type of sausage in the
United States
United States
The United States of America is a federal constitutional republic comprising fifty states and a federal district...
, especially in the state of
Wisconsin
Wisconsin
Wisconsin is a U.S. state located in the north-central United States and is part of the Midwest. It is bordered by Minnesota to the west, Iowa to the southwest, Illinois to the south, Lake Michigan to the east, Michigan to the northeast, and Lake Superior to the north. Wisconsin's capital is...
, where the largest ancestry group is German. Originally brought to North America by German immigrants, it is a common sight at summer cookouts, alongside the more famous hot dog. Wisconsin is also the origin of the "beer brat", a regional favorite where the bratwurst are poached in beer (generally a mixture of a pilsner style beer with butter and onions) prior to grilling over charcoal.
The bratwurst was popularized in
Sheboygan County, Wisconsin
in the 1920s. In general, each local butcher shop would take orders and hand make bratwurst fresh to be picked up on a particular day. The fat content of the sausages was substantial, making daily pick up necessary to avoid spoilage. Much of the fat was removed during the cooking over charcoal. Usually one kept a pan of cold water handy to the grill, so it was easy to dip one's fingers in and fling the water onto the flames caused by the burning of the excess fat.
The bratwurst (or "brat") also became popular as a mainstay of sports stadiums after Bill Sperling introduced bratwurst to
Major League Baseball
Major League Baseball
Major League Baseball is the highest level of professional baseball in the United States and Canada, consisting of teams that play in the National League and the American League...
in
Milwaukee County Stadium
Milwaukee County Stadium
Milwaukee County Stadium was a ballpark in Milwaukee, Wisconsin from 1953 to 2000. It was primarily used as a baseball stadium for the Milwaukee Braves and Brewers, but was also used for football games, ice skating, religious services, concerts and other large events...
in 1953. The bratwurst were such a hit, Sperling said, that
Duke Snider
Duke Snider
Edwin Donald "Duke" Snider , nicknamed "The Silver Fox" and "The Duke of Flatbush", was a Major League Baseball center fielder and left-handed batter who played for the Brooklyn and Los Angeles Dodgers , New York Mets , and San Francisco Giants .Snider was elected to the National Baseball Hall of...
of the Brooklyn Dodgers took a case back to New York. Currently Miller Park in
Milwaukee, Wisconsin
Milwaukee, Wisconsin
Milwaukee is the largest city in the U.S. state of Wisconsin, the 28th most populous city in the United States and 39th most populous region in the United States. It is the county seat of Milwaukee County and is located on the southwestern shore of Lake Michigan. According to 2010 census data, the...
is the only baseball stadium that sells more bratwurst than hot dogs.
The town of
Bucyrus, Ohio
Bucyrus, Ohio
As of the census of 2000, there were 13,224 people, 5,559 households, and 3,552 families residing in the city. The population density was 1,812.0 people per square mile . There were 5,955 housing units at an average density of 816.0 per square mile...
(known as the "Bratwurst Capital of America") has held the three-day Bucyrus Bratwurst Festival annually since 1967.
See also
External links