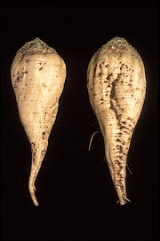 Sugar beet
Sugar beet
, a cultivated plant of
Beta vulgaris
, is a plant whose
tuber
Tuber
Tubers are various types of modified plant structures that are enlarged to store nutrients. They are used by plants to survive the winter or dry months and provide energy and nutrients for regrowth during the next growing season and they are a means of asexual reproduction...
contains a high concentration of
sucrose
Sucrose
Sucrose is the organic compound commonly known as table sugar and sometimes called saccharose. A white, odorless, crystalline powder with a sweet taste, it is best known for its role in human nutrition. The molecule is a disaccharide composed of glucose and fructose with the molecular formula...
. It is grown commercially for
sugar
Sugar
Sugar is a class of edible crystalline carbohydrates, mainly sucrose, lactose, and fructose, characterized by a sweet flavor.Sucrose in its refined form primarily comes from sugar cane and sugar beet...
production. Sugar beets and other
B. vulgaris
cultivars such as
beetroot
Beetroot
The beetroot, also known as the table beet, garden beet, red beet or informally simply as beet, is one of the many cultivated varieties of beets and arguably the most commonly encountered variety in North America, Central America and Britain.-Consumption:The usually deep-red roots of beetroot are...
and
chard
Chard
Chard , is a leafy green vegetable often used in Mediterranean cooking. While the leaves are always green, chard stalks vary in color. Chard has been bred to have highly nutrious leaves at the expense of the root...
share a common wild ancestor, the
sea beet
Sea beet
The sea beet, Beta vulgaris subsp. maritima , is a member of the family Chenopodiaceae. Carl Linnaeus first described Beta vulgaris in 1753; in the second edition of Species Plantarum in 1762 he divided the species into wild and cultivated varieties, giving the name Beta maritima to the wide...
(
Beta vulgaris maritima
).
The
European Union
European Union
The European Union is an economic and political union of 27 independent member states which are located primarily in Europe. The EU traces its origins from the European Coal and Steel Community and the European Economic Community , formed by six countries in 1958...
, the United States, and
Russia
Russia
Russia or , officially known as both Russia and the Russian Federation , is a country in northern Eurasia. It is a federal semi-presidential republic, comprising 83 federal subjects...
are the world's three largest sugar beet producers, although only the European Union and
Ukraine
Ukraine
Ukraine is a country in Eastern Europe. It has an area of 603,628 km², making it the second largest contiguous country on the European continent, after Russia...
are significant exporters of sugar from beets.