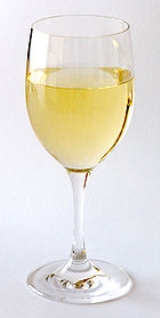 Wine
Wine
is an
alcoholic beverage
Alcoholic beverage
An alcoholic beverage is a drink containing ethanol, commonly known as alcohol. Alcoholic beverages are divided into three general classes: beers, wines, and spirits. They are legally consumed in most countries, and over 100 countries have laws regulating their production, sale, and consumption...
, made of
fermented
Fermentation (wine)
The process of fermentation in wine turns grape juice into an alcoholic beverage. During fermentation, yeast interact with sugars in the juice to create ethanol, commonly known as ethyl alcohol, and carbon dioxide...
fruit juice, usually from
grape
Grape
A grape is a non-climacteric fruit, specifically a berry, that grows on the perennial and deciduous woody vines of the genus Vitis. Grapes can be eaten raw or they can be used for making jam, juice, jelly, vinegar, wine, grape seed extracts, raisins, molasses and grape seed oil. Grapes are also...
s. The natural chemical balance of grapes lets them ferment without the addition of
sugar
Sugar
Sugar is a class of edible crystalline carbohydrates, mainly sucrose, lactose, and fructose, characterized by a sweet flavor.Sucrose in its refined form primarily comes from sugar cane and sugar beet...
s,
acid
Acid
An acid is a substance which reacts with a base. Commonly, acids can be identified as tasting sour, reacting with metals such as calcium, and bases like sodium carbonate. Aqueous acids have a pH of less than 7, where an acid of lower pH is typically stronger, and turn blue litmus paper red...
s,
enzyme
Enzyme
Enzymes are proteins that catalyze chemical reactions. In enzymatic reactions, the molecules at the beginning of the process, called substrates, are converted into different molecules, called products. Almost all chemical reactions in a biological cell need enzymes in order to occur at rates...
s, or other
nutrient
Nutrient
A nutrient is a chemical that an organism needs to live and grow or a substance used in an organism's metabolism which must be taken in from its environment. They are used to build and repair tissues, regulate body processes and are converted to and used as energy...
s. Grape wine is produced by fermenting crushed grapes using various types of
yeast
Yeast
Yeasts are eukaryotic micro-organisms classified in the kingdom Fungi, with 1,500 species currently described estimated to be only 1% of all fungal species. Most reproduce asexually by mitosis, and many do so by an asymmetric division process called budding...
. Yeast consumes the sugars in the grapes and converts them into
alcohol
Ethanol
Ethanol, also called ethyl alcohol, pure alcohol, grain alcohol, or drinking alcohol, is a volatile, flammable, colorless liquid. It is a psychoactive drug and one of the oldest recreational drugs. Best known as the type of alcohol found in alcoholic beverages, it is also used in thermometers, as a...
. Different varieties of grapes and strains of yeasts produce different types of wine.
Wines made from other fruits, such as apples and berries, are usually named after the fruit from which they are produced (for example,
apple wine
Apfelwein
Cider in Germany is called Apfelwein , as the German language has not used the word cider. It is also regionally known as ebbelwoi, äppler, stöffsche, apfelmost , viez , and saurer most . It has an alcohol content of 5.5%–7% and a tart, sour taste...
or elderberry wine) and are generically called
fruit wine
Fruit wine
Fruit wines are fermented alcoholic beverages made from a variety of base ingredients ; they may also have additional flavours taken from fruits, flowers, and herbs. This definition is sometimes broadened to include any fermented alcoholic beverage except beer...
or country wine (not to be confused with the
French
French language
French is a Romance language spoken as a first language in France, the Romandy region in Switzerland, Wallonia and Brussels in Belgium, Monaco, the regions of Quebec and Acadia in Canada, and by various communities elsewhere. Second-language speakers of French are distributed throughout many parts...
term
vin de pays
Vin de pays
Vin de pays is a French term meaning "country wine". Vins de pays are a step in the French wine classification which is above the table wine classification, but below the VDQS and Appellation d'origine contrôlée classifications...
).
Tell me what you drink, and I will tell you what you are

Burgundy makes you think of silly things, Bordeaux makes you talk of them and Champagne makes you do them.

A man who was fond of wine was offered some grapes at dessert after dinner. 'Much obliged,' said he, pushing the dish away from him, 'but I am not in the habit of taking my wine in pills.'

Jean Anthelme Brillat-Savarin|Jean Anthelme Brillat-Savarin, French gastronome, (1755-1826), "The Physiology of Taste"
Let us have wine and women, mirth and laughter,Sermons and soda-water the day after.

Lord Byron, Don Juan, Second Canto
We hear of the conversion of water into wine at the marriage in Cana, as of a miracle. But this conversion is, through the goodness of God, made every day before our eyes. Behold the rain which descends from heaven upon our vineyards, and which incorporates itself with the grapes to be changed into wine; a constant proof that God loves us, and loves to see us happy!

Benjamin Franklin, The Posthumous and Other Writings of Benjamin Franklin (1819). p. 290.
Is not old wine wholesomest, old pippins toothsomest, old wood burn brightest, old linen wash whitest? Old soldiers, sweethearts, are surest, and old lovers are soundest.

John Webster, Westward Hoe, Act II, scene ii, reported in Bartlett's Familiar Quotations, 10th ed. (1919).
Alonso of Aragon was wont to say in commendation of age, that age appears to be best in four things,—old wood best to burn, old wine to drink, old friends to trust, and old authors to read.

Francis Bacon, Apothegms, No. 97, reported in Bartlett's Familiar Quotations, 10th ed. (1919).
Old wood to burn! Old wine to drink! Old friends to trust! Old authors to read!—Alonso of Aragon was wont to say in commendation of age, that age appeared to be best in these four things.

Melchior de Santa Cruz, Floresta Española de Apothegmas o sentencias, etc., ii. 1, 20, reported in Bartlett's Familiar Quotations, 10th ed. (1919).
What find you better or more honourable than age? Take the preheminence of it in everything,—in an old friend, in old wine, in an old pedigree.

Shackerley Marmion|Shackerley Marmion (1602–1639), The Antiquary, reported in Bartlett's Familiar Quotations, 10th ed. (1919).
I love everything that 's old,—old friends, old times, old manners, old books, old wine.

Oliver Goldsmith, She Stoops to Conquer, act i, reported in Bartlett's Familiar Quotations, 10th ed. (1919).