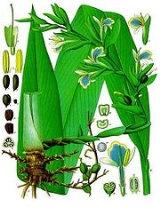 Cardamom
Cardamom
refers to several plants of the genera
Elettaria
Elettaria
Elettaria is a genus of one or two species of cardamoms, native to southeastern Asia from India south to Sri Lanka and east to Malaysia and western Indonesia, where it grows in tropical rainforests.-Species:...
and
Amomum
Amomum
Amomum is a genus of plant, including several types of Cardamom, especially Black Cardamom. Plants of this genus are remarkable for their pungency and aromatic properties....
in the
ginger
Ginger
Ginger is the rhizome of the plant Zingiber officinale, consumed as a delicacy, medicine, or spice. It lends its name to its genus and family . Other notable members of this plant family are turmeric, cardamom, and galangal....
family
Zingiberaceae
Zingiberaceae
Zingiberaceae, or the Ginger family, is a family of flowering plants consisting of aromatic perennial herbs with creeping horizontal or tuberous rhizomes, comprising ca. 52 genera and more than 1300 species, distributed throughout tropical Africa, Asia, and the Americas.Many species are important...
. Both genera are native to
India
India
India , officially the Republic of India , is a country in South Asia. It is the seventh-largest country by geographical area, the second-most populous country with over 1.2 billion people, and the most populous democracy in the world...
and Bhutan; they are recognised by their small seed pod, triangular in cross-section and spindle-shaped, with a thin papery outer shell and small black seeds.
Elettaria
pods are light green while
Amomum
pods are larger and dark brown.