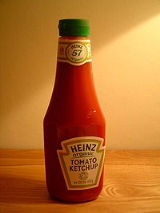 Ketchup
Ketchup
is a sweet-and-tangy
condiment
Condiment
A condiment is an edible substance, such as sauce or seasoning, added to food to impart a particular flavor, enhance its flavor, or in some cultures, to complement the dish. Many condiments are available packaged in single-serving sachets , like mustard or ketchup, particularly when supplied with...
typically made from
tomato
Tomato
The word "tomato" may refer to the plant or the edible, typically red, fruit which it bears. Originating in South America, the tomato was spread around the world following the Spanish colonization of the Americas, and its many varieties are now widely grown, often in greenhouses in cooler...
es,
vinegar
Vinegar
Vinegar is a liquid substance consisting mainly of acetic acid and water, the acetic acid being produced through the fermentation of ethanol by acetic acid bacteria. Commercial vinegar is produced either by fast or slow fermentation processes. Slow methods generally are used with traditional...
,
sugar
Sugar
Sugar is a class of edible crystalline carbohydrates, mainly sucrose, lactose, and fructose, characterized by a sweet flavor.Sucrose in its refined form primarily comes from sugar cane and sugar beet...
or high-fructose corn syrup and an assortment of vegetable
seasoning
Seasoning
Seasoning is the process of imparting flavor to, or improving the flavor of, food.- General meaning :Seasonings include herbs and spices, which are themselves frequently referred to as "seasonings"...
s and
spice
Spice
A spice is a dried seed, fruit, root, bark, or vegetative substance used in nutritionally insignificant quantities as a food additive for flavor, color, or as a preservative that kills harmful bacteria or prevents their growth. It may be used to flavour a dish or to hide other flavours...
s such as
onion
Onion
The onion , also known as the bulb onion, common onion and garden onion, is the most widely cultivated species of the genus Allium. The genus Allium also contains a number of other species variously referred to as onions and cultivated for food, such as the Japanese bunching onion The onion...
s,
allspice
Allspice
Allspice, also called Jamaica pepper, pepper, myrtle pepper, pimenta, or newspice, is a spice that is the dried unripe fruit of Pimenta dioica , a mid-canopy tree native to the Greater Antilles, southern Mexico, and Central America, now cultivated in many warm parts of the world...
, cloves,
cinnamon
Cinnamon
Cinnamon is a spice obtained from the inner bark of several trees from the genus Cinnamomum that is used in both sweet and savoury foods...
,
garlic
Garlic
Allium sativum, commonly known as garlic, is a species in the onion genus, Allium. Its close relatives include the onion, shallot, leek, chive, and rakkyo. Dating back over 6,000 years, garlic is native to central Asia, and has long been a staple in the Mediterranean region, as well as a frequent...
, and
celery
Celery
Apium graveolens is a plant species in the family Apiaceae commonly known as celery or celeriac , depending on whether the petioles or roots are eaten: celery refers to the former and celeriac to the latter. Apium graveolens grows to 1 m tall...
. Ketchup is often used with
french fries (chips in the UK)
French fries
French fries , chips, fries, or French-fried potatoes are strips of deep-fried potato. North Americans tend to refer to any pieces of deep-fried potatoes as fries or French fries, while in the United Kingdom, Australia, Ireland and New Zealand, long, thinly cut slices of deep-fried potatoes are...
,
hamburger
Hamburger
A hamburger is a sandwich consisting of a cooked patty of ground meat usually placed inside a sliced bread roll...
s, sandwiches and grilled or fried meat. In Australia and New Zealand, where it is known as tomato sauce, it is a typical accompaniment for meat pies. Ketchup is sometimes used as a basis or ingredient for other sauces and dressings.
In the 1690s the Chinese mixed together a concoction of pickled fish and spices and called it kôe-chiap or kê-chiap (鮭汁) meaning the
brine
Brine
Brine is water, saturated or nearly saturated with salt .Brine is used to preserve vegetables, fruit, fish, and meat, in a process known as brining . Brine is also commonly used to age Halloumi and Feta cheeses, or for pickling foodstuffs, as a means of preserving them...
of pickled fish (鮭, carp; 汁, juice) or shellfish.
By the early 18th century, the table sauce had made it to the Malay states (present day
Malaysia
and
Singapore
Singapore
Singapore , officially the Republic of Singapore, is a Southeast Asian city-state off the southern tip of the Malay Peninsula, north of the equator. An island country made up of 63 islands, it is separated from Malaysia by the Straits of Johor to its north and from Indonesia's Riau Islands by the...
), where it was discovered by British explorers, and by 1740, it had become a British staple.