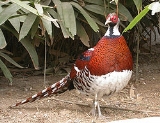 Pheasant
Pheasants
refer to some members of the
Phasianinae
(
Horsfield
Thomas Horsfield
Thomas Horsfield M. D. was an American physician and naturalist.Horsfield was born in Bethlehem, Pennsylvania, and studied medicine at the University of Pennsylvania. He was the grandson of Timothy Horsfield, Sr., a colonel and justice of the peace in Bethlehem, and a friend mentioned in Benjamin...
, 1821) subfamily of
Phasianidae
Phasianidae
The Phasianidae is a family of birds which consists of the pheasants and partridges, including the junglefowl , Old World Quail, francolins, monals and peafowl. The family is a large one, and is occasionally broken up into two subfamilies, the Phasianinae, and the Perdicinae...
in the
order
Order (biology)
In scientific classification used in biology, the order is# a taxonomic rank used in the classification of organisms. Other well-known ranks are life, domain, kingdom, phylum, class, family, genus, and species, with order fitting in between class and family...
Galliformes
Galliformes
Galliformes are an order of heavy-bodied ground-feeding domestic or game bird, containing turkey, grouse, chicken, New and Old World Quail, ptarmigan, partridge, pheasant, and the Cracidae. Common names are gamefowl or gamebirds, landfowl, gallinaceous birds or galliforms...
.
Pheasants are characterised by strong
sexual dimorphism
Sexual dimorphism
Sexual dimorphism is a phenotypic difference between males and females of the same species. Examples of such differences include differences in morphology, ornamentation, and behavior.-Examples:-Ornamentation / coloration:...
, males being highly ornate with bright colours and adornments such as
wattles
Wattle (anatomy)
A wattle is a fleshy dewlap or caruncle hanging from various parts of the head or neck in several groups of birds, goats and other animals. In some birds the caruncle is erectile tissue.The wattle is frequently an organ of sexual dimorphism...
and long
tail
Tail
The tail is the section at the rear end of an animal's body; in general, the term refers to a distinct, flexible appendage to the torso. It is the part of the body that corresponds roughly to the sacrum and coccyx in mammals, reptiles, and birds...
s. Males are usually larger than females and have longer tails. Males play no part in rearing the young. Pheasants typically eat seeds and some insects.
The best-known is the
Common Pheasant
Common Pheasant
The Common Pheasant , is a bird in the pheasant family . It is native to Georgia and has been widely introduced elsewhere as a game bird. In parts of its range, namely in places where none of its relatives occur such as in Europe , it is simply known as the "pheasant"...
, which is widespread throughout the world in introduced feral populations and in farm operations.