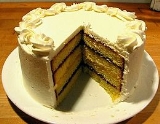 Cake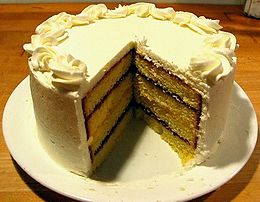 Cake
is a form of
bread
Bread
Bread is a staple food prepared by cooking a dough of flour and water and often additional ingredients. Doughs are usually baked, but in some cuisines breads are steamed , fried , or baked on an unoiled frying pan . It may be leavened or unleavened...
or bread-like
food
Food
Food is any substance consumed to provide nutritional support for the body. It is usually of plant or animal origin, and contains essential nutrients, such as carbohydrates, fats, proteins, vitamins, or minerals...
. In its modern forms, it is typically a sweet and enriched
baked
Baking
Baking is the technique of prolonged cooking of food by dry heat acting by convection, and not by radiation, normally in an oven, but also in hot ashes, or on hot stones. It is primarily used for the preparation of bread, cakes, pastries and pies, tarts, quiches, cookies and crackers. Such items...
dessert
Dessert
In cultures around the world, dessert is a course that typically comes at the end of a meal, usually consisting of sweet food. The word comes from the French language as dessert and this from Old French desservir, "to clear the table" and "to serve." Common Western desserts include cakes, biscuits,...
. In its oldest forms, cakes were normally fried breads or
cheesecake
Cheesecake
Cheesecake is a dessert consisting of a topping made of soft, fresh cheese, usually on a crust or base made from biscuit , pastry or sponge cake. They may be baked or unbaked...
s, and normally had a disk shape. Determining whether a given food should be classified as bread, cake, or
pastry
Pastry
Pastry is the name given to various kinds of baked products made from ingredients such as flour, sugar, milk, butter, shortening, baking powder and/or eggs. Small cakes, tarts and other sweet baked products are called "pastries."...
can be difficult.
Modern cake, especially layer cakes, normally contain a combination of
flour
Flour
Flour is a powder which is made by grinding cereal grains, other seeds or roots . It is the main ingredient of bread, which is a staple food for many cultures, making the availability of adequate supplies of flour a major economic and political issue at various times throughout history...
,
sugar
Sugar
Sugar is a class of edible crystalline carbohydrates, mainly sucrose, lactose, and fructose, characterized by a sweet flavor.Sucrose in its refined form primarily comes from sugar cane and sugar beet...
,
eggs
Egg (food)
Eggs are laid by females of many different species, including birds, reptiles, amphibians, and fish, and have probably been eaten by mankind for millennia. Bird and reptile eggs consist of a protective eggshell, albumen , and vitellus , contained within various thin membranes...
, and
butter
Butter
Butter is a dairy product made by churning fresh or fermented cream or milk. It is generally used as a spread and a condiment, as well as in cooking applications, such as baking, sauce making, and pan frying...
or
oil
Vegetable fats and oils
Vegetable fats and oils are lipid materials derived from plants. Physically, oils are liquid at room temperature, and fats are solid. Chemically, both fats and oils are composed of triglycerides, as contrasted with waxes which lack glycerin in their structure...
, with some varieties also requiring liquid (typically
milk
Milk
Milk is a white liquid produced by the mammary glands of mammals. It is the primary source of nutrition for young mammals before they are able to digest other types of food. Early-lactation milk contains colostrum, which carries the mother's antibodies to the baby and can reduce the risk of many...
or
water
Water
Water is a chemical substance with the chemical formula H2O. A water molecule contains one oxygen and two hydrogen atoms connected by covalent bonds. Water is a liquid at ambient conditions, but it often co-exists on Earth with its solid state, ice, and gaseous state . Water also exists in a...
) and leavening agents (such as
yeast
Yeast
Yeasts are eukaryotic micro-organisms classified in the kingdom Fungi, with 1,500 species currently described estimated to be only 1% of all fungal species. Most reproduce asexually by mitosis, and many do so by an asymmetric division process called budding...
or
baking powder
Baking powder
Baking powder is a dry chemical leavening agent used to increase the volume and lighten the texture of baked goods such as muffins, cakes, scones and American-style biscuits. Baking powder works by releasing carbon dioxide gas into a batter or dough through an acid-base reaction, causing bubbles in...
). Flavorful ingredients like fruit purées,
nuts
Nut (fruit)
A nut is a hard-shelled fruit of some plants having an indehiscent seed. While a wide variety of dried seeds and fruits are called nuts in English, only a certain number of them are considered by biologists to be true nuts...
, dried or candied fruit, or extracts are often added, and numerous substitutions for the primary ingredients are possible. Cakes are often filled with
fruit preserves
Fruit preserves
Fruit preserves are preparations of fruits and sugar, often canned or sealed for long-term storage. The preparation of fruit preserves today often involves adding commercial or natural pectin as a gelling agent, although sugar or honey may be used, as well. Prior to World War II, fruit preserve...
or dessert sauces (like
pastry cream
Custard
Custard is a variety of culinary preparations based on a cooked mixture of milk or cream and egg yolk. Depending on how much egg or thickener is used, custard may vary in consistency from a thin pouring sauce , to a thick pastry cream used to fill éclairs. The most common custards are used as...
), iced with buttercream or other icings, and decorated with
marzipan
Marzipan
Marzipan is a confection consisting primarily of sugar and almond meal. Persipan is a similar, yet less expensive product, in which the almonds are replaced by apricot or peach kernels...
, piped borders or
candied fruit
Candied fruit
Candied fruit, also known as crystallized fruit or Glacé fruit, has been around since the 14th century. Whole fruit, smaller pieces of fruit, or pieces of peel, are placed in heated sugar syrup, which absorbs the moisture from within the fruit and eventually preserves it...
.
Cake is often the dessert of choice for meals at ceremonial occasions, particularly
wedding
Wedding
A wedding is the ceremony in which two people are united in marriage or a similar institution. Wedding traditions and customs vary greatly between cultures, ethnic groups, religions, countries, and social classes...
s,
anniversaries
Anniversary
An anniversary is a day that commemorates or celebrates a past event that occurred on the same day of the year as the initial event. For example, the first event is the initial occurrence or, if planned, the inaugural of the event. One year later would be the first anniversary of that event...
, and
birthday
Birthday
A birthday is a day or anniversary where a person celebrates his or her date of birth. Birthdays are celebrated in numerous cultures, often with a gift, party or rite of passage. Although the major religions celebrate the birth of their founders , Christmas – which is celebrated widely by...
s. There are countless cake recipes; some are bread-like, some rich and elaborate, and many are centuries old. Cake making is no longer a complicated procedure; while at one time considerable labor went into cake making (particularly the whisking of egg foams), baking equipment and directions have been simplified that even the most amateur cook may bake a cake.
Varieties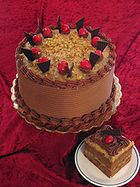 Cakes are broadly divided into several categories, based primarily on ingredients and cooking techniques.
Beyond these classifications, cakes can be classified based on their appropriate accompaniment (such as
coffee cake
Coffee cake
The term coffee cake can refer to either of the following:* A class of cakes intended to be eaten alongside coffee. Under this definition, a coffee cake does not contain coffee. They are typically single layer cakes that may be square or rectangular like a Stollen or loaf-shaped rectangular cakes....
) and contents (e.g.
fruitcake
Fruitcake
Fruitcake is a cake made with chopped candied fruit and/or dried fruit, nuts, and spices, and soaked in spirits. A cake that simply has fruit in it as an ingredient can also be colloquially called a fruitcake. In the United Kingdom, certain rich versions may be iced and decorated...
or
flourless chocolate cake
Flourless chocolate cake
A flourless chocolate cake is a type of cake made from an aerated chocolate custard. It is prepared with a whole egg foam in a manner similar to a Génoise cake, using low heat from the melted chocolate to stabilize the protein matrix and then baked in a bain-marie...
).
Some varieties of cake are widely available in the form of cake mixes, wherein some of the ingredients (usually flour, sugar, flavoring, baking powder, and sometimes some form of fat) are premixed, and the cook needs add only a few extra ingredients, usually eggs, water, and sometimes vegetable oil or butter. While the diversity of represented styles is limited, cake mixes do provide an easy and readily available homemade option for cooks who are not accomplished bakers.
Special-purpose cakes
Cakes may be classified according to the occasion for which they are intended. For example,
wedding cake
Wedding cake
A wedding cake is the traditional cake served to the guests at a wedding reception after a wedding. In modern Western culture, it is usually a large cake, multi-layered or tiered, and heavily decorated with icing, usually over a layer of marzipan or fondant...
s,
birthday cake
Birthday cake
The birthday cake has been an integral part of the birthday celebrations in Western cultures since the middle of the 19th century. Certain rituals and traditions, such as singing of birthday songs, associated with birthday cakes are common to many Western cultures. The Western tradition of adding...
s, and Passover plava (a type of Jewish sponge cake sometimes made with
matzo
Matzo
Matzo or matzah is an unleavened bread traditionally eaten by Jews during the week-long Passover holiday, when eating chametz—bread and other food which is made with leavened grain—is forbidden according to Jewish law. Currently, the most ubiquitous type of Matzo is the traditional Ashkenazic...
meal) are all identified primarily according to the celebration they are intended to accompany. The cutting of a wedding cake constitutes a social ceremony in some cultures. The Ancient Roman marriage ritual of
confarreatio
Confarreatio
In ancient Rome, confarreatio was a traditional patrician form of marriage. The ceremony involved the bride and bridegroom sharing a cake of spelt, in Latin far or panis farreus, hence the rite's name. The Flamen Dialis and Pontifex Maximus presided over the wedding, and ten witnesses had to be...
originated in the sharing of a cake.
Particular types of cake may be associated with particular festivals, such as
stollen
Stollen
A Stollen is a loaf-shaped cake containing dried fruit, and covered with sugar, powdered sugar or icing sugar. The cake is usually made with chopped candied fruit and/or dried fruit, nuts and spices. Stollen is a traditional German cake, usually eaten during the Christmas season, when called...
(at
Christmas
Christmas
Christmas or Christmas Day is an annual holiday generally celebrated on December 25 by billions of people around the world. It is a Christian feast that commemorates the birth of Jesus Christ, liturgically closing the Advent season and initiating the season of Christmastide, which lasts twelve days...
), babka and
simnel cake
Simnel cake
Simnel cake is a light fruit cake, similar to a Christmas cake, covered in marzipan, then toasted, and eaten during the Easter period in the United Kingdom, Ireland and some other countries. A layer of marzipan or almond paste is also baked into the middle of the cake...
(at
Easter
Easter
Easter is the central feast in the Christian liturgical year. According to the Canonical gospels, Jesus rose from the dead on the third day after his crucifixion. His resurrection is celebrated on Easter Day or Easter Sunday...
), or
mooncake
Mooncake
Mooncake is a Chinese bakery product traditionally eaten during the Mid-Autumn Festival / Zhongqiu Festival. The festival is for lunar worship and moon watching; mooncakes are regarded as an indispensable delicacy on this occasion. Mooncakes are offered between friends or on family gatherings...
. There has been a long tradition of decorating an iced cake at Christmas time; other cakes associated with Christmas include
chocolate log and mince pies.
Shapes
Cakes are frequently described according to their physical form. Cakes may be small and intended for individual consumption. Larger cakes may be made with the intention of being sliced and served as part of a meal or social function. Common shapes include:
Bundt cake

Bundt cake

A bundt cake is a dessert cake that is baked in a bundt pan, shaping it into a distinctive ridged ring. The d in "bundt" is assimilated into the t. The term is used chiefly in North America....


s
Cake balls

Cake balls

Cake balls are a food item that are small and ball-shaped. Cake balls do not have the consistency of the traditional sweetened, baked and leavened cakes, but have a consistency similar to dough which can be attributed to the cake and icing being blended together.Cake balls can be fully baked cake...



Conical, such as the Kransekake
Cupcake

Cupcake

A cupcake is a small cake designed to serve one person, frequently baked in a small, thin paper or aluminum cup...


s and madeleines, which are both sized for a single person
Layer cake

Layer cake

A layer cake is a cake consisting of multiple layers, usually held together by frosting or another type of filling, such as jam or other preserves. Most cake recipes can be made into layer cakes; butter cakes and sponge cakes are common choices...


s, frequently baked in a springform pan

Springform pan

A springform pan is a type of bakeware that features sides that can be removed from the base. Springform refers to the construction style of this pan. The base and the sides are separate pieces that are held together when the base is aligned with a groove that rings the bottom of the walls. The pan...


and decorated
Sheet cake

Sheet cake

A sheet cake is a cake baked in a large, flat rectangular pan such as a sheet pan or a jelly roll pan. These single-layer cakes are almost always frosted, and may be decorated on the flat surface on the top...


s, simple, flat, rectangular cakes baked in sheet pan

Sheet pan

Sheet pans, baking trays or baking sheets are flat, rectangular metal pans used in an oven. They are primarily used for baking flat products such as cookies, sheet cakes, and swiss rolls....


s
Swiss roll

Swiss roll

A Swiss roll or jelly roll is a type of sponge cake roll. The thin cake is made of eggs, flour and sugar and baked in a very shallow rectangular baking tray, called a sheet pan. The cake is removed from the pan and spread with jam or buttercream, rolled up, and served in circular slices.The...


cakes
Cake flour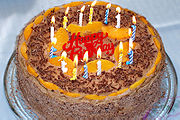 Special
cake flour
with a high starch-to-gluten ratio is made from fine-textured, soft, low-protein wheat. It is strongly bleached, and compared to all-purpose flour, cake flour tends to result in cakes with a lighter, less dense texture. Therefore, it is frequently specified or preferred in cakes meant to be soft, light, and or bright white, such as angel food cake. However, if cake flour is called for, a substitute can be made by replacing a small percentage of all-purpose flour with cornstarch or removing two tablespoons from each cup of all-purpose flour. Some recipes explicitly specify or permit all-purpose flour, notably where a firmer or denser cake texture is desired.
Cake decorating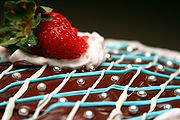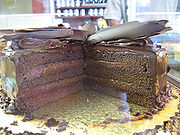 A finished cake is often enhanced by covering it with
icing
Icing (food)
Icing, also called frosting in the United States, is a sweet often creamy glaze made of sugar with a liquid such as water or milk, that is often enriched with ingredients such as butter, egg whites, cream cheese, or flavorings and is used to cover or decorate baked goods, such as cakes or cookies...
, or frosting, and toppings such as
sprinkles
Sprinkles
Sprinkles are very small pieces of confectionery used as a decoration or to add texture to desserts—typically cupcakes, cookies, doughnuts, ice cream, frozen yogurt, and some puddings...
, which are also known as "jimmies" in certain parts of the United States and "hundreds and thousands" in the United Kingdom. Frosting is usually made from powdered (icing) sugar, sometimes a fat of some sort, milk or cream, and often flavorings such as
vanilla extract
Vanilla
Vanilla is a flavoring derived from orchids of the genus Vanilla, primarily from the Mexican species, Flat-leaved Vanilla . The word vanilla derives from the Spanish word "", little pod...
or
cocoa powder
Chocolate
Chocolate is a raw or processed food produced from the seed of the tropical Theobroma cacao tree. Cacao has been cultivated for at least three millennia in Mexico, Central and South America. Its earliest documented use is around 1100 BC...
. Some decorators use a rolled
fondant
Fondant
Fondant is one of several kinds of icing-like substance used to decorate or sculpt pastries. The word, in French, means "melting", coming from the same root as "foundry" in English....
icing. Commercial bakeries tend to use
lard
Lard
Lard is pig fat in both its rendered and unrendered forms. Lard was commonly used in many cuisines as a cooking fat or shortening, or as a spread similar to butter. Its use in contemporary cuisine has diminished because of health concerns posed by its saturated-fat content and its often negative...
for the fat, and often whip the lard to introduce air bubbles. This makes the icing light and spreadable. Home bakers either use lard,
butter
Butter
Butter is a dairy product made by churning fresh or fermented cream or milk. It is generally used as a spread and a condiment, as well as in cooking applications, such as baking, sauce making, and pan frying...
,
margarine
Margarine
Margarine , as a generic term, can indicate any of a wide range of butter substitutes, typically composed of vegetable oils. In many parts of the world, the market share of margarine and spreads has overtaken that of butter...
or some combination thereof. Sprinkles are small firm pieces of sugar and oils that are colored with
food coloring
Food coloring
Food coloring is a substance, liquid or powder, that is added to food or drink to change its color. Food coloring is used both in commercial food production and in domestic cooking...
. In the late 20th century, new cake decorating products became available to the public. These include several specialized sprinkles and even methods to print pictures and transfer the image onto a cake.
Special tools are needed for more complex
cake decorating
Cake decorating
Cake decorating is one of the sugar arts that uses icing or frosting and other edible decorative elements to make otherwise plain cakes more visually interesting...
, such as piping bags or syringes, and various piping tips. To use a piping bag or syringe, a piping tip is attached to the bag or syringe using a coupler. The bag or syringe is partially filled with icing which is sometimes colored. Using different piping tips and various techniques, a cake decorator can make many different designs. Basic decorating tips include open star, closed star, basketweave, round, drop flower, leaf, multi, petal, and specialty tips.
Royal icing
Royal icing
Royal icing is a hard white icing, made from softly beaten egg whites, icing sugar , and sometimes lemon or lime juice. It is used on Christmas cakes, wedding cakes, gingerbread houses and many other cakes and biscuits, either as a smooth covering like marzipan, or in sharp peaks...
,
marzipan
Marzipan
Marzipan is a confection consisting primarily of sugar and almond meal. Persipan is a similar, yet less expensive product, in which the almonds are replaced by apricot or peach kernels...
(or a less sweet version, known as almond paste), fondant icing
(also known as sugarpaste) and buttercream are used as covering icings and to create decorations. Floral sugarcraft or wired sugar flowers are an important part of cake decoration. Cakes for special occasions, such as wedding cakes, are traditionally rich fruit cakes or occasionally
Madeira cake
Madeira cake
Madeira cake is a sponge cake in traditional English cookery.The Madeira Cake has a firm yet light texture, eaten with tea or rarely for breakfast and is traditionally flavoured with lemon. Dating back to an original recipe in the 18th century or 19th century, it is not unlike a simple pound cake...
s (also known as whisked or fatless sponge), that are covered with marzipan and either iced using royal icing or sugarpaste. They are finished with piped borders (made with royal icing) and adorned with a piped message, wired sugar flowers, hand-formed fondant flowers, marzipan fruit, piped flowers, or crystallized fruits or flowers such as grapes or violets.
History
The term "cake" has a long history. The word itself is of Viking origin, from the Old Norse word "kaka".
Although clear examples of the difference between cake and
bread
Bread
Bread is a staple food prepared by cooking a dough of flour and water and often additional ingredients. Doughs are usually baked, but in some cuisines breads are steamed , fried , or baked on an unoiled frying pan . It may be leavened or unleavened...
are easy to find, the precise classification has always been elusive. For example,
banana bread
Banana bread
Banana bread is a type of bread that is made with mashed bananas. It is often a moist, sweet, cake-like quick bread; however, there are some banana bread recipes that are traditional-style yeast breads.-History:...
may be properly considered either a
quick bread
Quick bread
Quick bread is an American term used to denote a type of bread which is leavened with leavening agents other than yeast. Quick breads includes many cakes, brownies and cookies, as well as banana bread, beer bread, cornbread, biscuits, muffins, pancakes, scones, and soda bread.-History::"Quick...
or a cake.
The Greeks invented beer as a
leavener
Leavening agent
A leavening agent is any one of a number of substances used in doughs and batters that cause a foaming action which lightens and softens the finished product...
,
frying
Frying
Frying is the cooking of food in oil or another fat, a technique that originated in ancient Egypt around 2500 BC. Chemically, oils and fats are the same, differing only in melting point, but the distinction is only made when needed. In commerce, many fats are called oils by custom, e.g...
fritter
Fritter
A fritter is any kind of food coated in batter and deep fried. Although very similar to a doughnut it differs in the fact that it requires some base ingredient beyond the dough it is cooked with.-Anglo-American fritters:...
s in
olive oil
Olive oil
Olive oil is an oil obtained from the olive , a traditional tree crop of the Mediterranean Basin. It is commonly used in cooking, cosmetics, pharmaceuticals, and soaps and as a fuel for traditional oil lamps...
, and
cheesecake
Cheesecake
Cheesecake is a dessert consisting of a topping made of soft, fresh cheese, usually on a crust or base made from biscuit , pastry or sponge cake. They may be baked or unbaked...
s using goat's milk. In
ancient Rome
Ancient Rome
Ancient Rome was a thriving civilization that grew on the Italian Peninsula as early as the 8th century BC. Located along the Mediterranean Sea and centered on the city of Rome, it expanded to one of the largest empires in the ancient world....
, basic bread dough was sometimes enriched with butter, eggs, and honey, which produced a sweet and cake-like baked good.
Latin
Latin
Latin is an Italic language originally spoken in Latium and Ancient Rome. It, along with most European languages, is a descendant of the ancient Proto-Indo-European language. Although it is considered a dead language, a number of scholars and members of the Christian clergy speak it fluently, and...
poet
Poet
A poet is a person who writes poetry. A poet's work can be literal, meaning that his work is derived from a specific event, or metaphorical, meaning that his work can take on many meanings and forms. Poets have existed since antiquity, in nearly all languages, and have produced works that vary...
Ovid
Ovid
Publius Ovidius Naso , known as Ovid in the English-speaking world, was a Roman poet who is best known as the author of the three major collections of erotic poetry: Heroides, Amores, and Ars Amatoria...
refers to the birthday of him and his brother with party and cake in his first book of exile,
Tristia
Tristia
The Tristia is a collection of letters written in elegiac couplets by the Augustan poet Ovid during his exile from Rome. Despite five books of his copious bewailing of his fate, the immediate cause of Augustus's banishment of the greatest living Latin poet to Pontus in 8 AD remains a mystery...
.
Early cakes in England were also essentially bread: the most obvious differences between a "cake" and "bread" were the round, flat shape of the cakes, and the cooking method, which turned cakes over once while cooking, while bread was left upright throughout the baking process.
Sponge cakes, leavened with beaten eggs, originated during the Renaissance, possibly in Spain.
External links