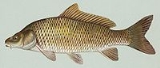 Carp
Carp
are various species of
oily
Oily fish
Oily fish have oil in their tissues and in the belly cavity around the gut. Their fillets contain up to 30 percent oil, although this figure varies both within and between species...
freshwater fish
Freshwater fish
Freshwater fish are fish that spend some or all of their lives in freshwater, such as rivers and lakes, with a salinity of less than 0.05%. These environments differ from marine conditions in many ways, the most obvious being the difference in levels of salinity...
of the family Cyprinidae, a very large group of fish native to Europe and Asia. The cypriniformes (family Cyprinidae) are traditionally grouped with the
Characiformes
Characiformes
The Characiformes are an order of ray-finned fish, comprising the characins and their allies. Grouped in 18 recognized families, there are a few thousand different species, including the well-known piranha and tetras.-Taxonomy:...
, Siluriformes and
Gymnotiformes
Gymnotiformes
The Gymnotiformes are a group of teleost bony fishes commonly known as the Neotropical or South American knifefishes. They have long bodies and swim using undulations of their elongated anal fin...
to create the superorder
Ostariophysi
Ostariophysi
Ostariophysi is the second-largest superorder of fish. Members of this superorder are called ostariophysians. This diverse group contains almost 8,000 species, about 28% of known fish species in the world and 68% of freshwater species, and are present on all major continents except Antarctica...
, since these groups have certain common features, such as being found predominantly in fresh water and that they possess Weberian ossicles (an anatomical structure originally made up of small pieces of bone formed from four or five of the first vertebrae); the most anterior bony pair is in contact with the extension of the labyrinth and the posterior with the swimbladder. The function is poorly understood, but this structure is presumed to take part in the transmission of vibrations from the swimbladder to the labyrinth and in the perception of sound, which would explain why the Ostariophysi have such a great capacity for hearing.
Most cypriniformes have scales and teeth on the inferior pharyngeal bones which may be modified in relation to the diet.
Tribolodon
Tribolodon
Tribolodon is a genus of cyprinid fishes found in marine and freshwater in Eastern Asia. There are currently four described species in this genus.-Species:* Tribolodon brandtii...
is the only cyprinid genus which tolerates salt water, although there are several species which move into brackish water, but return to fresh water to spawn. All of the other cypriniformes live in continental waters and have a wide geographical range.
Some consider all cyprinid fishes carp, and the family Cyprinidae itself is often known as the carp family. In colloquial use, however, carp usually refers only to several larger cyprinid species such as
Cyprinus carpio
(common carp),
Carassius carassius
(Crucian carp),
Ctenopharyngodon idella
(grass carp),
Hypophthalmichthys molitrix
(silver carp), and
Hypophthalmichthys nobilis
(bighead carp). Carp have long been an important food fish to humans, as well as popular ornamental fishes such as the various
goldfish
Goldfish
The goldfish is a freshwater fish in the family Cyprinidae of order Cypriniformes. It was one of the earliest fish to be domesticated, and is one of the most commonly kept aquarium fish....
breeds and the domesticated common carp variety known as
koi
Koi
or more specifically , are ornamental varieties of domesticated common carp that are kept for decorative purposes in outdoor koi ponds or water gardens....
. As a result, carp have been introduced to various locations, though with mixed results. Several species of carp are listed as invasive species by the U.S. Department of Agriculture, and worldwide large sums of money are spent on carp control.
Aquaculture
Various species of carp have been domesticated and
reared
Fish farming
Fish farming is the principal form of aquaculture, while other methods may fall under mariculture. Fish farming involves raising fish commercially in tanks or enclosures, usually for food. A facility that releases young fish into the wild for recreational fishing or to supplement a species'...
as food fish across Europe and Asia for thousands of years. These various species appear to have been domesticated independently, as the various domesticated carp species are native to different parts of
Eurasia
Eurasia
Eurasia is a continent or supercontinent comprising the traditional continents of Europe and Asia ; covering about 52,990,000 km2 or about 10.6% of the Earth's surface located primarily in the eastern and northern hemispheres...
. For example, the
common carp
Common carp
The Common carp is a widespread freshwater fish of eutrophic waters in lakes and large rivers in Europe and Asia. The wild populations are considered vulnerable to extinction, but the species has also been domesticated and introduced into environments worldwide, and is often considered an invasive...
,
Cyprinus carpio
, is originally from Central Europe. Several carp species (collectively known as
Asian carp
Asian carp
Many species of heavy-bodied cyprinid fish are collectively known in the United States as Asian carp. Cyprinids from the subcontinent [for example, catla and mrigal ] are not included in this classification, and are known collectively as "Indian carp".Eight Asian carp have been substantially...
) were domesticated in
East Asia
East Asia
East Asia or Eastern Asia is a subregion of Asia that can be defined in either geographical or cultural terms...
. Carp that are originally from
South Asia
South Asia
South Asia, also known as Southern Asia, is the southern region of the Asian continent, which comprises the sub-Himalayan countries and, for some authorities , also includes the adjoining countries to the west and the east...
, for example
catla
Catla
Catla catla, , also known as Indian Carp, is the only member of the genus Catla, of the carp family Cyprinidae. It is a fish with a large protruding lower jaw. It is commonly found in rivers and freshwater lakes in India , Nepal, Myanmar, Bangladesh and Pakistan...
(
Gibelion catla
),
rohu
Rohu
Rohi or Rohu is a fish of the carp family Cyprinidae, found commonly in rivers and freshwater lakes in and around South Asia and South-East Asia. It is a herbivore. It is treated as a delicacy in Bangladesh, Nepal and the Indian states of Orissa, Assam, West Bengal, Bihar and Uttar Pradesh...
(
Labeo rohita
) and mrigal (
Cirrhinus cirrhosus
), are known as
Indian carp
Indian Carp
Indian carp is a generic term used in aquaculture to refer to:*Catla catla*Cirrhinus cirrhosus*Labeo rohita...
. Their hardiness and adaptability have allowed domesticated species to be propagated all around the world.
Although the carp was an important aquatic food item, as more fish species have become readily available for the table, the importance of carp culture in
Western Europe
Western Europe
Western Europe is a loose term for the collection of countries in the western most region of the European continents, though this definition is context-dependent and carries cultural and political connotations. One definition describes Western Europe as a geographic entity—the region lying in the...
has become less important. Demand has declined, partly due to the appearance of more desirable table fish such as
trout
Trout
Trout is the name for a number of species of freshwater and saltwater fish belonging to the Salmoninae subfamily of the family Salmonidae. Salmon belong to the same family as trout. Most salmon species spend almost all their lives in salt water...
and
salmon
Salmon
Salmon is the common name for several species of fish in the family Salmonidae. Several other fish in the same family are called trout; the difference is often said to be that salmon migrate and trout are resident, but this distinction does not strictly hold true...
through intensive farming, and environmental constraints. However, fish production in ponds is still a major form of aquaculture in Central and Eastern Europe, including the Russian Federation, where most of the production comes from low or intermediate-intensity ponds. In Asia, the farming of carp continues to surpass the total amount of farmed fish volume of intensively sea-farmed species, such as salmon and
tuna
Tuna
Tuna is a salt water fish from the family Scombridae, mostly in the genus Thunnus. Tuna are fast swimmers, and some species are capable of speeds of . Unlike most fish, which have white flesh, the muscle tissue of tuna ranges from pink to dark red. The red coloration derives from myoglobin, an...
.
As ornamental fish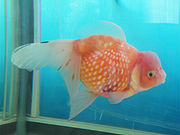 Carp, along with many of their
cyprinid
Cyprinid
The family Cyprinidae, from the Ancient Greek kyprînos , consists of the carps, the true minnows, and their relatives . Commonly called the carp family or the minnow family, its members are also known as cyprinids...
relatives, are popular ornamental aquarium and pond fish. The two most notable ornamental carps are
goldfish
Goldfish
The goldfish is a freshwater fish in the family Cyprinidae of order Cypriniformes. It was one of the earliest fish to be domesticated, and is one of the most commonly kept aquarium fish....
and
koi
Koi
or more specifically , are ornamental varieties of domesticated common carp that are kept for decorative purposes in outdoor koi ponds or water gardens....
. Goldfish and koi have advantages over most other ornamental fishes, in that they are tolerant of cold (they can survive in water temperatures as low as 4°C), can survive at low oxygen levels, and can tolerate low water quality.

Goldfish (
Carassius auratus
) were originally domesticated from the Prussian carp (
Carassius gibelio
), a dark greyish-brown carp native to Asia. They were first bred for color in China over a thousand years ago. Due to selective breeding, goldfish have been developed into many distinct breeds, and are found in various colors, color patterns, forms and sizes far different from those of the original carp. Goldfish were kept as ornamental fish in
China
China
Chinese civilization may refer to:* China for more general discussion of the country.* Chinese culture* Greater China, the transnational community of ethnic Chinese.* History of China* Sinosphere, the area historically affected by Chinese culture...
for hundreds of years before being introduced to
Japan
Japan
Japan is an island nation in East Asia. Located in the Pacific Ocean, it lies to the east of the Sea of Japan, China, North Korea, South Korea and Russia, stretching from the Sea of Okhotsk in the north to the East China Sea and Taiwan in the south...
in the 15th century, and to
Europe
Europe
Europe is, by convention, one of the world's seven continents. Comprising the westernmost peninsula of Eurasia, Europe is generally 'divided' from Asia to its east by the watershed divides of the Ural and Caucasus Mountains, the Ural River, the Caspian and Black Seas, and the waterways connecting...
in the late 17th century.
Koi are a domesticated variety of
common carp
Common carp
The Common carp is a widespread freshwater fish of eutrophic waters in lakes and large rivers in Europe and Asia. The wild populations are considered vulnerable to extinction, but the species has also been domesticated and introduced into environments worldwide, and is often considered an invasive...
(
Cyprinus carpio
) that have been selectively bred for color. The common carp was introduced from China to Japan, where selective breeding of the common carp in the 1820s in the Niigata region resulted in koi. In Japanese culture, koi are treated with affection, and seen as good luck. They are popular in other parts of the world as outdoor pond fish.
As sport fish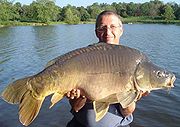 Izaak Walton
Izaak Walton
Izaak Walton was an English writer. Best known as the author of The Compleat Angler, he also wrote a number of short biographies which have been collected under the title of Walton's Lives.-Biography:...
said about carp in
The Compleat Angler
, "The Carp is the queen of rivers; a stately, a good, and a very subtle fish; that was not at first bred, nor hath been long in England, but is now naturalised."
Carp are variable in terms of
angling
Angling
Angling is a method of fishing by means of an "angle" . The hook is usually attached to a fishing line and the line is often attached to a fishing rod. Fishing rods are usually fitted with a fishing reel that functions as a mechanism for storing, retrieving and paying out the line. The hook itself...
value.
In Europe, even when not fished for food, they are eagerly sought by anglers, being considered highly prized coarse fish that are difficult to hook. The UK has a thriving carp angling market. It is the fastest growing angling market in the UK, and has spawned a number of specialised carp angling publications such as 'Carpology', 'advanced carp fishing', 'carpworld', 'TotalCarp' and karper, and many informative carp angling web sites, such as Carpfishing UK and Carpit
In the United States, carp are also classified as a rough fish

Rough fish

Rough fish is a term used by U.S. state agencies and U.S. anglers to describe fish that are less desirable to sport anglers within a limited region. The term usually refers to larger fish species that are not commonly eaten, are too rare to be commonly encountered, or are not sought after by...


, as well as damaging to naturalized exotic species, but with sporting qualities. Many states' departments of natural resources are beginning to view the carp as an angling fish instead of a maligned pest. Groups such as the Carp Anglers Group and American Carp Society promote the sport and work with fisheries departments to organize events to introduce and expose others to the unique opportunity the carp offers freshwater anglers.
As Christmas dish
A Christmas carp is specific to Central European region. Since Middle Ages, people have eaten it during fasting, because just as other fish, carp were not considered as meat. Breeding carp has been one of the traditional sectors of agriculture in Central Europe, especially in the Czech Republic, making them affordable even to people with low income. Some sources date having carp on Christmas tables already in 17th century, but it became widely consumed later during 19th century. Though young people in particular substitute carp with other kinds of fish, such as cod or salmon, it has certainly became a symbol of a Czech Christmas.
Types of carp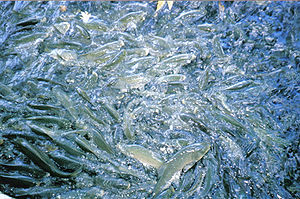 External links
Langridge, John, Aphrodite's Carp, The Medlar Press, 2006