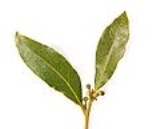 Bay Laurel
The
bay laurel
also known as
sweet bay
,
bay tree
,
true laurel
,
Grecian laurel
,
laurel tree
, or simply
laurel
, is an aromatic
evergreen
Evergreen
In botany, an evergreen plant is a plant that has leaves in all seasons. This contrasts with deciduous plants, which completely lose their foliage during the winter or dry season.There are many different kinds of evergreen plants, both trees and shrubs...
tree
Tree
A tree is a perennial woody plant. It is most often defined as a woody plant that has many secondary branches supported clear of the ground on a single main stem or trunk with clear apical dominance. A minimum height specification at maturity is cited by some authors, varying from 3 m to...
or large
shrub
Shrub
A shrub or bush is distinguished from a tree by its multiple stems and shorter height, usually under 5–6 m tall. A large number of plants may become either shrubs or trees, depending on the growing conditions they experience...
with green, glossy
leaves
Leaf
A leaf is an organ of a vascular plant, as defined in botanical terms, and in particular in plant morphology. Foliage is a mass noun that refers to leaves as a feature of plants....
, native to the Mediterranean region. It is the source of the
bay leaf
used in cooking. Under the simpler name "laurel,"
Laurus nobilis
figures prominently in classical Greek, Roman, and Biblical culture.
Worldwide, many other kinds of plants in diverse families are also called "bay" or "laurel," generally due to similarity of foliage or aroma to
Laurus nobilis,
and the full name is used for the California bay laurel
(Umbellularia

Umbellularia

Umbellularia californica is a large tree native to coastal forests of California and slightly extended into Oregon.It is the sole species in the genus Umbellularia....


),
also in the family Lauraceae.
The laurel can vary greatly in size and height, sometimes reaching 10 – tall.