Mashed potato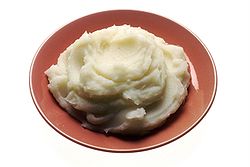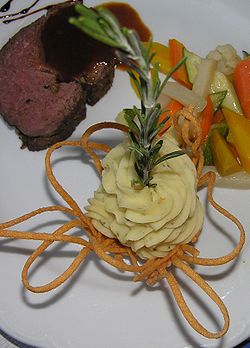 Mashed potato
is made by mashing freshly boiled
potatoes
Potato
The potato is a starchy, tuberous crop from the perennial Solanum tuberosum of the Solanaceae family . The word potato may refer to the plant itself as well as the edible tuber. In the region of the Andes, there are some other closely related cultivated potato species...
with a
ricer
Potato ricer
A potato ricer is a kitchen implement used to process potatoes by forcing it through small holes, which are often not much wider than a grain of rice. Mashed potatoes is a food commonly made using this utensil. In technical terms, it works by a process of extrusion. A potato ricer can also be used...
, fork,
potato masher
Potato masher
A potato masher or bean masher is a food preparation utensil used to crush soft food for such dishes as mashed potatoes, apple sauce, or refried beans.-Construction:...
,
food mill
Food mill
A food mill is a food preparation utensil for mashing and sieving soft foods...
, or whipping them with a hand beater. Dehydrated and frozen mashed potatoes are available in many places. Mashed potatos are occassionally called whipped potatos or smashed potatos.
Ingredients
The use of "floury" types of potato is usually recommended, although "waxy" potatoes are sometimes used for a different texture. Butter, vegetable oil, milk or cream are usually added to improve flavor and texture, and the potatoes are seasoned with
salt
Salt
In chemistry, salts are ionic compounds that result from the neutralization reaction of an acid and a base. They are composed of cations and anions so that the product is electrically neutral...
and
pepper
Black pepper
Black pepper is a flowering vine in the family Piperaceae, cultivated for its fruit, which is usually dried and used as a spice and seasoning. The fruit, known as a peppercorn when dried, is approximately in diameter, dark red when fully mature, and, like all drupes, contains a single seed...
, and any other desired herbs and spices. Popular ingredients and seasonings include:
garlic
Garlic
Allium sativum, commonly known as garlic, is a species in the onion genus, Allium. Its close relatives include the onion, shallot, leek, chive, and rakkyo. Dating back over 6,000 years, garlic is native to central Asia, and has long been a staple in the Mediterranean region, as well as a frequent...
,
cheese
Cheese
Cheese is a generic term for a diverse group of milk-based food products. Cheese is produced throughout the world in wide-ranging flavors, textures, and forms....
, bacon bits,
sour cream
Sour cream
Sour cream is a dairy product rich in fats obtained by fermenting a regular cream by certain kinds of lactic acid bacteria. The bacterial culture, which is introduced either deliberately or naturally, sours and thickens the cream. Its name stems from the production of lactic acid by bacterial...
, crisp onion or spring onion, mustard, spices such as
nutmeg
Nutmeg
The nutmeg tree is any of several species of trees in genus Myristica. The most important commercial species is Myristica fragrans, an evergreen tree indigenous to the Banda Islands in the Moluccas of Indonesia...
, chopped herbs such as
parsley
Parsley
Parsley is a species of Petroselinum in the family Apiaceae, native to the central Mediterranean region , naturalized elsewhere in Europe, and widely cultivated as an herb, a spice and a vegetable.- Description :Garden parsley is a bright green hairless biennial herbaceous plant in temperate...
or
rosemary
Rosemary
Rosemary, , is a woody, perennial herb with fragrant, evergreen, needle-like leaves and white, pink, purple or blue flowers, native to the Mediterranean region. It is a member of the mint family Lamiaceae, which includes many other herbs, and is one of two species in the genus Rosmarinus...
, white
turnip
Turnip
The turnip or white turnip is a root vegetable commonly grown in temperate climates worldwide for its white, bulbous taproot. Small, tender varieties are grown for human consumption, while larger varieties are grown as feed for livestock...
, and
wasabi
Wasabi
, also known as Japanese horseradish, is a member of the Brassicaceae family, which includes cabbages, horseradish, and mustard. Its root is used as a condiment and has an extremely strong flavor. Its hotness is more akin to that of a hot mustard rather than the capsaicin in a chili pepper,...
. A French variation adds
egg yolk
Egg yolk
An egg yolk is a part of an egg which feeds the developing embryo. The egg yolk is suspended in the egg white by one or two spiral bands of tissue called the chalazae...
for
pommes duchesse
; piped through a pastry tube into wavy ribbons and rosettes, brushed with butter and lightly browned. In low-calorie or non-dairy variations, milk, cream, and butter may be replaced by soup stock or
broth
Broth
Broth is a liquid food preparation, typically consisting of either water or an already flavored stock, in which bones, meat, fish, cereal grains, or vegetables have been simmered. Broth is used as a basis for other edible liquids such as soup, gravy, or sauce. It can be eaten alone or with garnish...
.
Aloo Bharta
, an Indian sub-continent variation, uses chopped
onion
Onion
The onion , also known as the bulb onion, common onion and garden onion, is the most widely cultivated species of the genus Allium. The genus Allium also contains a number of other species variously referred to as onions and cultivated for food, such as the Japanese bunching onion The onion...
s, mustard (oil,
paste
Mustard (condiment)
Mustard is a condiment made from the seeds of a mustard plant...
or
seeds
Mustard seed
Mustard seeds are the small round seeds of various mustard plants. The seeds are usually about 1 or 2 mm in diameter. Mustard seeds may be colored from yellowish white to black. They are important spices in many regional foods. The seeds can come from three different plants: black mustard , brown...
),
chili pepper
Chili pepper
Chili pepper is the fruit of plants from the genus Capsicum, members of the nightshade family, Solanaceae. The term in British English and in Australia, New Zealand, India, Malaysia and other Asian countries is just chilli without pepper.Chili peppers originated in the Americas...
,
coriander
Coriander
Coriander is an annual herb in the family Apiaceae. Coriander is native to southern Europe and North Africa to southwestern Asia. It is a soft, hairless plant growing to tall. The leaves are variable in shape, broadly lobed at the base of the plant, and slender and feathery higher on the...
leaves and other
spice
Spice
A spice is a dried seed, fruit, root, bark, or vegetative substance used in nutritionally insignificant quantities as a food additive for flavor, color, or as a preservative that kills harmful bacteria or prevents their growth. It may be used to flavour a dish or to hide other flavours...
s.
Preparation
Potatos are generally, though not always, completely peeled before cooking them in preparation for mashing. Both heat and kinetic energy can burst the walls of the
starch
Starch
Starch or amylum is a carbohydrate consisting of a large number of glucose units joined together by glycosidic bonds. This polysaccharide is produced by all green plants as an energy store...
grains in the potato, releasing
amylose
Amylose
Amylose is a linear polymer made up of D-glucose units.This polysaccharide is one of the two components of starch, making up approximately 2-30% of the structure...
, which traps water, imparting an undesired "gluey" consistency in the same way that starch adds thickness to foods such as
gravy
Gravy
Gravy is a sauce made often from the juices that run naturally from meat or vegetables during cooking. In North America the term can refer to a wider variety of sauces and gravy is often thicker than in Britain...
and
custard
Custard
Custard is a variety of culinary preparations based on a cooked mixture of milk or cream and egg yolk. Depending on how much egg or thickener is used, custard may vary in consistency from a thin pouring sauce , to a thick pastry cream used to fill éclairs. The most common custards are used as...
. To avoid this, potatoes must not be cooked at a high temperature for too long. Whole or chunked potatoes receive considerably more heat on the outside by the time enough heat penetrates to cook the center, overcooking the outside; thinly slicing the potatoes allows a consistent amount of heat throughout.
Heston Blumenthal
Heston Blumenthal
Heston Marc Blumenthal OBE is an English chef and owner of The Fat Duck, a three-Michelin-starred restaurant in Bray, Berkshire voted Best Restaurant in the UK by The Good Food Guide 2007 and 2009, and voted best restaurant in the world by Restaurant magazine in 2005...
recommends cooking the sliced potatoes for 40 minutes at a controlled temperature of 70 °C. To avoid the need for temperature control, the sliced potatoes can be boiled until just cooked (10 to 12 minutes), testing constantly. If a food processor or similar is used for mashing, it will mechanically break the starch grains, releasing amylose and giving an unpleasant gluey consistency. Potatoes are best mashed before adding butter, etc., as the butter or liquid lubricates the lumps of potato, making them more difficult to break up.
Culinary uses
Mashed potatoes can be served together with other dishes, or can be an ingredient of various other dishes, including
shepherd's and cottage pie
Cottage pie
Cottage pie or shepherd's pie is a meat pie with a crust of mashed potato.The term cottage pie is known to have been in use in 1791, when the potato was being introduced as an edible crop affordable for the poor Cottage pie or shepherd's pie is a meat pie with a crust of mashed potato.The term...
,
pierogi
Pierogi
Pierogi are dumplings of unleavened dough - first boiled, then they are baked or fried usually in butter with onions - traditionally stuffed with potato filling, sauerkraut, ground meat, cheese, or fruit...
,
colcannon
Colcannon
Colcannon is a traditional Irish dish mainly consisting of mashed potatoes with kale or cabbage. It is also the name of a song about the dish.-Dish:...
,
dumpling
Dumpling
Dumplings are cooked balls of dough. They are based on flour, potatoes or bread, and may include meat, fish, vegetables, or sweets. They may be cooked by boiling, steaming, simmering, frying, or baking. They may have a filling, or there may be other ingredients mixed into the dough. Dumplings may...
s, potato
croquette
Croquette
A croquette is a small fried food roll containing, usually as main ingredients, mashed potatoes, and/or ground meat , shellfish, fish, vegetables, and soaked white bread, egg, onion, spices and herbs, wine, milk, beer or any of the combination thereof, sometimes with a filling, often encased in...
s,
gnocchi
Gnocchi
Gnocchi are various thick, soft dumplings. They may be made from semolina, ordinary wheat flour, flour and egg, flour, egg, and cheese, potato, bread crumbs, or similar ingredients. The smaller forms are called gnocchetti....
, etc.
See also
Aligot

Aligot

Aligot is a dish traditionally made in L'Aubrac region in southern Massif Central of France made from melted cheese blended into mashed potatoes, often with some garlic...



Champ

Champ (food)

Champ is an Irish dish, made by combining mashed potatoes and chopped spring onions with butter and milk, and optionally, salt and pepper. It is simple and inexpensive to produce...



Fufu

Fufu

Fufu, , is a staple snack of West and Central Africa. It is a thick paste usually made by boiling starchy root vegetables in water and pounding with a mortar and pestle until the desired consistency is reached...



Hachis Parmentier

Hachis Parmentier

In haute cuisine, hachis Parmentier is a dish made with mashed, baked potato, combined with diced meat and sauce lyonnaise and served in the potato shells...



Instant mashed potatoes
Mince and tatties

Mince and tatties

Mince and tatties is a popular Scottish dish, consisting of minced beef and mashed potato.-Preparation:Traditionally, the meat came from cheaper cuts of beef, such as chuck and blade or neck and clod, as opposed to the finer cuts used for steaks or roasting joints...



Smash

Smash (instant mashed potato)

Smash is a brand of instant mashed potato in the United Kingdom. The preparation of Smash is extremely simple - the granules are placed in a bowl and boiling water is added and stirred producing a mashed potato substitute....



External links
The ultimate chip and perfect mash -- Heston Blumenthal

Heston Blumenthal

Heston Marc Blumenthal OBE is an English chef and owner of The Fat Duck, a three-Michelin-starred restaurant in Bray, Berkshire voted Best Restaurant in the UK by The Good Food Guide 2007 and 2009, and voted best restaurant in the world by Restaurant magazine in 2005...


recipes