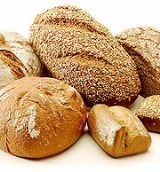 Bread
Bread
is a
staple food
Staple food
A staple food is one that is eaten regularly and in such quantities that it constitutes a dominant portion of a diet, and that supplies a high proportion of energy and nutrient needs. Most people live on a diet based on one or more staples...
prepared by
cooking
Cooking
Cooking is the process of preparing food by use of heat. Cooking techniques and ingredients vary widely across the world, reflecting unique environmental, economic, and cultural traditions. Cooks themselves also vary widely in skill and training...
a
dough
Dough
Dough is a paste made out of any cereals or leguminous crops by mixing flour with a small amount of water and/or other liquid. This process is a precursor to making a wide variety of foodstuffs, particularly breads and bread-based items , flatbreads, noodles, pastry, and similar items)...
of
flour
Flour
Flour is a powder which is made by grinding cereal grains, other seeds or roots . It is the main ingredient of bread, which is a staple food for many cultures, making the availability of adequate supplies of flour a major economic and political issue at various times throughout history...
and
water
Water
Water is a chemical substance with the chemical formula H2O. A water molecule contains one oxygen and two hydrogen atoms connected by covalent bonds. Water is a liquid at ambient conditions, but it often co-exists on Earth with its solid state, ice, and gaseous state . Water also exists in a...
and often additional ingredients. Doughs are usually baked, but in some cuisines breads are steamed (e.g.,
mantou
Mantou
Mantou, often referred to as Chinese steamed bun/bread, is a kind of steamed bun originating in China. They are typically eaten as a staple in northern parts of China where wheat, rather than rice, is grown. They are made with milled wheat flour, water and leavening agents...
), fried (e.g.,
puri
Puri (food)
Puri ,Hindi पूरी , Urdu: بوری, Tamil பூரி , Kannada ಪೂರಿ , Oriya ପୁରି, is an unleavened Indian bread, commonly consumed in India, Nepal, Bangladesh, Pakistan and other countries of South Asia. It is eaten for breakfast or as a snack or light meal.Puri is most commonly served at breakfast...
), or baked on an unoiled
frying pan
Frying pan
A frying pan, frypan, or skillet is a flat-bottomed pan used for frying, searing, and browning foods. It is typically in diameter with relatively low sides that flare outwards, a long handle, and no lid. Larger pans may have a small grab handle opposite the main handle...
(e.g.,
tortilla
Tortilla
In Mexico and Central America, a tortilla is a type of thin, unleavened flat bread, made from finely ground maize...
s). It may be
leavened
Leavening agent
A leavening agent is any one of a number of substances used in doughs and batters that cause a foaming action which lightens and softens the finished product...
or unleavened.
Salt
Edible salt
Salt, also known as table salt, or rock salt, is a mineral that is composed primarily of sodium chloride , a chemical compound belonging to the larger class of ionic salts. It is essential for animal life in small quantities, but is harmful to animals and plants in excess...
,
fat
Fat
Fats consist of a wide group of compounds that are generally soluble in organic solvents and generally insoluble in water. Chemically, fats are triglycerides, triesters of glycerol and any of several fatty acids. Fats may be either solid or liquid at room temperature, depending on their structure...
and
leavening agent
Leavening agent
A leavening agent is any one of a number of substances used in doughs and batters that cause a foaming action which lightens and softens the finished product...
s such as yeast and baking soda are common ingredients, though bread may contain other ingredients, such as
milk
Milk
Milk is a white liquid produced by the mammary glands of mammals. It is the primary source of nutrition for young mammals before they are able to digest other types of food. Early-lactation milk contains colostrum, which carries the mother's antibodies to the baby and can reduce the risk of many...
,
egg
Egg (food)
Eggs are laid by females of many different species, including birds, reptiles, amphibians, and fish, and have probably been eaten by mankind for millennia. Bird and reptile eggs consist of a protective eggshell, albumen , and vitellus , contained within various thin membranes...
,
sugar
Sugar
Sugar is a class of edible crystalline carbohydrates, mainly sucrose, lactose, and fructose, characterized by a sweet flavor.Sucrose in its refined form primarily comes from sugar cane and sugar beet...
,
spice
Spice
A spice is a dried seed, fruit, root, bark, or vegetative substance used in nutritionally insignificant quantities as a food additive for flavor, color, or as a preservative that kills harmful bacteria or prevents their growth. It may be used to flavour a dish or to hide other flavours...
,
fruit
Fruit
In broad terms, a fruit is a structure of a plant that contains its seeds.The term has different meanings dependent on context. In non-technical usage, such as food preparation, fruit normally means the fleshy seed-associated structures of certain plants that are sweet and edible in the raw state,...
(such as
raisin
Raisin
Raisins are dried grapes. They are produced in many regions of the world. Raisins may be eaten raw or used in cooking, baking and brewing...
s),
vegetable
Vegetable
The noun vegetable usually means an edible plant or part of a plant other than a sweet fruit or seed. This typically means the leaf, stem, or root of a plant....
s (such as
onion
Onion
The onion , also known as the bulb onion, common onion and garden onion, is the most widely cultivated species of the genus Allium. The genus Allium also contains a number of other species variously referred to as onions and cultivated for food, such as the Japanese bunching onion The onion...
),
nuts
Nut (fruit)
A nut is a hard-shelled fruit of some plants having an indehiscent seed. While a wide variety of dried seeds and fruits are called nuts in English, only a certain number of them are considered by biologists to be true nuts...
(such as
walnut
Walnut
Juglans is a plant genus of the family Juglandaceae, the seeds of which are known as walnuts. They are deciduous trees, 10–40 meters tall , with pinnate leaves 200–900 millimetres long , with 5–25 leaflets; the shoots have chambered pith, a character shared with the wingnuts , but not the hickories...
s) or
seed
Seed
A seed is a small embryonic plant enclosed in a covering called the seed coat, usually with some stored food. It is the product of the ripened ovule of gymnosperm and angiosperm plants which occurs after fertilization and some growth within the mother plant...
s (such as
poppy
Poppy seed
Poppy seed is an oilseed obtained from the opium poppy . The tiny kidney-shaped seeds have been harvested from dried seed pods by various civilizations for thousands of years...
).