 Crisp bread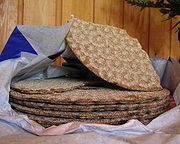 Crisp bread
or
hard bread
(
Swedish
Swedish language
Swedish is a North Germanic language, spoken by approximately 10 million people, predominantly in Sweden and parts of Finland, especially along its coast and on the Åland islands. It is largely mutually intelligible with Norwegian and Danish...
:
knäckebröd
,
hårt bröd
,
hårdbröd
,
spisbröd
,
Danish
Danish language
Danish is a North Germanic language spoken by around six million people, principally in the country of Denmark. It is also spoken by 50,000 Germans of Danish ethnicity in the northern parts of Schleswig-Holstein, Germany, where it holds the status of minority language...
:
knækbrød
,
Norwegian
Norwegian language
Norwegian is a North Germanic language spoken primarily in Norway, where it is the official language. Together with Swedish and Danish, Norwegian forms a continuum of more or less mutually intelligible local and regional variants .These Scandinavian languages together with the Faroese language...
:
knekkebrød
,
Finnish
Finnish language
Finnish is the language spoken by the majority of the population in Finland Primarily for use by restaurant menus and by ethnic Finns outside Finland. It is one of the two official languages of Finland and an official minority language in Sweden. In Sweden, both standard Finnish and Meänkieli, a...
:
näkkileipä
,
hapankorppu
,
Icelandic
Icelandic language
Icelandic is a North Germanic language, the main language of Iceland. Its closest relative is Faroese.Icelandic is an Indo-European language belonging to the North Germanic or Nordic branch of the Germanic languages. Historically, it was the westernmost of the Indo-European languages prior to the...
:
hrökkbrauð
,
German
German language
German is a West Germanic language, related to and classified alongside English and Dutch. With an estimated 90 – 98 million native speakers, German is one of the world's major languages and is the most widely-spoken first language in the European Union....
:
Knäckebrot
or
Knäcke
) is a flat and dry type of
bread
Bread
Bread is a staple food prepared by cooking a dough of flour and water and often additional ingredients. Doughs are usually baked, but in some cuisines breads are steamed , fried , or baked on an unoiled frying pan . It may be leavened or unleavened...
or
cracker
Cracker (food)
A cracker is a baked good commonly made from grain flour dough and typically made in quantity in various hand-sized or smaller shapes. Flavorings or seasonings, such as salt, herbs, seeds, and/or cheese, may be added to the dough or sprinkled on top before baking...
, containing mostly
rye
Rye
Rye is a grass grown extensively as a grain and as a forage crop. It is a member of the wheat tribe and is closely related to barley and wheat. Rye grain is used for flour, rye bread, rye beer, some whiskeys, some vodkas, and animal fodder...
flour. It is popular in armies and schools because of its light weight and simple, transport-friendly shape. Also, it is very cheap and if stored in dry conditions it will keep fresh and edible for a very long time. Crisp bread is a
staple food
Staple food
A staple food is one that is eaten regularly and in such quantities that it constitutes a dominant portion of a diet, and that supplies a high proportion of energy and nutrient needs. Most people live on a diet based on one or more staples...
and was for a long time considered a poor man's diet. However, in recent years there has been renewed interest in crisp bread in the Nordic countries.
Brands
Notable brands include
Ryvita
Ryvita
Ryvita is a rye-based crispbread which up until 2009 was manufactured by The Ryvita Company. The company was founded in Birmingham, England, in 1930 and is today a subsidiary of Associated British Foods. Ryvita crackers are popular with dieters...
and
Ry-Krisp
Ry-Krisp
Ry-Krisp is a brand of rye crisp bread introduced in 1899.. Based in Minneapolis, Minnesota, the Ry-Krisp plant was purchased by Ralston Purina in 1926.. In 1994, The Ralston portion of Ralston Purina was spun off into a new company called Ralcorp Holdings with the Ry-Krisp operations included...
, which was introduced in 1899. The largest brand is
Wasabröd
Wasabröd
The Swedish company Wasabröd is the largest producer in the world of Scandinavian style crisp bread . The Wasabröd company has been in business since 1919, opening its first bakery in the city of Skellefteå...
with Finn Crisp being the second largest producer.
Origins
Crisp bread has been baked in central
Sweden
Sweden
Sweden , officially the Kingdom of Sweden , is a Nordic country on the Scandinavian Peninsula in Northern Europe. Sweden borders with Norway and Finland and is connected to Denmark by a bridge-tunnel across the Öresund....
since 500 AD. It was made as round wafers with a hole in the middle so the bread could be stored on sticks under the roof. Traditional crisp bread was invented about 500 years ago.
Finland
Finland
Finland , officially the Republic of Finland, is a Nordic country situated in the Fennoscandian region of Northern Europe. It is bordered by Sweden in the west, Norway in the north and Russia in the east, while Estonia lies to its south across the Gulf of Finland.Around 5.4 million people reside...
and Sweden have long traditions in crisp bread consumption and crisp bread have been known in most households since the 1800s. Sweden's first industrial crisp bread bakery, AU Bergmans enka, begun its production in
Stockholm
Stockholm
Stockholm is the capital and the largest city of Sweden and constitutes the most populated urban area in Scandinavia. Stockholm is the most populous city in Sweden, with a population of 851,155 in the municipality , 1.37 million in the urban area , and around 2.1 million in the metropolitan area...
in 1850.
Ingredients
Crisp bread traditionally consists of wholemeal rye
flour
Flour
Flour is a powder which is made by grinding cereal grains, other seeds or roots . It is the main ingredient of bread, which is a staple food for many cultures, making the availability of adequate supplies of flour a major economic and political issue at various times throughout history...
,
salt
Salt
In chemistry, salts are ionic compounds that result from the neutralization reaction of an acid and a base. They are composed of cations and anions so that the product is electrically neutral...
, and
water
Water
Water is a chemical substance with the chemical formula H2O. A water molecule contains one oxygen and two hydrogen atoms connected by covalent bonds. Water is a liquid at ambient conditions, but it often co-exists on Earth with its solid state, ice, and gaseous state . Water also exists in a...
.
Today, however, much crisp bread contains
wheat
Wheat
Wheat is a cereal grain, originally from the Levant region of the Near East, but now cultivated worldwide. In 2007 world production of wheat was 607 million tons, making it the third most-produced cereal after maize and rice...
flour,
spice
Spice
A spice is a dried seed, fruit, root, bark, or vegetative substance used in nutritionally insignificant quantities as a food additive for flavor, color, or as a preservative that kills harmful bacteria or prevents their growth. It may be used to flavour a dish or to hide other flavours...
s and
grain
Cereal
Cereals are grasses cultivated for the edible components of their grain , composed of the endosperm, germ, and bran...
s, and is often leavened with
yeast
Yeast
Yeasts are eukaryotic micro-organisms classified in the kingdom Fungi, with 1,500 species currently described estimated to be only 1% of all fungal species. Most reproduce asexually by mitosis, and many do so by an asymmetric division process called budding...
or
sourdough
Sourdough
Sourdough is a dough containing a Lactobacillus culture, usually in symbiotic combination with yeasts. It is one of two principal means of biological leavening in bread baking, along with the use of cultivated forms of yeast . It is of particular importance in baking rye-based breads, where yeast...
, and
milk
Milk
Milk is a white liquid produced by the mammary glands of mammals. It is the primary source of nutrition for young mammals before they are able to digest other types of food. Early-lactation milk contains colostrum, which carries the mother's antibodies to the baby and can reduce the risk of many...
or sesame seeds can be added.
In the case of un
leavened
Leavening agent
A leavening agent is any one of a number of substances used in doughs and batters that cause a foaming action which lightens and softens the finished product...
crisp bread, bubbles are introduced into the dough mechanically. Traditionally, this was done by mixing snow or powdered ice into the dough, which then evaporated during baking. Today, the dough, which must contain a large amount of water, is cooled and mixed until bubbly.
Another method is to knead the dough under pressure in an extruder. The sudden drop in pressure then causes water to evaporate, creating bubbles in the dough.
Crisp bread is only baked for a few minutes, at temperatures usually between 200 and 250 °C.
Health issues
The carcinogen
acrylamide
Acrylamide
Acrylamide is a chemical compound with the chemical formula C3H5NO. Its IUPAC name is prop-2-enamide. It is a white odourless crystalline solid, soluble in water, ethanol, ether, and chloroform. Acrylamide is incompatible with acids, bases, oxidizing agents, iron, and iron salts...
was accidentally discovered in foods in April 2002 by scientists in Sweden when they found the chemical in
starch
Starch
Starch or amylum is a carbohydrate consisting of a large number of glucose units joined together by glycosidic bonds. This polysaccharide is produced by all green plants as an energy store...
y foods, such as
potato chip
Potato chip
Potato chips are thin slices of potato that are deep fried...
s, French fries, and bread that had been heated (production of acrylamide in the heating process was shown to be temperature-dependent). A 2005 study which included 43,404 Swedish women in the Women's Lifestyle and Health Cohort found that the women's greatest single source of acrylamide was from coffee (54% of intake), fried potatoes (12% of intake), and crisp bread (9% of intake). The
World Health Organization
World Health Organization
The World Health Organization is a specialized agency of the United Nations that acts as a coordinating authority on international public health. Established on 7 April 1948, with headquarters in Geneva, Switzerland, the agency inherited the mandate and resources of its predecessor, the Health...
(WHO) has set up a
clearinghouse
Clearinghouse (GIS)
A clearinghouse in GIS is a repository structure, physical or virtual, that collects, stores, and disseminates information, metadata, and data. A clearinghouse provides widespread access to information and is generally thought of as reaching or existing outside organizational boundaries....
for information about acrylamide, and the site's FAQ addresses whether there can be an acceptable level of acrylamide in food. The WHO states that "Acrylamide belongs to the group of chemicals thought to have no reliably identifiable 'threshold' of effects, meaning that very low concentrations will also result in very low risks, but not in zero risk: some risk is always present when the chemical is ingested. However, for these carcinogens, risk is thought to increase with increasing exposure.