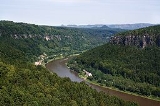 Elbe
Not to be confused with the similarly-pronounced Elba

Elba

Elba is a Mediterranean island in Tuscany, Italy, from the coastal town of Piombino. The largest island of the Tuscan Archipelago, Elba is also part of the National Park of the Tuscan Archipelago and the third largest island in Italy after Sicily and Sardinia...


.
The
Elbe
' onMouseout='HidePop("51680")' href="/topics/Low_German">Low German
Low German
Low German or Low Saxon is an Ingvaeonic West Germanic language spoken mainly in northern Germany and the eastern part of the Netherlands...
:
de Ilv
) is one of the major
river
River
A river is a natural watercourse, usually freshwater, flowing towards an ocean, a lake, a sea, or another river. In a few cases, a river simply flows into the ground or dries up completely before reaching another body of water. Small rivers may also be called by several other names, including...
s of
Central Europe
Central Europe
Central Europe or alternatively Middle Europe is a region of the European continent lying between the variously defined areas of Eastern and Western Europe...
.