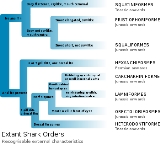 List of sharks
Shark classification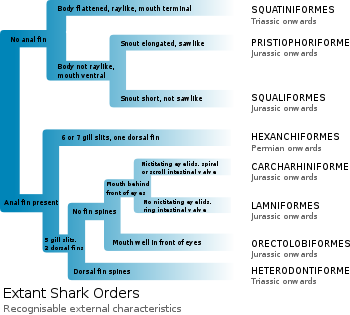 Sharks belong to the superorder Selachimorpha in the subclass
Elasmobranchii
Elasmobranchii
Elasmobranchii is a subclass of Chondrichthyes or cartilaginous fish, that includes the sharks and the rays and skates .-Evolution:...
in the class
Chondrichthyes
Chondrichthyes
Chondrichthyes or cartilaginous fishes are jawed fish with paired fins, paired nares, scales, two-chambered hearts, and skeletons made of cartilage rather than bone...
. The Elasmobranchii also include
rays
Batoidea
Batoidea is a superorder of cartilaginous fish commonly known as rays and skates, containing more than 500 described species in thirteen families...
and skates; the Chondrichthyes also include
Chimaera
Chimaera
Chimaeras are cartilaginous fish in the order Chimaeriformes, known informally as ghost sharks, ratfish , spookfish , or rabbitfishes...
s. It is currently thought that the sharks form a
polyphyletic
Polyphyly
A polyphyletic group is one whose members' last common ancestor is not a member of the group.For example, the group consisting of warm-blooded animals is polyphyletic, because it contains both mammals and birds, but the most recent common ancestor of mammals and birds was cold-blooded...
group: in particular, some sharks are more closely related to rays than they are to some other sharks. The first sharks appeared in the
ocean
Ocean
An ocean is a major body of saline water, and a principal component of the hydrosphere. Approximately 71% of the Earth's surface is covered by ocean, a continuous body of water that is customarily divided into several principal oceans and smaller seas.More than half of this area is over 3,000...
s 350 to 400 million years ago. Most of the species we know today are as old as the
Jurassic
Jurassic
The Jurassic is a geologic period and system that extends from about Mya to Mya, that is, from the end of the Triassic to the beginning of the Cretaceous. The Jurassic constitutes the middle period of the Mesozoic era, also known as the age of reptiles. The start of the period is marked by...
period.
Listed below are extant species of shark in taxonomic order. Sharks are spread across eight
orders
Order (biology)
In scientific classification used in biology, the order is# a taxonomic rank used in the classification of organisms. Other well-known ranks are life, domain, kingdom, phylum, class, family, genus, and species, with order fitting in between class and family...
which are listed in roughly evolutionary order (from primitive to modern), and the families and genera within the orders are listed in alphabetical order.
Taxonomic listing
See also
Shark

Shark

Sharks are a type of fish with a full cartilaginous skeleton and a highly streamlined body. The earliest known sharks date from more than 420 million years ago....



Hexanchiformes

Hexanchiformes

Hexanchiformes is the order consisting of the most primitive types of sharks, and numbering just five extant species. Fossil sharks that were apparently very similar to modern sevengill species are known from Jurassic specimens....



Squaliformes

Squaliformes

Squaliformes is an order of sharks that includes about 97 species in seven families.Members of the order have two dorsal fins, which usually possess spines, no anal fin or nictitating membrane, and five gill slits. In most other respects, however, they are quite variable in form and size...



Pristiophoriformes
Squatiniformes
Heterodontiformes
Orectolobiformes
Carcharhiniformes

Carcharhiniformes

The ground sharks, order Carcharhiniformes, are the largest order of sharks. With over 270 species, carcharhiniforms include a number of common types, such as the blue shark, catsharks, swellsharks, and sandbar shark....



Lamniformes

Lamniformes

Lamniformes is an order of sharks commonly known as mackerel sharks . It includes some of the most familiar species of sharks, such as the great white shark, as well as more unusual representatives, such as the goblin shark and the megamouth shark.Members of the order are distinguished by...