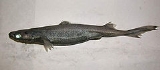 Velvet belly lantern shark
The
velvet belly lantern shark
(or simply
velvet belly
,
Etmopterus spinax
) is a species of
dogfish shark
Squaliformes
Squaliformes is an order of sharks that includes about 97 species in seven families.Members of the order have two dorsal fins, which usually possess spines, no anal fin or nictitating membrane, and five gill slits. In most other respects, however, they are quite variable in form and size...
in the
family
Family (biology)
In biological classification, family is* a taxonomic rank. Other well-known ranks are life, domain, kingdom, phylum, class, order, genus, and species, with family fitting between order and genus. As for the other well-known ranks, there is the option of an immediately lower rank, indicated by the...
Etmopteridae
Etmopteridae
Etmopteridae is a family of sharks in the order Squaliformes, commonly known as lantern sharks. Their name comes from the presence of light-producing photophores on their bodies. The members of this family are small, under long, and are found in deep waters worldwide. There are 45 species in five...
. One of the most common deepwater sharks in the northeastern
Atlantic Ocean
Atlantic Ocean
The Atlantic Ocean is the second-largest of the world's oceanic divisions. With a total area of about , it covers approximately 20% of the Earth's surface and about 26% of its water surface area...
, the velvet belly is found from
Iceland
Iceland
Iceland , described as the Republic of Iceland, is a Nordic and European island country in the North Atlantic Ocean, on the Mid-Atlantic Ridge. Iceland also refers to the main island of the country, which contains almost all the population and almost all the land area. The country has a population...
and
Norway
Norway
Norway , officially the Kingdom of Norway, is a Nordic unitary constitutional monarchy whose territory comprises the western portion of the Scandinavian Peninsula, Jan Mayen, and the Arctic archipelago of Svalbard and Bouvet Island. Norway has a total area of and a population of about 4.9 million...
to
Gabon
Gabon
Gabon , officially the Gabonese Republic is a state in west central Africa sharing borders with Equatorial Guinea to the northwest, Cameroon to the north, and with the Republic of the Congo curving around the east and south. The Gulf of Guinea, an arm of the Atlantic Ocean is to the west...
and
South Africa
South Africa
The Republic of South Africa is a country in southern Africa. Located at the southern tip of Africa, it is divided into nine provinces, with of coastline on the Atlantic and Indian oceans...
at a depth of 70–2490 m (229.7–8,169.3 ft). A small shark generally no more than 45 cm (17.7 in) long, the velvet belly is so named because its black underside is abruptly distinct from the brown coloration on the rest of its body. The body of this species is fairly stout, with a moderately long snout and tail, and very small
gill slit
Gill slit
Gill slits are individual openings to gills, i.e., multiple gill arches, which lack a single outer cover. Such gills are characteristic of Cartilaginous fish such as sharks, rays, sawfish, and guitarfish. Most of these have five pairs, but a few species have 6 or 7 pairs...
s. Like other
lantern sharks
Etmopterus
Etmopterus, commonly known as lantern sharks, is a diverse genus of dogfish sharks in the family Etmopteridae. This genus has 35 described species.-Species:* Etmopterus baxteri...
, the velvet belly is
bioluminescent
Bioluminescence
Bioluminescence is the production and emission of light by a living organism. Its name is a hybrid word, originating from the Greek bios for "living" and the Latin lumen "light". Bioluminescence is a naturally occurring form of chemiluminescence where energy is released by a chemical reaction in...
, with light-emitting
photophore
Photophore
A photophore is a light-emitting organ which appears as luminous spots on various marine animals, including fish and cephalopods. The organ can be simple, or as complex as the human eye; equipped with lenses, shutters, color filters and reflectors...
s forming a species-specific pattern over its flanks and abdomen. These photophores are thought to function in
counter-illumination
Countershading
Countershading, or Thayer's Law, is a form of camouflage. Countershading, in which an animal's pigmentation is darker dorsally, is often thought to have an adaptive effect of reducing conspicuous shadows cast on the ventral region of an animal's body...
, which
camouflages
Crypsis
In ecology, crypsis is the ability of an organism to avoid observation or detection by other organisms. It may be either a predation strategy or an antipredator adaptation, and methods include camouflage, nocturnality, subterranean lifestyle, transparency, and mimicry...
the shark against predators. They may also play a role in social interactions.
Young velvet bellies feed mainly on
krill
Krill
Krill is the common name given to the order Euphausiacea of shrimp-like marine crustaceans. Also known as euphausiids, these small invertebrates are found in all oceans of the world...
and small bony fish, transitioning to
squid
Squid
Squid are cephalopods of the order Teuthida, which comprises around 300 species. Like all other cephalopods, squid have a distinct head, bilateral symmetry, a mantle, and arms. Squid, like cuttlefish, have eight arms arranged in pairs and two, usually longer, tentacles...
and
shrimp
Shrimp
Shrimp are swimming, decapod crustaceans classified in the infraorder Caridea, found widely around the world in both fresh and salt water. Adult shrimp are filter feeding benthic animals living close to the bottom. They can live in schools and can swim rapidly backwards. Shrimp are an important...
as they grow larger. There is evidence that individuals also move into deeper water as they age. This species exhibits a number of
adaptation
Adaptation
An adaptation in biology is a trait with a current functional role in the life history of an organism that is maintained and evolved by means of natural selection. An adaptation refers to both the current state of being adapted and to the dynamic evolutionary process that leads to the adaptation....
s to living in the deep sea, such as specialized T-cells and
liver
Liver
The liver is a vital organ present in vertebrates and some other animals. It has a wide range of functions, including detoxification, protein synthesis, and production of biochemicals necessary for digestion...
protein
Protein
Proteins are biochemical compounds consisting of one or more polypeptides typically folded into a globular or fibrous form, facilitating a biological function. A polypeptide is a single linear polymer chain of amino acids bonded together by peptide bonds between the carboxyl and amino groups of...
s for dealing with the higher concentrations of heavy metals found there. Velvet bellies often carry a heavy
parasite load
Parasite load
Parasite load is a measure of the number and virulence of the parasites that a host organism harbours. Quantitative parasitology deals with measures to quantify parasite loads in samples of hosts and to make statistical comparisons of parasitism across host samples.In evolutionary biology, parasite...
. It is ovoviviparous, giving birth to litters of 6–20 young every 2–3 years. This species has virtually no commercial value but large numbers are caught as
bycatch
Bycatch
The term "bycatch" is usually used for fish caught unintentionally in a fishery while intending to catch other fish. It may however also indicate untargeted catch in other forms of animal harvesting or collecting...
in deepwater
commercial fisheries
Commercial fishing
Commercial fishing is the activity of catching fish and other seafood for commercial profit, mostly from wild fisheries. It provides a large quantity of food to many countries around the world, but those who practice it as an industry must often pursue fish far into the ocean under adverse conditions...
. Although it has been assessed as of
Least Concern
Least Concern
Least Concern is an IUCN category assigned to extant taxon or lower taxa which have been evaluated but do not qualify for any other category. As such they do not qualify as threatened, Near Threatened, or Conservation Dependent...
by the International Union for Conservation of Nature (IUCN), the heavy fishing pressure throughout its range and its slow reproductive rate are raising conservation concerns.
Taxonomy
The velvet belly was originally described as
Squalus spinax
by Swedish natural historian Carl Linnaeus, known as the "father of
taxonomy
Taxonomy
Taxonomy is the science of identifying and naming species, and arranging them into a classification. The field of taxonomy, sometimes referred to as "biological taxonomy", revolves around the description and use of taxonomic units, known as taxa...
", in the 1758
tenth edition
10th edition of Systema Naturae
The 10th edition of Systema Naturae was a book written by Carl Linnaeus and published in two volumes in 1758 and 1759, which marks the starting point of zoological nomenclature...
of
Systema Naturae
Systema Naturae
The book was one of the major works of the Swedish botanist, zoologist and physician Carolus Linnaeus. The first edition was published in 1735...
. He did not designate a type specimen; the specific epithet
spinax
is in reference to the spiny
dorsal fin
Dorsal fin
A dorsal fin is a fin located on the backs of various unrelated marine and freshwater vertebrates, including most fishes, marine mammals , and the ichthyosaurs...
s. This species was later moved to the genus
Etmopterus
via the synonymy of Constantine Samuel Rafinesque's
Etmopterus aculeatus
with
Squalus spinax
.
The velvet belly is grouped with the
Caribbean lanternshark
Caribbean lanternshark
The Caribbean lanternshark, Etmopterus hillianus, is a shark of the family Etmopteridae found in the eastern and western Atlantic at depths of between 180 and 720 m. Its length is up to 50 cm.Reproduction is ovoviviparous.-References:...
(
E. hillianus
),
fringefin lanternshark
Fringefin lanternshark
The fringefin lanternshark, Etmopterus schultzi, is a shark of the family Etmopteridae found in the western central Atlantic from Texas to Florida, northern Gulf of Mexico, and Mexico.-References:...
(
E. schultzi
),
brown lanternshark
Brown lanternshark
The brown lanternshark is a little-known species of deep-sea dogfish shark in the family Etmopteridae. It is found off Japan and New Zealand, and possibly also South Africa and Australia, typically deeper than...
(
E. unicolor
),
broadbanded lanternshark
Broadbanded lanternshark
The broadbanded lanternshark, Etmopterus gracilispinis, is a shark of the family Etmopteridae found in the western and southeast Atlantic, between latitudes 40°N and 45°S, at depths of between 70 and 1,000 m...
(
E. gracilispinis
),
combtooth lanternshark
Combtooth lanternshark
The combtoothed lanternshark, Etmopterus decacuspidatus, is a shark of the family Etmopteridae the only specimen, and holotype, being found from the South China Sea between the Viet Nam coast and Hainan Island, at a depth of between 510 and 690 m...
(
E. decacuspidatus
), and
dwarf lanternshark
Dwarf lanternshark
The dwarf lanternshark is a little-known species of dogfish shark in the family Etmopteridae and possibly the smallest shark in the world, reaching a maximum known length of . It is known to be present only on the upper continental slopes off Colombia and Venezuela, at a depth of...
(
E. perryi
) in having irregularly arranged, needle-shaped dermal denticles. Its
common name
Common name
A common name of a taxon or organism is a name in general use within a community; it is often contrasted with the scientific name for the same organism...
comes from this shark's black ventral surface, which is sharply delineated from the rest of its body like a patch of
velvet
Velvet
Velvet is a type of woven tufted fabric in which the cut threads are evenly distributed,with a short dense pile, giving it a distinctive feel.The word 'velvety' is used as an adjective to mean -"smooth like velvet".-Composition:...
.
Distribution and habitat
The range of the velvet belly is in the eastern Atlantic, extending from Iceland and Norway to Gabon, including the
Mediterranean Sea
Mediterranean Sea
The Mediterranean Sea is a sea connected to the Atlantic Ocean surrounded by the Mediterranean region and almost completely enclosed by land: on the north by Anatolia and Europe, on the south by North Africa, and on the east by the Levant...
, the
Azores
Azores
The Archipelago of the Azores is composed of nine volcanic islands situated in the middle of the North Atlantic Ocean, and is located about west from Lisbon and about east from the east coast of North America. The islands, and their economic exclusion zone, form the Autonomous Region of the...
, the
Canary Islands
Canary Islands
The Canary Islands , also known as the Canaries , is a Spanish archipelago located just off the northwest coast of mainland Africa, 100 km west of the border between Morocco and the Western Sahara. The Canaries are a Spanish autonomous community and an outermost region of the European Union...
, and
Cape Verde
Cape Verde
The Republic of Cape Verde is an island country, spanning an archipelago of 10 islands located in the central Atlantic Ocean, 570 kilometres off the coast of Western Africa...
. It has also been reported off
Cape Province
Cape Province
The Province of the Cape of Good Hope was a province in the Union of South Africa and subsequently the Republic of South Africa...
, South Africa. This shark mainly inhabits the outer
continental
Continental shelf
The continental shelf is the extended perimeter of each continent and associated coastal plain. Much of the shelf was exposed during glacial periods, but is now submerged under relatively shallow seas and gulfs, and was similarly submerged during other interglacial periods. The continental margin,...
and insular shelves and upper slopes over mud or clay, from close to the bottom to the middle of the water column. It is most common at a depth of 200–500 m (656.2–1,640.4 ft), though in the Rockall Trough it is only found at a depth of 500–750 m (1,640.4–2,460.6 ft). This species has been reported from as shallow as 70 m (229.7 ft), and as deep as 2490 m (8,169.3 ft).
Description

The velvet belly is a robustly built shark with a moderately long, broad, flattened snout. The mouth has thin, smooth lips. The upper teeth are small, with a narrow central
cusp
Cusp (dentistry)
A cusp is an occlusal or incisal eminence on a tooth.Canine teeth, otherwise known as cuspids, each possess a single cusp, while premolars, otherwise known as bicuspids, possess two each. Molars normally possess either four or five cusps...
and usually fewer than three pairs of lateral cusplets. The lower teeth are much larger, with a strongly slanted blade-like cusp at the top and interlocking bases. The five pairs of
gill slit
Gill slit
Gill slits are individual openings to gills, i.e., multiple gill arches, which lack a single outer cover. Such gills are characteristic of Cartilaginous fish such as sharks, rays, sawfish, and guitarfish. Most of these have five pairs, but a few species have 6 or 7 pairs...
s are tiny, comparable in size to the
spiracle
Spiracle
Spiracles are openings on the surface of some animals that usually lead to respiratory systems.-Vertebrates:The spiracle is a small hole behind each eye that opens to the mouth in some fishes. In the primitive jawless fish the first gill opening immediately behind the mouth is essentially similar...
s. Both dorsal fins bear stout, grooved spines at the front, with the second much longer than the first and curved. The first dorsal fin originates behind the short and rounded pectoral fins; the second dorsal fin is twice the size of the first and originates behind the pelvic fins. The anal fin is absent. The tail is slender, leading to a long caudal fin with a small lower lobe and a low upper lobe with a prominent ventral notch near the tip.
The dermal denticles are thin with hooked tips, arranged without a regular pattern well-separated from one another. The coloration is brown above, abruptly transitioning to black below. There are thin black marks above and behind the pelvic fins, and along the caudal fin. The velvet belly possesses numerous photophores that emit a blue-green light visible from 3–4 m (9.8–13.1 ft) away. Varying densities of photophores are arranged in nine patches on the shark's sides and belly, creating a pattern unique to this species: photophores are present along the
lateral line
Lateral line
The lateral line is a sense organ in aquatic organisms , used to detect movement and vibration in the surrounding water. Lateral lines are usually visible as faint lines running lengthwise down each side, from the vicinity of the gill covers to the base of the tail...
, scattered beneath the head but excluding the mouth, evenly on the belly, and concentrated around the pectoral fins and beneath the caudal peduncle. The maximum reported length is 60 cm (23.6 in), although few are longer than 45 cm (18 in). Females are larger than males.
Biology and ecology
Along with the
blackmouth catshark
Blackmouth catshark
The blackmouth catshark is a species of catshark, family Scyliorhinidae, common in the northeastern Atlantic Ocean from Iceland to Senegal, including the Mediterranean Sea. It is typically found over the continental slope at depths of , on or near muddy bottoms. The youngest sharks generally...
(
Galeus melastomus
) and the
Portuguese dogfish
Portuguese dogfish
The Portuguese dogfish or Portuguese shark is a species of sleeper shark, family Somniosidae. This globally distributed species has been reported down to a depth of , making it the deepest-living shark known. It inhabits lower continental slopes and abyssal plains, usually staying near the bottom...
(
Centroscymnus coelolepis
), the velvet belly is one of the most abundant deep-sea sharks in the northeastern Atlantic. It is found individually or in small
shoals
Shoaling and schooling
In biology, any group of fish that stay together for social reasons are said to be shoaling , and if, in addition, the group is swimming in the same direction in a coordinated manner, they are said to be schooling . In common usage, the terms are sometimes used rather loosely...
. Samplings in the Mediterranean have found females outnumbering males across all ages; this imbalance increases in the older age classes. In the Rockall Trough and the Catalan Sea, large adults are found in deeper waters than juveniles, which may serve to reduce competition between the two groups. However, this pattern has not been observed at other sites in the eastern Mediterranean.
The velvet belly's liver accounts for 17% of its body mass, three-quarters of which is
oil
Oil
An oil is any substance that is liquid at ambient temperatures and does not mix with water but may mix with other oils and organic solvents. This general definition includes vegetable oils, volatile essential oils, petrochemical oils, and synthetic oils....
, making it nearly
neutrally buoyant
Neutral buoyancy
Neutral buoyancy is a condition in which a physical body's mass equals the mass it displaces in a surrounding medium. This offsets the force of gravity that would otherwise cause the object to sink...
. To deal with the higher concentrations of heavy metals in the deep sea, the velvet belly has T-cells in its bloodstream that can identify and mark toxic compounds for elimination. These T-cells are produced by a
lymphomyeloid
Lymphatic system
The lymphoid system is the part of the immune system comprising a network of conduits called lymphatic vessels that carry a clear fluid called lymph unidirectionally toward the heart. Lymphoid tissue is found in many organs, particularly the lymph nodes, and in the lymphoid follicles associated...
gland
Gland
A gland is an organ in an animal's body that synthesizes a substance for release of substances such as hormones or breast milk, often into the bloodstream or into cavities inside the body or its outer surface .- Types :...
in its
esophagus
Esophagus
The esophagus is an organ in vertebrates which consists of a muscular tube through which food passes from the pharynx to the stomach. During swallowing, food passes from the mouth through the pharynx into the esophagus and travels via peristalsis to the stomach...
called a "
Leydig's organ
Leydig's organ
Leydig's Organ is a unique structure that is only found in elasmobranchs , although some elasmobranchs lack this organ. Along with the spleen and special tissue around the gonads, this structure produces red blood cells and it is nestled along the top and bottom of the esophagus....
", which is also found in some other sharks and rays. In its liver, there are also specialized proteins capable of detoxifying
cadmium
Cadmium
Cadmium is a chemical element with the symbol Cd and atomic number 48. This soft, bluish-white metal is chemically similar to the two other stable metals in group 12, zinc and mercury. Similar to zinc, it prefers oxidation state +2 in most of its compounds and similar to mercury it shows a low...
,
copper
Copper
Copper is a chemical element with the symbol Cu and atomic number 29. It is a ductile metal with very high thermal and electrical conductivity. Pure copper is soft and malleable; an exposed surface has a reddish-orange tarnish...
,
mercury
Mercury (element)
Mercury is a chemical element with the symbol Hg and atomic number 80. It is also known as quicksilver or hydrargyrum...
,
zinc
Zinc
Zinc , or spelter , is a metallic chemical element; it has the symbol Zn and atomic number 30. It is the first element in group 12 of the periodic table. Zinc is, in some respects, chemically similar to magnesium, because its ion is of similar size and its only common oxidation state is +2...
, and other toxic contaminants. The velvet belly's bioluminescence is thought to function in counter-illumination, which eliminates the shark's silhouette and camouflages it from upward-looking predators. Its bioluminescence may also serve a social function, such as finding mates or coordinating groups, as the pattern is species-specific. The velvet belly is an important food of larger fishes such as other sharks; a major predator of this species is the longnosed skate (
Dipturus oxyrinchus
).
Numerous parasites are known for this species, and both juveniles and adults often carry heavy parasite loads. Known internal parasites include the
monogenea
Monogenea
Monogenea are a group of largely ectoparasitic members of the flatworm phylum Platyhelminthes, class Monogenea.-Characteristics:Monogenea are very small parasitic flatworms mainly found on skin or gills of fish....
n
Squalonchocotyle spinacis
, the tapeworms
Aporhynchus norvegicus
,
Lacistorhynchus tenuis
, and
Phyllobothrium squali
, and the
nematode
Nematode
The nematodes or roundworms are the most diverse phylum of pseudocoelomates, and one of the most diverse of all animals. Nematode species are very difficult to distinguish; over 28,000 have been described, of which over 16,000 are parasitic. It has been estimated that the total number of nematode...
s
Anisakis simplex
and
Hysterothylacium aduncum
. Some of these parasites utilize the velvet belly's prey as intermediate hosts and are acquired via ingestion, while others use the shark itself as an intermediate host. The
barnacle
Barnacle
A barnacle is a type of arthropod belonging to infraclass Cirripedia in the subphylum Crustacea, and is hence related to crabs and lobsters. Barnacles are exclusively marine, and tend to live in shallow and tidal waters, typically in erosive settings. They are sessile suspension feeders, and have...
Anelasma squalicola
is an external parasite that attaches to the shark's dorsal spine socket and penetrates deeply into the muscle, in the process often providing an attachment site for a second (and rarely a third) barnacle. Infestation by this barnacle reduces its host's
fecundity
Fecundity
Fecundity, derived from the word fecund, generally refers to the ability to reproduce. In demography, fecundity is the potential reproductive capacity of an individual or population. In biology, the definition is more equivalent to fertility, or the actual reproductive rate of an organism or...
by impairing the development of the reproductive organs.
Feeding
A generalist predator, velvet bellies feed on crustaceans (e.g.
pasiphaeid shrimp
Pasiphaeidae
Pasiphaeidae is a family of shrimps. It is the only family in the superfamily Pasiphaeoidea and contains seven extant genera:*Alainopasiphaea Hayashi, 1999*Eupasiphae Wood-Mason, 1893*Glyphus Filhol, 1884*Leptochela Stimpson, 1860...
and
krill
Krill
Krill is the common name given to the order Euphausiacea of shrimp-like marine crustaceans. Also known as euphausiids, these small invertebrates are found in all oceans of the world...
), cephalopods (e.g.
ommastrephid squid
Ommastrephidae
Ommastrephidae is a family of squid. It contains 3 subfamilies, 11 genera, and over 20 species.-External links:***...
and
sepiolid
Sepiolidae
Sepiolidae is a family of bobtail squid encompassing 15 genera in three or four subfamilies....
s), and bony fishes (e.g.
shads
Sternoptychidae
The marine hatchetfishes or deep-sea hatchetfishes as well as the related bottlelights, pearlsides and constellationfishes are small deep-sea bathypelagic ray-finned fish of the stomiiform family Sternoptychidae...
,
barracudina
Barracudina
Barracudinas are about 50 species of marine fishes of the family Paralepididae, found almost worldwide in deep waters.They are elongated, slender fish with large eyes, and a pointed snout containing fang-like teeth...
s,
lanternfish
Lanternfish
Cooper Lanternfishes are small mesopelagic fish of the large family Myctophidae. One of two families in the order Myctophiformes, the Myctophidae are represented by 246 species in 33 genera, and are found in oceans worldwide. They are aptly named after their conspicuous use of bioluminescence...
es, and
pouts
Gadidae
Gadidae is a family of marine fish, included in the order Gadiformes. It includes the cod, haddock, whiting, and pollock.Most species of gadid are found in temperate waters of the northern hemisphere, although there are some exceptions. They are generally medium sized fish, and are distinguished...
). Sharks off
Italy
Italy
Italy , officially the Italian Republic languages]] under the European Charter for Regional or Minority Languages. In each of these, Italy's official name is as follows:;;;;;;;;), is a unitary parliamentary republic in South-Central Europe. To the north it borders France, Switzerland, Austria and...
also eat small amounts of nematodes, polychaete worms, and other cartilaginous fishes. Studies of velvet bellies off Norway and
Portugal
Portugal
Portugal , officially the Portuguese Republic is a country situated in southwestern Europe on the Iberian Peninsula. Portugal is the westernmost country of Europe, and is bordered by the Atlantic Ocean to the West and South and by Spain to the North and East. The Atlantic archipelagos of the...
, and in the Rockall Trough, have found that small sharks under 27 cm (10.6 in) long feed mainly on the krill
Meganyctiphanes norvegica
and the small fish
Maurolicus muelleri
. As the sharks grow larger, their diet becomes more varied, consisting mainly of squid and the shrimp
Pasiphaea tarda
, as well fishes other than
M. muelleri
. It has been speculated that smaller velvet bellies may be too slow to catch fast-moving cephalopods. The cephalopod diet of adults overlaps with that of the Portuguese dogfish; the latter species may avoid competition with the velvet belly by living in deeper water. The bite force exerted by the velvet belly is only around 1 N.
Life history
The velvet belly is ovoviviparous, with the
embryo
Embryo
An embryo is a multicellular diploid eukaryote in its earliest stage of development, from the time of first cell division until birth, hatching, or germination...
s hatching inside the
uterus
Uterus
The uterus or womb is a major female hormone-responsive reproductive sex organ of most mammals including humans. One end, the cervix, opens into the vagina, while the other is connected to one or both fallopian tubes, depending on the species...
and being sustained by a
yolk sac
Yolk sac
The yolk sac is a membranous sac attached to an embryo, providing early nourishment in the form of yolk in bony fishes, sharks, reptiles, birds, and primitive mammals...
. The reproductive cycle may be 2–3 years long, with
ovulation
Ovulation
Ovulation is the process in a female's menstrual cycle by which a mature ovarian follicle ruptures and discharges an ovum . Ovulation also occurs in the estrous cycle of other female mammals, which differs in many fundamental ways from the menstrual cycle...
occurring in early autumn, fertilization in the summer (or possibly in the winter if females are capable of storing sperm), and parturition in late winter or early spring. The
gestation period
Gestation period
For mammals the gestation period is the time in which a fetus develops, beginning with fertilization and ending at birth. The duration of this period varies between species.-Duration:...
is under one year. The litter size is 6–20, with the number of young increasing with female size. At birth the young measure 12–14 cm (4.7–5.5 in) long. The shark's bioluminescence develops before birth; the yolk sac is
fluorescent
Fluorescence
Fluorescence is the emission of light by a substance that has absorbed light or other electromagnetic radiation of a different wavelength. It is a form of luminescence. In most cases, emitted light has a longer wavelength, and therefore lower energy, than the absorbed radiation...
before any photophores have formed, suggesting that the mother transfers luminescent materials to her offspring. The first luminous tissue appears when the embryo is 55 mm (2.2 in) long, and the complete pattern is laid down by the time it is 95 mm (3.7 in) long. At birth, the young shark is already capable of counter-illumination with 80% of its ventral surface luminescent.
The growth rate of the velvet belly is slow, though faster than some other deep-sea sharks such as the
leafscale gulper shark
Leafscale gulper shark
The leafscale gulper shark, Centrophorus squamosus, is a dogfish of the family Centrophoridae.-Physical characteristics:The leafscale gulper shark has no anal fin, two dorsal fins with spines, the first dorsal being relatively low and long, large eyes, and rough leaf-like denticles...
(
Centrophorus squamosus
) or the
shortspine spurdog
Shortspine spurdog
The shortspine spurdog, Squalus mitsukurii, is a dogfish, a member of the family Squalidae, found around the world on continental shelves in temperate and subtropical oceans between latitudes 45°N and 55°S, from the surface to 950 m. Its length is up to 75 cm....
(
Squalus mitsukurii
). Males mature sexually at 28–33 cm (11–13 in) long and females at 34–36 cm (13.4–14.2 in) long. The average age at maturity is 4.0 years for males and 4.7 years for females, though 4-year-old mature individuals of both sexes have been caught in the wild, along with immature females over 8 years old. Males and females 8 and 11 years old respectively have been caught in the wild; the potential lifespan of this species has been estimated at 18 years for males and 22 years for females.
Human interactions
Throughout its range, substantial quantities of velvet bellies are caught as
bycatch
Bycatch
The term "bycatch" is usually used for fish caught unintentionally in a fishery while intending to catch other fish. It may however also indicate untargeted catch in other forms of animal harvesting or collecting...
in bottom trawls meant for
shrimp
Shrimp
Shrimp are swimming, decapod crustaceans classified in the infraorder Caridea, found widely around the world in both fresh and salt water. Adult shrimp are filter feeding benthic animals living close to the bottom. They can live in schools and can swim rapidly backwards. Shrimp are an important...
and
lobster
Lobster
Clawed lobsters comprise a family of large marine crustaceans. Highly prized as seafood, lobsters are economically important, and are often one of the most profitable commodities in coastal areas they populate.Though several groups of crustaceans are known as lobsters, the clawed lobsters are most...
s, and deepwater longlines meant for other fish. Lacking commercial value, these sharks are almost always discarded with extremely high mortality, though occasionally they are
dried and salted
Salting (food)
Salting is the preservation of food with dry edible salt. It is related to pickling . It is one of the oldest methods of preserving food, and two historically significant salt-cured foods are dried and salted cod and salt-cured meat.Salting is used because most bacteria, fungi and other potentially...
or made into fishmeal. The International Union for the Conservation of Nature (IUCN) has listed the velvet belly under
Least Concern
Least Concern
Least Concern is an IUCN category assigned to extant taxon or lower taxa which have been evaluated but do not qualify for any other category. As such they do not qualify as threatened, Near Threatened, or Conservation Dependent...
overall, as its population remains stable across much of its range, and it is afforded some protection in the Mediterranean from a 2005 ban on bottom trawling below 1000 m (3,280.8 ft). However, in the northeastern Atlantic it has been assessed as
Near Threatened
Near Threatened
Near Threatened is a conservation status assigned to species or lower taxa that may be considered threatened with extinction in the near future, although it does not currently qualify for the threatened status...
, as its numbers have declined by almost 20% from 1970 to 1998–2004. The slow reproductive rate of this species limits its capacity to recover from population depletion.
External links