Oceanic whitetip shark
The oceanic whitetip shark, Carcharhinus longimanus, is a large
pelagic
Pelagic zone
Any water in a sea or lake that is not close to the bottom or near to the shore can be said to be in the pelagic zone. The word pelagic comes from the Greek πέλαγος or pélagos, which means "open sea". The pelagic zone can be thought of in terms of an imaginary cylinder or water column that goes...
shark
Shark
Sharks are a type of fish with a full cartilaginous skeleton and a highly streamlined body. The earliest known sharks date from more than 420 million years ago....
inhabiting tropical and warm temperate seas. Its stocky body is most notable for its long, white-tipped, rounded fins.
This aggressive but slow-moving fish dominates
feeding frenzies
Feeding frenzy
In ecology, a feeding frenzy is a situation where oversaturation of a supply of food leads to rapid feeding by predatory animals. For example, a large school of fish can cause nearby sharks to enter a feeding frenzy. This can cause the sharks to go wild, biting anything that moves, including each...
, and is a danger to shipwreck or air crash survivors. Recent studies show steeply declining populations because its large fins are highly valued as the chief ingredient of
shark fin soup
Shark fin soup
Shark fin soup is a popular soup item of Chinese cuisine usually served at special occasions such as weddings and banquets, or as a luxury item in Chinese culture. The shark fins provide texture while the taste comes from the other soup ingredients.There is controversy over the practice of shark...
and, as with other shark species, the whitetip faces mounting
fishing
Fishery
Generally, a fishery is an entity engaged in raising or harvesting fish which is determined by some authority to be a fishery. According to the FAO, a fishery is typically defined in terms of the "people involved, species or type of fish, area of water or seabed, method of fishing, class of boats,...
pressure throughout its range.
Taxonomy
The oceanic whitetip shark was first described by naturalist
René-Primevère Lesson
René-Primevère Lesson
René Primevère Lesson was a French surgeon, naturalist, ornithologist, and herpetologist.Lesson was born at Rochefort, and at the age of sixteen he entered the Naval Medical School there...
in his account of
Louis Duperrey
Louis Isidore Duperrey
Louis Isidore Duperrey was a French sailor and explorer.Duperrey joined the navy in 1800, and served as marine hydrologist to Louis Claude de Saulces de Freycinet aboard the Uranie...
's 1822–1825 world-circling journey on the corvette
Coquille
Corvette
A corvette is a small, maneuverable, lightly armed warship, originally smaller than a frigate and larger than a coastal patrol craft or fast attack craft , although many recent designs resemble frigates in size and role...
. Lesson described two specimens found in the Tuamotu Archipelago in
French Polynesia
French Polynesia
French Polynesia is an overseas country of the French Republic . It is made up of several groups of Polynesian islands, the most famous island being Tahiti in the Society Islands group, which is also the most populous island and the seat of the capital of the territory...
, and
named
Binomial nomenclature
Binomial nomenclature is a formal system of naming species of living things by giving each a name composed of two parts, both of which use Latin grammatical forms, although they can be based on words from other languages...
the shark Squalus maou after a Polynesian word for "shark". However, Lesson's description and name were forgotten.
It was next described by
Cuba
Cuba
The Republic of Cuba is an island nation in the Caribbean. The nation of Cuba consists of the main island of Cuba, the Isla de la Juventud, and several archipelagos. Havana is the largest city in Cuba and the country's capital. Santiago de Cuba is the second largest city...
n
Felipe Poey
Felipe Poey
-Biography:Poey was born in Havana, the son of French and Spanish parents. He spent several years of his life in Pau then studied law in Madrid. He became a lawyer in Spain but was forced to leave due to his liberal ideas, returning to Cuba in 1823. He began to concentrate on the study of the...
in 1861 as Squalus longimanus. The name Pterolamiops longimanus has also been used. The species epithet, longimanus, refers to the size of its pectoral fins (longimanus translates from Latin as "long hands"). The oceanic whitetip shark has many common names in English: Brown Milbert's sand bar shark, brown shark, nigano shark, whitetip whaler, and whitetip shark.
The rules of the
International Commission on Zoological Nomenclature
International Commission on Zoological Nomenclature
The International Commission on Zoological Nomenclature is an organization dedicated to "achieving stability and sense in the scientific naming of animals". Founded in 1895, it currently comprises 28 members from 20 countries, mainly practicing zoological taxonomists...
are that in general the first-published description has priority; therefore the valid scientific name for the oceanic whitetip shark should be Carcharhinus maou. However, Lesson's name remained forgotten for so long that Carcharhinus longimanus, which means long-hands, remains widely accepted.
Distribution and habitat
The oceanic whitetip is found globally in deep, open water, with a temperature greater than 18 °C (64 °F). It prefers waters between 20 °C (68 °F) and 28 °C (82 °F) and tends to withdraw from areas when temperatures fall outside of this. They were once extremely common and widely distributed, and still inhabit a wide band around the globe; however, recent studies suggest that their numbers have drastically declined. An analysis of the US pelagic longline logbook data between 1992–2000 (covering the Northwest and Western Central Atlantic) estimated a decline of 70% over that period.
They are found worldwide between 45° north and 43° south latitude. In 2004, an oceanic whitetip was discovered dead on the west coast of Sweden—far beyond what was once considered the northern boundary of its range.
The shark spends most of its time in the upper layer of the ocean—to a depth of 150 metres (492.1 ft)—and prefers off-shore, deep-ocean areas. According to longline capture data, increasing distance from land correlates to a greater population of sharks. Occasionally it is found close to land, in waters as shallow as 37 metres (121.4 ft), mainly around mid-ocean islands such as
Hawaii
Hawaii
Hawaii is the newest of the 50 U.S. states , and is the only U.S. state made up entirely of islands. It is the northernmost island group in Polynesia, occupying most of an archipelago in the central Pacific Ocean, southwest of the continental United States, southeast of Japan, and northeast of...
, or in areas where the
continental shelf
Continental shelf
The continental shelf is the extended perimeter of each continent and associated coastal plain. Much of the shelf was exposed during glacial periods, but is now submerged under relatively shallow seas and gulfs, and was similarly submerged during other interglacial periods. The continental margin,...
is narrow and there is access to nearby deep water. It is typically solitary, though gatherings have been observed where food is plentiful. Unlike many animals, it does not have a
diurnal
Diurnal animal
Diurnality is a plant or animal behavior characterized by activity during the day and sleeping at night.-In animals:Animals that are not diurnal might be nocturnal or crepuscular . Many animal species are diurnal, including many mammals, insects, reptiles and birds...
cycle, and is active both day and night. Its swimming style is slow, with widely spread pectoral fins. Despite their habitual isolation from members of their own species,
pilot fish
Pilot fish
The pilot fish is a carnivorous commensal fish in the family Carangidae. It is widely distributed and lives in warm or tropical open seas.- Description :...
, dolphinfish, and
remora
Remora
The remora , sometimes called a suckerfish or sharksucker, is an elongated, brown fish in the order Perciformes and family Echeneidae...
may accompany them. In 1988, Jeremy Stafford-Deitsch reported seeing an individual accompanied by a shortfin pilot whale.
Anatomy and appearance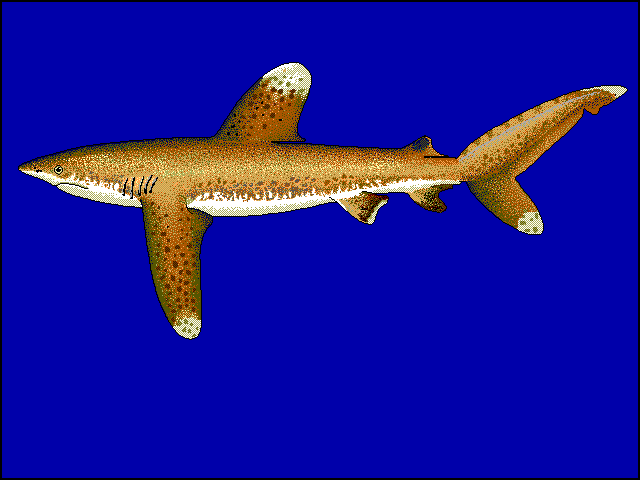 C. longimanus most distinguishing characteristics are its long, wing-like pectoral and
dorsal fin
Dorsal fin
A dorsal fin is a fin located on the backs of various unrelated marine and freshwater vertebrates, including most fishes, marine mammals , and the ichthyosaurs...
s. The fins are significantly larger than most other shark species, and are conspicuously rounded. The shark's nose is rounded and its eyes are circular, with
nictitating membrane
Nictitating membrane
The nictitating membrane is a transparent or translucent third eyelid present in some animals that can be drawn across the eye for protection and to moisten it while maintaining visibility. Some reptiles, birds, and sharks have a full nictitating membrane; in many mammals, there is a small...
s.
C. longimanus has a 'typical', although somewhat flattened
requiem shark
Requiem shark
Requiem sharks are a family, Carcharhinidae, of sharks in the order Carcharhiniformes, containing migratory, live-bearing sharks of warm seas such as the tiger shark, the blue shark, the bull shark, and the milk shark.The name may be related to the French word for shark, "requin", itself of...
body, often with a mildly humpbacked aspect. It is bronze, brown, bluish or grey dorsally (the color varies by region), and white ventrally (although it may occasionally have a yellow tint). Its maximum size is 4 metres (13 ft), although usually it does not exceed 3 metres (10 ft). Its maximum reported weight is 170 kilograms (374.8 lb). The female is typically larger than the male by 10 centimetres (4 in) with males about 1.8 metres (71 in) and females about 1.9 metres (75 in).
Most of its fins (dorsal, pectoral, pelvic, and caudal) have white tips (juvenile specimens and some adults may lack these). Along with white tips, the fins may be mottled—and in young specimens can have black marks. A saddle-like marking may be apparent between first and second dorsal fins. The shark has several kinds of teeth—those in the
mandible
Mandible
The mandible pronunciation or inferior maxillary bone forms the lower jaw and holds the lower teeth in place...
(lower jaw) have a thin serrated tip and are relatively small and triangular (somewhat fang-like). There are between 13 and 15 teeth on either side of the
symphysis
Symphysis
A symphysis is a fibrocartilaginous fusion between two bones. It is a type of cartilaginous joint, specifically a secondary cartilaginous joint.1.A symphysis is an amphiarthrosis, a slightly movable joint.2.A growing together of parts or structures...
. The teeth in the upper jaw are triangular, but much larger and broader with entirely serrated edges—there are 14 or 15 along each side of the symphysis. The denticles lie flat and typically have between five and seven ridges.
Diet
C. longimanus feeds mainly on pelagic
cephalopod
Cephalopod
A cephalopod is any member of the molluscan class Cephalopoda . These exclusively marine animals are characterized by bilateral body symmetry, a prominent head, and a set of arms or tentacles modified from the primitive molluscan foot...
s and bony fish. However, its diet can be far more varied and less selective—it is known to eat
threadfin
Threadfin
Threadfins are silvery grey perciform marine fish of the family Polynemidae. Found in tropical to subtropical waters throughout the world, the threadfin family contains nine genera and 33 species...
s,
stingray
Stingray
The stingrays are a group of rays, which are cartilaginous fishes related to sharks. They are classified in the suborder Myliobatoidei of the order Myliobatiformes, and consist of eight families: Hexatrygonidae , Plesiobatidae , Urolophidae , Urotrygonidae , Dasyatidae , Potamotrygonidae The...
s,
sea turtle
Sea turtle
Sea turtles are marine reptiles that inhabit all of the world's oceans except the Arctic.-Distribution:...
s, birds, gastropods,
crustacean
Crustacean
Crustaceans form a very large group of arthropods, usually treated as a subphylum, which includes such familiar animals as crabs, lobsters, crayfish, shrimp, krill and barnacles. The 50,000 described species range in size from Stygotantulus stocki at , to the Japanese spider crab with a leg span...
s, and mammalian carrion. The bony fish it feeds on include
lancetfish
Lancetfish
Lancetfishes are large oceanic predatory fishes in the genus Alepisaurus , the only living genus in the family Alepisauridae....
,
oarfish
Oarfish
Oarfish are large, greatly elongated, pelagic Lampriform fishes comprising the small family Regalecidae. Found in all temperate to tropical oceans yet rarely seen, the oarfish family contains four species in two genera...
,
barracuda
Barracuda
The barracuda is a ray-finned fish known for its large size and fearsome appearance. Its body is long, fairly compressed, and covered with small, smooth scales. Some species could reach up to 1.8m in length and 30 cm in width...
,
jack
Carangidae
Carangidae is a family of fish which includes the jacks, pompanos, jack mackerels, and scads.They are marine fish found in the Atlantic, Indian and Pacific Oceans...
s, dolphinfish,
marlin
Marlin
Marlin, family Istiophoridae, are fish with an elongated body, a spear-like snout or bill, and a long rigid dorsal fin, which extends forward to form a crest. Its common name is thought to derive from its resemblance to a sailor's marlinspike...
,
tuna
Tuna
Tuna is a salt water fish from the family Scombridae, mostly in the genus Thunnus. Tuna are fast swimmers, and some species are capable of speeds of . Unlike most fish, which have white flesh, the muscle tissue of tuna ranges from pink to dark red. The red coloration derives from myoglobin, an...
, and
mackerel
Mackerel
Mackerel is a common name applied to a number of different species of fish, mostly, but not exclusively, from the family Scombridae. They may be found in all tropical and temperate seas. Most live offshore in the oceanic environment but a few, like the Spanish mackerel , enter bays and can be...
. Its feeding methods include biting into groups of fish and swimming through schools of tuna with an open mouth. When feeding with other species, it becomes aggressive.
Peter Benchley
Peter Benchley
Peter Bradford Benchley was an American author, best known for his novel Jaws and its subsequent film adaptation, the latter co-written by Benchley and directed by Steven Spielberg...
, author of
Jaws
Jaws (novel)
Jaws is a 1974 novel by Peter Benchley. It tells the story of a great white shark that preys upon a small resort town, and the voyage of three men to kill it....
, observed this shark swimming among
pilot whale
Pilot whale
Pilot whales are cetaceans belonging to the genus Globicephala. There are two extant species, the long-finned pilot whale and the short-finned pilot whale . The two are not readily distinguished at sea and analysis of the skulls is the best way to tell the difference between them...
s and eating their feces.
Behavior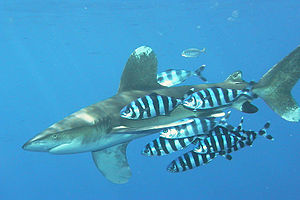 The oceanic whitetip is usually solitary and slow-moving, and tends to cruise near the top of the water column, covering vast stretches of empty water scanning for possible food sources. Until the 16th century, sharks were known to mariners as "sea dogs" and the oceanic whitetip, the most common ship-following shark, exhibits dog-like behavior when its interest is piqued: when attracted to something that appears to be food, its movements become more avid and it will approach cautiously but stubbornly, retreating and maintaining a safe distance if driven off, but ready to rush in if the opportunity presents itself. Oceanic whitetips are not fast swimmers, but they are capable of surprising bursts of speed. Whitetips commonly compete for food with
silky shark
Silky shark
The silky shark is a species of requiem shark, family Carcharhinidae, named for the smooth texture of its skin. It is one of the most abundant sharks in the pelagic zone, and can be found around the world in tropical waters. Highly mobile and migratory, this shark is most often found over the edge...
s, making up for its comparatively leisurely swimming style with aggressive displays.
Groups often form when individuals converge on a food source, whereupon a
feeding frenzy
Feeding frenzy
In ecology, a feeding frenzy is a situation where oversaturation of a supply of food leads to rapid feeding by predatory animals. For example, a large school of fish can cause nearby sharks to enter a feeding frenzy. This can cause the sharks to go wild, biting anything that moves, including each...
may occur. This seems to be triggered not by blood in the water or by bloodlust, but by the species' highly strung and goal-directed nature (conserving energy between infrequent feeding opportunities when it is not slowly plying the open ocean). The oceanic whitetip is a competitive, opportunistic predator that exploits the resource at hand, rather than avoiding trouble in favor of a possibly easier future meal.
There does not seem to be segregation by sex and size. Whitetips follow schools of tuna or squid, and trail groups of cetaceans such as dolphins and
pilot whale
Pilot whale
Pilot whales are cetaceans belonging to the genus Globicephala. There are two extant species, the long-finned pilot whale and the short-finned pilot whale . The two are not readily distinguished at sea and analysis of the skulls is the best way to tell the difference between them...
s, scavenging their prey. Their instinct to follow is so strongly imprinted, from countless millennia following baitfish migrations, that they accompany ocean-going ships. When whaling took place in warm waters, oceanic whitetips were often responsible for much of the damage to floating carcasses.
Reproduction
Mating season is in early summer in the northwest
Atlantic Ocean
Atlantic Ocean
The Atlantic Ocean is the second-largest of the world's oceanic divisions. With a total area of about , it covers approximately 20% of the Earth's surface and about 26% of its water surface area...
and southwest
Indian Ocean
Indian Ocean
The Indian Ocean is the third largest of the world's oceanic divisions, covering approximately 20% of the water on the Earth's surface. It is bounded on the north by the Indian Subcontinent and Arabian Peninsula ; on the west by eastern Africa; on the east by Indochina, the Sunda Islands, and...
, although females captured in the
Pacific
Pacific Ocean
The Pacific Ocean is the largest of the Earth's oceanic divisions. It extends from the Arctic in the north to the Southern Ocean in the south, bounded by Asia and Australia in the west, and the Americas in the east.At 165.2 million square kilometres in area, this largest division of the World...
have been found with embryos year round, suggesting a longer mating season there. The shark is viviparous—embryos develop in utero and are fed by a placental sac. Its
gestation period
Gestation period
For mammals the gestation period is the time in which a fetus develops, beginning with fertilization and ending at birth. The duration of this period varies between species.-Duration:...
is one year. Litter sizes vary from one to 15 with the young born at a length of about 0.6 metres (24 in). Sexual maturity is reached at close to 1.75 metres (69 in) for males and 2 metres (78.7 in) for females.
Relation to humans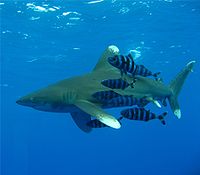 It is a commercially important species for its fins, its meat and oil. It is eaten fresh, smoked, dried and salted and its hide is used for leather. It is subject to fishing pressure throughout virtually its whole range—although it is more often taken as
by-catch
By-catch
The term "bycatch" is usually used for fish caught unintentionally in a fishery while intending to catch other fish. It may however also indicate untargeted catch in other forms of animal harvesting or collecting...
than by design, since it is drawn to longline bait that is intended for other species.
Famed oceanographic researcher Jacques Cousteau described the oceanic whitetip as "the most dangerous of all sharks". Despite the greater notoriety of the
great white shark
Great white shark
The great white shark, scientific name Carcharodon carcharias, also known as the great white, white pointer, white shark, or white death, is a large lamniform shark found in coastal surface waters in all major oceans. It is known for its size, with the largest individuals known to have approached...
and other sharks habitually found nearer the shore, the oceanic whitetip is suspected to be responsible for many fatal attacks on humans, as a result of predation on survivors of shipwrecks or downed aircraft. Such incidents are not included in common shark-attack indices for the 20th and 21st centuries, and as a result of this, the oceanic whitetip does not have the highest number of recorded incidents; only 5 recorded attacks as of 2009.
In one incident, the torpedoing of
USS Indianapolis
USS Indianapolis (CA-35)
USS Indianapolis was a of the United States Navy. She holds a place in history due to the circumstances of her sinking, which led to the greatest single loss of life at sea in the history of the U.S. Navy...
on 30 July 1945, oceanic whitetips are believed to responsible for many of the attacks on sailors who survived the initial sinking, though most reportedly died from exposure to the elements rather than from shark attacks.
Also during
World War II
World War II
World War II, or the Second World War , was a global conflict lasting from 1939 to 1945, involving most of the world's nations—including all of the great powers—eventually forming two opposing military alliances: the Allies and the Axis...
, the Nova Scotia, a steamship carrying approximately 1,000 people near
South Africa
South Africa
The Republic of South Africa is a country in southern Africa. Located at the southern tip of Africa, it is divided into nine provinces, with of coastline on the Atlantic and Indian oceans...
, was sunk by a German submarine. With only 192 survivors, many deaths were attributed to the whitetip.
The whitetip poses a minimal threat to bathers or inshore sportsmen, but a high risk for humans caught in the open ocean. That said, there have been attacks close to shore. In December 2010, in five separate incidents, 4 swimmers at Egypt's Sharm el-Sheikh resort in the Sinai Peninsula were badly injured and 1 swimmer was killed by a shark that could be a whitetip. In this location the water depth drops off dramatically close to shore and the spate of attacks did not indicate a change in behaviour of this species of shark.
Although the whitetip is opportunistic and aggressive, and may attack humans for food, divers have swum with this shark repeatedly without incident. Divers are advised to approach the shark only with extreme caution, to not spear fish near this shark and, if the shark comes too close or gets too inquisitive, to get out of the water as soon as possible.
Conservation status
In 1969, Lineaweaver and Backus wrote of the oceanic whitetip: "[it is] extraordinarily abundant, perhaps the most abundant large animal, large being over 100 pounds [45 kg], on the face of the earth". There was little further population study until 2003 when the numbers were estimated to have dropped by as much as 70% in the Northwest and Western Central Atlantic between 1992–2000.
Another study focusing on the
Gulf of Mexico
Gulf of Mexico
The Gulf of Mexico is a partially landlocked ocean basin largely surrounded by the North American continent and the island of Cuba. It is bounded on the northeast, north and northwest by the Gulf Coast of the United States, on the southwest and south by Mexico, and on the southeast by Cuba. In...
, using a mix of data from US pelagic longline surveys from the mid-1950s and observations from the late-1990s, estimated a decline in numbers in this location of 99.3% over this period. However, changes in fishing practices and data collection methods complicate estimates.
As a result of these findings its status on the
IUCN Red List
IUCN Red List
The IUCN Red List of Threatened Species , founded in 1963, is the world's most comprehensive inventory of the global conservation status of biological species. The International Union for Conservation of Nature is the world's main authority on the conservation status of species...
was moved to "Vulnerable" globally (from "Lower Risk/Near Threatened") and "Critically Endangered" in the Northwest and Western Central Atlantic areas.
Under the 1995 UN Agreement on the Conservation and Management of Straddling Fish Stocks and Highly Migratory Fish Stocks (UNFSA), coastal and fishing states are specifically required to adopt measures to conserve listed species, but little progress is visible on the oceanic whitetip.
External links