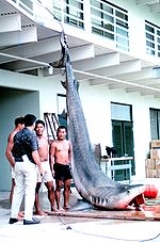 Tiger shark
The
tiger sharks
,
Galeocerdo cuvier
, is a species of
requiem shark
Requiem shark
Requiem sharks are a family, Carcharhinidae, of sharks in the order Carcharhiniformes, containing migratory, live-bearing sharks of warm seas such as the tiger shark, the blue shark, the bull shark, and the milk shark.The name may be related to the French word for shark, "requin", itself of...
and the only member of the
genus
Genus
In biology, a genus is a low-level taxonomic rank used in the biological classification of living and fossil organisms, which is an example of definition by genus and differentia...
Galeocerdo
. Commonly known as sea tigers, tiger sharks are relatively large macropredators, capable of attaining a length of over 5 m (16.4 ft). It is found in many tropical and
temperate
Temperate
In geography, temperate or tepid latitudes of the globe lie between the tropics and the polar circles. The changes in these regions between summer and winter are generally relatively moderate, rather than extreme hot or cold...
waters, and is especially common around central Pacific islands. Its name derives from the dark stripes down its body which resemble a
tiger
Tiger
The tiger is the largest cat species, reaching a total body length of up to and weighing up to . Their most recognizable feature is a pattern of dark vertical stripes on reddish-orange fur with lighter underparts...
's pattern and fade as the shark matures.
The tiger shark is a solitary, mostly night-time hunter.