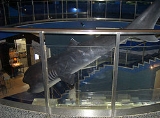 Megamouth shark
The
megamouth shark
,
Megachasma pelagios
, is an extremely rare species of deepwater
shark
Shark
Sharks are a type of fish with a full cartilaginous skeleton and a highly streamlined body. The earliest known sharks date from more than 420 million years ago....
. Since its discovery in 1976, only a few megamouth sharks have been seen, with
53 specimens
known to have been caught or sighted as of 2011, including three recordings on film. Like the
basking shark
Basking shark
The basking shark is the second largest living fish, after the whale shark. It is a cosmopolitan migratory species, found in all the world's temperate oceans. It is a slow moving and generally harmless filter feeder and has anatomical adaptations to filter feeding, such as a greatly enlarged...
and
whale shark
Whale shark
The whale shark, Rhincodon typus, is a slow-moving filter feeding shark, the largest extant fish species. The largest confirmed individual had a length of and a weight of more than , but unconfirmed claims report considerably larger whale sharks...
, it is a
filter feeder
Filter feeder
Filter feeders are animals that feed by straining suspended matter and food particles from water, typically by passing the water over a specialized filtering structure. Some animals that use this method of feeding are clams, krill, sponges, baleen whales, and many fish and some sharks. Some birds,...
, and swims with its enormous mouth wide open, filtering water for
plankton
Plankton
Plankton are any drifting organisms that inhabit the pelagic zone of oceans, seas, or bodies of fresh water. That is, plankton are defined by their ecological niche rather than phylogenetic or taxonomic classification...
and
jellyfish
Jellyfish
Jellyfish are free-swimming members of the phylum Cnidaria. Medusa is another word for jellyfish, and refers to any free-swimming jellyfish stages in the phylum Cnidaria...
.