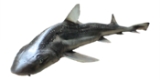 Starspotted smooth-hound
The
starspotted smooth-hound
,
Mustelus manazo
, is a houndshark of the
family
Family (biology)
In biological classification, family is* a taxonomic rank. Other well-known ranks are life, domain, kingdom, phylum, class, order, genus, and species, with family fitting between order and genus. As for the other well-known ranks, there is the option of an immediately lower rank, indicated by the...
Triakidae, found in the western
Indian Ocean
Indian Ocean
The Indian Ocean is the third largest of the world's oceanic divisions, covering approximately 20% of the water on the Earth's surface. It is bounded on the north by the Indian Subcontinent and Arabian Peninsula ; on the west by eastern Africa; on the east by Indochina, the Sunda Islands, and...
between
latitude
Latitude
In geography, the latitude of a location on the Earth is the angular distance of that location south or north of the Equator. The latitude is an angle, and is usually measured in degrees . The equator has a latitude of 0°, the North pole has a latitude of 90° north , and the South pole has a...
s 45° N and
10° S
10th parallel south
The 10th parallel south is a circle of latitude that is 10 degrees south of the Earth's equatorial plane. It crosses the Atlantic Ocean, Africa, the Indian Ocean, Australasia, the Pacific Ocean and South America....
, from the surface to 360 m.
Reproduction is Ovoviviparous.
In some parts of Japan, people eat it with vinegar and mustard sauce.