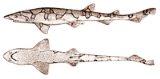 Catshark
Catsharks
are ground sharks of the
family
Family (biology)
In biological classification, family is* a taxonomic rank. Other well-known ranks are life, domain, kingdom, phylum, class, order, genus, and species, with family fitting between order and genus. As for the other well-known ranks, there is the option of an immediately lower rank, indicated by the...
Scyliorhinidae
, with over 150 known
species
Species
In biology, a species is one of the basic units of biological classification and a taxonomic rank. A species is often defined as a group of organisms capable of interbreeding and producing fertile offspring. While in many cases this definition is adequate, more precise or differing measures are...
. While they are generally known as catsharks, many species are commonly called dogfish.
Catsharks are found in
temperate
Temperate
In geography, temperate or tepid latitudes of the globe lie between the tropics and the polar circles. The changes in these regions between summer and winter are generally relatively moderate, rather than extreme hot or cold...
and tropical seas worldwide, ranging from very shallow intertidal waters to depths of 2000 metres (6,561.7 ft) or more, depending on species.
Description

Catsharks may be distinguished by their elongated
cat
Cat
The cat , also known as the domestic cat or housecat to distinguish it from other felids and felines, is a small, usually furry, domesticated, carnivorous mammal that is valued by humans for its companionship and for its ability to hunt vermin and household pests...
-like eyes and two small
dorsal fin
Dorsal fin
A dorsal fin is a fin located on the backs of various unrelated marine and freshwater vertebrates, including most fishes, marine mammals , and the ichthyosaurs...
s set far back. Most species are fairly small, growing no longer than 80 cm (31.5 in); a few, such as the
nursehound
Nursehound
The nursehound , also known as the large-spotted dogfish, greater spotted dogfish, or bull huss, is a species of catshark, family Scyliorhinidae, found in the northeastern Atlantic Ocean. It is generally found amongst rocks or algae at a depth of...
(
Scyliorhinus stellaris
) can reach 1.6 m (5.2 ft) in length. Most of the species have a patterned appearance, ranging from stripes to patches to spots. They feed on
invertebrate
Invertebrate
An invertebrate is an animal without a backbone. The group includes 97% of all animal species – all animals except those in the chordate subphylum Vertebrata .Invertebrates form a paraphyletic group...
s and smaller
fish
Fish
Fish are a paraphyletic group of organisms that consist of all gill-bearing aquatic vertebrate animals that lack limbs with digits. Included in this definition are the living hagfish, lampreys, and cartilaginous and bony fish, as well as various extinct related groups...
. Some species are aplacental viviparous, but most lay
egg
Egg (biology)
An egg is an organic vessel in which an embryo first begins to develop. In most birds, reptiles, insects, molluscs, fish, and monotremes, an egg is the zygote, resulting from fertilization of the ovum, which is expelled from the body and permitted to develop outside the body until the developing...
s in tough egg-cases with curly tendrils at each end, known as
mermaid's purse
Mermaid's purse
An egg case or egg capsule, colloquially known as a mermaid's purse or devil's purse, is a casing that surrounds the fertilized eggs of some sharks, skates, and chimaeras. They are among the common objects which are washed up by the sea. They are made of collagen protein strands...
s.
The "swell sharks" of the
genus
Genus
In biology, a genus is a low-level taxonomic rank used in the biological classification of living and fossil organisms, which is an example of definition by genus and differentia...
Cephaloscyllium
Cephaloscyllium
Cephaloscyllium is a genus of catshark, family Scyliorhinidae, commonly known as swellsharks because of their ability to inflate their body with water or air as a defense against predators. These sluggish, bottom-dwelling sharks are found widely in the tropical and temperate coastal waters of the...
have the curious ability to fill their stomachs with water or air when threatened, increasing their girth by a factor of 2 or 3.
Aquaria
The
Australian marbled catshark
Australian marbled catshark
The Australian marbled catshark, Atelomycterus macleayi, is a catshark of the family Scyliorhinidae found in the eastern Indian Ocean endemic to Western Australia between latitudes 12° S and 21° S, from the surface to 245 m. Its length is up to 60 cm....
,
Atelomycterus macleayi
, is a favored type for home
aquaria
Aquarium
An aquarium is a vivarium consisting of at least one transparent side in which water-dwelling plants or animals are kept. Fishkeepers use aquaria to keep fish, invertebrates, amphibians, marine mammals, turtles, and aquatic plants...
, because it rarely grows to more than 60 centimetres (2 ft) in length. The
coral catshark
Coral catshark
The coral catshark is a species of catshark, family Scyliorhinidae. It is common on shallow coral reefs across the Indo-West Pacific, from Pakistan to New Guinea. Reaching in length, the coral catshark has an extremely slender body, a short head and tail, and two dorsal fins that are angled...
, however, is the most common scyliorhinid in home aquaria.
Genera
The family includes 17 genera and over 150 species, making it the largest family of sharks.
Apristurus

Apristurus

Apristurus is a genus of catshark, the family Scyliorhinidae, commonly known as the ghost or demon catsharks.-Species:* Apristurus albisoma Nakaya & Séret, 1999* Apristurus ampliceps Sasahara, Sato & Nakaya, 2008...


Garman, 1913
Asymbolus

Asymbolus

Asymbolus is a genus of catshark in the family Scyliorhinidae.-Species:* Asymbolus analis * Asymbolus funebris Compagno, Stevens & Last, 1999...


Whitley

Gilbert Percy Whitley

Gilbert Percy Whitley was a British-born Australian ichthyologist and malacologist who was Curator of Fishes at the Australian Museum in Sydney for about 40 years. He was born at Swaythling, Southampton, England, and was educated at King Edward VI School, Southampton and Osborne House...


, 1939
Atelomycterus

Atelomycterus

Atelomycterus is a genus of catshark, family Scyliorhinidae.-Species:* Atelomycterus baliensis W. T. White, Last & Dharmadi, 2005 * Atelomycterus fasciatus Compagno & Stevens, 1993...


Garman, 1913
Aulohalaelurus

Aulohalaelurus

Aulohalaelurus is a genus of catshark in the family Scyliorhinidae.-Species:* Aulohalaelurus kanakorum Séret, 1990 * Aulohalaelurus labiosus...


Fowler

Henry Weed Fowler

Henry Weed Fowler was an American zoologist born in Holmesburg, Pennsylvania.He studied at Stanford University under David Starr Jordan...


, 1934
Bythaelurus

Bythaelurus

Bythaelurus is a genus of catshark in the Scyliorhinidae family.-Species:* Bythaelurus alcockii * Bythaelurus canescens...


Compagno, 1988
Cephaloscyllium

Cephaloscyllium

Cephaloscyllium is a genus of catshark, family Scyliorhinidae, commonly known as swellsharks because of their ability to inflate their body with water or air as a defense against predators. These sluggish, bottom-dwelling sharks are found widely in the tropical and temperate coastal waters of the...


Gill

Theodore Gill

Theodore Nicholas Gill was an American ichthyologist, mammalogist, malacologist and librarian.Born and educated in New York City under private tutors, Gill early showed interest in natural history. He was associated with J...


, 1862
Cephalurus Bigelow

Henry Bryant Bigelow

Henry Bryant Bigelow was an American oceanographer and marine biologist.After graduating from Harvard in 1901, he began working with famed ichthyologist Alexander Agassiz. Bigelow accompanied Agassiz on several major marine science expeditions including one aboard the Albatross in 1907...


and Schroeder

William Charles Schroeder

William Charles Schroeder was an American ichthyologist. He was born on Staten Island, New York. He, along with his lifelong colleague Henry Bryant Bigelow, made substantial contributions to the knowledge of the fish fauna of the western North Atlantic...


, 1941
Figaro

Figaro (genus)

Figaro is a genus of catshark, family Scyliorhinidae, that until 2008 was generally considered to be a subgenus of Galeus . The two known species are found off Australia, inhabiting deep, offshore waters on or near the bottom...


Whitley

Gilbert Percy Whitley

Gilbert Percy Whitley was a British-born Australian ichthyologist and malacologist who was Curator of Fishes at the Australian Museum in Sydney for about 40 years. He was born at Swaythling, Southampton, England, and was educated at King Edward VI School, Southampton and Osborne House...


, 1928
Galeus

Galeus

Galeus is a genus of catshark, family Scyliorhinidae, commonly known as sawtail catsharks in reference to a distinctive saw-toothed crest of enlarged dermal denticles found along the upper edges of their caudal fins. They are found in the Atlantic, the western and central Pacific, and the Gulf of...


Rafinesque, 1810
Halaelurus

Halaelurus

Halaelurus is a genus of catshark in the family Scyliorhinidae.-Species:* Halaelurus boesemani S. Springer & D'Aubrey, 1972 * Halaelurus buergeri...


Gill

Theodore Gill

Theodore Nicholas Gill was an American ichthyologist, mammalogist, malacologist and librarian.Born and educated in New York City under private tutors, Gill early showed interest in natural history. He was associated with J...


, 1862
Haploblepharus

Haploblepharus

Haploblepharus is a genus of catshark, family Scyliorhinidae, containing four species of shysharks. Their common name comes from a distinctive defensive behavior in which the shark curls into a circle and covers its eyes with its tail. The genus is endemic to southern Africa, inhabiting shallow...


Garman, 1913
Holohalaelurus

Holohalaelurus

Holohalaelurus is a genus of catshark in the family Scyliorhinidae, commonly known as Izak catsharks or hallelujah sharks.-Species:* Holohalaelurus favus Human, 2006...


Fowler

Henry Weed Fowler

Henry Weed Fowler was an American zoologist born in Holmesburg, Pennsylvania.He studied at Stanford University under David Starr Jordan...


, 1934
Parmaturus

Parmaturus

Parmaturus is a genus of catshark in the family Scyliorhinidae.-Species:* Parmaturus albimarginatus Séret & Last, 2007 * Parmaturus albipenis Séret & Last, 2007...


Garman, 1906
Pentanchus H. M. Smith

Hugh McCormick Smith

Hugh McCormick Smith was an American ichthyologist and administrator in the Bureau of Fisheries.-Biography:...


and Radcliffe

Lewis Radcliffe

Lewis Radcliffe was a naturalist, malacologist, and ichthyologist. He was Deputy Commissioner of the United States Bureau of Fisheries until 1932 and was the assistant naturalist under Hugh McCormick Smith for the 1907-1910 Philippines Expedition. During his life, he described numerous new species...


in Smith, 1912
Poroderma

Poroderma

Poroderma is a genus of catshark, family Scyliorhinidae. The colour of these sharks are usually grey with dark stripes. They are found in South Africa and are nocturnal. They live preferably in shore areas, close to the bottom, to depths of 100 m. They prefer small caves and crevices. Their diet...


A. Smith

Andrew Smith (zoologist)

Sir Andrew Smith KCB was a Scottish surgeon, explorer, ethnologist and zoologist. He is considered the father of Zoology in South Africa having described many species across a wide range of groups in his major work, Illustrations of the Zoology of South Africa.Smith was born in Hawick, Roxburghshire...


, 1838
Schroederichthys

Schroederichthys

Schroederichthys is a genus of catshark in the family Scyliorhinidae.-Species:* Schroederichthys bivius * Schroederichthys chilensis...


A. Smith

Andrew Smith (zoologist)

Sir Andrew Smith KCB was a Scottish surgeon, explorer, ethnologist and zoologist. He is considered the father of Zoology in South Africa having described many species across a wide range of groups in his major work, Illustrations of the Zoology of South Africa.Smith was born in Hawick, Roxburghshire...


, 1838
Scyliorhinus

Scyliorhinus

Scylorhinus is a genus of catsharks in the family Scyliorhinidae.-Species:* Scyliorhinus besnardi S. Springer & Sadowsky, 1970 * Scyliorhinus boa Goode & Bean, 1896...


Blainville

Henri Marie Ducrotay de Blainville

Henri Marie Ducrotay de Blainville was a French zoologist and anatomist.Blainville was born at Arques, near Dieppe. In about 1796 he went to Paris to study painting, but he ultimately devoted himself to natural history, and attracted the attention of Georges Cuvier, for whom he occasionally...


, 1816
Cladogram
Scyliorhinidae

Scyliorhininae
Galeinae
Atelomycterininae
Schroedericthyinae
External links