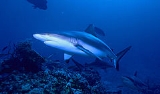 Carcharhinus
Carcharhinus
is the
type genus
Type genus
In biological classification, a type genus is a representative genus, as with regard to a biological family. The term and concept is used much more often and much more formally in zoology than it is in botany, and the definition is dependent on the nomenclatural Code that applies:* In zoological...
of the
requiem shark
Requiem shark
Requiem sharks are a family, Carcharhinidae, of sharks in the order Carcharhiniformes, containing migratory, live-bearing sharks of warm seas such as the tiger shark, the blue shark, the bull shark, and the milk shark.The name may be related to the French word for shark, "requin", itself of...
family
Family (biology)
In biological classification, family is* a taxonomic rank. Other well-known ranks are life, domain, kingdom, phylum, class, order, genus, and species, with family fitting between order and genus. As for the other well-known ranks, there is the option of an immediately lower rank, indicated by the...
, Carcharhinidae.
Species
Carcharhinus acarenatus (Hoyos & Mareno, 1983) (Strait shark)
Carcharhinus acronotus (Poey, 1860) (Blacknose shark)
Carcharhinus albimarginatus (Rüppell

Eduard Rüppell

Wilhelm Peter Eduard Simon Rüppell was a German naturalist and explorer. Rüppell is occasionally transliterated to "Rueppell" for the English alphabet....


, 1837) (Silvertip shark)
Carcharhinus altimus (S. Springer

Stewart Springer

Stewart Springer, was a world renowned expert on shark behavior, classification , and distribution of shark populations. There are more than 35 species of sharks, skates, rays, and other animals either classified originally by him or named after him.-Education:Springer was a field naturalist,...


, 1950) (Bignose shark)
Carcharhinus amblyrhynchoides (Whitley

Gilbert Percy Whitley

Gilbert Percy Whitley was a British-born Australian ichthyologist and malacologist who was Curator of Fishes at the Australian Museum in Sydney for about 40 years. He was born at Swaythling, Southampton, England, and was educated at King Edward VI School, Southampton and Osborne House...


, 1934) (Graceful shark)
Carcharhinus amblyrhynchos (Bleeker

Pieter Bleeker

Pieter Bleeker was a Dutch medical doctor and ichthyologist, famous for his work on the fishes of East Asia – Atlas Ichthyologique des Orientales Neerlandaises – which was published 1862–1877....


, 1856) (Blacktail reef shark)
Carcharhinus amboinensis (J. P. Müller

Johannes Peter Müller

Johannes Peter Müller , was a German physiologist, comparative anatomist, and ichthyologist not only known for his discoveries but also for his ability to synthesize knowledge.-Early years and education:...


& Henle

Friedrich Gustav Jakob Henle

Friedrich Gustav Jakob Henle was a German physician, pathologist and anatomist. He is credited with the discovery of the loop of Henle in the kidney. His essay "On Miasma and Contagia" was an early argument for the germ theory of disease...


, 1839) (Pigeye shark)
Carcharhinus borneensis (Bleeker

Pieter Bleeker

Pieter Bleeker was a Dutch medical doctor and ichthyologist, famous for his work on the fishes of East Asia – Atlas Ichthyologique des Orientales Neerlandaises – which was published 1862–1877....


, 1858) (Borneo shark)
Carcharhinus brachyurus (Günther, 1870) (Copper shark)
Carcharhinus brevipinna (J. P. Müller

Johannes Peter Müller

Johannes Peter Müller , was a German physiologist, comparative anatomist, and ichthyologist not only known for his discoveries but also for his ability to synthesize knowledge.-Early years and education:...


& Henle

Friedrich Gustav Jakob Henle

Friedrich Gustav Jakob Henle was a German physician, pathologist and anatomist. He is credited with the discovery of the loop of Henle in the kidney. His essay "On Miasma and Contagia" was an early argument for the germ theory of disease...


, 1839) (Spinner shark)
Carcharhinus cerdale Gilbert, 1898 (Pacific smalltail shark)
Carcharhinus cautus (Whitley

Gilbert Percy Whitley

Gilbert Percy Whitley was a British-born Australian ichthyologist and malacologist who was Curator of Fishes at the Australian Museum in Sydney for about 40 years. He was born at Swaythling, Southampton, England, and was educated at King Edward VI School, Southampton and Osborne House...


, 1945) (Nervous shark)
Carcharhinus dussumieri (J. P. Müller

Johannes Peter Müller

Johannes Peter Müller , was a German physiologist, comparative anatomist, and ichthyologist not only known for his discoveries but also for his ability to synthesize knowledge.-Early years and education:...


& Henle

Friedrich Gustav Jakob Henle

Friedrich Gustav Jakob Henle was a German physician, pathologist and anatomist. He is credited with the discovery of the loop of Henle in the kidney. His essay "On Miasma and Contagia" was an early argument for the germ theory of disease...


, 1839) (Whitecheek shark)
Carcharhinus falciformis (J. P. Müller

Johannes Peter Müller

Johannes Peter Müller , was a German physiologist, comparative anatomist, and ichthyologist not only known for his discoveries but also for his ability to synthesize knowledge.-Early years and education:...


& Henle

Friedrich Gustav Jakob Henle

Friedrich Gustav Jakob Henle was a German physician, pathologist and anatomist. He is credited with the discovery of the loop of Henle in the kidney. His essay "On Miasma and Contagia" was an early argument for the germ theory of disease...


, 1839) (Silky shark)
Carcharhinus fitzroyensis (Whitley

Gilbert Percy Whitley

Gilbert Percy Whitley was a British-born Australian ichthyologist and malacologist who was Curator of Fishes at the Australian Museum in Sydney for about 40 years. He was born at Swaythling, Southampton, England, and was educated at King Edward VI School, Southampton and Osborne House...


, 1943) (Creek whaler)
Carcharhinus galapagensis (Snodgrass

Robert Evans Snodgrass

Robert Evans Snodgrass was an American entomologist and artist who made important contributions to the fields of arthropod morphology, anatomy, evolution, and metamorphosis....


& Heller

Edmund Heller

Edmund Heller was an American zoologist.Heller attended Stanford University in 1896 and finished his study of zoology with a Bachelor of Arts degree in 1901. From 1926 to 1928 he was curator of mammals at the Field Museum of Natural History in Chicago...


, 1905) (Galapagos shark)
Carcharhinus hemiodon (J. P. Müller

Johannes Peter Müller

Johannes Peter Müller , was a German physiologist, comparative anatomist, and ichthyologist not only known for his discoveries but also for his ability to synthesize knowledge.-Early years and education:...


& Henle

Friedrich Gustav Jakob Henle

Friedrich Gustav Jakob Henle was a German physician, pathologist and anatomist. He is credited with the discovery of the loop of Henle in the kidney. His essay "On Miasma and Contagia" was an early argument for the germ theory of disease...


, 1839) (Pondicherry shark)
Carcharhinus isodon (J. P. Müller

Johannes Peter Müller

Johannes Peter Müller , was a German physiologist, comparative anatomist, and ichthyologist not only known for his discoveries but also for his ability to synthesize knowledge.-Early years and education:...


& Henle

Friedrich Gustav Jakob Henle

Friedrich Gustav Jakob Henle was a German physician, pathologist and anatomist. He is credited with the discovery of the loop of Henle in the kidney. His essay "On Miasma and Contagia" was an early argument for the germ theory of disease...


, 1839) (Finetooth shark)
Carcharhinus leiodon Garrick, 1985 (Smooth tooth blacktip shark )
Carcharhinus leucas (J. P. Müller

Johannes Peter Müller

Johannes Peter Müller , was a German physiologist, comparative anatomist, and ichthyologist not only known for his discoveries but also for his ability to synthesize knowledge.-Early years and education:...


& Henle

Friedrich Gustav Jakob Henle

Friedrich Gustav Jakob Henle was a German physician, pathologist and anatomist. He is credited with the discovery of the loop of Henle in the kidney. His essay "On Miasma and Contagia" was an early argument for the germ theory of disease...


, 1839) (Bull shark)
Carcharhinus limbatus (J. P. Müller

Johannes Peter Müller

Johannes Peter Müller , was a German physiologist, comparative anatomist, and ichthyologist not only known for his discoveries but also for his ability to synthesize knowledge.-Early years and education:...


& Henle

Friedrich Gustav Jakob Henle

Friedrich Gustav Jakob Henle was a German physician, pathologist and anatomist. He is credited with the discovery of the loop of Henle in the kidney. His essay "On Miasma and Contagia" was an early argument for the germ theory of disease...


, 1839) (Blacktip shark)
Carcharhinus longimanus (Poey, 1861) (Oceanic whitetip shark)
Carcharhinus macloti (J. P. Müller

Johannes Peter Müller

Johannes Peter Müller , was a German physiologist, comparative anatomist, and ichthyologist not only known for his discoveries but also for his ability to synthesize knowledge.-Early years and education:...


& Henle

Friedrich Gustav Jakob Henle

Friedrich Gustav Jakob Henle was a German physician, pathologist and anatomist. He is credited with the discovery of the loop of Henle in the kidney. His essay "On Miasma and Contagia" was an early argument for the germ theory of disease...


, 1839) (Hardnose shark)
Carcharhinus macrops J. X. Liu, 1983
Carcharhinus melanopterus (Quoy

Jean René Constant Quoy

Jean René Constant Quoy was a French zoologist.Along with Joseph Paul Gaimard he served as naturalist aboard La Coquille under Louis Isidore Duperrey during its circumnavigation of the globe , and the Astrolabe under the command of Jules Dumont d'Urville...


& Gaimard

Joseph Paul Gaimard

Joseph Paul Gaimard was a French naval surgeon and naturalist.Along with Jean René Constant Quoy he served as naturalist on the ships L'Uranie under Louis de Freycinet 1817-1820, and L'Astrolabe under Jules Dumont d'Urville 1826-1829...


, 1824) (Blacktip reef shark)
Carcharhinus obscurus (Lesueur

Charles Alexandre Lesueur

Charles Alexandre Lesueur was a French naturalist, artist and explorer.Pictured here is the oil portrait by Charles Willson Peale of Charles-Alexandre Lesueur...


, 1818) (Dusky shark)
Carcharhinus perezii (Poey, 1876) (Caribbean reef shark)
Carcharhinus plumbeus (Nardo

Giovanni Domenico Nardo

Giovanni Domenico Nardo was an Italian naturalist from Venice, although he spent most of his life in Chioggia, home port of the biggest fishing flotilla of the Adriatic....


, 1827) (Sandbar shark)
Carcharhinus porosus (Ranzani

Camillo Ranzani

Camillo Ranzani was an Italian priest and a naturalist. He was director of the Museum of Natural History of Bologna from 1803 to 1841...


, 1839) (Smalltail shark)
Carcharhinus sealei (Pietschmann

Viktor Pietschmann

Viktor Pietschmann was an Austrian ichthyologist at the Vienna Museum of Natural History. He was the curator of the fish collection from 1919 to 1946. During his life, he made collecting to trips to the Barents Sea, Greenland, Mesopotamia, Armenia, Hawaii, Romania, and Poland. He described many...


, 1913) (Blackspot shark)
Carcharhinus signatus (Poey, 1868) (Night shark)
Carcharhinus sorrah (J. P. Müller

Johannes Peter Müller

Johannes Peter Müller , was a German physiologist, comparative anatomist, and ichthyologist not only known for his discoveries but also for his ability to synthesize knowledge.-Early years and education:...


& Henle

Friedrich Gustav Jakob Henle

Friedrich Gustav Jakob Henle was a German physician, pathologist and anatomist. He is credited with the discovery of the loop of Henle in the kidney. His essay "On Miasma and Contagia" was an early argument for the germ theory of disease...


, 1839) (Spot-tail shark)
Carcharhinus tilstoni (Whitley

Gilbert Percy Whitley

Gilbert Percy Whitley was a British-born Australian ichthyologist and malacologist who was Curator of Fishes at the Australian Museum in Sydney for about 40 years. He was born at Swaythling, Southampton, England, and was educated at King Edward VI School, Southampton and Osborne House...


, 1950) (Australian blacktip shark)