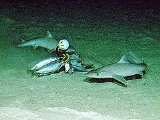 Shortspine spurdog
The
shortspine spurdog
,
Squalus mitsukurii
, is a
dogfish
Squaliformes
Squaliformes is an order of sharks that includes about 97 species in seven families.Members of the order have two dorsal fins, which usually possess spines, no anal fin or nictitating membrane, and five gill slits. In most other respects, however, they are quite variable in form and size...
, a member of the
family
Family (biology)
In biological classification, family is* a taxonomic rank. Other well-known ranks are life, domain, kingdom, phylum, class, order, genus, and species, with family fitting between order and genus. As for the other well-known ranks, there is the option of an immediately lower rank, indicated by the...
Squalidae
Squalidae
Squalidae is the family of dogfish sharks. They are found in the Atlantic, Pacific, and Indian oceans, from tropical equatorial climates to the Arctic and Antarctic....
, found around the world on
continental shelves
Continental shelf
The continental shelf is the extended perimeter of each continent and associated coastal plain. Much of the shelf was exposed during glacial periods, but is now submerged under relatively shallow seas and gulfs, and was similarly submerged during other interglacial periods. The continental margin,...
in
temperate
Temperate
In geography, temperate or tepid latitudes of the globe lie between the tropics and the polar circles. The changes in these regions between summer and winter are generally relatively moderate, rather than extreme hot or cold...
and subtropical oceans between
latitude
Latitude
In geography, the latitude of a location on the Earth is the angular distance of that location south or north of the Equator. The latitude is an angle, and is usually measured in degrees . The equator has a latitude of 0°, the North pole has a latitude of 90° north , and the South pole has a...
s 45°N and
55°S
55th parallel south
The 55th parallel south is a circle of latitude that is 55 degrees south of the Earth's equatorial plane. It crosses the Atlantic Ocean, the Indian Ocean, the Pacific Ocean and South America....
, from the surface to 950 m. Its length is up to 75 cm.