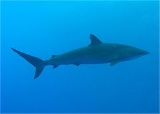 Silky shark
The
silky shark
is a
species
Species
In biology, a species is one of the basic units of biological classification and a taxonomic rank. A species is often defined as a group of organisms capable of interbreeding and producing fertile offspring. While in many cases this definition is adequate, more precise or differing measures are...
of
requiem shark
Requiem shark
Requiem sharks are a family, Carcharhinidae, of sharks in the order Carcharhiniformes, containing migratory, live-bearing sharks of warm seas such as the tiger shark, the blue shark, the bull shark, and the milk shark.The name may be related to the French word for shark, "requin", itself of...
,
family
Family (biology)
In biological classification, family is* a taxonomic rank. Other well-known ranks are life, domain, kingdom, phylum, class, order, genus, and species, with family fitting between order and genus. As for the other well-known ranks, there is the option of an immediately lower rank, indicated by the...
Carcharhinidae, named for the smooth texture of its skin. It is one of the most abundant sharks in the
pelagic zone
Pelagic zone
Any water in a sea or lake that is not close to the bottom or near to the shore can be said to be in the pelagic zone. The word pelagic comes from the Greek πέλαγος or pélagos, which means "open sea". The pelagic zone can be thought of in terms of an imaginary cylinder or water column that goes...
, and can be found around the world in tropical waters. Highly mobile and
migratory
Fish migration
Many types of fish migrate on a regular basis, on time scales ranging from daily to annually or longer, and over distances ranging from a few metres to thousands of kilometres...
, this shark is most often found over the edge of the
continental shelf
Continental shelf
The continental shelf is the extended perimeter of each continent and associated coastal plain. Much of the shelf was exposed during glacial periods, but is now submerged under relatively shallow seas and gulfs, and was similarly submerged during other interglacial periods. The continental margin,...
down to a depth of 50 m (164 ft). The silky shark has a slender, streamlined body and typically grows to a length of 2.5 metre.