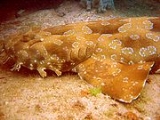 Wobbegong
Wobbegong
is the common name given to the 12 species of
carpet shark
Carpet shark
The carpet sharks are an order, Orectolobiformes, of sharks, so called because many members have ornate patterns reminiscent of carpets....
s in the family
Orectolobidae
. They are found in shallow temperate and tropical waters of the western
Pacific Ocean
Pacific Ocean
The Pacific Ocean is the largest of the Earth's oceanic divisions. It extends from the Arctic in the north to the Southern Ocean in the south, bounded by Asia and Australia in the west, and the Americas in the east.At 165.2 million square kilometres in area, this largest division of the World...
and eastern
Indian Ocean
Indian Ocean
The Indian Ocean is the third largest of the world's oceanic divisions, covering approximately 20% of the water on the Earth's surface. It is bounded on the north by the Indian Subcontinent and Arabian Peninsula ; on the west by eastern Africa; on the east by Indochina, the Sunda Islands, and...
, chiefly around
Australia
Australia
Australia , officially the Commonwealth of Australia, is a country in the Southern Hemisphere comprising the mainland of the Australian continent, the island of Tasmania, and numerous smaller islands in the Indian and Pacific Oceans. It is the world's sixth-largest country by total area...
and
Indonesia
Indonesia
Indonesia , officially the Republic of Indonesia , is a country in Southeast Asia and Oceania. Indonesia is an archipelago comprising approximately 13,000 islands. It has 33 provinces with over 238 million people, and is the world's fourth most populous country. Indonesia is a republic, with an...
, although one species (the
Japanese wobbegong
Japanese wobbegong
The Japanese wobbegong, Orectolobus japonicus, is a carpet shark in the family Orectolobidae, found in the tropical western Pacific Ocean from Japan and Korea to Viet Nam and the Philippines, between latitudes 43° N to 6° N. It reaches a length of 1 m....
,
Orectolobus japonicus
) occurs as far north as
Japan
Japan
Japan is an island nation in East Asia. Located in the Pacific Ocean, it lies to the east of the Sea of Japan, China, North Korea, South Korea and Russia, stretching from the Sea of Okhotsk in the north to the East China Sea and Taiwan in the south...
. The word
wobbegong
is believed to come from an
Australian Aboriginal language
Australian Aboriginal languages
The Australian Aboriginal languages comprise several language families and isolates native to the Australian Aborigines of Australia and a few nearby islands, but by convention excluding the languages of Tasmania and the Torres Strait Islanders...
, meaning "shaggy beard", referring to the growths around the mouth of the shark of the western Pacific.
Description
Wobbegongs are bottom-dwelling sharks and spend much of their time resting on the sea floor. Most species have a maximum length of 1.25 metres (4.1 ft) or less, but the largest, the
spotted wobbegong
Spotted wobbegong
The spotted wobbegong, Orectolobus maculatus, is a carpet shark in the family Orectolobidae, found in the eastern Indian Ocean from Western Australia to southern Queensland, between latitudes 20° S to 40° S. It reaches a length of 3 meters ....
,
Orectolobus maculatus
, and banded wobbegong,
O. halei
, reach about 3 metres (9.8 ft) in length.
Wobbegongs are well
camouflage
Camouflage
Camouflage is a method of concealment that allows an otherwise visible animal, military vehicle, or other object to remain unnoticed, by blending with its environment. Examples include a leopard's spotted coat, the battledress of a modern soldier and a leaf-mimic butterfly...
d with a
symmetrical
Symmetry
Symmetry generally conveys two primary meanings. The first is an imprecise sense of harmonious or aesthetically pleasing proportionality and balance; such that it reflects beauty or perfection...
pattern of bold markings which resembles a carpet. Because of this striking pattern, wobbegongs and their close relatives are often referred to as
carpet shark
Carpet shark
The carpet sharks are an order, Orectolobiformes, of sharks, so called because many members have ornate patterns reminiscent of carpets....
s. The camouflage is improved by the presence of small weed like whiskers lobes surrounding the wobbegong's jaw, which it uses to entice and catch fish. Wobbegongs make use of their relative invisibility to hide among rocks and catch smaller fish which swim too close, typical of
ambush predator
Ambush predator
Ambush predators or sit-and-wait predators are carnivorous animals that capture prey by stealth or cunning, not by speed or necessarily by strength. These organisms usually hide motionless and wait for prey to come within striking distance. They are often camouflaged, and may be solitary...
s.
Wobbegongs are generally not dangerous unless they are provoked. They have bitten people who accidentally step on them in shallow water; they may also bite
scuba
Scuba diving
Scuba diving is a form of underwater diving in which a diver uses a scuba set to breathe underwater....
divers or snorkellers who poke or touch them, or who block their escape route. Wobbegongs are very flexible and can easily bite a hand that is holding on to their tail.
They have many small but sharp teeth and their bite can be severe, even through a wetsuit; having once bitten, they have been known to hang on and can be very difficult to remove. To avoid being bitten, divers should avoid contact.
Interaction with humans
Although wobbegongs do not eat humans, humans frequently eat wobbegongs; the flesh of a wobbegong or other shark is called
flake
Flake (fish)
Flake is a term used in Australia to indicate the flesh of any of several species of small shark, particularly Gummy shark. The term probably arose in the late 1920s when the large-scale commercial shark fishery off the coast of Victoria was established. Until that time, shark was generally an...
and it is often used in
fish and chips
Fish and chips
Fish and chips is a popular take-away food in the United Kingdom, Australia, New Zealand and Canada...
in Australia.
Wobbegong skin is also used to make
leather
Leather
Leather is a durable and flexible material created via the tanning of putrescible animal rawhide and skin, primarily cattlehide. It can be produced through different manufacturing processes, ranging from cottage industry to heavy industry.-Forms:...
.
Captivity
Although most wobbegong species are unsuitable for home aquaria due to their large adult size, this has not stopped some of these larger species from being commonly sold in the aquarium trade. However some aquarists have had success in keeping smaller species, such as the
tasselled wobbegong
Tasselled wobbegong
The tasselled wobbegong, Eucrossorinus dasypogon, is a carpet shark in the family Orectolobidae, found in the western Pacific Ocean between latitudes 1° N and 23° S. It reaches a length of 1.25 m.Reproduction is ovoviviparous....
and Ward's wobbegong. Small wobbegong species are "ideal" sharks for home aquarists to
keep
Sharks in captivity
Several species of sharks are kept in captivity in public aquaria. In home aquaria, size constraints mean that only the smallest sharks are typically viable as pets.-Public aquaria:...
because they are the appropriate size and are sufficiently lethargic in lifestyle, enabling them to be accommodated within the limited space of home aquaria. Some aquarists, by contrast, see the lack of activity to be a drawback to keeping wobbegongs and prefer more active sharks. Wobbegongs are largely nocturnal and will consume tankmates, even rather large ones. Due to their low metabolisms, wobbegong species are not fed as often as other sharks and most do well on two feedings weekly. Underfed wobbegongs can be recognized by visually atrophied dorsal musculature. Wobbegongs can camouflage in waters near rocks.
Genera and species
There are twelve species of wobbegong, in three genera:
Family
Orectolobidae
Genus Eucrossorhinus Regan, 1908

Eucrossorhinus dasypogon (Bleeker

Pieter Bleeker

Pieter Bleeker was a Dutch medical doctor and ichthyologist, famous for his work on the fishes of East Asia – Atlas Ichthyologique des Orientales Neerlandaises – which was published 1862–1877....


, 1867) (Tasselled wobbegong)

Genus Orectolobus

Orectolobus

Orectolobus is a genus of carpet sharks in the family Orectolobidae. They are commonly known as wobbegongs, although this name also applies to the other members of the family....


Bonaparte

Charles Lucien Bonaparte

Charles Lucien Jules Laurent Bonaparte, 2nd Prince of Canino and Musignano was a French naturalist and ornithologist.-Biography:...


, 1834

Orectolobus floridus Last & Chidlow, 2008 (Floral banded wobbegong)
Orectolobus halei

Orectolobus halei

Orectolobus halei, the Gulf wobbegong or banded wobbegong, is a carpet shark in the family Orectolobidae, found in southern Australia between Southport, Queensland and Norwegian Bay, Western Australia....


Whitley

Gilbert Percy Whitley

Gilbert Percy Whitley was a British-born Australian ichthyologist and malacologist who was Curator of Fishes at the Australian Museum in Sydney for about 40 years. He was born at Swaythling, Southampton, England, and was educated at King Edward VI School, Southampton and Osborne House...


, 1940. (Gulf wobbegong or banded wobbegong)
Orectolobus hutchinsi

Orectolobus hutchinsi

Orectolobus hutchinsi, the western wobbegong, is a species of carpet shark in the family Orectolobidae. Despite having been known for many years , it only received its scientific name in 2006. It is found at rocky reefs off Western Australia between Bremer Bay and Coral Bay at depths down to...


Last, Chidlow & Compagno, 2006. (Western wobbegong)
Orectolobus japonicus Regan, 1906 (Japanese wobbegong)
Orectolobus leptolineatus Last, Pogonoski & W. T. White, 2010 (Indonesian wobbegong)
Orectolobus maculatus (Bonnaterre

Pierre Joseph Bonnaterre

Abbé Pierre Joseph Bonnaterre was a French naturalist who contributed sections on cetaceans, mammals, birds, reptiles, amphibians, and insects to the Tableau encyclopédique et méthodique...


, 1788) (Spotted wobbegong)
Orectolobus ornatus (De Vis

Charles Walter De Vis

Charles Walter de Vis , known as Devis before about 1882, was an English zoologist and ornithologist...


, 1883) (Ornate wobbegong)
Orectolobus parvimaculatus Last & Chidlow, 2008 (Dwarf spotted wobbegong)
Orectolobus reticulatus

Orectolobus reticulatus

The network wobbegong is a recently described species of carpet shark found in relatively shallow waters off north-western Australia. With a known maximum length of only , it may be the smallest species of wobbegong....


Last, Pogonoski & W. T. White, 2008 (Network wobbegong)
Orectolobus wardi Whitley

Gilbert Percy Whitley

Gilbert Percy Whitley was a British-born Australian ichthyologist and malacologist who was Curator of Fishes at the Australian Museum in Sydney for about 40 years. He was born at Swaythling, Southampton, England, and was educated at King Edward VI School, Southampton and Osborne House...


, 1939 (Northern wobbegong)

Genus Sutorectus Whitley

Gilbert Percy Whitley

Gilbert Percy Whitley was a British-born Australian ichthyologist and malacologist who was Curator of Fishes at the Australian Museum in Sydney for about 40 years. He was born at Swaythling, Southampton, England, and was educated at King Edward VI School, Southampton and Osborne House...


, 1939

Sutorectus tentaculatus (W. K. H. Peters

Wilhelm Peters

Wilhelm Karl Hartwich Peters was a German naturalist and explorer.He was assistant to Johannes Peter Müller and later curator of the Berlin Zoological Museum. In September 1842 he travelled to Mozambique via Angola. He returned to Berlin with an enormous collection of natural history specimens...


, 1864) (Cobbler wobbegong)