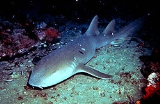 Nurse shark
The
nurse shark
,
Ginglymostoma cirratum
, sometimes referred to as the
Nur Shark
is a
shark
Shark
Sharks are a type of fish with a full cartilaginous skeleton and a highly streamlined body. The earliest known sharks date from more than 420 million years ago....
in the nurse sharks (Ginglymostomatidae) family, the only member of its
genus
Genus
In biology, a genus is a low-level taxonomic rank used in the biological classification of living and fossil organisms, which is an example of definition by genus and differentia...
Ginglymostoma
. Nurse sharks can reach a length of 4.3 m (14 ft) and a weight of 330 lbs (150 kg).
Taxonomy
The nurse shark family name, Ginglymostomatidae, derives from the
Greek
Greek language
Greek is an independent branch of the Indo-European family of languages. Native to the southern Balkans, it has the longest documented history of any Indo-European language, spanning 34 centuries of written records. Its writing system has been the Greek alphabet for the majority of its history;...
: from γίγγλυμος meaning
hinge
and στόμα meaning
mouth.
Cirratum also derives from Greek, meaning curl or swim. Based on
morphological
Morphology (biology)
In biology, morphology is a branch of bioscience dealing with the study of the form and structure of organisms and their specific structural features....
similarities,
Ginglymostoma
is believed to be the sister genus of
Nebrius
Nebrius
Nebrius is a genus of carpet sharks in the family Ginglymostomatidae. It contains a single extant species, the tawny nurse shark , as well as a number of extinct species dating back to the Early Paleocene....
, with both being placed in a
clade
Clade
A clade is a group consisting of a species and all its descendants. In the terms of biological systematics, a clade is a single "branch" on the "tree of life". The idea that such a "natural group" of organisms should be grouped together and given a taxonomic name is central to biological...
that also contains the short-tail nurse shark (
Pseudoginglymostoma brevicaudatum
), the
whale shark
Whale shark
The whale shark, Rhincodon typus, is a slow-moving filter feeding shark, the largest extant fish species. The largest confirmed individual had a length of and a weight of more than , but unconfirmed claims report considerably larger whale sharks...
(
Rhincodon typus
), and the
zebra shark
Zebra shark
The zebra shark is a species of carpet shark and the sole member of the family Stegostomatidae. It is found throughout the tropical Indo-Pacific, frequenting coral reefs and sandy flats to a depth of 62 m...
(
Stegostoma fasciatum
).
Distribution and habitat
The nurse shark is a common inshore bottom-dwelling shark, found in tropical and subtropical waters on the
continental
Continental shelf
The continental shelf is the extended perimeter of each continent and associated coastal plain. Much of the shelf was exposed during glacial periods, but is now submerged under relatively shallow seas and gulfs, and was similarly submerged during other interglacial periods. The continental margin,...
and insular shelves. It is frequently found at depths of one meter or less but may occur down to 75 m. Its common
habitat
Habitat
* Habitat , a place where a species lives and grows*Human habitat, a place where humans live, work or play** Space habitat, a space station intended as a permanent settlement...
s are
reefs
Coral reef
Coral reefs are underwater structures made from calcium carbonate secreted by corals. Coral reefs are colonies of tiny living animals found in marine waters that contain few nutrients. Most coral reefs are built from stony corals, which in turn consist of polyps that cluster in groups. The polyps...
, channels between
mangrove
Mangrove
Mangroves are various kinds of trees up to medium height and shrubs that grow in saline coastal sediment habitats in the tropics and subtropics – mainly between latitudes N and S...
islands and sand flats. It occurs in the Western Atlantic from
Rhode Island
Rhode Island
The state of Rhode Island and Providence Plantations, more commonly referred to as Rhode Island , is a state in the New England region of the United States. It is the smallest U.S. state by area...
down to southern
Brazil
Brazil
Brazil , officially the Federative Republic of Brazil , is the largest country in South America. It is the world's fifth largest country, both by geographical area and by population with over 192 million people...
; in the Eastern Atlantic from
Cameroon
Cameroon
Cameroon, officially the Republic of Cameroon , is a country in west Central Africa. It is bordered by Nigeria to the west; Chad to the northeast; the Central African Republic to the east; and Equatorial Guinea, Gabon, and the Republic of the Congo to the south. Cameroon's coastline lies on the...
to
Gabon
Gabon
Gabon , officially the Gabonese Republic is a state in west central Africa sharing borders with Equatorial Guinea to the northwest, Cameroon to the north, and with the Republic of the Congo curving around the east and south. The Gulf of Guinea, an arm of the Atlantic Ocean is to the west...
(and possibly ranges further north and south); in the Eastern Pacific from the southern
Baja California
Baja California
Baja California officially Estado Libre y Soberano de Baja California is one of the 31 states which, with the Federal District, comprise the 32 Federal Entities of Mexico. It is both the northernmost and westernmost state of Mexico. Before becoming a state in 1953, the area was known as the North...
to
Peru
Peru
Peru , officially the Republic of Peru , is a country in western South America. It is bordered on the north by Ecuador and Colombia, on the east by Brazil, on the southeast by Bolivia, on the south by Chile, and on the west by the Pacific Ocean....
; and around the islands of the Caribbean.
Behavior and diet
Nurse sharks are nocturnal animals, spending the day in large inactive groups of up to 40 individuals. Hidden under submerged ledges or in crevices within the
reef
Reef
In nautical terminology, a reef is a rock, sandbar, or other feature lying beneath the surface of the water ....
, the nurse sharks seem to prefer specific resting sites and will return to them each day after the night's hunting. By night, the sharks are largely solitary; they spend most of their time rifling through the bottom sediments in search of food. Their diet consists primarily of
crustacean
Crustacean
Crustaceans form a very large group of arthropods, usually treated as a subphylum, which includes such familiar animals as crabs, lobsters, crayfish, shrimp, krill and barnacles. The 50,000 described species range in size from Stygotantulus stocki at , to the Japanese spider crab with a leg span...
s, molluscs,
tunicate
Tunicate
Tunicates, also known as urochordates, are members of the subphylum Tunicata, previously known as Urochordata, a group of underwater saclike filter feeders with incurrent and excurrent siphons that is classified within the phylum Chordata. While most tunicates live on the ocean floor, others such...
s, sea snakes, and other
fish
Fish
Fish are a paraphyletic group of organisms that consist of all gill-bearing aquatic vertebrate animals that lack limbs with digits. Included in this definition are the living hagfish, lampreys, and cartilaginous and bony fish, as well as various extinct related groups...
, particularly
stingray
Stingray
The stingrays are a group of rays, which are cartilaginous fishes related to sharks. They are classified in the suborder Myliobatoidei of the order Myliobatiformes, and consist of eight families: Hexatrygonidae , Plesiobatidae , Urolophidae , Urotrygonidae , Dasyatidae , Potamotrygonidae The...
s.
They are thought to take advantage of dormant fish which would otherwise be too fast for the sharks to catch; although their small mouths limit the size of prey items, the sharks have large throat cavities which are used as a sort of bellows valve. In this way nurse sharks are able to suck in their prey. Nurse sharks are also known to graze
algae
Algae
Algae are a large and diverse group of simple, typically autotrophic organisms, ranging from unicellular to multicellular forms, such as the giant kelps that grow to 65 meters in length. They are photosynthetic like plants, and "simple" because their tissues are not organized into the many...
and
coral
Coral
Corals are marine animals in class Anthozoa of phylum Cnidaria typically living in compact colonies of many identical individual "polyps". The group includes the important reef builders that inhabit tropical oceans and secrete calcium carbonate to form a hard skeleton.A coral "head" is a colony of...
.
Nurse sharks have been observed resting on the bottom with their bodies supported on their fins, possibly providing a false shelter for crustaceans which they then ambush and eat.
Nurse sharks are able to respire while stationary by pumping water through their mouths and out gills.
Reproduction
The mating season runs from late June to the end of July. Nurse sharks are
ovoviviparous
Ovoviviparity
Ovoviviparity, ovovivipary, or ovivipary, is a mode of reproduction in animals in which embryos develop inside eggs that are retained within the mother's body until they are ready to hatch...
, meaning the
egg
Egg (biology)
An egg is an organic vessel in which an embryo first begins to develop. In most birds, reptiles, insects, molluscs, fish, and monotremes, an egg is the zygote, resulting from fertilization of the ovum, which is expelled from the body and permitted to develop outside the body until the developing...
s develop and hatch within the body of the female where the hatchling's develop further until live birth occurs. The
gestation
Gestation
Gestation is the carrying of an embryo or fetus inside a female viviparous animal. Mammals during pregnancy can have one or more gestations at the same time ....
period is six months, with a typical litter of 21 - 29 pups. The mating cycle is biennial, as it takes 18 months for the female's ovaries to produce another batch of eggs, during which time, cannibalistic behavior can occur. The young nurse sharks are born fully developed at about 30 cm long in
Ginglymostoma cirratum
. They possess a spotted coloration which fades with age.
Interaction with humans
The nurse shark is not widely commercially fished, but because of its sluggish behaviour it is an easy target for local fisheries. Its skin is exceptionally tough and is prized for leather; its flesh is consumed fresh and salted and its liver is utilised for oil. It is not taken as a game fish. It has been reported in some unprovoked attacks on humans but is not generally perceived as a threat. One such reported attack took place off the coast of San Pedro, Ambergris Caye at a dive site known as "Esmeralda."
Juvenile nurse sharks are sometimes sold in the saltwater aquarium trade. However, since nurse sharks attain lengths in excess of ten feet they are far too large to be kept in home aquaria. In an article for Aquarium Fish Magazine, Scott W. Michael criticizes the ethics of aquarists attempting to keep species beyond their spatial and financial means. He also notes that most public aquaria are not interested in taking specimens that have outgrown home aquaria and that they should never
be released into the wild
Introduced species
An introduced species — or neozoon, alien, exotic, non-indigenous, or non-native species, or simply an introduction, is a species living outside its indigenous or native distributional range, and has arrived in an ecosystem or plant community by human activity, either deliberate or accidental...
.
External links