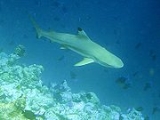 Carcharhiniformes
The
ground sharks
, order
Carcharhiniformes
, are the largest order of
shark
Shark
Sharks are a type of fish with a full cartilaginous skeleton and a highly streamlined body. The earliest known sharks date from more than 420 million years ago....
s. With over 270 species, carcharhiniforms include a number of common types, such as the
blue shark
Blue shark
The blue shark is a species of requiem shark, family Carcharhinidae, that inhabits deep waters in the world's temperate and tropical oceans. Preferring cooler waters, blue sharks migrate long distances, for example from New England to South America. Although generally lethargic, they can move very...
, catsharks, swellsharks, and
sandbar shark
Sandbar shark
The sandbar shark, Carcharhinus plumbeus, is a species of requiem shark, family Carcharhinidae, native to the Atlantic Ocean and the Indo-Pacific. It is distinguishable by its very high first dorsal fin and inter-dorsal ridge....
.
Members of the orders are characterized by the presence of a
nictitating membrane
Nictitating membrane
The nictitating membrane is a transparent or translucent third eyelid present in some animals that can be drawn across the eye for protection and to moisten it while maintaining visibility. Some reptiles, birds, and sharks have a full nictitating membrane; in many mammals, there is a small...
over the eye, two
dorsal fin
Dorsal fin
A dorsal fin is a fin located on the backs of various unrelated marine and freshwater vertebrates, including most fishes, marine mammals , and the ichthyosaurs...
s, an anal fin, and five
gill
Gill
A gill is a respiratory organ found in many aquatic organisms that extracts dissolved oxygen from water, afterward excreting carbon dioxide. The gills of some species such as hermit crabs have adapted to allow respiration on land provided they are kept moist...
slits.
The families of the carcharhiniforms are expected to be revised; recent
DNA
DNA
Deoxyribonucleic acid is a nucleic acid that contains the genetic instructions used in the development and functioning of all known living organisms . The DNA segments that carry this genetic information are called genes, but other DNA sequences have structural purposes, or are involved in...
studies show that some of the traditional groups are not monophyletic.
Families
Carcharhinidae (requiem sharks)
Hemigaleidae

Hemigaleidae

The weasel sharks are a family, Hemigaleidae, of ground sharks found from the eastern Atlantic Ocean to the continental Indo-Pacific. They are found in shallow coastal waters to a depth of 100 m ....


(weasel sharks)
Leptochariidae (barbeled houndshark)
Proscylliidae

Proscylliidae

The finback catsharks are a small family, Proscylliidae, of ground sharks.-Genera and species:* Ctenacis Compagno, 1973** Ctenacis fehlmanni * Eridacnis H. M. Smith, 1913...


(finback cat sharks)
Pseudotriakidae

Pseudotriakidae

Pseudotriakidae is a small family of ground sharks, order Carcharhiniformes, containing the false catsharks and gollumsharks. It contains the only ground shark species that exhibit intrauterine oophagy, in which developing fetuses are nourished by eggs produced by their mother.-Genera and...


(false cat sharks)
Scyliorhinidae (cat sharks)
Sphyrnidae (hammerhead sharks)
Triakidae (hound sharks)
External links