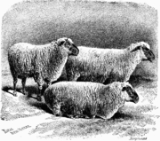 List of sheep breeds
This is a
list of domestic sheep breeds
.
Domestic sheep
Domestic sheep
Sheep are quadrupedal, ruminant mammals typically kept as livestock. Like all ruminants, sheep are members of the order Artiodactyla, the even-toed ungulates. Although the name "sheep" applies to many species in the genus Ovis, in everyday usage it almost always refers to Ovis aries...
(
Ovis aries
) are partially derived from
mouflon
Mouflon
The mouflon is a subspecies group of the wild sheep Ovis aries. Populations of Ovis aries can be partitioned into the mouflons and urials or arkars...
(
Ovis orientalis
) stock, and have diverged sufficiently to be considered a different species.
Comprehensive list of domestic sheep breeds
Sorted alphabetically.
A
Name
Picture
Alternate Name
Origin
Purpose
Acıpayam

Acıpayam (sheep)

Acıpayam is a breed of domesticated sheep originated in Turkey. They are a dual-purpose breed . The Acıpayam originated from Assaf crossed with Awassi and Dagliç ewes.-Characteristics:...



---
---
Turkey

Turkey

Turkey , known officially as the Republic of Turkey , is a Eurasian country located in Western Asia and in East Thrace in Southeastern Europe...



Meat, wool

Wool

Wool is the textile fiber obtained from sheep and certain other animals, including cashmere from goats, mohair from goats, qiviut from muskoxen, vicuña, alpaca, camel from animals in the camel family, and angora from rabbits....



Adal

Adal (sheep)

Adal is a domesticated breed of sheep from Ethiopia. They are bred mostly for their meat.-Characteristics:The Adal is unicolored from white to dark brown. Average mature weight for a ram is and a ewe . They have short ears often appearing to have none. At birth, males are on average and ewes...



---
---
Ethiopia

Ethiopia

Ethiopia , officially known as the Federal Democratic Republic of Ethiopia, is a country located in the Horn of Africa. It is the second-most populous nation in Africa, with over 82 million inhabitants, and the tenth-largest by area, occupying 1,100,000 km2...



Meat
Africana

Africana (sheep)

Africana is a breed of domesticated sheep found in Colombia and Venezuela. This breed is about the same size as the Pelibüey. The Africana is raised for their meat and is classified as a hair breed....



---
Camura, Colombian Wooless, Pelona, Red African, Rojo Africana, West African
Colombia

Colombia

Colombia, officially the Republic of Colombia , is a unitary constitutional republic comprising thirty-two departments. The country is located in northwestern South America, bordered to the east by Venezuela and Brazil; to the south by Ecuador and Peru; to the north by the Caribbean Sea; to the...



Meat
Alai

Alai (sheep)

Alai is a breed of domesticated sheep found in Kyrgyzstan. This breed is a dual purpose breed raised for its meat and wool.-Characteristics:Rams can be either horned or polled . However, ewes are only polled....



---
---
Kyrgyzstan

Kyrgyzstan

Kyrgyzstan , officially the Kyrgyz Republic is one of the world's six independent Turkic states . Located in Central Asia, landlocked and mountainous, Kyrgyzstan is bordered by Kazakhstan to the north, Uzbekistan to the west, Tajikistan to the southwest and China to the east...



Meat, wool
Alcarreña

Alcarreña

Alcarreña is a domesticated breed of sheep found in Spain. They are bred for their meat. The Alcarreña is a member of the entrafino class of sheep.-Characteristics:...



---
---
Spain

Spain

Spain , officially the Kingdom of Spain languages]] under the European Charter for Regional or Minority Languages. In each of these, Spain's official name is as follows:;;;;;;), is a country and member state of the European Union located in southwestern Europe on the Iberian Peninsula...



Meat
Algarve Churro

Algarve Churro

Algarve Churro is a domesticated breed of sheep in Portugal. Although this breed does grow wool, it is primarily riased for its meat.-Characteristics:...



---
---
Portugal

Portugal

Portugal , officially the Portuguese Republic is a country situated in southwestern Europe on the Iberian Peninsula. Portugal is the westernmost country of Europe, and is bordered by the Atlantic Ocean to the West and South and by Spain to the North and East. The Atlantic archipelagos of the...



Meat
Alpines Steinschaf

Alpines Steinschaf

Alpines Steinschaf is a breed of domesticated sheep found in southern Germany and Austria. This breed is used for wool, meat and Vegetation Management. As of 2006, there were less than 300 with the number increasing...



---
---
Germany

Germany

Germany , officially the Federal Republic of Germany , is a federal parliamentary republic in Europe. The country consists of 16 states while the capital and largest city is Berlin. Germany covers an area of 357,021 km2 and has a largely temperate seasonal climate...



Meat, wool, vegetation management

Targeted grazing

Targeted grazing is the use of domestic livestock to change the composition and structure of vegetation to meet management goals. This technique is often used in combination with other vegetation management treatments such as prescribed fire, seeding, chemical application, or mechanical means...



Altay

Altay (sheep)

Altay is a breed of domesticated sheep originating in the dry, cold mountain basins of China. This breed belongs to the fat-rumped carpet wool type of sheep and the Kazakh group. Although the Altay grows wool, it is raised primarily for the meat....



---
---
China

China

Chinese civilization may refer to:* China for more general discussion of the country.* Chinese culture* Greater China, the transnational community of ethnic Chinese.* History of China* Sinosphere, the area historically affected by Chinese culture...



Meat
Ancon

Ancon (sheep)

Ancon sheep are a grouping of sheep with long bodies and very short legs, with the fore-legs being crooked. The term is generally applied to a line of sheep bred from a single affected Massachusetts lamb born in 1791...



---
Otter sheep
United States

United States

The United States of America is a federal constitutional republic comprising fifty states and a federal district...



---
Apennine

Apennine (sheep)

Apennine is a domesticated breed of sheep found in Italy. It was found in the 1970s by cross breeding with local breeds and the Bergamasca and Ile-de-France...



Appenninica, Bariscianese, Chietina Varzese, Perugina del piano
Italy

Italy

Italy , officially the Italian Republic languages]] under the European Charter for Regional or Minority Languages. In each of these, Italy's official name is as follows:;;;;;;;;), is a unitary parliamentary republic in South-Central Europe. To the north it borders France, Switzerland, Austria and...



Meat
Arabi

Arabi (sheep)

Arabi is a domesticed breed of sheep from southwestern Iran, southern Iraq and northeastern Arabia. Though it does grow wool, it is primarily raised for meat.-Characteristics:The Arabi rams have horns and the ewes are polled...



---
---
Iran

Iran

Iran , officially the Islamic Republic of Iran , is a country in Southern and Western Asia. The name "Iran" has been in use natively since the Sassanian era and came into use internationally in 1935, before which the country was known to the Western world as Persia...


, Iraq

Iraq

Iraq ; officially the Republic of Iraq is a country in Western Asia spanning most of the northwestern end of the Zagros mountain range, the eastern part of the Syrian Desert and the northern part of the Arabian Desert....



Meat
Arkhar-Merino

Arkhar-Merino

The Arkhar-Merino is a sheep breed. This breed was produced by crossbreeding between wild Arkhar rams and Precoce merino ewes in the Kurmektinski research station between 1934 to 1949 in Kazakhstan, then in the Soviet Union. This station is located between Kungei and Zailiiskii mountains in the...



---
---
Kazakhstan

Kazakhstan

Kazakhstan , officially the Republic of Kazakhstan, is a transcontinental country in Central Asia and Eastern Europe. Ranked as the ninth largest country in the world, it is also the world's largest landlocked country; its territory of is greater than Western Europe...



Wool
Afghan Arabi

Afghan Arabi

Afghan Arabi is a breed of domesticated sheep found in Afghanistan. They are a member of the fat-rump breeds of sheep. The wool is carpet quality and the Arghan Arabi are raised for their meat.-Characteristics:...


Arabi subtype
---
---
Afghanistan

Afghanistan

Afghanistan , officially the Islamic Republic of Afghanistan, is a landlocked country located in the centre of Asia, forming South Asia, Central Asia and the Middle East. With a population of about 29 million, it has an area of , making it the 42nd most populous and 41st largest nation in the world...



Meat
Algerian Arab

Algerian Arab

Algerian Arab is a breed of domesticated sheep found throughout Algeria. Although this breed does grow a carpet grade wool, it is raised primarily for meat.-Characteristics:...



---
Ouled Jellal, Western Thin-tailed
Algeria

Algeria

Algeria , officially the People's Democratic Republic of Algeria , also formally referred to as the Democratic and Popular Republic of Algeria, is a country in the Maghreb region of Northwest Africa with Algiers as its capital.In terms of land area, it is the largest country in Africa and the Arab...



Meat
Arapawa Island

Arapawa Island (sheep)

The Arapawa Sheep is a breed of feral sheep found primarily on Arapawa Island in the Marlborough Sounds, New Zealand, where they have probably been isolated since they were introduced in 1867. Although there are many theories of how the sheep arrived, it is generally accepted that they are...



---
New Zealand

New Zealand

New Zealand is an island country in the south-western Pacific Ocean comprising two main landmasses and numerous smaller islands. The country is situated some east of Australia across the Tasman Sea, and roughly south of the Pacific island nations of New Caledonia, Fiji, and Tonga...



Wool
Armenian Semicoarsewool

Armenian Semicoarsewool

Armenian Semicoarsewool is a breed of domesticated sheep found in Armenia. A medium-wool fat tail breed which is kept for meat and milk production. This breed was developed by crossing Rambouillet and Lincoln with Balbas.-Characteristics:This breed displays white and is unicolored...



---
Armyanskaya Polugrubosherstnaya
Armenia

Armenia

Armenia , officially the Republic of Armenia , is a landlocked mountainous country in the Caucasus region of Eurasia...



Meat, milk

Milk

Milk is a white liquid produced by the mammary glands of mammals. It is the primary source of nutrition for young mammals before they are able to digest other types of food. Early-lactation milk contains colostrum, which carries the mother's antibodies to the baby and can reduce the risk of many...



Askanian

Askanian

Askanian is a breed of domesticated sheep found in Ukraine. It is a fine-wool breed bred for its wool. It was developed by crossing American Rambouillet with Merinos in the early 1900s.-Characteristics:...



Askaniysky
Ukraine

Ukraine

Ukraine is a country in Eastern Europe. It has an area of 603,628 km², making it the second largest contiguous country on the European continent, after Russia...



Wool
Assaf

Assaf (sheep)

Assaf is a breed of domesticated sheep from Israel. It is the result of crossbreeding the Awassi and East Friesian. They are dual purpose breed and raised for their milk and meat.-History:...



---
---
Israel

Israel

The State of Israel is a parliamentary republic located in the Middle East, along the eastern shore of the Mediterranean Sea...



Meat, milk
Aussiedown

Aussiedown (sheep)

Aussiedown sheep are an Australian breed of sheep that was developed in the early 1990s using Southdown and Texel genetics. The resulting progeny have a maximum of 75% Southdown and Texel ancestry...



---
---
Australia

Australia

Australia , officially the Commonwealth of Australia, is a country in the Southern Hemisphere comprising the mainland of the Australian continent, the island of Tasmania, and numerous smaller islands in the Indian and Pacific Oceans. It is the world's sixth-largest country by total area...



Meat
Australian White

Australian White (sheep)

Australian White is a large, white breed of Australian meat sheep which was developed for Australian conditions. The Australian White sheep are a stabilised composite haired meat breed comprising White Dorper, Van Rooy, Poll Dorset and Texel genetics....



---
---
Australia

Australia

Australia , officially the Commonwealth of Australia, is a country in the Southern Hemisphere comprising the mainland of the Australian continent, the island of Tasmania, and numerous smaller islands in the Indian and Pacific Oceans. It is the world's sixth-largest country by total area...



Meat
Awassi
Ivesi, Baladi, Deiri, Syrian, Ausi, Nuami, Gezirieh
Syro-Arabian desert

Syrian Desert

The Syrian Desert , also known as the Syro-Arabian desert is a combination of steppe and true desert that is located in the northern Arabian Peninsula covering 200,000 square miles . also the desert is very rocky and flat...



Milk
B
Name
Picture
Alternate Name
Origin
Purpose
Balkhi

Balkhi (sheep)

The Balkhi is a domesticed breed of sheep found in Khyber-Pakhtunkhwa province of Pakistan and adjoining areas of Afghanistan. This breed is of the fat-tailed mutton type. Though this breed does grow wool, it is primarily raised for meat....



---
---
Pakistan

Pakistan

Pakistan , officially the Islamic Republic of Pakistan is a sovereign state in South Asia. It has a coastline along the Arabian Sea and the Gulf of Oman in the south and is bordered by Afghanistan and Iran in the west, India in the east and China in the far northeast. In the north, Tajikistan...



Meat
Baluchi

Baluchi (sheep)

The Baluchi is a domesticated breed of sheep originating from now southwest Pakistan, eastern Iran and southern Afghanistan. It is a member of the fat-tailed breed...



---
Araghi, Baluchi dumda, Farahani, Kermani, Khorasani, Khurasani, Mengali, Naeini, Neini, Shinwari, Taraki, Yazdi
Afghanistan, Iran, Pakistan
Wool
Barbados Blackbelly sheep

Barbados Blackbelly Sheep

The Barbados Blackbelly sheep is a breed of domestic sheep that was developed in the Caribbean. Although it is likely the Barbados Blackbelly has African ancestry, there seems to be clear evidence that the breed, as seen today, was developed by the people on the island from sheep brought by ships...



---
Caribbean

Caribbean

The Caribbean is a crescent-shaped group of islands more than 2,000 miles long separating the Gulf of Mexico and the Caribbean Sea, to the west and south, from the Atlantic Ocean, to the east and north...



Meat
Bardoka

Bardoka

The Bardoka or White Metohian sheep is a multi-purpose breed of domesticated sheep in Metohia. It is a popular sheep in Kosovo and partially in Montenegro, Serbia and Albania. This breed appears to adaptable to all environmental conditions especially low temperatures...



---
---
Serbia

Serbia

Serbia , officially the Republic of Serbia , is a landlocked country located at the crossroads of Central and Southeast Europe, covering the southern part of the Carpathian basin and the central part of the Balkans...



Meat, milk, research

Animal testing

Animal testing, also known as animal experimentation, animal research, and in vivo testing, is the use of non-human animals in experiments. Worldwide it is estimated that the number of vertebrate animals—from zebrafish to non-human primates—ranges from the tens of millions to more than 100 million...


, wool
Basco-Béarnais
Vasca Carranzana
Spain
Milk
Beltex

Beltex (sheep)

The Beltex is a breed of domestic sheep. A portmanteau of Belgian and Texel, the name reflects the breed's origin as an offshoot of Texel sheep from Belgium. In the late 1980s, Belgian Texels were exported to the United Kingdom, and it was there that it was primarily refined in to its modern form...



---
---
Belgium

Belgium

Belgium , officially the Kingdom of Belgium, is a federal state in Western Europe. It is a founding member of the European Union and hosts the EU's headquarters, and those of several other major international organisations such as NATO.Belgium is also a member of, or affiliated to, many...



Meat
Bentheimer Landschaf

Bentheimer Landschaf

The Bentheimer Landschaf is a breed of domesticated sheep found in Germany. This breed is a cross between German and Dutch heath sheep and a marsh sheep. It is primarily used for landscape preservation....



Landrace of Bentheim
Germany
Vegetation management
Bergamasca

Bergamasca (sheep)

The Bergamasca is a breed of domesticated sheep originating from northern Italy. This breed is the foundation of the other Lop-eared Alpine breeds and of Fabrianese, Pavullese, Perugian Lowland and Zakynthos. It is a triple purpose breed raised for their milk, meat and coarse wool...



---
Bergamasker, Gigante di Bergamo, Bergamacia
Italy
Meat, milk, wool
Berichon du Cher

Berichon du Cher

The Berichon du Cher is a domesticated breed of sheep in France. The original breed was crossed with a Merino in the late 18th century. More improvements were made in the 19th century with the introduction of the Dishley Leicester. They are used primarily as a terminal sire.-Characteristics:Both...



---
---
France

France

The French Republic , The French Republic , The French Republic , (commonly known as France , is a unitary semi-presidential republic in Western Europe with several overseas territories and islands located on other continents and in the Indian, Pacific, and Atlantic oceans. Metropolitan France...



Meat
Beulah Speckled Face

Beulah Speckled Face

The Beulah Speckled Face is a breed of domestic sheep originating in United Kingdom. Having been bred in Wales for more than a hundred years, a breed society was officially formed in 1958. This breed is most common in Eppynt, Llanafan, Abergwesyn and Llanwrtyd Wells, it is named for its distinctly...



---
---
Wales

Wales

Wales is a country that is part of the United Kingdom and the island of Great Britain, bordered by England to its east and the Atlantic Ocean and Irish Sea to its west. It has a population of three million, and a total area of 20,779 km²...



Meat
Bibrik

Bibrik

The Bibrik is a fat tailed, domesticated breed of meat sheep that is found in Baluchistan Province of Pakistan.-Characteristics:The Bibrik displays white with a black or brown head. The wool is course with a yield of and an average diamter of 41.5 micrometres.Both sexes are horned with rams having...



---
---
Pakistan
Meat
Biellese

Biellese

The Biellese is a breed of domesticated sheep originating from the Piedmont region of Italy. It is a carpet wool breed used for meat production and belongs to the Lop-eared Alpine group of sheep breeds....



---
Biellese-Bergamasca
Italy
Meat
Bizet

Bizet (sheep)

The Bizet is a domesticated breed of sheep originating from France. It grows wool but is primarily raised for meat. In 1952, the Bizet was introduced on the Kerguelen archipelago. It is utilized as food for the scientific station there.-Characteristics:...



---
---
France
Meat
Blackhead Persian

Blackhead Persian (sheep)

The Blackhead Persian is a fat-tailed breed of domestic sheep from Africa.The sheep is originally from Somaliland . The breed is also a type of hair sheep, meaning they do not grow wool and tolerate heat better than wooled breeds and are raised primarily for meat...



Swartkoppersie
South Africa

South Africa

The Republic of South Africa is a country in southern Africa. Located at the southern tip of Africa, it is divided into nine provinces, with of coastline on the Atlantic and Indian oceans...



Meat
Bleu du Maine

Bleu du Maine (sheep)

The Bleu du Maine is a breed of domestic sheep that originated in western France, in the region common to the departments of Maine-et-Loire, Mayenne and Sarthe...



Blauköpfiges Fleischschaf, Bazougers, Bluefaced Maine, Blue-headed Maine, Maine-Anjou, Maine à tête bleue, Maynne Blue
France
Meat
Bluefaced Leicester
---
United Kingdom

United Kingdom

The United Kingdom of Great Britain and Northern IrelandIn the United Kingdom and Dependencies, other languages have been officially recognised as legitimate autochthonous languages under the European Charter for Regional or Minority Languages...



Meat
Bond

Bond (sheep)

Bond sheep are an Australian sheep breed that was developed around 1909 near Lockhart, New South Wales by Thomas Bond when he mated Saxon-Peppin Merino ewes to stud Lincoln rams for primarily wool production. The resulting progeny was selected on the basis that they would be more suited to the...



---
Australia

Australia

Australia , officially the Commonwealth of Australia, is a country in the Southern Hemisphere comprising the mainland of the Australian continent, the island of Tasmania, and numerous smaller islands in the Indian and Pacific Oceans. It is the world's sixth-largest country by total area...



Wool
Border Leicester
---
England

England

England is a country that is part of the United Kingdom. It shares land borders with Scotland to the north and Wales to the west; the Irish Sea is to the north west, the Celtic Sea to the south west, with the North Sea to the east and the English Channel to the south separating it from continental...



Meat
Boreray

Boreray (sheep)

The Boreray is a breed of sheep originating on the St Kilda archipelago off the west coast of Scotland and surviving as a feral animal on one of the islands, Boreray. It is primarily a meat breed...



---
Boreray Blackface, Hebridean Blackface
Scotland

Scotland

Scotland is a country that is part of the United Kingdom. Occupying the northern third of the island of Great Britain, it shares a border with England to the south and is bounded by the North Sea to the east, the Atlantic Ocean to the north and west, and the North Channel and Irish Sea to the...



Meat
Bovska

Bovec sheep

The Bovec sheep is a breed of domesticated sheep found in Slovenia. This breed is raised primarily for milk. It is estimated that only 800 individuals of this breed still exist.-Characteristics:...



---
---
Slovenia

Slovenia

Slovenia , officially the Republic of Slovenia , is a country in Central and Southeastern Europe touching the Alps and bordering the Mediterranean. Slovenia borders Italy to the west, Croatia to the south and east, Hungary to the northeast, and Austria to the north, and also has a small portion of...



Milk
Braunes Bergschaf

Braunes Bergschaf

The Braunes Bergschaf is a breed of domesticated sheep found in Germany, Austria, Italy and Switzerland. This breed descended from the Tyrolean Steinschaf . The Braunes Bergschaf spend their summers roaming high alpine meadows and returning to the lowlands in the fall for shearing...



---
Brown Mountain sheep
Germany
Meat, vegetation management
Brazilian Somali

Somali sheep

The Somali sheep, occasionally known as the Berbera Blackhead, is a hair sheep native to Somalia. The animal is reared primarily for meat production and it is one of the major exports of the Somali economy.-Appearance:...



---
Berbera Blackhead
Somalia

Somalia

Somalia , officially the Somali Republic and formerly known as the Somali Democratic Republic under Socialist rule, is a country located in the Horn of Africa. Since the outbreak of the Somali Civil War in 1991 there has been no central government control over most of the country's territory...



Meat
Brillenschaf

Brillenschaf

The Brillenschaf is a domesticated breed of sheep that originates from Jezersko, Slovenia. It is extensively bred also in Germany and Austria. It is a member of the alpine mountain sheep breeds. It is a cross between the Landschaf with the Bergamasca and Paduaner Schaf...



Carinthian sheep, Seelaenderschaf, Spectacles Sheep
Slovenia
Meat
British Milk sheep

British Milk (sheep)

The British Milk Sheep is a breed of domesticated sheep developed by Lawrence Alderson in Wiltshire and Northumberland. It can now be found in the UK and Canada. The exact composition of this breed is debated. However, it is agreed that the breeds East Friesian, Bluefaced Leicester, Polled...



---
---
United Kingdom
Milk
Bündner Oberland

Bündner Oberländerschaf

The Bündner Oberländerschaf is a domesticated breed of sheep in Switzerland. As of 2007, there were less than 1,100 but the population is increasing and used primarily for vegetation management....



---
Graubünden, Grisons
Switzerland

Switzerland

Switzerland name of one of the Swiss cantons. ; ; ; or ), in its full name the Swiss Confederation , is a federal republic consisting of 26 cantons, with Bern as the seat of the federal authorities. The country is situated in Western Europe,Or Central Europe depending on the definition....



Vegetation management
C
Name
Picture
Alternate Name
Origin
Purpose
California Red

California Red (sheep)

The California Red is a breed of domestic sheep developed in the United States in the 1970s. It is so named because its lambs are born all red, and retain this color in their faces and limbs in to adulthood. Dr...



---
---
United States
Meat, wool
California Variegated Mutant
CVM, Romeldale/CVM
United States
Wool
Cameroon sheep

Cameroon (sheep)

The Cameroon is a domesticated breed of sheep from west Africa but has been exported to Europe. As of 2008, there were less than 650 but the population was increasing.-Characteristics:...



Kamerunská ovce
West Africa

West Africa

West Africa or Western Africa is the westernmost region of the African continent. Geopolitically, the UN definition of Western Africa includes the following 16 countries and an area of approximately 5 million square km:-Flags of West Africa:...



Meat
Campanian Barbary

Campanian Barbary

The Campanian Barbary is a domesticated breed of sheep found primarily in southern Italy. It a fat-tailed breed. The breed originated by crossing Tunisian Barbary with the local breed. The Campanian Barbary grows coarse to medium wool but is raised primarily for meat and...



---
---
Italy
Meat, milk
Canadian Arcott

Canadian Arcott

The Canadian Arcott is a breed of domestic sheep native to Canada. The latter half of its name is an acronym for the Animal Research Centre in Ottawa, where it was developed along with the Rideau Arcott. The Canadian Arcott is a synthesis of many breeds, but primarily the Ile de France and Suffolk....



---
---
Canada
Meat
Castlemilk Moorit

Castlemilk Moorit (sheep)

The Castlemilk Moorit is a rare breed of domestic sheep originating in Dumfriesshire in Scotland....



Castlemilk Shetland, Moorit Shetland
Scotland
Hobby

Hobby farm

A hobby farm is a smallholding or small farm that is maintained without expectation of being a primary source of income. Some are merely to provide some recreational land, and perhaps a few horses for the family's children...



Charmoise

Charmoise

The Charmoise is a domesticated breed of sheep originating in France. The breed was development in the late 18th century by crossing imported Romney sheep from United Kingdom to native hill sheep. The Charmoise is a meat breed. The population of this breed decreased from over 122,000 in 1993 to...



---
---
France
Meat
Charollais

Charollais (sheep)

The Charollais is a breed of domestic sheep originating in France. It has been exported internationally, and is commonly used in the U.K. as a sire to produce market lambs with purebred ewes and mules.-Characteristics:...



---
France
Meat
Cheviot

Cheviot sheep

The Cheviot is a breed of white faced sheep which gets its name from a range of hills in north Northumberland and the Scottish Borders. It is still common in this area of the United Kingdom, but also in north west Scotland, Wales and the south west of England as well as more rarely in Australia,...



---
Scotland
Meat, wool
Border Cheviot

Border Cheviot

The Border Cheviot, also known as the South Country Cheviot, is a breed of domesticated sheep from the UK. It is native to the Cheviot Hills between Scotland and England. Recognized as early as 1372, the breed is reported to have developed from sheep that swam ashore from shipwrecked Spanish ships...


Cheviot subtype
---
South Country Cheviot
United Kingdom
Meat
Brecknock Hill Cheviot

Brecknock Hill Cheviot

The Brecknock Hill Cheviot is a domesticated breed of sheep originating approximately 400 years ago from Wales. They are a result of crosses with Welsh Mountain, Cheviot and Leicster breeds. This breed is primarily raised for meat...



---
Brecon Cheviot, Sennybridge Cheviot
Wales
Meat
North Country Cheviot

North Country Cheviot

North Country Cheviot sheep are a type of Cheviot. They are bred predominantly in Scotland, but are also bred in other parts of the United Kingdom, including Northern Ireland. They are raised primarily for meat.-Origin:...



---
---
Scotland
Meat
Chios

Chios (sheep)

The Chios is a breed of domestic sheep with specific unknown origins. It is classified as a semi-fat tailed breed. The Chios are bred mainly for their milk production...



---
---
Island of Chios

Chios

Chios is the fifth largest of the Greek islands, situated in the Aegean Sea, seven kilometres off the Asia Minor coast. The island is separated from Turkey by the Chios Strait. The island is noted for its strong merchant shipping community, its unique mastic gum and its medieval villages...



Milk
Cholistani

Cholistani

The Cholistani is a breed of domestic sheep from Pakistan. Though the Cholistani grows wool, it is raised primarily for meat.- Characteristics :...



---
---
Pakistan
Meat
Churra
Spanish Churro
Spain
Meat, milk
Cikta

Cikta

The Cikta is a breed of domestic sheep from Hungary. In the 18th century, this breed was brought to Hungary by German settlers. This breed grows wool but is primarily raised for meat. The Cikta belong in the Mountain Group of sheep breeds....



---
---
Hungary

Hungary

Hungary , officially the Republic of Hungary , is a landlocked country in Central Europe. It is situated in the Carpathian Basin and is bordered by Slovakia to the north, Ukraine and Romania to the east, Serbia and Croatia to the south, Slovenia to the southwest and Austria to the west. The...



Meat
Cine Capari

Cine Capari

The Cine Capari is a domesticated breed of sheep originating from Aydin Province in Turkey. In 1998, there were 300 Cine Capari and the population was decreasing. The Cine Capari is a fat-tail breed...



---
---
Turkey
---
Clun Forest

Clun Forest (sheep)

The Clun Forest is a breed of domestic sheep originating from the area surrounding the Clun Forest in Shropshire. Similar to many of the British breeds of upland sheep, Clun Forest are hardy, adaptable, good foragers, and are long–lived. With sleek heads and wide pelvic structures, Clun...



---
England
Meat, milk, wool
Coburger Fuchsschaf

Coburger Fuchsschaf

The Coburger Fuchsschaf is a breed of domestic sheep from Germany. From the 19th century to the early 20th century, this breed was abundant. However, after World War II, the Coburger Fuchsschaf was nearly extinct...



---
Coburg Fox Sheep
Germany
Vegetation management
Columbia

Columbia (sheep)

The Columbia is one of the first breeds of sheep developed in the United States. The product of USDA and university research, it was intended to be an improved breed specially built for the Western ranges of the country . Beginning in 1912 in Laramie, Wyoming, Lincoln rams were crossed with...



---
United States
Wool
Comeback

Comeback (sheep)

The Comeback is a type of domestic sheep originating in Australia. This type of sheep results from crossbreds produced by British Longwool sheep and a Merinos being mated back to Merinos. This cross is made in order to achieve a finer, better style of wool. Comeback style wool is also produced by...



---
---
Australia
Meat, wool
Comisana

Comisana

The Comisana is a breed of domestic sheep from Italy and specifically Sicily. It is a composite breed from the 19th century to early 20th century of the local Maltese and Sicilian...



---
Lentinese, Red Head, Testa rossa, Faccia rossa
Italy
Milk
Coolalee

Coolalee (sheep)

The Coolalee is an Australian short wool, meat sheep breed, developed from an eight year breeding program commenced in 1968. The breed resulted from the crossing of the Wiltshire Horn, Suffolk, Hampshire Down, Poll Dorset, Lincoln and English Leicester sheep breeds.The first Coolalee rams became...



---
Australia
Meat
Coopworth
---
New Zealand
Meat, wool
Cormo

Cormo (sheep)

The Cormo is an Australian breed of sheep developed in Tasmania by crossing Corriedale rams with superfine Saxon Merino ewes in the early 1960s. The name Cormo is derived from the names of two of the parent breeds, Corriedale and Merino. The breed was fixed through intense selection criteria,...



---
Australia
Wool
Corriedale

Corriedale (sheep)

Corriedale sheep are a dual purpose breed, meaning they are used both in the production of wool and meat. The Corriedale is the oldest of all the crossbred breeds, a Merino-Lincoln cross developed almost simultaneously in Australia and New Zealand and first brought to the United States in 1914...



---
Australia
Meat, wool
Cotswold

Cotswold sheep

Cotswold sheep are a breed of domestic sheep originating in the Cotswold hills of the southern midlands of England. It is a dual-use breed providing both meat and wool...



---
United Kingdom
Meat, wool
Criollo

Criollo (sheep)

The Criollo is a breed of domestic sheep originating in the highlands of South and Central America. In the mid 16th Century, Spanish settlers brought the Churra with them. This is believed to be the ancestor of the modern day Criollo...



---
Creole, Chilludo, Colombian, Lucero, Pampa, Tarhumara, Uruguayan, Venezuelan
Central America

Central America

Central America is the central geographic region of the Americas. It is the southernmost, isthmian portion of the North American continent, which connects with South America on the southeast. When considered part of the unified continental model, it is considered a subcontinent...



Meat
Curkana
---
---
Romania

Romania

Romania is a country located at the crossroads of Central and Southeastern Europe, on the Lower Danube, within and outside the Carpathian arch, bordering on the Black Sea...



Milk, Wool
D
Name
Picture
Alternate Name
Origin
Purpose
Dala Fur sheep

Dala Fur sheep

The Dala-fur is a breed of domestic sheep originating in Sweden. The Dala-fur is one of several sheep breeds that are remnents of the old Swedish landrace breed, and is one of the Northern European short-tailed sheep breeds....



---
---
Sweden

Sweden

Sweden , officially the Kingdom of Sweden , is a Nordic country on the Scandinavian Peninsula in Northern Europe. Sweden borders with Norway and Finland and is connected to Denmark by a bridge-tunnel across the Öresund....



---
Dalesbred

Dalesbred

The Dalesbred is a breed of domestic sheep originating in the United Kingdom. Derived from the Swaledale and Scottish Blackface breeds, the Dalesbred is a hill breed most common around Upper Wharfedale and the Central Pennines in England...



---
United Kingdom
Meat, wool
Dagliç

Dagliç (sheep)

The Dagliç is a breed of sheep found primarily in western Anatolia in Turkey. They are a carpet wool breed used for both meat and dairy production. Sheep of this breed typically have black spots on the head and legs, the rams are usually horned and the ewes are polled...



---
---
Turkey
Meat, milk
Damani

Damani (sheep)

The Damani is a thin tail, meat and wool breed which is found in the Dera Ismail Khan district and part of Bannu district in NWF Province of Pakistan.-Characteristics:...



---
---
Pakistan
Meat, wool
Damara

Damara (sheep)

The Damara is a breed of domestic sheep and was originally from Eastern Asia and Egypt. The breed then moved down to the present day Namibia and Angola. For many years the sheep were in an isolated region of Namibia and thus remained free of influence from other breeds...



---
---
Namibia

Namibia

Namibia, officially the Republic of Namibia , is a country in southern Africa whose western border is the Atlantic Ocean. It shares land borders with Angola and Zambia to the north, Botswana to the east and South Africa to the south and east. It gained independence from South Africa on 21 March...



Meat
Danish Landrace

Danish Landrace (sheep)

The Danish Landrace is a breed of sheep endemic to Jutland in Denmark. The breed, which had a population of approximately 370 in 2000, is descended from Heath sheep and Merino, with early specimen interbreeding in the 19th century with Leicester and Oxford Down...



Landfår, Klitfår
Denmark

Denmark

Denmark is a Scandinavian country in Northern Europe. The countries of Denmark and Greenland, as well as the Faroe Islands, constitute the Kingdom of Denmark . It is the southernmost of the Nordic countries, southwest of Sweden and south of Norway, and bordered to the south by Germany. Denmark...



Wool
Debouillet

Debouillet (sheep)

The Debouillet is a breed of domestic sheep originating in the U.S. state of New Mexico. It was developed in the 1920's through crossing Rambouillet and Delaine Merino sheep, and the breed's name is a portmanteau of these two ancestors...



---
---
United States
Wool
Derbyshire Gritstone

Derbyshire Gritstone

The Derbyshire Gritstone is a breed of domestic sheep native to the United Kingdom. A hardy hill sheep, it is also one of the oldest British breeds. The Gritstone is generally found around Derbyshire, Cheshire, Yorkshire, and Lancashire. They are large, polled sheep with black and white faces...



---
---
United Kingdom
Meat
Deutsches Bergschaf

Deutsches Bergschaf

The Deutsches Bergschaf is a breed of domestic sheep native to Germany. The breed was developed by breeding local sheep with Bergamasca and Tyrol Mountain breeds. It is a dual-purpose breed ....



---
Weißes Bergschaf, White Mountain, Deutsches Weisses Bergschaf
Germany
Meat, wool
Devon Closewool

Devon Closewool

The Devon Closewool is a breed of the domestic sheep originating in the Exmoor region of southwest England. This breed is raised primarily for meat. It was developed in the late 19th century by crossing native Exmoor ewes with a Devon Longwool ram. A breed society was formed in 1923, and the first...



---
---
United Kingdom
Meat
Djallonke
---
Devon Longwoolled

Devon Longwoolled

The Devon Longwooled is a breed of domestic sheep from the United Kingdom. This breed is raised for meat and long wool. They were developed by crossing Leicester Longwool with Southam Nott and Bampton Nott....



---
Devon Longwool
United Kingdom
Meat, wool
Dohne Merino

Dohne Merino

The Dohne Merino is a breed of domestic sheep from South Africa. The breed was started in the late 1930s by the South African Department of Agriculture. It was developed by interbreeding Peppin-style Merino ewes and German Mutton Merino rams...



---
Dohne, El Dohne Merino
South Africa
Meat, wool
Dorper
---
South Africa
Meat
Dorset

Dorset (sheep)

The Dorset or Dorset Horned breed of sheep is known mostly for its prolific lambing. It has been known to produce two lambing seasons per year: bred in May for lambs finished by the holidays, and bred again immediately after the first lambing to produce again in March or April...



Dorset Horn, Dorset Horned
United States
Meat
Dorset Down

Dorset Down

The Dorset Down is a breed of sheep native to the Dorset Downs region of England. It originated in the early 19th century from crosses of local and Hampshire ewes with Southdown rams. The breed is not closely related to the Dorset , which is a white-faced sheep.Dorset Downs are medium-sized, robust...



---
United Kingdom
Meat
Drysdale
---
New Zealand
Wool
E
Name
Picture
Alternate Name
Origin
Purpose
Easycare

Easycare

Easycare is a breed of sheep developed in the 1960s in the United Kingdom for meat. It was derived from the Nelson Welsh Mountain which were crossed twice to the Wiltshire Horn, which is a wool-shedding breed. The progeny were selected for the following characteristics: wool shedding; no horns;...



---
---
United Kingdom
Meat
East Friesian
Ostfriesisches Milchschaf
Germany
Milk
Elliottdale

Elliottdale

The Eliottdale is a breed of domestic sheep originating from Tasmania. It is a carpet wool breed raised primarily for its wool. Due to the amount of wool grown by the Eliottdale, it needs to be shorn twice per year.- Characteristics :...



---
---
Tasmania

Tasmania

Tasmania is an Australian island and state. It is south of the continent, separated by Bass Strait. The state includes the island of Tasmania—the 26th largest island in the world—and the surrounding islands. The state has a population of 507,626 , of whom almost half reside in the greater Hobart...



Wool
English Leicester
Bakewell Leicester, Dishley Leicester, Improved Leicester, Leicester, Leicester Longwool, New Leicester
England
Meat
Estonian Ruhnu

Estonian Ruhnu sheep

Estonian Ruhnu sheep are a breed of native domesticated sheep found on the small Estonian island of Ruhnu in the Gulf of Riga in the Baltic Sea....



---
Eesti maalammas
Estonia

Estonia

Estonia , officially the Republic of Estonia , is a state in the Baltic region of Northern Europe. It is bordered to the north by the Gulf of Finland, to the west by the Baltic Sea, to the south by Latvia , and to the east by Lake Peipsi and the Russian Federation . Across the Baltic Sea lies...



Meat, wool
Exmoor Horn
---
Exmoor

Exmoor

Exmoor is an area of hilly open moorland in west Somerset and north Devon in South West England, named after the main river that flows out of the district, the River Exe. The moor has given its name to a National Park, which includes the Brendon Hills, the East Lyn Valley, the Vale of Porlock and ...



Meat
F
Name
Picture
Alternate Name
Origin
Purpose
Fabrianese

Fabrianese

Fabrianese is a breed of domestic sheep originating in Italy. The Fabrianese grows coarse wool and is raised primarily for meat and milk. It originated by crossing local Apennine to Bergamasca.- Characteristics :...



---
---
Italy
Meat, milk
Faroes

Faroes (sheep)

The Faroes is a breed of domestic sheep native to the Faroe Islands. One of the Northern European short-tailed sheep, it is a small, very hardy breed. Faroes ewes weigh around at maturity, and rams are . Rams are horned and ewes are usually polled, and the breed occurs naturally in many different...



---
Faroe Islands
Meat, wool
Fat-tailed sheep

Fat-tailed sheep

The fat-tailed sheep is a general type of domestic sheep known for their distinctive large tails and hindquarters. Fat-tailed sheep breeds comprise approximately 25% of the world sheep population, and are commonly found in northern parts of Africa, the Middle East, Pakistan, North India, Western...


(group of breeds)
---
Africa

Africa

Africa is the world's second largest and second most populous continent, after Asia. At about 30.2 million km² including adjacent islands, it covers 6% of the Earth's total surface area and 20.4% of the total land area...


, Middle east

Middle East

The Middle East is a region that encompasses Western Asia and Northern Africa. It is often used as a synonym for Near East, in opposition to Far East...


, Near East

Near East

The Near East is a geographical term that covers different countries for geographers, archeologists, and historians, on the one hand, and for political scientists, economists, and journalists, on the other...


, Pakistan

Pakistan

Pakistan , officially the Islamic Republic of Pakistan is a sovereign state in South Asia. It has a coastline along the Arabian Sea and the Gulf of Oman in the south and is bordered by Afghanistan and Iran in the west, India in the east and China in the far northeast. In the north, Tajikistan...


, Northern India

India

India , officially the Republic of India , is a country in South Asia. It is the seventh-largest country by geographical area, the second-most populous country with over 1.2 billion people, and the most populous democracy in the world...


, Western China

China

Chinese civilization may refer to:* China for more general discussion of the country.* Chinese culture* Greater China, the transnational community of ethnic Chinese.* History of China* Sinosphere, the area historically affected by Chinese culture...


, Mongolia

Mongolia

Mongolia is a landlocked country in East and Central Asia. It is bordered by Russia to the north and China to the south, east and west. Although Mongolia does not share a border with Kazakhstan, its western-most point is only from Kazakhstan's eastern tip. Ulan Bator, the capital and largest...



Meat
Finnsheep

Finnsheep

The Finnish Landrace or Finnsheep is a breed of domestic sheep which has a high incidence of multiple births – it is common for a ewe to have three, four, or even five lambs at once. In North America there have been several instances of births of seven lambs, and the record in Finland is nine...



Finnish Landrace
Finland

Finland

Finland , officially the Republic of Finland, is a Nordic country situated in the Fennoscandian region of Northern Europe. It is bordered by Sweden in the west, Norway in the north and Russia in the east, while Estonia lies to its south across the Gulf of Finland.Around 5.4 million people reside...



Meat
Flanders Milk sheep
---
---
---
---
French Alpine sheep
---
---
---
---
Friesian Milk sheep
---
---
---
---
Fuglestad
---
---
---
---
G
Name
Picture
Alternate Name
Origin
Purpose
Gaddi
Northern Breeds
India

India

India , officially the Republic of India , is a country in South Asia. It is the seventh-largest country by geographical area, the second-most populous country with over 1.2 billion people, and the most populous democracy in the world...



Meat and Wool.
Galway

Galway (sheep)

The Galway is a breed of domestic sheep originating in Galway, in the west of Ireland. They are a large polled white-faced sheep, having a characteristic bob of wool on the head and wool on the legs. The outer lips are of a dark colour and dark spots on the ears are common. The average litter size...



---
---
Ireland
Meat
Ganjia
---
---
---
---
Gansu Alpine Fine-wool
---
---
---
---
Gentile di Puglia
---
---
---
---
Geschecktes Bergschaf
---
---
---
---
Ghezel
Red karaman, Gezel
North West of Iran, Southern Azerbaijan
Meat, wool
Gotland

Gotland (sheep)

The Gotland, also called the Gotland Pelt , is a breed of domestic sheep named for the Swedish island of Gotland. They are one of the Northern European short-tailed sheep breeds, and are thought to be the product of crossbreeding between the native landrace of the island — called the Gute — with...



Gotland pelt
Sweden
Meat
Gökçeada
---
---
---
---
Greyface Dartmoor

Greyface Dartmoor

The Greyface Dartmoor is a breed of domestic sheep originating in the Dartmoor region of the United Kingdom. A large, long-wooled breed, the Greyface Dartmoor is a rare breed known for its distinctive facial markings. Its fleece can weight , and today the breed is primarily raised for...



---
United Kingdom
Meat
Grey Troender

Grey Troender sheep

The Norwegian Grey Troender is an endangered breed of domesticated sheep that originated from crossbreeding native landrace sheep with the now extinct Tautra sheep in the late 19th century...



---
Grå trøndersau
Norway

Norway

Norway , officially the Kingdom of Norway, is a Nordic unitary constitutional monarchy whose territory comprises the western portion of the Scandinavian Peninsula, Jan Mayen, and the Arctic archipelago of Svalbard and Bouvet Island. Norway has a total area of and a population of about 4.9 million...



Wool
Gromark

Gromark (sheep)

Gromark sheep are a large-framed, plain bodied dual-purpose breed of sheep that were under development in 1965 by Arthur C. Godlee at "Marengo", Tamworth, New South Wales...



---
Australia
Meat, wool
Groningen Milk sheep
---
---
---
---
Gulf Coast Native

Gulf Coast Native

The Gulf Coast Native is a breed of sheep native to the U.S. states bordering the Gulf Coast. Also occasionally known as the Louisiana Scrub, Pineywoods Native or simply Gulf Coast sheep, the breed is a mix of many of the sheep varieties which populated the Southern United States during the...



---
---
---
---
Guirra
---
---
Mediterranean coast of Spain
Meat
Gute

Gute (sheep)

The Gute is a landrace breed of domestic sheep native to the Swedish island of Gotland. The Gute is the most primitive breed native to Sweden, and is one of the Northern European short-tailed sheep. The modern Gotland breed is its direct descendant...



---
Sweden
Genetic conservation
H
Name
Picture
Alternate Name
Origin
Purpose
Hampshire

Hampshire sheep

The Hampshire or Hampshire Down is a breed of sheep which originated around 1829 from a cross of Southdowns with the Old Hampshire breed, the Wiltshire Horn, and the Berkshire Nott, all horned, white-faced sheep — these were native to the open, untilled, hilly stretch of land known as the Hampshire...



Hampshire Down
United Kingdom
Meat
Han
---
---
---
---
Langzhou Large-tail HanHan subtype
---
---
---
---
Small-tail Han
---
---
---
---
Hanzhong
---
---
China
---
Harnai
---
---
---
Hasht Nagri
---
---
---
---
Hazaragie
---
---
---
---
Hebridean

Hebridean (sheep)

The Hebridean is a breed of small black sheep from Scotland, similar to other members of the Northern European short-tailed sheep group, having a short, triangular tail. They often have two pairs of horns...



St Kilda sheep
Scotland
Vegetation management
Heidschnucke

Heidschnucke

The Heidschnucke is a group of three types of moorland sheep from northern Germany. Like a number of other types from Scandinavia and Great Britain, they are Northern European short-tailed sheep...



Family of sheep including
the 3 breeds below
Germany
Meat, vegetation management, wool
Graue gehörnte HeidschnuckeHeidschnucke subtype
Grey Horned Heath
Germany
Meat, vegetation management, wool
Moorschnucke
White Polled Heath

White Polled Heath

The White Polled Heath is a small breed and landrace of North German sheep and belongs to the Heidschnucke family, part of the Northern European short-tailed sheep group. However, unlike the other Heidschnucke types, it is entirely white and polled .- Origin :The White Polled Heath originated from...



Germany
Meat, vegetation management, wool
Weiße gehörnte Heidschnucke
---
White Horned Heath
Germany
Meat, vegetation management, wool
Herdwick
---
England
Meat
Herik
---
---
---
---
Hill Radnor

Hill Radnor

The Hill Radnor is a breed of domestic sheep originating in the United Kingdom. Classified as one of the mountain breeds, it is most common from Powys down to southwest Herefordshire and Monmouthshire. The Hill Radnor has a dense white fleece, with a light brown face and legs. Ewes are polled and...



---
---
Wales
Meat
Hog Island

Hog Island sheep

Hog Island sheep are a breed of sheep that was developed from feral animals on Virginia's Hog Island beginning in the 17th century. During the 1930s and 1940s, storm conditions forced the island's residents to evacuate, leaving some sheep behind...



---
United States
Wool
Hu
---
---
---
---
I
Name
Picture
Alternate Name
Origin
Purpose
Icelandic sheep

Icelandic sheep

The Icelandic sheep is a breed of domestic sheep. The Icelandic breed is one of the Northern European short-tailed sheep, which exhibit a fluke-shaped, naturally short tail. The Icelandic is a mid-sized breed, generally short legged and stocky, with face and legs free of wool...



---
Iceland

Iceland

Iceland , described as the Republic of Iceland, is a Nordic and European island country in the North Atlantic Ocean, on the Mid-Atlantic Ridge. Iceland also refers to the main island of the country, which contains almost all the population and almost all the land area. The country has a population...



Meat, milk, wool
Inner Mongolian wool
---
---
---
---
Île-de-France

Île-de-France (sheep)

The Île-de-France is a breed of sheep native to the French region of Île-de-France near Paris. It was first developed at a French veterinary college in the 1830s through crosses of Dishley Leicester and Rambouillet, and was originally known as the Dishley Merino...



---
Dishley Merino
France
Meat
Iranian Red sheep

Iranian Red sheep

Iranian red sheep or Armenian Mouflon is an critically endangered species of mouflon endemic to Armenia, Iran and Nakhchivan Autonomous Republic of Azerbaijan.-Habitat:...



---
Oriental Mouflon
Iran
Meat
Istrian milk
---
---
---
---
J
Name
Picture
Alternate Name
Origin
Purpose
Jacob

Jacob (sheep)

The Jacob sheep is a rare breed of small, piebald , polycerate sheep. Jacobs may have from two to six horns, but most commonly have four. The most common color is black and white, but they may also be blue and white or lilac and white in coloring. Jacobs are usually raised for their wool, meat,...



---
United Kingdom
Hides, meat, pet

Pet

A pet is a household animal kept for companionship and a person's enjoyment, as opposed to wild animals or to livestock, laboratory animals, working animals or sport animals, which are kept for economic or productive reasons. The most popular pets are noted for their loyal or playful...


, wool
Jezerskosolcavska
---
---
---
---
Juraschaf
---
---
---
---
K
Name
Picture
Alternate Name
Origin
Purpose
Kachhi
---
---
---
---
Kajli
---
---
---
---
Kamakuyruk
---
---
---
---
Karakul
---
Central Asia

Central Asia

Central Asia is a core region of the Asian continent from the Caspian Sea in the west, China in the east, Afghanistan in the south, and Russia in the north...



Hides, meat, milk, wool
Karayaka

Karayaka

The Karayaka is a breed of domestic sheep from Turkey. It is a dual purpose breed producing meat and milk. The wool is used in carpets. The Karayaka is classified as a long thin-tailed breed.- Characteristics :...



---
Turkey

Turkey

Turkey , known officially as the Republic of Turkey , is a Eurasian country located in Western Asia and in East Thrace in Southeastern Europe...



Meat, milk, wool
Katahdin

Katahdin (sheep)

The Katahdin is a breed of domestic sheep developed in Maine, USA, mostly in the second half of the 20th century. This breed was originated by Michael Piel who after reading an article in the February 1956 National Geographic imported selected St. Croix sheep chosen by Dr...



---
---
United States
Meat
Kempen Heath
---
---
Netherlands
---
Kerry Hill

Kerry Hill (sheep)

The Kerry Hill is a breed of domestic sheep originating in the county of Powys in Wales. It derives its name from the village of Kerry , near Newtown. Kerry Hill sheep have a distinctive and unique coloration, with a white face bearing black markings around the mouth, ears, and eyes. Both rams...



---
Wales
Meat
Kivircik
---
---
---
---
Kooka

Kooka

The Kooka is a thin tailed, sheep found in Pakistan.Kooka have a white body coat and a black face. The have a compact body and produce an average of one liter of milk each day....



---
---
Pakistan

Pakistan

Pakistan , officially the Islamic Republic of Pakistan is a sovereign state in South Asia. It has a coastline along the Arabian Sea and the Gulf of Oman in the south and is bordered by Afghanistan and Iran in the west, India in the east and China in the far northeast. In the north, Tajikistan...



Milk
Krainer Steinschaf
---
---
---
---
Kashmir Merino
---
---
---
Wool
Karagouniko
---
---
---
---
L
Name
Picture
Alternate Name
Origin
Purpose
Lacaune

Lacaune (sheep)

The Lacaune is a breed of domestic sheep originating near Lacaune in southern France. The Lacaune is the most widely used dairying sheep breed in France, with a population of about 800,000 ewes...



---
France
Milk
Landais
---
---
---
---
Langhe
---
---
---
---
Lati
---
---
---
---
Latxa

Latxa

The Latxa is a breed of domestic sheep native to the Basque Country of Spain. Mostly contained within the provinces of Biscay, Gipuzkoa and Navarre, Latxa are dairy sheep whose unpasteurized milk is used to produce Idiazábal and Roncal cheeses. There are two sub-types of the breed, a dark-faced...



---
Spain

Spain

Spain , officially the Kingdom of Spain languages]] under the European Charter for Regional or Minority Languages. In each of these, Spain's official name is as follows:;;;;;;), is a country and member state of the European Union located in southwestern Europe on the Iberian Peninsula...



Milk
Leineschaf
---
Germany

Germany

Germany , officially the Federal Republic of Germany , is a federal parliamentary republic in Europe. The country consists of 16 states while the capital and largest city is Berlin. Germany covers an area of 357,021 km2 and has a largely temperate seasonal climate...



Wool, Meat
Lincoln

Lincoln (sheep)

The Lincoln, sometimes called the Lincoln Longwool, is a breed of sheep from England. The Lincoln is the largest British sheep, developed specifically to produce the heaviest, longest and most lustrous fleece of any breed in the world. Great numbers were exported to many countries to improve the...



Lincoln Longwool
England
Meat, wool
Lithuanian Black-headed
---
---
Lithuania

Lithuania

Lithuania , officially the Republic of Lithuania is a country in Northern Europe, the biggest of the three Baltic states. It is situated along the southeastern shore of the Baltic Sea, whereby to the west lie Sweden and Denmark...



Meat, wool
Llanwenog

Llanwenog (sheep)

The Llanwenog is a breed of domestic sheep originating in Wales. It was developed in the 19th century from the Llanllwni, Shropshire, Welsh Mountain, and Clun Forest breeds. The Llanwenog's native locale is the Teifi Valley, in western Wales, but it has since spread in to other areas. The breed...



---
---
Wales
Meat
Lleyn

Lleyn (sheep)

Lleyn sheep are a breed of sheep from the Llŷn peninsula , in Gwynedd, north-west Wales.They are bred for prolificacy, good mothering, quiet in nature, high milk yield and excellent for white wool. They are suited to both upland and lowland grazing....



---
Wales
Meat
Lohi

Lohi sheep

The Lohi sheep is found in southern Punjab in Pakistan. It is used for its carpet quality wool and meat production. The body is white and the head is usually tan, black or brown....



---
---
Pakistan
Wool
Lonk
---
Improved Haslingden
England
Meat, wool
Luzein sheep
---
---
---
---
M
Name
Picture
Alternate Name
Origin
Purpose
Maltese
---
---
Malta
---
Manchega
---
---
---
---
Manech
---
---
---
---
Marwari

Marwari

Marwari may refer to:* Marwar, a region in Rajasthan, India* Marwari language, a language of the Marwar region* Marwaris, people from the Marwar region* Muslim Marwaris, Muslim people from the Marwar region living in Karachi Pakistan...


,(marwadi)
wool

Wool

Wool is the textile fiber obtained from sheep and certain other animals, including cashmere from goats, mohair from goats, qiviut from muskoxen, vicuña, alpaca, camel from animals in the camel family, and angora from rabbits....



meat
Found in India
Manx Loaghtan

Manx Loaghtan

The Manx Loaghtan is a breed of sheep native to the Isle of Man. It is sometimes spelled as Loaghtyn or Loghtan. It is characterized by a dark brown wool and usually having four or occasionally six horns....



Loaghtyn, Loghtan
Isle of Man

Isle of Man

The Isle of Man , otherwise known simply as Mann , is a self-governing British Crown Dependency, located in the Irish Sea between the islands of Great Britain and Ireland, within the British Isles. The head of state is Queen Elizabeth II, who holds the title of Lord of Mann. The Lord of Mann is...



Wool
Masai
---
---
---
---
Massese sheep
---
---
---
---
Meatmaster

Meatmaster (sheep)

The Meatmaster is a breed of domestic sheep native to South Africa. Bred in the early 1990s from various hair sheep breeds, the Meatmaster was created with the goal of improving the meat characteristics of African fat-tailed sheep breeds in mind...



---
South Africa
Meat
Mehraban

Mehraban (sheep)

These sheep originated in the western province Hamadan, in Iran where it is the predominant breed. It is raised primarily for meat production. There is approximately 3 million head....



---
---
Iran
Meat
Merinizzata Italiana
---
---
---
---
Merino

Merino

The Merino is an economically influential breed of sheep prized for its wool. Merinos are regarded as having some of the finest and softest wool of any sheep...



---
Spain
Meat, wool
Argentine MerinoMerino subtype
---
---
---
---
Arles Merino
---
---
---
---
Booroola Merino
---
---
Australia
Research, wool
Delaine Merino

Delaine Merino

The Delaine Merino is a type of Merino sheep predominant in North America. It has fewer skin wrinkles than some types of Merino, but still has a fine, oily fleece that extends through the legs. They are hardy and long–lived, with an ability to thrive on the arid ranges of the Southwest United...



---
---
United States
Wool
Fonthill Merino
---
---
---
---
Karacabey Merino
---
---
---
---
Medium-wool Merino
---
---
---
---
Merinofleischschaf
---
---
---
---
Merinolandschaf
---
---
---
---
Merino Longwool
---
---
---
---
Poll Merino

Poll Merino

The Poll Merino is a subtype of the Australian Merino breed of domestic sheep, without horns, that was developed in Australia.-Characteristics:...



---
Australia
Meat, wool
South African Merino
---
---
---
---
South African Meat Merino

South African Meat Merino

The South African Meat Merino or SAMM is a wool and meat sheep originating in South Africa, but now found throughout the world.The SAMM is derived from Deutsche Fleisch Merino animals imported into South Africa from Europe in 1932, to improve the quality of wool and meat from sheep in South Africa...



SAMM
South Africa

South Africa

The Republic of South Africa is a country in southern Africa. Located at the southern tip of Africa, it is divided into nine provinces, with of coastline on the Atlantic and Indian oceans...



Meat, wool
Strong Wool Merino
---
---
---
---
Ming Black
---
---
---
---
Moghani
---
---
---
---
Montadale
---
---
United States
Meat, wool
Morada Nova

Morada Nova (sheep)

Morada Nova or Brazilian Woolless is the name of a breed of domestic sheep originating in Ceará, states of Brazil, located in the northeastern part of the country, on the Atlantic coast.This breed is primarily raised for meat.-Characteristics:...



---
Brazilian Woolless
Brazil

Brazil

Brazil , officially the Federative Republic of Brazil , is the largest country in South America. It is the world's fifth largest country, both by geographical area and by population with over 192 million people...



Meat
Moles
---
---
---
---
N
Name
Picture
Alternate Name
Origin
Purpose
Najdi

Najdi (sheep)

The Najdi or Nejdi is a breed of domestic sheep native to the Najd region of the Arabian Peninsula. Though it is primarily raised in Saudi Arabia, Nadji sheep are also present in Kuwait, Jordan, Oman, and Iraq....



Nejdi
Saudi Arabia
Meat, hobby
Nali

Nali

Nalî also known as Mullah Xidir Ehmed Şawaysî Mîkayalî Nalî also known as Mullah Xidir Ehmed Şawaysî Mîkayalî Nalî also known as Mullah Xidir Ehmed Şawaysî Mîkayalî (1800-1873 in Istanbul, Turkey, was a Kurdish polymath, who is considered to be one of the greatest Kurdish poet in Kurdish...



---
Western India
India

India

India , officially the Republic of India , is a country in South Asia. It is the seventh-largest country by geographical area, the second-most populous country with over 1.2 billion people, and the most populous democracy in the world...



Wool
Navajo-Churro sheep

Navajo-Churro sheep

The Navajo-Churro, or Churro for short, is a breed of domestic sheep originating with the Spanish Churra sheep obtained by the Navajo Indian tribe. The breed is renowned for its hardiness and adaptability to extremes of climate. Its wool consists of a protective topcoat and soft undercoat...



---
United States
Wool
Newfoundland

Newfoundland sheep

The Newfoundland, also called the Newfoundland Local, is a breed of sheep native to Newfoundland.The islands of Newfoundland are mainly supported through fisheries, but a persistent population of sheep has been present since the sixteenth and seventeenth centuries, and a native landrace has...



---
Newfoundland Local
Canada
---
Nellore
---
---
---
---
Nolana sheep
---
---
---
---
Norfolk Horn

Norfolk Horn (sheep)

The Norfolk Horn is one of the British black-faced sheep breeds. It differs from other black-faced breeds which are mainly found in high-rainfall upland areas, and from most other modern lowland British sheep breeds in being lightly built and very hardy...



Blackface Norfolk Horned, Norfolk Horned, Old Norfolk, Old Norfolk Horned
United Kingdom
Meat
North Ronaldsay
Orkney
Scotland
Wool
Northern European short-tailed sheep

Northern European short-tailed sheep

Northern European short-tailed sheep are a group of sheep breeds and landraces from the British Isles, Scandinavia, and the area around the Baltic. They are thought to be derived from the first sheep brought to Europe by early farmers...


(group of breeds)
---
British Isles

British Isles

The British Isles are a group of islands off the northwest coast of continental Europe that include the islands of Great Britain and Ireland and over six thousand smaller isles. There are two sovereign states located on the islands: the United Kingdom of Great Britain and Northern Ireland and...


, Scandinavia

Scandinavia

Scandinavia is a cultural, historical and ethno-linguistic region in northern Europe that includes the three kingdoms of Denmark, Norway and Sweden, characterized by their common ethno-cultural heritage and language. Modern Norway and Sweden proper are situated on the Scandinavian Peninsula,...


, Germany

Germany

Germany , officially the Federal Republic of Germany , is a federal parliamentary republic in Europe. The country consists of 16 states while the capital and largest city is Berlin. Germany covers an area of 357,021 km2 and has a largely temperate seasonal climate...


, Russia

Russia

Russia or , officially known as both Russia and the Russian Federation , is a country in northern Eurasia. It is a federal semi-presidential republic, comprising 83 federal subjects...



Meat, milk, wool
Norwegian Fur
---
---
---
---
O
Name
Picture
Alternate Name
Origin
Purpose
Ossimi
---
---
---
---
Ouessant

Ouessant (sheep)

The Ouessant is a breed of domestic sheep from the island of Ouessant off the coast of Brittany, France. It is one of the Northern European short-tailed sheep breeds, together with several other types from Great Britain, Scandinavia and Germany. Also occasionally called the Breton Dwarf, it is...



Ushant, Breton Island Dwarf
France
Hobby, wool
Oula
---
---
---
---
Oxford

Oxford sheep

Oxford sheep is an English breed developed in the 1830s by crossing the Cotswold with a forerunner of the Hampshire, and using the resulting cross-breeds to form the basis of the present-day breed...



Oxford Down
United Kingdom
Meat
P
Name
Picture
Alternate Name
Origin
Purpose
Pag Island
---
---
---
---
Pagliarola
---
---
---
---
Panama

Panama (sheep)

The Panama is a breed of domestic sheep native to the United States. Thought its name is identical to the country of Panama, the breed was in fact named for the Panama-Pacific International Exposition where it was shown early on in its history....



---
---
United States
Meat
Pedi Sheep
---
---
---
---
Pelibüey

Pelibüey (sheep)

The Pelibüey is a breed of domestic sheep native to the Caribbean, Mexico, South America. The Pelibüey is a breed of hair sheep, meaning they do not generally grow wool. This adaptation makes them especially useful for tropical environments where heavily-wooled sheep do not thrive...



Cubano Rojo
Caribbean

Caribbean

The Caribbean is a crescent-shaped group of islands more than 2,000 miles long separating the Gulf of Mexico and the Caribbean Sea, to the west and south, from the Atlantic Ocean, to the east and north...


, Mexico

Mexico

The United Mexican States , commonly known as Mexico , is a federal constitutional republic in North America. It is bordered on the north by the United States; on the south and west by the Pacific Ocean; on the southeast by Guatemala, Belize, and the Caribbean Sea; and on the east by the Gulf of...


, South America

South America

South America is a continent situated in the Western Hemisphere, mostly in the Southern Hemisphere, with a relatively small portion in the Northern Hemisphere. The continent is also considered a subcontinent of the Americas. It is bordered on the west by the Pacific Ocean and on the north and east...



Meat
Perendale
---
---
New Zealand
Meat
Pinzirita
---
---
---
---
Pitt Island
---
---
Chatham Islands

Chatham Islands

The Chatham Islands are an archipelago and New Zealand territory in the Pacific Ocean consisting of about ten islands within a radius, the largest of which are Chatham Island and Pitt Island. Their name in the indigenous language, Moriori, means Misty Sun...


, New Zealand
Wool
Polwarth

Polwarth (sheep)

Polwarth is a breed of sheep that was developed in Victoria during 1880. They were of one quarter Lincoln and three quarters Merino bloodlines. They are large, predominantly polled sheep with long, soft, quite fine wool and produce good meat carcases...



---
---
Australia
Meat, wool
Polypay

Polypay (sheep)

The Polypay sheep breed is a white, medium sized sheep which was developed in the 1960s at the U.S. Sheep Experiment Station in Dubois, Idaho. In general, Polypay sheep are noted for being a highly prolific, dual-purpose breed.-Breed goals:...



---
---
United States
Meat, wool
Portland

Portland (sheep)

The Portland is a sheep breed that takes its name from the Isle of Portland. This breed is raised primarily for meat.-History:Once common all over Dorset, the breed was once of the one rarest in Britain and is still at risk. In the 1970s, it was nearly extinct altogether, but has now recovered...



---
---
England
Meat
Priangan

Priangan (sheep)

The Priangan is a breed of sheep found in west Java, Indonesia. The breed is used primarily for ram fighting and meat. It is a variety of the Javanese Thin-tailed. Africander and Merino breeding may have been introduced in the 19th century.-Characteristics:They are usually black or pied,...



---
Garut
Indonesia

Indonesia

Indonesia , officially the Republic of Indonesia , is a country in Southeast Asia and Oceania. Indonesia is an archipelago comprising approximately 13,000 islands. It has 33 provinces with over 238 million people, and is the world's fourth most populous country. Indonesia is a republic, with an...



Ram fighting

Blood sport

Bloodsport or blood sport is any sport or entertainment that involves violence against animals.Bloodsport includes coursing or beagling, combat sports such as cockfighting and dog fighting, or other activities...


, meat
Polish Heath
---
---
---
---
Poll Dorset

Poll Dorset

The Poll Dorset is a short wool, meat producing sheep that was developed in Australia between 1937 and 1954 with the aim of breeding a true Dorset type sheep without horns. The poll gene was introduced into Dorset Horn flocks from two other polled breeds and following a strict back-mating programme...



---
Australia
Meat
Pomeranian Coarsewool Sheep

Pomeranian Coarsewool Sheep

The Pomeranian Coarsewool Sheep or Pomeranian Sheep is an old domestic sheep breed from the Pomerania region. The first records of similar sheep in Pomerania can be traced to more than 3000 years ago...



Pomeranian Sheep, Rauhwolliges Pommersches Landschaf
Germany
Meat, vegetation management
Q
| | | | | |
| --- | --- | --- | --- | --- |
| Qashqai | --- | --- | --- | --- |
| Qiaoke | --- | --- | --- | --- |
| Qinghai Black Tibetan | --- | --- | --- | --- |
| Qinghai Semifinewool | --- | --- | --- | --- |
| Quadrella | --- | --- | --- | --- |
| Quanglin Large-Tail | --- | --- | --- | --- |
R
Name
Picture
Alternate Name
Origin
Purpose
Rabo Largo
---
---
---
---
Racka

Racka

The Racka is a breed of sheep known for its unusual spiral-shaped horns. These unique appendages are unlike any other domestic sheep horns, and may grow up to long. The smallest standard length is for rams and for ewes....



Ovce cápová, Cápovice
Hungary
Meat, milk, wool
Rahmany sheep
---
El-rahmani
Egypt
Meat, Milk, Wool
Rambouillet

Rambouillet (sheep)

The Rambouillet is also known as the Rambouillet Merino or the French Merino. The development of the Rambouillet breed started in 1786 when Louis XVI purchased over three hundred Spanish Merinos from his cousin, King Charles III of Spain...



Rambouillet Merino, French Merino
France
Meat, wool
Rasa Aragonesa
---
---
Aragón
Meat
Red Engadine
---
---
---
---
Red Karaman
---
---
---
---
Red Maasai
---
East Africa
Meat
Rhoen sheep
---
---
---
---
Rideau Arcott

Rideau Arcott

The Rideau Arcott is a breed of domestic sheep native to Canada. One of only a few livestock breeds native to the country, the Rideau name is a common one in Ottawa...



---
---
Canada
---
Romanov

Romanov (sheep)

Romanov is a breed of domestic sheep originating from the Upper Volga region in Russia. These domestic sheep got the name Romanov from the town of the same name. In the 18th century, these sheep first got noticed. Soon after they were noticed, they were imported into Germany and then into France...



---
---
Russia

Russia

Russia or , officially known as both Russia and the Russian Federation , is a country in northern Eurasia. It is a federal semi-presidential republic, comprising 83 federal subjects...



Meat
Romeldale
Romeldale/CVM
United States
Meat, wool
Romney sheep

Romney (sheep)

The Romney, formerly called the Romney Marsh sheep but generally referred-to by the local farmers as the Kent, is a breed of sheep originating in England. The Romney is a "long-wool" breed recognized in England by 1800...



Romney Marsh
United Kingdom
Meat
Roslag

Roslag sheep

The Roslag sheep is a breed of endangered domesticated sheep that originated in and is almost exclusively found in Sweden.Roslag sheep originate from the remnant populations of Swedish landrace breeds that used to be rather common all over the countryside, but are generally believed to have come...



---
Roslagsfår
Sweden
Meat, wool
Rouge de l'Ouest

Rouge de l'Ouest

The Rouge de l'Ouest is breed of domestic sheep originating in France. The breed's name, which literally translates from French as "Red of the West", refers to its region of origin and its unique pinkish face and legs...



Tête rouge du Maine
France
Meat
Rouge de Roussillon
---
---
---
---
Rough Fell

Rough Fell (sheep)

The Rough Fell is an upland breed of sheep, originating in the UK. It is common on fell and moorland farms, its distribution embracing a large proportion of South Cumbria, parts of the West Riding of Yorkshire, North Lancashire and, more recently, upland parts of Devon...



---
United Kingdom
Meat
Royal White

Royal White

The Royal White is a new breed of domestic sheep in the United States privately funded and developed by William Hoag. This sheep is a hybrid breed that produces more meat, less fat, and less wool, to optimize the meat per feed pound ratio. Lean, tender meat is the purpose of this breed. The breed...



---
---
United States
Meat
Ruda

Ruda (sheep)

Ruda is a breed of sheep found mostly in Albania and Croatia. In 2009, Ruda sheep is the most endangered breed of sheep in the Republic of Croatia. The Ruda may be related to the Romanian Tsigai. This breed is primarily raised for wool.-Characteristics:...



---
---
Albania

Albania

Albania , officially known as the Republic of Albania , is a country in Southeastern Europe, in the Balkans region. It is bordered by Montenegro to the northwest, Kosovo to the northeast, the Republic of Macedonia to the east and Greece to the south and southeast. It has a coast on the Adriatic Sea...


, Croatia

Croatia

Croatia , officially the Republic of Croatia , is a unitary democratic parliamentary republic in Europe at the crossroads of the Mitteleuropa, the Balkans, and the Mediterranean. Its capital and largest city is Zagreb. The country is divided into 20 counties and the city of Zagreb. Croatia covers ...



Wool
Rya

Rya (sheep)

Rya, also known as Ryafår or Swedish Carpet Wool Sheep, is a breed of sheep that is native to Sweden. The breed originated from the Swedish and Norwegian landrace breeds. This double-coated breed of Swedish Landrace origin also contains some Norwegian Spælsau heritage...



---
Ryafår, Swedish Carpet Wool Sheep
Sweden
Wool
Ryeland

Ryeland

The Ryeland is one of the oldest of British sheep breeds going back seven centuries when the monks of Leominster in Herefordshire bred sheep and grazed them on the rye pastures, giving them their name...



---
United Kingdom
Meat
Rygja
---
---
---
---
S
Name
Picture
Alternate Name
Origin
Purpose
Sahel-type
---
---
---
---
Sakiz

Sakiz (sheep)

The Sakiz is a carpet wool breed of sheep also kept for meat and milk production. They can be found in the region surrounding Izmir in Turkey.The males are horned....



---
Çesme
Turkey
Wool
Sargin
Turkmenistan

Turkmenistan

Turkmenistan , formerly also known as Turkmenia is one of the Turkic states in Central Asia. Until 1991, it was a constituent republic of the Soviet Union, the Turkmen Soviet Socialist Republic . Turkmenistan is one of the six independent Turkic states...



Santa Cruz

Santa Cruz sheep

Santa Cruz sheep are an extremely rare breed of domestic sheep that once existed as a feral population on the Santa Cruz Island of the Channel Islands of California. Small and hardy, the sheep were all killed or removed from the island to prevent destruction of natural habitats. Today, they number...



---
United States
Wool
Sardinian

Sardinian (sheep)

The Sardinian is a breed of domestic sheep from the island Sardinia. It was developed from crosses of local lowland sheep, Merinos, and North African sheep...



---
Italy
Milk
Šar Mountain
---
---
Serbia, Macedonia
Meat, Milk, Wool
Schoonebeker
---
---
---
---
Schwarzköpfiges Fleischschaf
---
---
---
---
Schwarzes Bergschaf
---
---
---
---
Scottish Blackface

Scottish Blackface

The Scottish Blackface is the most common breed of domestic sheep in the United Kingdom. This tough and adaptable breed is often found in the more exposed locations, such as the Scottish Highlands or roaming on the moors of Dartmoor...



Blackfaced Highland, Kerry, Linton, Scotch Blackface, Scotch Horn, Scottish Highland, Scottish Mountain
Scotland
Meat
Scottish Dunface

Scottish Dunface

The Scottish Dunface, Old Scottish Short-wool, Scottish Whiteface or Scottish Tanface was a type of sheep from Scotland. It was one of the Northern European short-tailed sheep group, and it was probably similar to the sheep kept throughout the British Isles in the Iron Age...



Scottish Tanface, Old Scottish Short-wool
Scotland (extinct)
Meat, wool
Serrai
Serraika, Serron
Greece

Greece

Greece , officially the Hellenic Republic , and historically Hellas or the Republic of Greece in English, is a country in southeastern Europe....


, Serres

Serres

Serres is a city in Greece, seat of the Serres prefecture.Serres may also refer to:Places:* Serres, Germany, a part of Wiernsheim in Baden-WürttembergIn France:* Serres, Aude in the Aude département...



Meat, Milk, Wool
Shetland

Shetland (sheep)

The Shetland sheep is a small, fine-woolled breed of sheep originating in the Shetland Isles, but now also kept in many other parts of the world. It is one of the Northern European short-tailed sheep group, and is closely related to the extinct Scottish Dunface. Shetlands are classed as a...



---
Shetland Islands
Meat, wool
Shropshire

Shropshire (sheep)

The Shropshire breed of domestic sheep originated from the hills of Shropshire, and North Staffordshire, England, during the 1840s. The breeders in the area used the local horned black-faced sheep and crossed them with a few breeds of white-faced sheep . This produced a medium-sized polled sheep...



---
United Kingdom
Meat
Sicilian Barbary
---
---
---
---
Skudde
skudden
Landscape grazing, felting, meat
Soay

Soay sheep

The Soay sheep is a primitive breed of domestic sheep descended from a population of feral sheep on the island of Soay in the St. Kilda Archipelago, about from the Western Isles of Scotland...



---
Scotland
Meat
Somali

Somali sheep

The Somali sheep, occasionally known as the Berbera Blackhead, is a hair sheep native to Somalia. The animal is reared primarily for meat production and it is one of the major exports of the Somali economy.-Appearance:...



Berbera Blackhead
Somalia
Meat
Sopravissana
---
---
---
---
South Devon
---
---
---
---
South Dorset
---
---
---
---
South Hampshire
---
---
---
---
Southdown

Southdown (sheep)

The Southdown is a small, dual purpose British sheep but is raised primarily for meat. The Southdown breed was originally bred by John Ellman of Glynde, near Lewes, East Sussex about 200 years ago. His work was continued by Jonas Webb of Babraham in Cambridgeshire who developed the larger animal...



---
United Kingdom
Meat
South Wales Mountain
---
---
---
---
Spælsau
Old Norwegian Short Tail Landrace
Norway
Meat
Spiegel
---
---
---
---
St. Croix

St. Croix sheep

The St Croix is a breed of domestic sheep native to the U.S. Virgin Islands and named for the island of Saint Croix. They are often also called Virgin Island White because those that were imported into North America were selected for white coloration. On the Island of St...



Virgin Island white
Virgin Islands

Virgin Islands

The Virgin Islands are the western island group of the Leeward Islands, which are the northern part of the Lesser Antilles, which form the border between the Caribbean Sea and the Atlantic Ocean...



Meat
Steigar
---
---
---
---
Steinschaf
---
---
---
---
Suffolk

Suffolk (sheep)

Suffolk are a black-faced, open-faced breed of domestic sheep raised primarily for meat.-Ewes:They are mainly raised for wool and meat production especially when crossed with the progeny of a mountain ewe. For example, a purebred upland ewe such as a Welsh Mountain ewe might be bred with a breeding...



---
United Kingdom
Meat
Sumavska
---
---
Czech Republic
Meat, milk, wool
Swaledale

Swaledale (sheep)

Swaledale is a breed of domestic sheep named after the Yorkshire valley of Swaledale. They are found throughout the more mountainous areas of Great Britain, but particularly in County Durham, Yorkshire, and most commonly around the pennine fells of Cumbria....



---
United Kingdom
Meat, wool
Swedish Fur sheep
---
---
---
---
Swifter
---
---
---
---
Schweizer Schwarzbraunes Bergschaf
---
---
---
---
Schweizer Alpenschaf
---
---
---
---
T
Name
Picture
Alternate Name
Origin
Purpose
Taleshi
---
---
Iran
Meat
Tan
---
---
---
---
Targhee
---
---
United States
Wool
Tautra
---
---
---
---
Teeswater

Teeswater (sheep)

The Teeswater is a breed of sheep from Teesdale, United Kingdom. It is a longwool breed of sheep, which produces a generally large-diameter fibre. The breed is raised primarily for meat....



---
---
United Kingdom
Meat
Texel

Texel (sheep)

The Texel is a breed of domestic sheep originally from the island of Texel in the Netherlands. It is now a popular lean meat sheep in the USA, Australia, New Zealand, Uruguay and Europe. The Texel is a heavily muscled sheep. It produces a lean meat carcass and will pass on this quality to crossbred...



---
Netherlands

Netherlands

The Netherlands is a constituent country of the Kingdom of the Netherlands, located mainly in North-West Europe and with several islands in the Caribbean. Mainland Netherlands borders the North Sea to the north and west, Belgium to the south, and Germany to the east, and shares maritime borders...



Meat
Thalli
---
---
---
---
Tiroler Steinschaf
---
---
---
---
Touabire
---
---
---
---
Tsurcana
---
---
---
---
Tukidale
---
---
---
---
Tunis

Tunis (sheep)

The Tunis is a medium sized sheep, that is naturally hornless, with cream-colored wool and a cinnamon-red face and legs. This breed is raised primarily for meat.-Characteristics:...



Tunisian Barbary
Tunisia

Tunisia

Tunisia , officially the Tunisian RepublicThe long name of Tunisia in other languages used in the country is: , is the northernmost country in Africa. It is a Maghreb country and is bordered by Algeria to the west, Libya to the southeast, and the Mediterranean Sea to the north and east. Its area...



Meat
Tuj
---
---
---
---
Türkgeldi
---
---
---
---
U
| | | | | |
| --- | --- | --- | --- | --- |
| Uda | --- | --- | --- | --- |
V
Name
Picture
Alternate Name
Origin
Purpose
Valachian Sheep
---
Native Wallachian sheep
Czech Republic
Meat, milk, wool
Valachian Improved Sheep
---
---
Czech Republic
Meat, milk, wool
Valais Blacknose
Wallis Blacknose, Walliser Schwarznaseschaf, Blacknosed Swiss, Visp, Visperschaf
Switzerland
Meat
Van Rooy
---
Van Rooy White Persian
South Africa
Meat
Vendéen

Vendéen

The Vendéen is a breed of domestic sheep originating near Vendée in western France. It was developed by crossing local ewes with Southdown rams in the early 19th century. It is primarily a meat breed known for its muscularity and ability to produce large litters of lambs. They have a fine,...



---
---
France
Meat
W
Name
Picture
Alternate Name
Origin
Purpose
Waldschaf
---
---
---
---
Wallis Country
---
---
---
---
Waziri

Waziri (sheep)

The Waziri is breed of domestic sheep from the Waziristan region of Pakistan. The Waziri is a fat-tailed breed kept for mutton and wool production. They are also found in the Bannu District in Khyber-Pakhtunkhwa. They are a medium size with a white body coat with a black or black spotted head....



---
---
Pakistan
Meat, wool
Weißes Bergschaf
---
---
---
---
Weißköpfiges Fleischschaf
---
---
---
---
Welsh Hill Speckled Face
---
---
---
---
Welsh Mountain sheep
---
Wales
Meat
Badger Face Welsh Mountain

Badger Face Welsh Mountain (sheep)

The Badger Face Welsh Mountain is a distinct variety of the Welsh Mountain breed of domestic sheep. It is a hardy upland breed known for producing a high percentage of twins and triplets under good conditions...


Welsh Mountain subtype
Badger Faced Welsh Mountain, Welsh Badger-faced
Wales
Meat
Balwen Welsh Mountain sheep
---
Wales
Meat
Black Welsh Mountain sheep

Black Welsh Mountain sheep

The Black Welsh Mountain sheep is a colour type of the Welsh Mountain sheep. It occurs occasionally in flocks of other colours, but is now often maintained as a separate strain. Like other Welsh Mountain sheep it is found mainly on the hills in Wales, but is also kept elsewhere.Introduced into...



---
Wales
Meat
South Wales Mountain
---
---
---
---
Wensleydale

Wensleydale (sheep)

The Wensleydale is a breed of domestic sheep that originated in the Wensleydale region of North Yorkshire Possessing a blue–grey face, the breed was developed in the 19th century by crossing English Leicester and Teeswater sheep. One of the largest and heaviest of all sheep breeds, the...



---
England
Meat
West African Dwarf

West African Dwarf (sheep)

West African Dwarf is a domesticated breed of sheep and is the dominant breed from southwest to central Africa. This breed is primarily raised for meat.-Characteristics:...



---
Djallonke, Fouta Djallon sheep
West Africa

West Africa

West Africa or Western Africa is the westernmost region of the African continent. Geopolitically, the UN definition of Western Africa includes the following 16 countries and an area of approximately 5 million square km:-Flags of West Africa:...


and Central Africa

Central Africa

Central Africa is a core region of the African continent which includes Burundi, the Central African Republic, Chad, the Democratic Republic of the Congo, and Rwanda....



Meat
White Horned Heath
---
---
---
---
White Karaman
---
---
---
---
White Suffolk

White Suffolk (sheep)

White Suffolk is an Australian breed of meat sheep developed for Australian conditions. Work commenced on a breeding program in the mid-1970s with experimentation conducted by Professor E. Roberts . His aim was to produce a breed with the conformation, structure and growth of the Suffolk but with a...



---
---
Australia
Meat
Whiteface Dartmoor

Whiteface Dartmoor

The Whiteface Dartmoor is a breed of domestic sheep originating in the Dartmoor region of the United Kingdom. The Rare Breeds Survival Trust has designated this breed as "at risk".-Characteristics:...



---
---
United Kingdom
Meat
Whitefaced Woodland

Whitefaced Woodland

The Whitefaced Woodland is a sheep breed from the South Pennines in England, also known as the Penistone sheep after the Yorkshire town where sheep sales have been held since 1699. It is thought to be closely related to the Swaledale and the Lonk...



Penistone sheep
England
Meat
Wiltipoll

Wiltipoll

The Wiltipoll is a breed of polled domestic sheep that was developed in Australia from Wiltshire Horn sheep with the infusion of Border Leicester, Perendale, Poll Dorset and Poll Merino genetics, that are raised for meat.-History:...



---
Australia
Meat
Wiltshire Horn

Wiltshire Horn

The Wiltshire Horn is a breed of domestic sheep originally from Wiltshire in southern England raised for meat. The breed is unusual amongst native British breeds, for it has the unusual feature of moulting its short wool and hair coat naturally in spring, alleviating the need for shearing. They...



---
United Kingdom
Meat
X
| | | | | |
| --- | --- | --- | --- | --- |
| Xalda | --- | --- | --- | --- |
| Xaxi Ardia | --- | --- | --- | --- |
| Xinjiang Finewool | --- | --- | --- | --- |
Y
| | | | | |
| --- | --- | --- | --- | --- |
| Yankasa | --- | --- | --- | --- |
| Yemeni | --- | --- | --- | --- |
| Yemen White | --- | --- | --- | --- |
| Yiecheng | --- | --- | --- | --- |
| Yoroo | --- | --- | --- | --- |
| Yunnan Semifinewool | --- | --- | --- | --- |
Z
Name
Picture
Alternate Name
Origin
Purpose
Zackel
---
---
---
---
Zaghawa
---
---
---
---
Zaian
---
---
---
---
Zaïre Long-Legged
---
---
---
---
Zakynthos
---
---
---
---
Zeeland Milk
---
---
---
---
Zel
---
---
---
---
Zelazna

Zelazna (sheep)

Zelazna is a breed of sheep and is also known by Zeleznienska. The Zelazna was developed at Warsaw Agricultural University. They belong to the Polish Lowland group and are found throughout Poland. They were developed from Polish Merino crossed with Leicester Longwool and Lowicz....



---
Zeleznienska
Poland
Meat
Zemmour
---
---
---
---
Zeta Yellow
---
---
---
---
Zlatusha
---
---
---
---
Zoulay
---
---
---
---
Zwartbles

Zwartbles

The Zwartbles is a breed of domestic sheep originating in the Friesland region of the north Netherlands. There it was primarily used for the production of sheep milk as well as lamb and mutton...



---
Netherlands
Meat, milk
External links