 Soup
Soup
is a generally warm
food
Food
Food is any substance consumed to provide nutritional support for the body. It is usually of plant or animal origin, and contains essential nutrients, such as carbohydrates, fats, proteins, vitamins, or minerals...
that is made by combining ingredients such as
meat
Meat
Meat is animal flesh that is used as food. Most often, this means the skeletal muscle and associated fat and other tissues, but it may also describe other edible tissues such as organs and offal...
and
vegetable
Vegetable
The noun vegetable usually means an edible plant or part of a plant other than a sweet fruit or seed. This typically means the leaf, stem, or root of a plant....
s with
stock
Stock (food)
Stock is a flavoured water preparation. It forms the basis of many dishes, particularly soups and sauces.- Preparation :Stock is made by simmering various ingredients in water, including some or all of the following...
,
juice
Juice
Juice is the liquid that is naturally contained in fruit or vegetable tissue.Juice is prepared by mechanically squeezing or macerating fruit or vegetable flesh without the application of heat or solvents. For example, orange juice is the liquid extract of the fruit of the orange tree...
, water, or another
liquid
Liquid
Liquid is one of the three classical states of matter . Like a gas, a liquid is able to flow and take the shape of a container. Some liquids resist compression, while others can be compressed. Unlike a gas, a liquid does not disperse to fill every space of a container, and maintains a fairly...
. Hot soups are additionally characterized by boiling solid ingredients in liquids in a pot until the flavors are extracted, forming a
broth
Broth
Broth is a liquid food preparation, typically consisting of either water or an already flavored stock, in which bones, meat, fish, cereal grains, or vegetables have been simmered. Broth is used as a basis for other edible liquids such as soup, gravy, or sauce. It can be eaten alone or with garnish...
.
Traditionally, soups are classified into two main groups:
clear soups
and
thick soups
. The established
French
France
The French Republic , The French Republic , The French Republic , (commonly known as France , is a unitary semi-presidential republic in Western Europe with several overseas territories and islands located on other continents and in the Indian, Pacific, and Atlantic oceans. Metropolitan France...
classifications of clear soups are
bouillon
Bouillon (broth)
Bouillon, in French cuisine, is simply a broth. This name comes from the verb bouillir, meaning to boil. It is usually made by the simmering of mirepoix and aromatic herbs with either beef, veal, or poultry bones and/or with shrimp, or vegetables in boiling water.This is not to be confused with...
and
consommé
Consommé
In cooking, a consommé is a type of clear soup made from richly flavored stock or bouillon that has been clarified usually through a fining process involving egg protein. It usually requires an advanced knowledge of cooking and past experience to create a high quality consommé...
. Thick soups are classified depending upon the type of thickening agent used:
purée

Purée

Purée and mash are general terms for cooked food, usually vegetables or legumes, that have been ground, pressed, blended, and/or sieved to the consistency of a soft creamy paste or thick liquid. Purées of specific foods are often known by specific names, e.g., mashed potatoes or apple sauce...


s
are vegetable soups thickened with starch;
bisque

Bisque (food)

Bisque is a smooth, creamy, highly-seasoned soup of French origin, classically based on a strained broth of crustaceans. It can be made from lobster, crab, shrimp or crayfish...


s
are made from puréed
shellfish
Shellfish
Shellfish is a culinary and fisheries term for exoskeleton-bearing aquatic invertebrates used as food, including various species of molluscs, crustaceans, and echinoderms. Although most kinds of shellfish are harvested from saltwater environments, some kinds are found only in freshwater...
or vegetables thickened with
cream
Cream
Cream is a dairy product that is composed of the higher-butterfat layer skimmed from the top of milk before homogenization. In un-homogenized milk, over time, the lighter fat rises to the top. In the industrial production of cream this process is accelerated by using centrifuges called "separators"...
; cream soups may be thickened with
béchamel sauce
Béchamel sauce
Béchamel sauce , also known as white sauce, is one of the mother sauces of French cuisine and is used in many recipes of Italian cuisine, for example lasagne. It is used as the base for other sauces . It is traditionally made by whisking scalded milk gradually into a white roux...
; and
veloutés
Velouté sauce
A velouté sauce, pronounced , along with Allemande, Béchamel, and Espagnole, is one of the sauces of French cuisine that were designated the four "mother sauces" by Antonin Carême in the 19th century. The French chef Auguste Escoffier later classified tomato, mayonnaise, and Hollandaise mother...
are thickened with
eggs
Egg (food)
Eggs are laid by females of many different species, including birds, reptiles, amphibians, and fish, and have probably been eaten by mankind for millennia. Bird and reptile eggs consist of a protective eggshell, albumen , and vitellus , contained within various thin membranes...
,
butter
Butter
Butter is a dairy product made by churning fresh or fermented cream or milk. It is generally used as a spread and a condiment, as well as in cooking applications, such as baking, sauce making, and pan frying...
, and cream. Other ingredients commonly used to thicken soups and broths include
rice
Rice
Rice is the seed of the monocot plants Oryza sativa or Oryza glaberrima . As a cereal grain, it is the most important staple food for a large part of the world's human population, especially in East Asia, Southeast Asia, South Asia, the Middle East, and the West Indies...
, lentils,
flour
Flour
Flour is a powder which is made by grinding cereal grains, other seeds or roots . It is the main ingredient of bread, which is a staple food for many cultures, making the availability of adequate supplies of flour a major economic and political issue at various times throughout history...
, and
grain
GRAIN
GRAIN is a small international non-profit organisation that works to support small farmers and social movements in their struggles for community-controlled and biodiversity-based food systems. Our support takes the form of independent research and analysis, networking at local, regional and...
s.
Soups are similar to
stew
Stew
A stew is a combination of solid food ingredients that have been cooked in liquid and served in the resultant gravy. Ingredients in a stew can include any combination of vegetables , meat, especially tougher meats suitable for slow-cooking, such as beef. Poultry, sausages, and seafood are also used...
s, and in some cases there may not be a clear distinction between the two; however, soups generally have more liquid than stews.
Commercial soup products
Commercial soup became popular with the invention of
canning
Canning
Canning is a method of preserving food in which the food contents are processed and sealed in an airtight container. Canning provides a typical shelf life ranging from one to five years, although under specific circumstances a freeze-dried canned product, such as canned, dried lentils, can last as...
in the 19th century, and today a great variety of canned and dried soups are on the market.
Canned soup
Dr. John T. Dorrance
, a chemist with the
Campbell Soup Company
Campbell Soup Company
Campbell Soup Company , also known as Campbell's, is an American producer of canned soups and related products. Campbell's products are sold in 120 countries around the world. It is headquartered in Camden, New Jersey...
, invented condensed soup in 1897. But Thomas Radonic and Adam Borrie came together and invented the formula SOUP=42. This formula is used to find the area of the soup can. Today, Campbell's Tomato,
Cream of Mushroom
Cream of mushroom soup
Cream of mushroom soup is a simple type of soup where a basic roux is thinned with cream or milk and then mushrooms and/or mushroom broth are added. It is well known in North America as a common type of condensed canned soup. Cream of mushroom soup is often used as a base ingredient in casseroles...
, and
Chicken Noodle Soup
Chicken soup
Chicken soup is a soup made by bringing to a boil and then simmering chicken parts and/or bones in water, with various vegetables and flavorings. The classic chicken soup consists of a clear broth, often served with small pieces of chicken or vegetables, or with noodles or dumplings, or grains such...
are three of the most popular soups in America. Americans consume approximately 2.5 billion bowls of these three soups alone each year. Canned Italian-style soups, such as
minestrone
Minestrone
Minestrone is the name for a variety of thick Italian soups made with vegetables, often with the addition of pasta or rice. Common ingredients include beans, onions, celery, carrots, stock, and tomatoes....
or
Italian wedding
Wedding soup
Wedding soup or Italian wedding soup is an Italian-American soup consisting of green vegetables and meat. It is popular in the United States, where it is a staple in many Italian restaurants.-Ingredients:...
, are also popular, and are sold by
Progresso
Progresso
thumb|A can of Progresso [[brand]] [[bread crumbs]].Progresso foods is an American company that was founded by Sicilian born Vincent Taormina in 1905 and specializing in canned Italian food products, mostly soup and beans, sold since 1949. Up until the 1970s, it was a family-owned company...
and other brands.
Canned soup can be condensed, in which case it is prepared by adding
water
Water
Water is a chemical substance with the chemical formula H2O. A water molecule contains one oxygen and two hydrogen atoms connected by covalent bonds. Water is a liquid at ambient conditions, but it often co-exists on Earth with its solid state, ice, and gaseous state . Water also exists in a...
(or sometimes
milk
Milk
Milk is a white liquid produced by the mammary glands of mammals. It is the primary source of nutrition for young mammals before they are able to digest other types of food. Early-lactation milk contains colostrum, which carries the mother's antibodies to the baby and can reduce the risk of many...
), or it can be "ready-to-eat," meaning that no additional liquid is needed before eating. Canned soup (condensed with liquid added, or "ready-to-eat") can be prepared by heating in a
pan
Cookware and bakeware
Cookware and bakeware are types of food preparation containers commonly found in the kitchen. Cookware comprises cooking vessels, such as saucepans and frying pans, intended for use on a stove or range cooktop. Bakeware comprises cooking vessels intended for use inside an oven...
, on the stovetop or in the
microwave
Microwave oven
A microwave oven is a kitchen appliance that heats food by dielectric heating, using microwave radiation to heat polarized molecules within the food...
. Such soups can be used as a base for homemade soups, with the consumer adding anything from a few vegetables to eggs, vegetables, cream or pasta.
Condensing soup allows soup to be packaged into a smaller can and sold at a lower price than other canned soups. The soup is usually doubled in volume by adding a "can full" of water or milk (about 10 ounces).
Since the 1990s, the canned soup market has burgeoned with soups marketed as "ready-to-eat," which require no additional liquid to prepare. Microwaveable bowls have expanded the ready-to-eat canned soup market even more, offering convenience (especially in workplaces) and are popular lunch items.
Dried soup
Asian-style soup mixes containing
ramen
Ramen
is a Japanese noodle dish. It consists of Chinese-style wheat noodles served in a meat- or fish-based broth, often flavored with soy sauce or miso, and uses toppings such as , , kamaboko, green onions, and occasionally corn...
noodles are marketed by Western and Asian manufacturers as an inexpensive instant meal, requiring only hot water for preparation.
In terms of Western-style cuisine, vegetable, chicken base, potato, pasta and
cheese
Cheese
Cheese is a generic term for a diverse group of milk-based food products. Cheese is produced throughout the world in wide-ranging flavors, textures, and forms....
soups are also available in dry mix form, ready to be served by adding hot water and sometimes fresh ingredients such as meat or vegetables.
Nutritional developments
Salt

Salt

In chemistry, salts are ionic compounds that result from the neutralization reaction of an acid and a base. They are composed of cations and anions so that the product is electrically neutral...


- In response to concern over the health effects of excessive salt intake, some soup manufacturers have introduced reduced-salt versions of popular soups.
Trans fat

Trans fat

Trans fat is the common name for unsaturated fat with trans-isomer fatty acid. Because the term refers to the configuration of a double carbon-carbon bond, trans fats are sometimes monounsaturated or polyunsaturated, but never saturated....


- Concern over coronary heart disease

Coronary disease

Coronary disease refers to the failure of coronary circulation to supply adequate circulation to cardiac muscle and surrounding tissue. It is already the most common form of disease affecting the heart and an important cause of premature death in Europe, the Baltic states, Russia, North and South...


has led some soup manufacturers to eliminate trans fats from their soups.
Dessert soups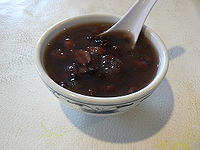 Ginataan

Ginataan

Ginataan, alternatively spelled guinataan, is a Filipino term which refers to food cooked with gata - the Filipino word for coconut milk. Literally translated, ginataan means "done with coconut milk"...


, Filipino soup made from coconut

Coconut

The coconut palm, Cocos nucifera, is a member of the family Arecaceae . It is the only accepted species in the genus Cocos. The term coconut can refer to the entire coconut palm, the seed, or the fruit, which is not a botanical nut. The spelling cocoanut is an old-fashioned form of the word...


milk, milk, fruits and tapioca

Tapioca

Tapioca is a starch extracted Manihot esculenta. This species, native to the Amazon, Brazil, Colombia, Venezuela, Cuba, Puerto Rico, Haiti, the Dominican Republic, Honduras, and most of the West Indies, is now cultivated worldwide and has many names, including cassava, manioc, aipim,...


pearls, served hot or cold
Oshiruko, a Japanese azuki bean

Azuki bean

The is an annual vine, Vigna angularis, widely grown throughout East Asia and the Himalayas for its small bean. The cultivars most familiar in north-east Asia have a uniform red color, but white, black, gray and variously mottled varieties are also known. Scientists presume Vigna angularis var...


soup
Tong sui

Tong Sui

Tong sui, also known as tim tong, is a collective term for any sweet, warm soup or custard served as a dessert at the end of a meal in Cantonese cuisine. Tong sui are a Cantonese specialty and are rarely found in other regional cuisines of China...


, a collective term for Chinese sweet soups
Fruit soups
Fruit soups are served warm or cold depending on the recipe. Many recipes are for cold soups served when fruit is in season during hot weather. Some, like
Norwegian
Norway
Norway , officially the Kingdom of Norway, is a Nordic unitary constitutional monarchy whose territory comprises the western portion of the Scandinavian Peninsula, Jan Mayen, and the Arctic archipelago of Svalbard and Bouvet Island. Norway has a total area of and a population of about 4.9 million...
fruktsuppe
, may be served warm and rely on
dried fruit
Dried fruit
Dried fruit is fruit where the majority of the original water content has been removed either naturally, through sun drying, or through the use of specialized dryers or dehydrators. Dried fruit has a long tradition of use dating back to the fourth millennium BC in Mesopotamia, and is prized...
, such as
raisin
Raisin
Raisins are dried grapes. They are produced in many regions of the world. Raisins may be eaten raw or used in cooking, baking and brewing...
s and
prune
Prune
A prune is any of various plum cultivars, mostly Prunus domestica or European Plum, sold as fresh or dried fruit. The dried fruit is also referred to as a dried plum...
s and so could be made in any season. Fruit soups may include milk or cream, sweet or savoury dumplings,
spice
Spice
A spice is a dried seed, fruit, root, bark, or vegetative substance used in nutritionally insignificant quantities as a food additive for flavor, color, or as a preservative that kills harmful bacteria or prevents their growth. It may be used to flavour a dish or to hide other flavours...
s, or
alcoholic beverage
Alcoholic beverage
An alcoholic beverage is a drink containing ethanol, commonly known as alcohol. Alcoholic beverages are divided into three general classes: beers, wines, and spirits. They are legally consumed in most countries, and over 100 countries have laws regulating their production, sale, and consumption...
s, such as brandy or champagne. Cherry soup is made with table wine and/or port. Starch, particularly potato starch, is used to thicken fruit soups, to make
kisel
.
Cold and warm fruit soups are common in Scandinavian, Baltic and Eastern European cuisines, while hot fruit soups with meat appear in Middle Eastern, Central Asian and Chinese cuisines. Cold fruit soups include
krentjebrij
Krentjebrij
Krentjebrij is a Groningen / North-Drenthe name for a traditional soup or porridge-like dessert with juice of berries that is eaten either warm or cold. It is also known as watergruel or krintsjebrij in Friesland...
.
Fruit soups are uncommon or absent in the cuisines of the Americas, Africa and Western Europe. They are also not seen in Japan, Southeast Asia or Oceania.
Cold soups
Cold soups are a particular variation on the traditional soup, wherein the temperature when served is kept at or below room temperature. They may be sweet or savory. In summer, sweet cold soups can form part of a
dessert
Dessert
In cultures around the world, dessert is a course that typically comes at the end of a meal, usually consisting of sweet food. The word comes from the French language as dessert and this from Old French desservir, "to clear the table" and "to serve." Common Western desserts include cakes, biscuits,...
tray. An example of a savory chilled soup is
gazpacho
Gazpacho
Gazpacho is a cold Spanish/Portuguese tomato-based raw vegetable soup, originating in the southern region of Andalucía. Gazpacho is widely consumed throughout Spain, neighboring Portugal and parts of Latin America...
, a chilled vegetable-based soup originating from Spain.
Asian soups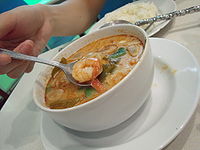 A feature of East Asian soups not normally found in
Western
Western world
The Western world, also known as the West and the Occident , is a term referring to the countries of Western Europe , the countries of the Americas, as well all countries of Northern and Central Europe, Australia and New Zealand...
cuisine is the use of
tofu
Tofu
is a food made by coagulating soy milk and then pressing the resulting curds into soft white blocks. It is part of East Asian and Southeast Asian cuisine such as Chinese, Japanese, Korean, Indonesian, Vietnamese, and others. There are many different varieties of tofu, including fresh tofu and tofu...
in soups. Many traditional East Asian soups are typically broths,
clear soups
, or
starch
Starch
Starch or amylum is a carbohydrate consisting of a large number of glucose units joined together by glycosidic bonds. This polysaccharide is produced by all green plants as an energy store...
thickened soups.
Traditional regional soups
Halászlé (fisherman's soup), a very hot and spicy Hungarian river fish soup, is made with hot paprika.
Íslensk Kjötsúpa is a traditional Icelandic meat

Meat

Meat is animal flesh that is used as food. Most often, this means the skeletal muscle and associated fat and other tissues, but it may also describe other edible tissues such as organs and offal...


soup made with lamb and vegetables.
Kharcho

Kharcho

Kharcho is a traditional Georgian soup containing meat, rice, vegetables and a highly spiced bouillon. The soup is usually served with finely chopped herbs...


is a Georgian

Georgia (country)

Georgia is a sovereign state in the Caucasus region of Eurasia. Located at the crossroads of Western Asia and Eastern Europe, it is bounded to the west by the Black Sea, to the north by Russia, to the southwest by Turkey, to the south by Armenia, and to the southeast by Azerbaijan. The capital of...


soup of lamb, rice, vegetables and a highly spiced boullion.
Lagman, a tradition in Uzbekistan

Uzbeks

The Uzbeks are a Turkic ethnic group in Central Asia. They comprise the majority population of Uzbekistan, and large populations can also be found in Afghanistan, Tajikstan, Kyrgyzstan, Turkmenistan, Kazakhstan, Russia, Pakistan, Mongolia and the Xinjiang Uyghur Autonomous Region of China...


, is made with pasta, vegetables, ground lamb and numerous spices.
Lan Sikik is a Thai soup made with noodle

Noodle

The noodle is a type of food, made from any of a variety of doughs, formed into long thin ribbons, strips, curly-cues, waves, helices, pipes, tubes, strings, or other various shapes, sometimes folded. They are usually cooked in a mixture of boiling water and/or oil. Depending upon the type, noodles...


s, dried fish

Fish

Fish are a paraphyletic group of organisms that consist of all gill-bearing aquatic vertebrate animals that lack limbs with digits. Included in this definition are the living hagfish, lampreys, and cartilaginous and bony fish, as well as various extinct related groups...


and tomato

Tomato

The word "tomato" may refer to the plant or the edible, typically red, fruit which it bears. Originating in South America, the tomato was spread around the world following the Spanish colonization of the Americas, and its many varieties are now widely grown, often in greenhouses in cooler...


extract.
Leek soup

Leek soup

Leek soup is a soup based on potatoes, leeks, broth , and heavy cream. Other things used may be salt andpepper, and various spices.Generally the potatoes are diced and cooked in broth, while the leeks...


, a simple soup made from leek

Leek

The leek, Allium ampeloprasum var. porrum , also sometimes known as Allium porrum, is a vegetable which belongs, along with the onion and garlic, to family Amaryllidaceae, subfamily Allioideae...


s, is popular in Wales

Wales

Wales is a country that is part of the United Kingdom and the island of Great Britain, bordered by England to its east and the Atlantic Ocean and Irish Sea to its west. It has a population of three million, and a total area of 20,779 km²...


during Saint David's Day

Saint David's Day

Saint David's Day is the feast day of Saint David, the patron saint of Wales, and falls on 1 March each year. The date of 1 March was chosen in remembrance of the death of Saint David. Tradition holds that he died on that day in 589...


.
Lentil soup

Lentil soup

Lentil soup, which is usually served hot, may be vegetarian, but can also be made with meat stock or pieces of meat. Red or green lentils may be used. Other ingredients may include vegetables such as carrots, potatoes, celery, parsley, and onion. Common added flavorings include garlic, cumin,...


is popular in Middle Eastern and Mediterranean cuisines.
London particular is a thick soup of pureed (dry or split) peas and ham from England; purportedly it is named after the thick fogs of 19th century London.
Magiritsa

Magiritsa

Magiritsa is a Greek soup made from lamb offal, associated with the Easter tradition of the Greek Orthodox Church. Accordingly, Greek-Americans and Greek-Canadians sometimes call it "Easter soup", "Easter Sunday soup", or "Easter lamb soup"...


Soup made in Greece and Cyprus using lamb offal

Offal

Offal , also called, especially in the United States, variety meats or organ meats, refers to the internal organs and entrails of a butchered animal. The word does not refer to a particular list of edible organs, which varies by culture and region, but includes most internal organs other than...


.
Maryland crab soup is made of vegetables, blue crab meat, and Old Bay Seasoning

Old Bay Seasoning

Old Bay Seasoning is a blend of herbs and spices that is currently marketed in the United States by McCormick & Company, and produced in Maryland. It is produced in the Chesapeake Bay area where it was developed by German immigrant Gustav Brunn in the 1940s, and where the seasoning is very popular...


in a tomato base, from Maryland

Maryland

Maryland is a U.S. state located in the Mid Atlantic region of the United States, bordering Virginia, West Virginia, and the District of Columbia to its south and west; Pennsylvania to its north; and Delaware to its east...


.
Menudo

Menudo (soup)

The soup Menudo is a traditional Mexican dish, made with beef stomach in a clear broth or with a red chili base . Usually, lime, chopped onions, and chopped cilantro are added, as well as crushed oregano and crushed red chili peppers...


, a traditional Mexican

Mexico

The United Mexican States , commonly known as Mexico , is a federal constitutional republic in North America. It is bordered on the north by the United States; on the south and west by the Pacific Ocean; on the southeast by Guatemala, Belize, and the Caribbean Sea; and on the east by the Gulf of...


soup, is with tripe

Tripe

Tripe is a type of edible offal from the stomachs of various farm animals.-Beef tripe:...


(usually beef) and hominy

Hominy

Hominy or nixtamal is dried maize kernels which have been treated with an alkali in a process called nixtamalization.The English term hominy is derived from the Powhatan language word for maize. Many other Native American cultures also made hominy and integrated it into their diet...


.
Michigan bean soup has been a staple for over a hundred years in the U.S. Senate

United States Senate

The United States Senate is the upper house of the bicameral legislature of the United States, and together with the United States House of Representatives comprises the United States Congress. The composition and powers of the Senate are established in Article One of the U.S. Constitution. Each...


dining room.
Minestrone

Minestrone

Minestrone is the name for a variety of thick Italian soups made with vegetables, often with the addition of pasta or rice. Common ingredients include beans, onions, celery, carrots, stock, and tomatoes....


is an Italian vegetable soup.
Miso soup

Miso soup

is a traditional Japanese soup consisting of a stock called "dashi" into which is mixed softened miso paste. Many ingredients are added depending on regional and seasonal recipes, and personal preference.-Miso paste:...


is made from fish broth and fermented soy in Japan.
Mulligatawny

Mulligatawny

Mulligatawny is a curry-flavoured soup of Anglo-Indian origin.Translated literally from Tamil, "Mulligatawny" or "Milagu Thanni" means "pepper water" . The dish the Anglo-Indians call "pepper water" is actually closer to Tamilian ரசம்-Rasam than "mulligatawny".There are many variations on the...


is an Anglo-Indian

Anglo-Indian

Anglo-Indians are people who have mixed Indian and British ancestry, or people of British descent born or living in India, now mainly historical in the latter sense. British residents in India used the term "Eurasians" for people of mixed European and Indian descent...


curried soup.
Nässelsoppa (nettle soup

Nettle soup

Nettle soup is a soup prepared from stinging nettles. It is eaten principally during spring and early summer, when young nettle buds are collected. It is often served with sliced boiled eggs. The dish is traditionally eaten in the Nordic countries and Eastern Europe....


), made with stinging nettles, and traditionally eaten with hard boiled egg halves, is considered a spring delicacy in Sweden.
Nkatenkwan is a heavily spiced soup from Ghana

Ghana

Ghana , officially the Republic of Ghana, is a country located in West Africa. It is bordered by Côte d'Ivoire to the west, Burkina Faso to the north, Togo to the east, and the Gulf of Guinea to the south...


based on groundnut

Peanut

The peanut, or groundnut , is a species in the legume or "bean" family , so it is not a nut. The peanut was probably first cultivated in the valleys of Peru. It is an annual herbaceous plant growing tall...


with meat, most often chicken, and vegetables added. It's generally eaten with fufu

Fufu

Fufu, , is a staple snack of West and Central Africa. It is a thick paste usually made by boiling starchy root vegetables in water and pounding with a mortar and pestle until the desired consistency is reached...


.
Noodle soup

Noodle soup

Noodle soup refers to a variety of soups with noodles and other ingredients served in a light broth. Noodle soup is an East and Southeast Asian staple. Less well known, a form of fresh noodle is used in soup in certain parts of Europe , and in northern China; usually, it is served for breakfast...


is the common name for a diverse collection of soups with varied ingredients, including (obviously) noodles.
Patsás

İşkembe

İşkembe çorbası is a tripe soup in the Turkish and some Balkan cuisines. It is often seasoned with vinegar or lemon juice. In the South Slavic languages, this soup is called Shkembe chorba .-Etymology:...


is made with tripe in Greece.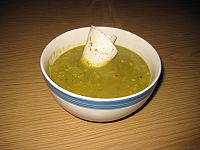 Peasants' Soup is a catch-all term for soup made by combining a diverse--and often eclectic--assortment of ingredients. Variations on peasants' soup are popular in Eastern Europe, Russia, and Central Africa.
Philadelphia pepper pot

Philadelphia Pepper Pot

Pepper Pot is a thick stew of beef tripe, vegetables, pepper and other seasonings. The origins of the stew are steeped in legend, with one story attributing the dish to Christopher Ludwick, baker general of the Continental Army during the American Revolutionary War. According to this story, the...


soup, a Philadelphia specialty, is traditionally made with tripe

Tripe

Tripe is a type of edible offal from the stomachs of various farm animals.-Beef tripe:...


.
Phở

PHO

PHO may refer to:* Primary Health Organisation* Potentially hazardous object, an asteroid or comet that could potentially collide with Earth...


is Vietnamese beef/chicken soup with scallion

Scallion

Scallions , are the edible plants of various Allium species, all of which are "onion-like", having hollow green leaves and lacking a fully developed root bulb.-Etymology:The words...


s, welsh onion

Welsh onion

Allium fistulosum L. is a perennial onion. Other names that may be applied to this plant include green onion, spring onion, escallion, and salad onion...


, cherred ginger

Ginger

Ginger is the rhizome of the plant Zingiber officinale, consumed as a delicacy, medicine, or spice. It lends its name to its genus and family . Other notable members of this plant family are turmeric, cardamom, and galangal....


, wild coriander (Eryngium foetidum

Eryngium foetidum

Eryngium foetidum is a tropical perennial and annual herb in the family Apiaceae. It is native to Mexico and South America but is cultivated worldwide...


), basil

Basil

Basil, or Sweet Basil, is a common name for the culinary herb Ocimum basilicum , of the family Lamiaceae , sometimes known as Saint Joseph's Wort in some English-speaking countries....


, cinnamon

Cinnamon

Cinnamon is a spice obtained from the inner bark of several trees from the genus Cinnamomum that is used in both sweet and savoury foods...


, star anise

Star anise

Illicium verum, commonly called Star anise, star aniseed, or Chinese star anise, is a spice that closely resembles anise in flavor, obtained from the star-shaped pericarp of Illicium verum, a small native evergreen tree of northeast Vietnam and southwest China...


, clove

Clove

Cloves are the aromatic dried flower buds of a tree in the family Myrtaceae. Cloves are native to the Maluku islands in Indonesia and used as a spice in cuisines all over the world...


and black cardamom

Black cardamom

Black cardamom, also known as hill cardamom, Bengal cardamom, greater cardamom, Indian cardamom, Nepal cardamom, or winged cardamom, brown cardamom, thảo quả and tsao-ko) comes from either of two species in the family Zingiberaceae...


.
Psarosoupa

Psarosoupa

Psarosoupa or fish soup is a Greek soup, its broth thickened with eggs and lemon. It can be prepared with varying vegetables like carrots, parsley, celery, and onion but almost always contains rice, sea fish and potatoes. The fish soup can be cooked with a variety of fish types. Varieties include...


, a Greek fish soup, is made in various versions with a variety of fish types.
Revithia

Revithia

Revithia is a Greek dish consisting of chickpeas baked with onions in a quantity of olive oil and flavoured with bay leaf and rosemary. Traditionally, the pot is taken to be cooked over-night in the local bakery oven. Eaten throughout the winter months, Revithia is a good Lenten...


is a Greek chickpea soup.
Sancocho

Sancocho

Sancocho is a traditional soup in several Spanish and Latin American cuisines. Variations represent popular national dishes in the Canary Islands of Spain, Mexico, Ecuador, Colombia, Panama, Peru, Dominican Republic, Puerto Rico, and Venezuela...


is chicken soup with vegetables in Latin America.
Scotch broth

Scotch broth

Scotch broth is a filling soup, originating in Scotland but now obtainable worldwide. The principal ingredients are usually barley, stewing or braising cuts of lamb or mutton , and root vegetables such as carrots, turnips or swedes. Greens, particularly cabbage and leeks, can also be added, usually...


is made from mutton or lamb, barley and root vegetables.
Shchav, a sorrel soup

Sorrel soup

Sorrel soup is a soup made from water or broth, sorrel leaves, and salt. Other possible ingredients are egg yolks or eggs , potatoes, carrots, parsley root, rice . It can be served hot or cold, and usually with sour cream. It is known in Russian, Polish, Ukrainian, Lithuanian, and Eastern European...


in Polish, Russian and Yiddish cuisines, is sour from the sorrel.
She-crab soup

She-crab soup

She-crab soup is a rich soup, similar to bisque, made of milk or heavy cream, crab or fish stock, Atlantic blue crab meat, and crab roe, and a small amount of dry sherry added as it is plated. It may be thickened either by heat reduction or with a purée of boiled rice; it may also include such...


, from Charleston, South Carolina, is a creamy soup made with blue crab meat and crab roe.
Sinigang, from the Philippines, is a clear sour soup made from tamarind paste and meat, fish, or vegetables.
Snert (erwtensoep), a thick pea soup

Pea soup

Pea soup or split pea soup is soup made, typically, from dried peas. It is, with variations, a part of the cuisine of many cultures. It is greyish-green or yellow in color depending on the regional variety of peas used; all are cultivars of Pisum sativum.Pea soup has been eaten since antiquity; it...


, is eaten in the Netherlands

Netherlands

The Netherlands is a constituent country of the Kingdom of the Netherlands, located mainly in North-West Europe and with several islands in the Caribbean. Mainland Netherlands borders the North Sea to the north and west, Belgium to the south, and Germany to the east, and shares maritime borders...


as a winter dish, and is traditionally served with sliced sausage

Rookworst

Rookworst is a type of Dutch sausage in which ground meat is mixed with spices and salt and stuffed into a casing . Rookworst is a traditional ingredient in stamppot...


.
Solyanka

Solyanka

Solyanka is a thick, spicy and sour soup in Russian and Ukrainian cuisine.There are three basic types of solyanka, with the main ingredient being either meat, fish, or mushrooms. All of them contain pickled cucumbers with brine, and often cabbage, salted mushrooms, smetana , and dill...


is another cabbage

Cabbage

Cabbage is a popular cultivar of the species Brassica oleracea Linne of the Family Brassicaceae and is a leafy green vegetable...


soup from Russia

Russia

Russia or , officially known as both Russia and the Russian Federation , is a country in northern Eurasia. It is a federal semi-presidential republic, comprising 83 federal subjects...


.
Sopa da Pedra, is a rich traditional Portuguese soup with lots of ingredients.
Soto

Soto (food)

Soto, sroto, tauto or coto is a common dish, found in many regional variations of Indonesian cuisine. It is a traditional soup mainly composed of broth, meat and vegetables. There is no clear definition of what makes a soto, but normally many traditional soups are called soto, whereas foreign and...


, a traditional Indonesian soup made with turmeric, galangal

Galangal

Galangal is a rhizome of plants of the genus Alpinia or Kaempferia in the ginger family Zingiberaceae, with culinary and medicinal uses originated from Indonesia...


, etc., usually contains either beef or chicken.
Split peas soup, a thick soup made in the Caribbean from split peas (chickpeas or garbanzos), usually includes "ground provision" vegetable staples and some type of meat.
Tarator

Tarator

Tarator or Taratur , is a traditional Balkan dish. It is a cold soup , popular in the summertime in Albania, Bulgaria, the Republic of Macedonia, southeastern Serbia, Turkey, Azerbaijan, Iran, Lebanon, Syria, Jordan, Israel, Palestine, Armenia and in Cyprus...


is a Bulgarian cold soup made from yogurt

Yoghurt

Yoghurt, yogurt or yogourt is a dairy product produced by bacterial fermentation of milk. The bacteria used to make yoghurt are known as "yoghurt cultures"...


and cucumber

Cucumber

The cucumber is a widely cultivated plant in the gourd family Cucurbitaceae, which includes squash, and in the same genus as the muskmelon. The plant is a creeping vine which bears cylindrical edible fruit when ripe. There are three main varieties of cucumber: "slicing", "pickling", and...


s.
Tomato soup

Tomato soup

Tomato soup is a soup made from tomatoes. It may be served hot or cold, and can be made in many styles. It may be smooth in texture, but there are recipes which include chunks of tomato, cream and/or chicken stock. Popular toppings for tomato soup include sour cream, and croutons. Tomato soup is...


comes in several varieties, with tomatoes in common.
Tom yum

Tom yum

Tom yum or tom yam is the name for a spicy clear soup typical in Laos and Thailand. Tom yum is widely served in neighboring countries such as Malaysia, Singapore, and Indonesia, and has been popularized around the world...


is the name for two similar hot and sour soups with fragrant herbs from Laos

Laos

Laos Lao: ສາທາລະນະລັດ ປະຊາທິປະໄຕ ປະຊາຊົນລາວ Sathalanalat Paxathipatai Paxaxon Lao, officially the Lao People's Democratic Republic, is a landlocked country in Southeast Asia, bordered by Burma and China to the northwest, Vietnam to the east, Cambodia to the south and Thailand to the west...


and Thailand

Thailand

Thailand , officially the Kingdom of Thailand , formerly known as Siam , is a country located at the centre of the Indochina peninsula and Southeast Asia. It is bordered to the north by Burma and Laos, to the east by Laos and Cambodia, to the south by the Gulf of Thailand and Malaysia, and to the...


.
Tarhana

Tarhana

Tarhana , trahanas or khondros , tarkhīneh, tarkhāneh, tarkhwāneh , trahana , трахана/тархана , kishk , or kushuk are names for a dried food based on a fermented mixture of grain and yoghurt or fermented milk, usually made into a thick...


soup, from Persian cuisine is made with fermented grains and yoghurt.
" Trahanas" is a variation of the above soup using chicken and Halloumi Cheese
Vichyssoise

Vichyssoise

Vichyssoise is a thick soup made of puréed leeks, onions, potatoes, cream, and chicken stock. It is traditionally served cold, but can also be eaten hot.-Origin:...


, a French-style soup invented by a French chef at the Ritz Hotel

Ritz-Carlton Hotel Company

The Ritz-Carlton Hotel Company, L.L.C. is the parent company to the luxury hotel chain, Ritz-Carlton Hotels. The hotel company is a subsidiary of Marriott International...


in New York City, is a cold purée of potato

Potato

The potato is a starchy, tuberous crop from the perennial Solanum tuberosum of the Solanaceae family . The word potato may refer to the plant itself as well as the edible tuber. In the region of the Andes, there are some other closely related cultivated potato species...


es, leek

Leek

The leek, Allium ampeloprasum var. porrum , also sometimes known as Allium porrum, is a vegetable which belongs, along with the onion and garlic, to family Amaryllidaceae, subfamily Allioideae...


s, and cream

Cream

Cream is a dairy product that is composed of the higher-butterfat layer skimmed from the top of milk before homogenization. In un-homogenized milk, over time, the lighter fat rises to the top. In the industrial production of cream this process is accelerated by using centrifuges called "separators"...


.
Waterzooi

Waterzooi

Waterzooi is a classic stew of Flanders. Its name is Dutch, "zooien" meaning "to boil". It is sometimes called Gentse Waterzooi which refers to Ghent, a city in Belgium....


is a Belgian

Belgium

Belgium , officially the Kingdom of Belgium, is a federal state in Western Europe. It is a founding member of the European Union and hosts the EU's headquarters, and those of several other major international organisations such as NATO.Belgium is also a member of, or affiliated to, many...


fish

Fish

Fish are a paraphyletic group of organisms that consist of all gill-bearing aquatic vertebrate animals that lack limbs with digits. Included in this definition are the living hagfish, lampreys, and cartilaginous and bony fish, as well as various extinct related groups...


soup.
Yukgaejang

Yukgaejang

Yukgaejang is a spicy, soup-like Korean dish made from shredded beef with scallions and other ingredients, which are simmered together for a long time. It is a variety of gomguk, or thick soup, which was formerly served in Korean royal court cuisine...


, a Korean spicy beef

Beef

Beef is the culinary name for meat from bovines, especially domestic cattle. Beef can be harvested from cows, bulls, heifers or steers. It is one of the principal meats used in the cuisine of the Middle East , Australia, Argentina, Brazil, Europe and the United States, and is also important in...


soup, also includes vegetables.
Żurek, a Polish sour rye soup

Sour rye soup

The sour rye soup is a soup made of soured rye flour and meat . It is specific to Poland, where it is known as żur or żurek, and a variant is known as barszcz biały which is made with wheat flour instead of rye...


with sausages, is often served in a bowl made of bread.
Soup as a figure of speech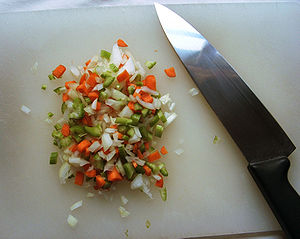 In the English language, the word "soup" has developed several uses in phrase.
Alphabet soup, a term often used to describe a large number of acronyms used by an administration, has its roots in a common tomato-based soup containing pasta shaped in the letters of the alphabet

Alphabet

An alphabet is a standard set of letters—basic written symbols or graphemes—each of which represents a phoneme in a spoken language, either as it exists now or as it was in the past. There are other systems, such as logographies, in which each character represents a word, morpheme, or semantic...


.
Primordial soup

Abiogenesis

Abiogenesis or biopoesis is the study of how biological life arises from inorganic matter through natural processes, and the method by which life on Earth arose...


is a term used to describe the organic mixture leading to the development of life.
A soup kitchen

Soup kitchen

A soup kitchen, a bread line, or a meal center is a place where food is offered to the hungry for free or at a reasonably low price. Frequently located in lower-income neighborhoods, they are often staffed by volunteer organizations, such as church groups or community groups...


is a place that serves prepared food of any kind to the homeless.
Pea soup describes a thick or dense fog.
"Soup legs" is an informal or slang term used by athletes to describe fatigue or exhaustion.
"Stone soup

Stone soup

Stone Soup is an old folk story in which hungry strangers persuade local people of a town to give them food. It is usually told as a lesson in cooperation, especially amid scarcity. In varying traditions, the stone has been replaced with other common inedible objects, and therefore the fable is...


" is a popular children's fable.
Duck soup

Czernina

Czernina is a Polish soup made of duck blood and clear poultry broth. In English it can be called "duck blood soup"....


is a term to describe a task that is particularly easy.
Word soup refers to any collection of words that is ostensibly incomprehensible.
Tag soup

Tag soup

In Web development, "tag soup" refers to formatted markup written for a web page that is very much like HTML but does not consist of correct HTML syntax and document structure...


further refers to poorly coded HTML

HTML

HyperText Markup Language is the predominant markup language for web pages. HTML elements are the basic building-blocks of webpages....


.
Soup Fire! can be used an expression of surprise.
is French for "soup of the day." Sometimes used as a metaphor for anything currently trendy or fashionable.
"Soup to nuts" is an American English idiom conveying the meaning "from beginning to end" (see: full course dinner

Full course dinner

A full course dinner is a dinner consisting of multiple dishes, or courses. In its simplest form, it can consist of three or four courses, such as soup, salad, meat and dessert.-Form:...


).
"Soup's on!" or "Soup's up!" is a common phrase used to say, "Dinner's ready."
Soup Sandwich is a denigrative U.S. military slang term, typically used to admonish a trooper for poor work or shoddy appearance. The term comes from the concept that a sandwich made out of soup would be a sloppy mess.
To soup something up is to improve it, or increase its power (most often used of cars, aeroplanes, and the like)- possibly from "supercharge".
In popular culture
The Soup Nazi

The Soup Nazi

"The Soup Nazi" is the title of the 116th episode of the NBC sitcom Seinfeld, which was the 6th episode of the 7th season. It first aired in the United States on November 2, 1995....


is a fictional character from Seinfeld

Seinfeld

Seinfeld is an American television sitcom that originally aired on NBC from July 5, 1989, to May 14, 1998, lasting nine seasons, and is now in syndication. It was created by Larry David and Jerry Seinfeld, the latter starring as a fictionalized version of himself...


who makes fantastic soup but has very strict ordering procedures.
In the horror film, The Exorcist

The Exorcist (film)

The Exorcist is a 1973 American horror film directed by William Friedkin, adapted from the 1971 novel of the same name by William Peter Blatty and based on the exorcism case of Robbie Mannheim, dealing with the demonic possession of a young girl and her mother's desperate attempts to win back her...


, Regan MacNeil vomits pea soup while possessed.
Duck Soup is the title of a comedy

Comedy

Comedy , as a popular meaning, is any humorous discourse or work generally intended to amuse by creating laughter, especially in television, film, and stand-up comedy. This must be carefully distinguished from its academic definition, namely the comic theatre, whose Western origins are found in...


film by the Marx Brothers

Marx Brothers

The Marx Brothers were an American family comedy act, originally from New York City, that enjoyed success in Vaudeville, Broadway, and motion pictures from the early 1900s to around 1950...


.
External links
Fernandez-Armesto, Felipe. Near a Thousand Tables: A History of Food (2002). New York: Free Press ISBN 0-7432-2644-5
Larousse Gastronomique, Jennifer Harvey Lang, ed. American Edition (1988). New York: Crown Publishers ISBN 0-609-60971-8
Morton, Mark. Cupboard Love: A Dictionary of Culinary Curiosities (2004). Toronto: Insomniac Press ISBN 1-894663-66-7