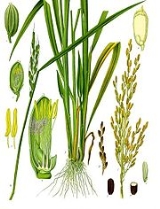 Rice
Rice
is the
seed
Seed
A seed is a small embryonic plant enclosed in a covering called the seed coat, usually with some stored food. It is the product of the ripened ovule of gymnosperm and angiosperm plants which occurs after fertilization and some growth within the mother plant...
of the monocot plants
Oryza sativa
Oryza sativa
Oryza sativa, commonly known as Asian rice, is the plant species most commonly referred to in English as rice. Oryza sativa is the cereal with the smallest genome, consisting of just 430Mb across 12 chromosomes...
(Asian rice) or
Oryza glaberrima
(African rice). As a
cereal grain
Cereal
Cereals are grasses cultivated for the edible components of their grain , composed of the endosperm, germ, and bran...
, it is the most important
staple food
Staple food
A staple food is one that is eaten regularly and in such quantities that it constitutes a dominant portion of a diet, and that supplies a high proportion of energy and nutrient needs. Most people live on a diet based on one or more staples...
for a large part of the world's human population, especially in
East Asia
East Asia
East Asia or Eastern Asia is a subregion of Asia that can be defined in either geographical or cultural terms...
,
Southeast Asia
Southeast Asia
Southeast Asia, South-East Asia, South East Asia or Southeastern Asia is a subregion of Asia, consisting of the countries that are geographically south of China, east of India, west of New Guinea and north of Australia. The region lies on the intersection of geological plates, with heavy seismic...
,
South Asia
South Asia
South Asia, also known as Southern Asia, is the southern region of the Asian continent, which comprises the sub-Himalayan countries and, for some authorities , also includes the adjoining countries to the west and the east...
, the
Middle East
Middle East
The Middle East is a region that encompasses Western Asia and Northern Africa. It is often used as a synonym for Near East, in opposition to Far East...
, and the West Indies. It is the grain with the third-highest worldwide production, after
maize
Maize
Maize known in many English-speaking countries as corn or mielie/mealie, is a grain domesticated by indigenous peoples in Mesoamerica in prehistoric times. The leafy stalk produces ears which contain seeds called kernels. Though technically a grain, maize kernels are used in cooking as a vegetable...
(corn) and
wheat
Wheat
Wheat is a cereal grain, originally from the Levant region of the Near East, but now cultivated worldwide. In 2007 world production of wheat was 607 million tons, making it the third most-produced cereal after maize and rice...
, according to data for 2009.
Rice is first mentioned in the Yajur Veda and then is frequently referred to in
Sanskrit
Sanskrit
Sanskrit , is a historical Indo-Aryan language and the primary liturgical language of Hinduism, Jainism and Buddhism.Buddhism: besides Pali, see Buddhist Hybrid Sanskrit Today, it is listed as one of the 22 scheduled languages of India and is an official language of the state of Uttarakhand...
texts.