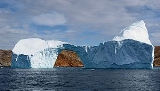 Water
Water is a
chemical substance
Chemical substance
In chemistry, a chemical substance is a form of matter that has constant chemical composition and characteristic properties. It cannot be separated into components by physical separation methods, i.e. without breaking chemical bonds. They can be solids, liquids or gases.Chemical substances are...
with the
chemical formula
Chemical formula
A chemical formula or molecular formula is a way of expressing information about the atoms that constitute a particular chemical compound....
H2O
H2O
H2O is the chemical formula for water and is also used as an abbreviation for the word "water". H2O or H2O It may also refer to:* H2O , a punk band**H2O , their self-titled debut album...
. A water
molecule
Molecule
A molecule is an electrically neutral group of at least two atoms held together by covalent chemical bonds. Molecules are distinguished from ions by their electrical charge...
contains one
oxygen
Oxygen
Oxygen is the element with atomic number 8 and represented by the symbol O. Its name derives from the Greek roots ὀξύς and -γενής , because at the time of naming, it was mistakenly thought that all acids required oxygen in their composition...
and two
hydrogen
Hydrogen
Hydrogen is the chemical element with atomic number 1. It is represented by the symbol H. With an average atomic weight of , hydrogen is the lightest and most abundant chemical element, constituting roughly 75% of the Universe's chemical elemental mass. Stars in the main sequence are mainly...
atoms connected by covalent bonds. Water is a
liquid
Liquid
Liquid is one of the three classical states of matter . Like a gas, a liquid is able to flow and take the shape of a container. Some liquids resist compression, while others can be compressed. Unlike a gas, a liquid does not disperse to fill every space of a container, and maintains a fairly...
at
ambient conditions
Standard conditions for temperature and pressure
Standard condition for temperature and pressure are standard sets of conditions for experimental measurements established to allow comparisons to be made between different sets of data...
, but it often co-exists on
Earth
Earth
Earth is the third planet from the Sun, and the densest and fifth-largest of the eight planets in the Solar System. It is also the largest of the Solar System's four terrestrial planets...
with its
solid
Solid
Solid is one of the three classical states of matter . It is characterized by structural rigidity and resistance to changes of shape or volume. Unlike a liquid, a solid object does not flow to take on the shape of its container, nor does it expand to fill the entire volume available to it like a...
state,
ice
Ice
Ice is water frozen into the solid state. Usually ice is the phase known as ice Ih, which is the most abundant of the varying solid phases on the Earth's surface. It can appear transparent or opaque bluish-white color, depending on the presence of impurities or air inclusions...
, and gaseous state (
water vapor
Water vapor
Water vapor or water vapour , also aqueous vapor, is the gas phase of water. It is one state of water within the hydrosphere. Water vapor can be produced from the evaporation or boiling of liquid water or from the sublimation of ice. Under typical atmospheric conditions, water vapor is continuously...
or
steam
Steam
Steam is the technical term for water vapor, the gaseous phase of water, which is formed when water boils. In common language it is often used to refer to the visible mist of water droplets formed as this water vapor condenses in the presence of cooler air...
). Water also exists in a
liquid crystal
Liquid crystal
Liquid crystals are a state of matter that have properties between those of a conventional liquid and those of a solid crystal. For instance, an LC may flow like a liquid, but its molecules may be oriented in a crystal-like way. There are many different types of LC phases, which can be...
state near
hydrophilic
Hydrophile
A hydrophile, from the Greek "water" and φιλια "love," is a molecule or other molecular entity that is attracted to, and tends to be dissolved by water. A hydrophilic molecule or portion of a molecule is one that has a tendency to interact with or be dissolved by, water and other polar substances...
surfaces. Under nomenclature used to name chemical compounds,
Dihydrogen monoxide
is the scientific name for water, though it is almost never used.
Water covers 70.9% of the
Earth
Earth
Earth is the third planet from the Sun, and the densest and fifth-largest of the eight planets in the Solar System. It is also the largest of the Solar System's four terrestrial planets...
's surface, and is vital for all known forms of life.
All the rivers run into the sea; yet the sea is not full; unto the place from whence the rivers come, thither they return again.

The Bible|Ecclesiastes 1:7
Don't get set into one form, adapt it and build your own, and let it grow, be like water. Empty your mind, be formless, shapeless — like water. Now you put water in a cup, it becomes the cup; You put water into a bottle it becomes the bottle; You put it in a teapot it becomes the teapot. Water can flow or it can crash. Be water, my friend.

Bruce Lee as quoted in Bruce Lee : A Warrior's Journey (2000)
天下莫柔弱於水。而攻堅強者、莫之能勝。以其無以易之。(Original: Chinese)

Translation: There is nothing softer and weaker than water,And yet there is nothing better for attacking hard and strong things.For this reason there is no substitute for it.
Water, water, every where,And all the boards did shrink;Water, water, every where,Nor any drop to drink.

Samuel Taylor Coleridge, The Rime of the Ancient Mariner
From a drop of water, a logician could infer the possibility of an Atlantic or a Niagara without having seen or heard of one or the other.

Arthur Conan Doyle, A Study in Scarlet|A Study in Scarlet, Chapter 2, "The Science of Deduction"