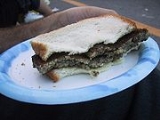 Offal
Offal
ˈɒfəl, also called, especially in the United States,
variety meats
or
organ meats,
refers to the internal organs and entrails of a butchered
animal
Animal
Animals are a major group of multicellular, eukaryotic organisms of the kingdom Animalia or Metazoa. Their body plan eventually becomes fixed as they develop, although some undergo a process of metamorphosis later on in their life. Most animals are motile, meaning they can move spontaneously and...
. The word does not refer to a particular list of edible organs, which varies by culture and region, but includes most internal organs other than
muscle
Muscle
Muscle is a contractile tissue of animals and is derived from the mesodermal layer of embryonic germ cells. Muscle cells contain contractile filaments that move past each other and change the size of the cell. They are classified as skeletal, cardiac, or smooth muscles. Their function is to...
and
bone
Bone
Bones are rigid organs that constitute part of the endoskeleton of vertebrates. They support, and protect the various organs of the body, produce red and white blood cells and store minerals. Bone tissue is a type of dense connective tissue...
. As an English
mass noun
Mass noun
In linguistics, a mass noun is a noun that refers to some entity as an undifferentiated unit rather than as something with discrete subsets. Non-count nouns are best identified by their syntactic properties, and especially in contrast with count nouns. The semantics of mass nouns are highly...
, the term "offal" is used in the same form for singular and plural.