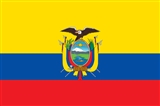 Ecuador
Ecuador , officially the Republic of Ecuador ' onMouseout='HidePop("15920")' href="/topics/Equator">Equator
Equator
An equator is the intersection of a sphere's surface with the plane perpendicular to the sphere's axis of rotation and containing the sphere's center of mass....
) is a representative democratic republic in
South America
South America
South America is a continent situated in the Western Hemisphere, mostly in the Southern Hemisphere, with a relatively small portion in the Northern Hemisphere. The continent is also considered a subcontinent of the Americas. It is bordered on the west by the Pacific Ocean and on the north and east...
, bordered by
Colombia
Colombia
Colombia, officially the Republic of Colombia , is a unitary constitutional republic comprising thirty-two departments. The country is located in northwestern South America, bordered to the east by Venezuela and Brazil; to the south by Ecuador and Peru; to the north by the Caribbean Sea; to the...
on the north,
Peru
Peru
Peru , officially the Republic of Peru , is a country in western South America. It is bordered on the north by Ecuador and Colombia, on the east by Brazil, on the southeast by Bolivia, on the south by Chile, and on the west by the Pacific Ocean....
on the east and south, and by the Pacific Ocean to the west.
1534 The city of Quito in Ecuador is founded by Spanish settlers led by Sebastián de Belalcázar.
1809 Quito, now the capital of Ecuador, declares independence from Spain. This rebellion will be crushed on August 2, 1810.
1821 The Republic of Gran Colombia (a federation covering much of present day Venezuela, Colombia, Panama, and Ecuador) is established, with Simón Bolívar as the founding President and Francisco de Paula Santander as vice president. thumb|right|220px|[[Brazil]] declares independence.
1822 José de San Martín arrives in Guayaquil, Ecuador, to meet with Simón Bolívar.
1830 Ecuador gains its independence from Gran Colombia.
1831 Ecuador and Venezuela are separated from Greater Colombia.
1832 Ecuador annexes the Galápagos Islands.
1949 In Ecuador an earthquake destroys 50 towns and kills more than 6,000.
1953 Ernesto "Che" Guevara sets out on a trip through Bolivia, Peru, Ecuador, Panama, Costa Rica, Nicaragua, Honduras, and El Salvador.
1956 Operation Auca: Five U.S. missionaries are killed by the Huaorani of Ecuador shortly after making contact with them.