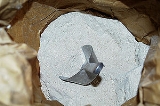 Flour
Flour
is a
powder
Powder (substance)
A powder is a dry,thick bulk solid composed of a large number of very fine particles that may flow freely when shaken or tilted. Powders are a special sub-class of granular materials, although the terms powder and granular are sometimes used to distinguish separate classes of material...
which is made by grinding
cereal
Cereal
Cereals are grasses cultivated for the edible components of their grain , composed of the endosperm, germ, and bran...
grains, other
seeds
SEEDS
SEEDS is a voluntary organisation registered under the Societies Act of India....
or
root
Root
In vascular plants, the root is the organ of a plant that typically lies below the surface of the soil. This is not always the case, however, since a root can also be aerial or aerating . Furthermore, a stem normally occurring below ground is not exceptional either...
s (like
Cassava
Cassava
Cassava , also called yuca or manioc, a woody shrub of the Euphorbiaceae native to South America, is extensively cultivated as an annual crop in tropical and subtropical regions for its edible starchy tuberous root, a major source of carbohydrates...
). It is the main ingredient of
bread
Bread
Bread is a staple food prepared by cooking a dough of flour and water and often additional ingredients. Doughs are usually baked, but in some cuisines breads are steamed , fried , or baked on an unoiled frying pan . It may be leavened or unleavened...
, which is a
staple food
Staple food
A staple food is one that is eaten regularly and in such quantities that it constitutes a dominant portion of a diet, and that supplies a high proportion of energy and nutrient needs. Most people live on a diet based on one or more staples...
for many cultures, making the availability of adequate supplies of flour a major economic and political issue at various times throughout history.
Wheat flour
Wheat flour
Wheat flour is a powder made from the grinding of wheat used for human consumption. More wheat flour is produced than any other flour. Wheat varieties are called "clean," "white," or "brown" if they have high gluten content, and they are called "soft" or "weak" flour if gluten content is low...
is one of the most important foods in
Europe
Europe
Europe is, by convention, one of the world's seven continents. Comprising the westernmost peninsula of Eurasia, Europe is generally 'divided' from Asia to its east by the watershed divides of the Ural and Caucasus Mountains, the Ural River, the Caspian and Black Seas, and the waterways connecting...
an,
North America
North America
North America is a continent wholly within the Northern Hemisphere and almost wholly within the Western Hemisphere. It is also considered a northern subcontinent of the Americas...
n, Middle Eastern and North African cultures, and is the defining
ingredient
Ingredient
An ingredient is a substance that forms part of a mixture . For example, in cooking, recipes specify which ingredients are used to prepare a specific dish. Many commercial products contain a secret ingredient that is purported to make them better than competing products...
in most of their styles of breads and pastries.
Maize
Maize
Maize known in many English-speaking countries as corn or mielie/mealie, is a grain domesticated by indigenous peoples in Mesoamerica in prehistoric times. The leafy stalk produces ears which contain seeds called kernels. Though technically a grain, maize kernels are used in cooking as a vegetable...
flour has been important in
Mesoamerica
Mesoamerica
Mesoamerica is a region and culture area in the Americas, extending approximately from central Mexico to Belize, Guatemala, El Salvador, Honduras, Nicaragua, and Costa Rica, within which a number of pre-Columbian societies flourished before the Spanish colonization of the Americas in the 15th and...
n cuisine since ancient times, and remains a staple in much of
Latin American cuisine
Latin American cuisine
Latin American Cuisine refers to typical foods, beverages, and cooking styles common to many of the countries and cultures in Latin America...
.
Rye
Rye
Rye is a grass grown extensively as a grain and as a forage crop. It is a member of the wheat tribe and is closely related to barley and wheat. Rye grain is used for flour, rye bread, rye beer, some whiskeys, some vodkas, and animal fodder...
flour is an important constituent of bread in much of central/northern Europe.
Etymology
The word "flour" is originally a variant of the word "
flower
Flower
A flower, sometimes known as a bloom or blossom, is the reproductive structure found in flowering plants . The biological function of a flower is to effect reproduction, usually by providing a mechanism for the union of sperm with eggs...
". Both derive from the
Old French
Old French
Old French was the Romance dialect continuum spoken in territories that span roughly the northern half of modern France and parts of modern Belgium and Switzerland from the 9th century to the 14th century...
fleur
or
flour
, which had the literal meaning "blossom," and a figurative meaning "the finest." The phrase "fleur de farine" meant "the finest part of the meal," since flour resulted from the elimination of coarse and unwanted matter from the grain during milling.
History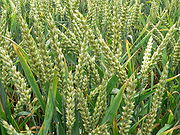 It was discovered around 9000 BC that
wheat
Wheat
Wheat is a cereal grain, originally from the Levant region of the Near East, but now cultivated worldwide. In 2007 world production of wheat was 607 million tons, making it the third most-produced cereal after maize and rice...
seeds could be crushed between simple
grindstones
Millstone
Millstones or mill stones are used in windmills and watermills, including tide mills, for grinding wheat or other grains.The type of stone most suitable for making millstones is a siliceous rock called burrstone , an open-textured, porous but tough, fine-grained sandstone, or a silicified,...
to make flour. The
Romans
Ancient Rome
Ancient Rome was a thriving civilization that grew on the Italian Peninsula as early as the 8th century BC. Located along the Mediterranean Sea and centered on the city of Rome, it expanded to one of the largest empires in the ancient world....
were the first to grind seeds on cone mills. In 1879, at the beginning of the Industrial Era, the first steam mill was erected in
London
London
London is the capital city of :England and the :United Kingdom, the largest metropolitan area in the United Kingdom, and the largest urban zone in the European Union by most measures. Located on the River Thames, London has been a major settlement for two millennia, its history going back to its...
. In the 1930s, some flour began to be enriched with iron, niacin, thiamine and riboflavin. In the 1940s, mills started to enrich flour and folic acid was added to the list in the 1990s.
Degermed and heat processed flour
An important problem of the
industrial revolution
Industrial Revolution
The Industrial Revolution was a period from the 18th to the 19th century where major changes in agriculture, manufacturing, mining, transportation, and technology had a profound effect on the social, economic and cultural conditions of the times...
was the preservation of flour. Transportation distances and a relatively slow distribution system collided with natural
shelf life
Shelf life
Shelf life is the length of time that food, drink, medicine, chemicals, and many other perishable items are given before they are considered unsuitable for sale, use, or consumption...
. The reason for the limited shelf life is the fatty acids of the
germ
Cereal germ
The germ of a cereal is the reproductive part that germinates to grow into a plant; it is the embryo of the seed. Along with bran, germ is often a by-product of the milling that produces refined grain products. Cereal grains and their components, such as wheat germ, rice bran, and maize may be used...
, which react from the moment they are exposed to oxygen. This occurs when grain is milled; the fatty acids oxidize and flour starts to become
rancid
Rancidification
Rancidification is the chemical decomposition of fats, oils and other lipids . When these processes occur in food, undesirable odors and flavors can result. In some cases, however, the flavors can be desirable . In processed meats, these flavors are collectively known as "warmed over flavor"...
.
Depending on climate and grain quality, this process takes six to nine months. In the late 19th century, this process was too short for an industrial production and distribution cycle. As
vitamin
Vitamin
A vitamin is an organic compound required as a nutrient in tiny amounts by an organism. In other words, an organic chemical compound is called a vitamin when it cannot be synthesized in sufficient quantities by an organism, and must be obtained from the diet. Thus, the term is conditional both on...
s, micro nutrients and
amino acid
Amino acid
Amino acids are molecules containing an amine group, a carboxylic acid group and a side-chain that varies between different amino acids. The key elements of an amino acid are carbon, hydrogen, oxygen, and nitrogen...
s were completely or relatively unknown in the late 19th century, removing the germ was a brilliant solution. Without the germ, flour cannot become rancid. Degermed flour became standard. Degermation started in densely populated areas and took approximately one generation to reach the countryside.
Heat-processed flour is flour where the germ is first separated from the endosperm and bran, then processed with steam, dry heat or
microwave
Microwave
Microwaves, a subset of radio waves, have wavelengths ranging from as long as one meter to as short as one millimeter, or equivalently, with frequencies between 300 MHz and 300 GHz. This broad definition includes both UHF and EHF , and various sources use different boundaries...
and blended into flour again.
Production
Milling of flour is accomplished by grinding grain between stones or steel wheels. Today, "stone-ground" usually means that the grain has been ground in a mill in which a revolving stone wheel turns over a stationary stone wheel, vertically or horizontally with the grain in between. Many small appliance mills are available, both hand-cranked and electric. The mill stones frequently rub against each other resulting in small stone particles chipping off and getting into flour, but it is removed before getting sold.
Modern mills
Rollermills soon replaced stone
grist
Grist
Grist is grain that has been separated from its chaff in preparation for grinding. It can also mean grain that has been ground at a grist mill. Its etymology derives from the verb grind....
mills as the production of flour has historically driven technological development, as attempts to make
gristmill
Gristmill
The terms gristmill or grist mill can refer either to a building in which grain is ground into flour, or to the grinding mechanism itself.- Early history :...
s more productive and less labor-intensive led to the
watermill
Watermill
A watermill is a structure that uses a water wheel or turbine to drive a mechanical process such as flour, lumber or textile production, or metal shaping .- History :...
and
windmill
Windmill
A windmill is a machine which converts the energy of wind into rotational energy by means of vanes called sails or blades. Originally windmills were developed for milling grain for food production. In the course of history the windmill was adapted to many other industrial uses. An important...
. These terms are now applied more broadly to uses of water and wind power for purposes other than milling.
More recently, the
Unifine mill
Unifine mill
A Unifine mill is a single one-pass impact milling system which produces ultrafine-milled whole-grain wheat flour that requires no grain pre-treatment and no screening of the flour. Like the grist or stone mills that had dominated the flour industry for centuries, the bran, germ, and endosperm...
, an impact-type mill, was developed in the mid-20th century.
Composition
Flour contains a high proportion of
starch
Starch
Starch or amylum is a carbohydrate consisting of a large number of glucose units joined together by glycosidic bonds. This polysaccharide is produced by all green plants as an energy store...
es, which are a subset of complex
carbohydrate
Carbohydrate
A carbohydrate is an organic compound with the empirical formula ; that is, consists only of carbon, hydrogen, and oxygen, with a hydrogen:oxygen atom ratio of 2:1 . However, there are exceptions to this. One common example would be deoxyribose, a component of DNA, which has the empirical...
s also known as
polysaccharide
Polysaccharide
Polysaccharides are long carbohydrate molecules, of repeated monomer units joined together by glycosidic bonds. They range in structure from linear to highly branched. Polysaccharides are often quite heterogeneous, containing slight modifications of the repeating unit. Depending on the structure,...
s. The kinds of flour used in cooking include all-purpose flour, self-rising flour, and cake flour including bleached flour. The higher the protein content the harder and stronger the flour and will produce crusty or chewy breads. The lower the protein the softer the flour for better cakes, cookies, and pie crusts.
Unbleached flour
Unbleached flour is simply flour that has not undergone bleaching and therefore does not have the color of "white" flour. An example of this would be the
Graham flour
Graham flour
Graham flour is a type of whole wheat flour named after the American Presbyterian minister Rev. Sylvester Graham , an early advocate for dietary reform...
.
Sylvester Graham
Sylvester Graham
The Reverend Sylvester Graham was an American dietary reformer. He was born in Suffield, Connecticut as the 17th child of Reverend John Graham. Sylvester Graham was ordained in 1826 as a Presbyterian minister. He entered Amherst College in 1823 but did not graduate...
was against using bleaching agents, as being unhealthy.
Bleached flour
"Bleached flour" is any flour with a whitening agent added and is referred to as refined flour. Cake flour is high in starch and low in protein and when chlorinated (bleached) allows cakes and other baked goods to set faster, rise better, the fat to be distributed more evenly, and there is less vulnerability to collapse. There are several kinds of bleaching agents added to flour. These agents oxidize the surfaces of the flour grains and aid with developing (maturing) of gluten. Bleaching makes flour slightly acidic and the taste can be noticed. The chlorination does assist in causing the small bubbles that allow baked goods to be fluffy. Different chemicals are used for Flour treatment agents to improve color and use in baking;
chlorine dioxide

Chlorine dioxide

Chlorine dioxide is a chemical compound with the formula ClO2. This yellowish-green gas crystallizes as bright orange crystals at −59 °C. As one of several oxides of chlorine, it is a potent and useful oxidizing agent used in water treatment and in bleaching....


(unstable to be transported in the U.S.)
Calcium peroxide

Calcium peroxide

Calcium peroxide is a solid peroxide with a white or yellowish color. For all practical purposes calcium peroxide is insoluble in water but will dissolve in acid to form hydrogen peroxide...



Azodicarbonamide

Azodicarbonamide

Azodicarbonamide, or azobisformamide, is a synthetic chemical with the molecular formula C2H4O2N4. It is a yellow to orange red, odorless, crystalline powder. As a food additive, it is known by the E number E927.-Use as a food additive:...


or azobisformamide (synthetic)
Atmospheric oxygen causes natural bleaching.
Some consumers mistakenly believe that "bleached flour" is the result of a natural process involving exposure of flour to sunlight. It is not clear where this notion originated, but it is incorrect.
Plain flour
Flour that does not have a leavening agent is called plain or all-purpose flour. It is appropriate for most bread and pizza bases. Some cookies are also prepared using this type of flour. Bread flour is high in gluten protein, with 12.5-14% protein compared to 10-12% protein in all-purpose flour. The increased protein binds to the flour to entrap
carbon dioxide
Carbon dioxide
Carbon dioxide is a naturally occurring chemical compound composed of two oxygen atoms covalently bonded to a single carbon atom...
released by the yeast
fermentation
Fermentation
Fermentation may refer to:* Fermentation , the use of fermentation in food preparation* Fermentation , a metabolic process whereby electrons released from nutrients are ultimately transferred to molecules obtained from the breakdown of those same nutrients* Fermentation , the process of...
process, resulting in a stronger rise.
Self-raising flour
Leavening agent
Leavening agent
A leavening agent is any one of a number of substances used in doughs and batters that cause a foaming action which lightens and softens the finished product...
s are used with some flours, especially those with significant
gluten
Gluten
Gluten is a protein composite found in foods processed from wheat and related grain species, including barley and rye...
content, to produce lighter and softer baked products by embedding small gas bubbles. Self-rising (or self-raising) flour is sold premixed with chemical leavening agents. The added ingredients are evenly distributed throughout the flour which aids a consistent rise in baked goods. This flour is generally used for preparing scones, biscuits, muffins, etc. It was invented by
Henry Jones
Henry Jones (baker)
Henry Jones was a baker in Bristol, England, who was responsible in 1845 for inventing self-raising flour.Jones was born in Monmouth, and established a bakery in Broadmead, Bristol. He was granted a patent for self-raising flour in 1845, and by the end of 1846 its runaway success led to him being...
and patented in 1845. Plain flour can be used to make a type of self-rising flour although the flour will be coarser. Self-rising flour is typically composed of the following ratio:
1 cup (100 g) flour
1 teaspoon (3 g) baking powder

Baking powder

Baking powder is a dry chemical leavening agent used to increase the volume and lighten the texture of baked goods such as muffins, cakes, scones and American-style biscuits. Baking powder works by releasing carbon dioxide gas into a batter or dough through an acid-base reaction, causing bubbles in...



a pinch to ½ teaspoon (1 g or less) salt

Salt

In chemistry, salts are ionic compounds that result from the neutralization reaction of an acid and a base. They are composed of cations and anions so that the product is electrically neutral...



Enriched flour
During the process of making flour nutrients are lost. Some of these nutrients are replaced during refining and the result is "enriched flour".
Common preservatives sometimes added to commercial flour
Calcium propanoate
Sodium benzoate

Sodium benzoate

Sodium benzoate has the chemical formula NaC6H5CO2; it is a widely used food preservative, with E number E211. It is the sodium salt of benzoic acid and exists in this form when dissolved in water. It can be produced by reacting sodium hydroxide with benzoic acid.-Uses:Sodium benzoate is a...



Tricalcium phosphate

Tricalcium phosphate

Tricalcium phosphate is a calcium salt of phosphoric acid with the chemical formula Ca32. It is also known as tribasic calcium phosphate or "bone ash" ....



Butylated hydroxyanisole

Butylated hydroxyanisole

Butylated hydroxyanisole is an antioxidant consisting of a mixture of two isomeric organic compounds, 2-tert-butyl-4-hydroxyanisole and 3-tert-butyl-4-hydroxyanisole. It is prepared from 4-methoxyphenol and isobutylene. It is a waxy solid used as a food additive with the E number E320...



Wheat flour
More wheat flour is produced than any other flour. Wheat varieties are called "clean," "white," or "brown" or "strong" if they have high gluten content, and they are called "soft" or "weak" flour if gluten content is low.
Other flours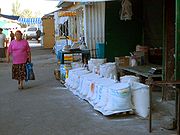 Acorn

Acorn

The acorn, or oak nut, is the nut of the oaks and their close relatives . It usually contains a single seed , enclosed in a tough, leathery shell, and borne in a cup-shaped cupule. Acorns vary from 1–6 cm long and 0.8–4 cm broad...


flour is made from ground acorns and can be used as a substitute for wheat flour. It was used by Native Americans. Koreans also use acorn flour to make Dotorimuk

Dotorimuk

Dotorimuk or acorn jelly is a Korean food which is a jelly made from acorn starch. Although "muk" means "jelly", when used without qualifiers, it usually refers to dotorimuk...



Almond

Almond

The almond , is a species of tree native to the Middle East and South Asia. Almond is also the name of the edible and widely cultivated seed of this tree...


flour is made from ground almonds, suitable for people with gluten-free diets or Coeliac disease

Coeliac disease

Coeliac disease , is an autoimmune disorder of the small intestine that occurs in genetically predisposed people of all ages from middle infancy onward...


.
Amaranth flour is a flour produced from ground amaranth

Amaranth

Amaranthus, collectively known as amaranth, is a cosmopolitan genus of herbs. Approximately 60 species are recognized, with inflorescences and foliage ranging from purple and red to gold...


grain. It was commonly used in pre-Columbian meso-American cuisine. It is becoming more and more available in speciality food shops.
Atta flour

Atta flour

Atta is the Hindi word for oven, and flour is the main ingredient of most varieties of Indian, Bangladeshi and Pakistani bread. Atta generally refers to the oven used in cooking the bread. Flatbreads made from atta, such as chapati, roti, naan and puri, are an integral part of Indian cuisine...


is a whole-grain wheat flour important in India

India

India , officially the Republic of India , is a country in South Asia. It is the seventh-largest country by geographical area, the second-most populous country with over 1.2 billion people, and the most populous democracy in the world...


n and Pakistan

Pakistan

Pakistan , officially the Islamic Republic of Pakistan is a sovereign state in South Asia. It has a coastline along the Arabian Sea and the Gulf of Oman in the south and is bordered by Afghanistan and Iran in the west, India in the east and China in the far northeast. In the north, Tajikistan...


i cuisine, used for a range of breads such as roti

Roti

Roti is generally a South Asian bread made from stoneground wholemeal flour, traditionally known as atta flour, that originated and is consumed in India, Pakistan, Bangladesh, Nepal and Sri Lanka. It is also consumed in parts of the Southern Caribbean, particularly in Guyana, Suriname, Trinidad and...


and chapati

Chapati

Chapati or Chapatti or Chapathi is an unleavened flatbread from the Indian subcontinent. Versions of it are found in Turkmenistan and in East African countries Kenya, Uganda and Tanzania...


.
Bean flour is a flour produced from pulverized dried or ripe beans.
Brown rice

Brown rice

Brown rice is unmilled or partly milled rice, a kind of whole, natural grain. It has a mild nutty flavor, is chewier and more nutritious than white rice, but goes rancid more quickly because the germ—which is removed to make white rice—contains fats that can spoil...


flour is of great importance in Southeast Asian cuisine. Also edible rice paper

Rice paper

Rice paper usually refers to paper made from parts of the rice plant, like rice straw or rice flour. The term is also used for paper made from or containing other plants, such as hemp, bamboo or mulberry...


can be made from it.
Buckwheat

Buckwheat

Buckwheat refers to a variety of plants in the dicot family Polygonaceae: the Eurasian genus Fagopyrum, the North American genus Eriogonum, and the Northern Hemisphere genus Fallopia. Either of the latter two may be referred to as "wild buckwheat"...


flour is used as an ingredient in many pancake

Pancake

A pancake is a thin, flat, round cake prepared from a batter, and cooked on a hot griddle or frying pan. Most pancakes are quick breads; some use a yeast-raised or fermented batter. Most pancakes are cooked one side on a griddle and flipped partway through to cook the other side...


s in the United States. In Japan

Japan

Japan is an island nation in East Asia. Located in the Pacific Ocean, it lies to the east of the Sea of Japan, China, North Korea, South Korea and Russia, stretching from the Sea of Okhotsk in the north to the East China Sea and Taiwan in the south...


, it is used to make a popular noodle called soba

Soba

is the Japanese name for buckwheat. It is synonymous with a type of thin noodle made from buckwheat flour, and in Japan can refer to any thin noodle . Soba noodles are served either chilled with a dipping sauce, or in hot broth as a noodle soup...


. In Russia

Russia

Russia or , officially known as both Russia and the Russian Federation , is a country in northern Eurasia. It is a federal semi-presidential republic, comprising 83 federal subjects...


, buckwheat flour is added to the batter for pancakes called blinis which are frequently eaten with caviar

Caviar

Caviar, sometimes called black caviar, is a luxury delicacy, consisting of processed, salted, non-fertilized sturgeon roe. The roe can be "fresh" or pasteurized, the latter having much less culinary and economic value....


. Buckwheat flour is also used to make crêpes bretonnes

Crêpe

A crêpe or crepe , is a type of very thin pancake, usually made from wheat flour or buckwheat flour . The word is of French origin, deriving from the Latin crispa, meaning "curled". While crêpes originate from Brittany, a region in the northwest of France, their consumption is widespread in France...


in Brittany

Brittany

Brittany is a cultural and administrative region in the north-west of France. Previously a kingdom and then a duchy, Brittany was united to the Kingdom of France in 1532 as a province. Brittany has also been referred to as Less, Lesser or Little Britain...


. On Hindu fasting days (Navaratri mainly, also Maha Shivaratri), people eat items made of buckwheat flour. The preparation varies across India. The famous ones are Kuttu

Buckwheat

Buckwheat refers to a variety of plants in the dicot family Polygonaceae: the Eurasian genus Fagopyrum, the North American genus Eriogonum, and the Northern Hemisphere genus Fallopia. Either of the latter two may be referred to as "wild buckwheat"...


Ki Puri and Kuttu Pakoras. In most of northern and western states they call this Kuttu ka atta.
Cassava

Cassava

Cassava , also called yuca or manioc, a woody shrub of the Euphorbiaceae native to South America, is extensively cultivated as an annual crop in tropical and subtropical regions for its edible starchy tuberous root, a major source of carbohydrates...


flour is made from the root of the cassava plant. In a purified form (pure starch), it is called tapioca

Tapioca

Tapioca is a starch extracted Manihot esculenta. This species, native to the Amazon, Brazil, Colombia, Venezuela, Cuba, Puerto Rico, Haiti, the Dominican Republic, Honduras, and most of the West Indies, is now cultivated worldwide and has many names, including cassava, manioc, aipim,...


flour (see in list, below)
Chestnut

Sweet Chestnut

Castanea sativa is a species of the flowering plant family Fagaceae, the tree and its edible seeds are referred to by several common names such Sweet Chestnut or Marron. Originally native to southeastern Europe and Asia Minor, it is now widely dispersed throughout Europe and parts of Asia, such as...


flour is popular in Corsica

Corsica

Corsica is an island in the Mediterranean Sea. It is located west of Italy, southeast of the French mainland, and north of the island of Sardinia....


, the Périgord

Périgord

The Périgord is a former province of France, which corresponds roughly to the current Dordogne département, now forming the northern part of the Aquitaine région. It is divided into four regions, the Périgord Noir , the Périgord Blanc , the Périgord Vert and the Périgord Pourpre...


and Lunigiana

Lunigiana

The Lunigiana is an historical territory of Italy, which today falls within the provinces of La Spezia and Massa Carrara. Its borders derive from the ancient Roman settlement, later the medieval diocese of Luni, which no longer exists....


for breads, cake

Cake

Cake is a form of bread or bread-like food. In its modern forms, it is typically a sweet and enriched baked dessert. In its oldest forms, cakes were normally fried breads or cheesecakes, and normally had a disk shape...


s and pasta

Pasta

Pasta is a staple food of traditional Italian cuisine, now of worldwide renown. It takes the form of unleavened dough, made in Italy, mostly of durum wheat , water and sometimes eggs. Pasta comes in a variety of different shapes that serve for both decoration and to act as a carrier for the...


s. It is the original ingredient for "polenta", still used as such in Corsica and other Mediterranean locations. Chestnut bread keeps fresh for as long as two weeks. In other parts of Italy

Italy

Italy , officially the Italian Republic languages]] under the European Charter for Regional or Minority Languages. In each of these, Italy's official name is as follows:;;;;;;;;), is a unitary parliamentary republic in South-Central Europe. To the north it borders France, Switzerland, Austria and...


it is mainly used for dessert

Dessert

In cultures around the world, dessert is a course that typically comes at the end of a meal, usually consisting of sweet food. The word comes from the French language as dessert and this from Old French desservir, "to clear the table" and "to serve." Common Western desserts include cakes, biscuits,...


s.
Chickpea

Chickpea

The chickpea is a legume of the family Fabaceae, subfamily Faboideae...


flour (also known as gram flour

Gram flour

Gram flour is a cereal flour made from ground chickpeas. It is also known as chickpea flour, garbanzo flour, or besan . Used in many countries, it is a staple ingredient in Indian, Pakistani and Bangladeshi cuisines, and, in the form of a paste with water or yoghurt, a popular facial exfoliant in...


or besan) is of great importance in Indian cuisine

Indian cuisine

Indian cuisine consists of thousands of regional cuisines which date back thousands of years. The dishes of India are characterised by the extensive use of various Indian spices, herbs, vegetables and fruit. Indian cuisine is also known for the widespread practice of vegetarianism in Indian society...


, and in Italy, where it is used for the Liguria

Liguria

Liguria is a coastal region of north-western Italy, the third smallest of the Italian regions. Its capital is Genoa. It is a popular region with tourists for its beautiful beaches, picturesque little towns, and good food.-Geography:...


n farinata

Farinata

Farinata, socca, or cecina is a sort of thin, unleavened pancake or crêpe of chickpea flour originating in Genoa and later a typical food of the Ligurian Sea coast, from Nice to Pisa.-Names:...


.
Chuño

Chuño

Chuño is a freeze-dried potato product traditionally made by Quechua and Aymara communities of Bolivia and Peru, and is known in various countries of South America, including Argentina, Bolivia, Chile and Peru...


flour made from dried potatoes in various countries of South America
Coconut

Coconut

The coconut palm, Cocos nucifera, is a member of the family Arecaceae . It is the only accepted species in the genus Cocos. The term coconut can refer to the entire coconut palm, the seed, or the fruit, which is not a botanical nut. The spelling cocoanut is an old-fashioned form of the word...


flour is made from ground coconut meat and has the highest fiber content of any flour, having a very low concentration of digestible carbohydrates makes an excellent choice for those looking to restrict their carbohydrate intake.
Confectioners flour is a type of flour used to make pasta, which mainly used in the Midwest parts of the United States of America. It is well-known to people from the state of Minnesota.
Corn (maize) flour is popular in the Southern

Southern United States

The Southern United States—commonly referred to as the American South, Dixie, or simply the South—constitutes a large distinctive area in the southeastern and south-central United States...


and Southwestern

Southwestern United States

The Southwestern United States is a region defined in different ways by different sources. Broad definitions include nearly a quarter of the United States, including Arizona, California, Colorado, Nevada, New Mexico, Oklahoma, Texas and Utah...


US, Mexico

Mexico

The United Mexican States , commonly known as Mexico , is a federal constitutional republic in North America. It is bordered on the north by the United States; on the south and west by the Pacific Ocean; on the southeast by Guatemala, Belize, and the Caribbean Sea; and on the east by the Gulf of...


, Central America

Central America

Central America is the central geographic region of the Americas. It is the southernmost, isthmian portion of the North American continent, which connects with South America on the southeast. When considered part of the unified continental model, it is considered a subcontinent...


, and Punjab region

Punjab region

The Punjab , also spelled Panjab |water]]s"), is a geographical region straddling the border between Pakistan and India which includes Punjab province in Pakistan and the states of the Punjab, Haryana, Himachal Pradesh, Chandigarh and some northern parts of the National Capital Territory of Delhi...


s of India and Pakistan, where it called as Makkai Ka Atta. Coarse whole-grain corn flour is usually called corn meal. Finely ground corn flour that has been treated with food-grade lime is called masa harina (see masa

Masa

Masa is Spanish for dough. In the Americas it is often short for masa de maíz, a maize dough made from freshly prepared hominy. It is used for making corn tortillas, tamales, pupusas, arepas and many other Latin American dishes. The dried and powdered form is called masa harina, masa de harina,...


) and is used to make tortillas and tamales in Mexican cooking. Corn flour should never be confused with cornstarch

Cornstarch

Corn starch, cornstarch, cornflour or maize starch is the starch of the corn grain obtained from the endosperm of the corn kernel.-History:...


, which is known as "cornflour" in British English.
Cornstarch is powdered endosperm of the corn kernel.
Glutinous rice

Glutinous rice

Glutinous rice is a type of short-grained Asian rice that is especially sticky when cooked. It is called glutinous Glutinous rice (Oryza sativa var. glutinosa or Oryza glutinosa; also called sticky rice, sweet rice, waxy rice, botan rice, biroin chal, mochi rice, and pearl rice, and pulut) is a...


flour or sticky rice flour, used in east and southeast Asian cuisines for making tangyuan, etc.
Hemp Flour is produced by pressing the oil from the hemp seed, and milling the residue. Hemp seed is approximately 30% oil and 70% residue. Hemp flour doesn't rise, and is best mixed with other flours. Added to any flour by about 15-20%, it gives a spongy nutty texture and flavour with a green hew.
Maida flour

Maida flour

Maida is a finely milled and refined flour of wheat, closely resembling cake flour, and used extensively in making Indian fast food and Indian bakery products such as pastries and breadand sometimes in making traditional Indian breads such as paratha and naan. It is made from the endosperm of the...


is a finely milled wheat flour used to make a wide variety of Indian breads such as paratha and naan. Maida is widely used not only in Indian cuisine but also in Central Asian and Southeast Asian cuisine.Though sometimes referred to as "all-purpose flour" by Indian chefs, it more closely resembles cake flour or even pure starch. In India, maida flour is used to make pastries and other bakery items such as bread, biscuits and toast.
Mesquite flour

Mesquite flour

Mesquite flour is made from the dried and ground pods of the Mesquite. The tree grows throughout North America in arid climates. The flour made from the long, beige-colored seed pods has a sweet, slightly nutty flavor and can be used in a wide variety of applications. It has a high-protein,...


is made from the dried and ground pods of the Mesquite

Mesquite

Mesquite is a leguminous plant of the Prosopis genus found in northern Mexico through the Sonoran Desert and Chihuahuan Deserts, and up into the Southwestern United States as far north as southern Kansas, west to the Colorado Desert in California,and east to the eastern fifth of Texas, where...


tree which grows throughout North America in arid climates. The flour has a sweet, slightly nutty flavor and can be used in a wide variety of application.
Noodle

Noodle

The noodle is a type of food, made from any of a variety of doughs, formed into long thin ribbons, strips, curly-cues, waves, helices, pipes, tubes, strings, or other various shapes, sometimes folded. They are usually cooked in a mixture of boiling water and/or oil. Depending upon the type, noodles...


flour is special blend of flour used for the making of Asian style noodles. The flour could be from wheat or rice.
Nut flours are grated from oily nuts—most commonly almonds and hazelnut

Hazelnut

A hazelnut is the nut of the hazel and is also known as a cob nut or filbert nut according to species. A cob is roughly spherical to oval, about 15–25 mm long and 10–15 mm in diameter, with an outer fibrous husk surrounding a smooth shell. A filbert is more elongated, being about twice...


s—and are used instead of or in addition to wheat flour to produce more dry and flavourful pastries and cakes. Cakes made with nut flours are usually called torte

Torte

A torte is a rich, usually multilayered, cake that is filled with buttercreams, mousses, jams or fruits. Ordinarily, the cooled torte is glazed and garnished . A torte is made with little to no flour, but instead with ground nuts or breadcrumbs, as well as sugar, eggs, and flavorings.- Origin...


s and most originated in Central Europe, in countries such as Hungary

Hungary

Hungary , officially the Republic of Hungary , is a landlocked country in Central Europe. It is situated in the Carpathian Basin and is bordered by Slovakia to the north, Ukraine and Romania to the east, Serbia and Croatia to the south, Slovenia to the southwest and Austria to the west. The...


and Austria

Austria

Austria , officially the Republic of Austria , is a landlocked country of roughly 8.4 million people in Central Europe. It is bordered by the Czech Republic and Germany to the north, Slovakia and Hungary to the east, Slovenia and Italy to the south, and Switzerland and Liechtenstein to the...


.
Peasemeal

Peasemeal

Peasemeal is a flour produced from yellow field peas that have been roasted. The roasting enables greater access to protein and starch thus increasing nutritive value. Traditionally the peas would be ground three times using water powered stone mills...


or pea flour is a flour produced from roasted and pulverized yellow field peas.
Peanut flour

Peanut flour

Peanut flour is made from crushed, fully or partly defatted peanuts. Peanut flour, depending on how much fat was removed, is packed with protein, providing up to 31.32g per cup...


made from shelled/cooked peanuts is a higher protein alternative to using regular flour.
Potato starch

Potato starch

Potato starch is starch extracted from potatoes. The cells of the root tubers of the potato plant contain starch grains . To extract the starch, the potatoes are crushed; the starch grains are released from the destroyed cells...


flour is obtained by grinding the tubers to a pulp and removing the fibre and protein by water-washings. Potato starch (flour) is very white starch powder used as a thickening agent. Standard (native) potato starch needs boiling, to thicken in water, giving a transparent gel. Because the flour is made from neither grain nor legume, it is used as substitute for wheat flour in cooking by Jews during Passover

Passover

Passover is a Jewish holiday and festival. It commemorates the story of the Exodus, in which the ancient Israelites were freed from slavery in Egypt...


, when grains are not eaten.
Potato

Potato

The potato is a starchy, tuberous crop from the perennial Solanum tuberosum of the Solanaceae family . The word potato may refer to the plant itself as well as the edible tuber. In the region of the Andes, there are some other closely related cultivated potato species...


flour, often confused with potato starch, is a peeled, cooked potato, mashed, mostly drumdried

Drum drying

Drum drying is a method used for drying out liquids; for example, milk is applied as a thin film to the surface of a heated drum, and the dried milk solids are then scraped off with a knife...


and ground potato flakes using the whole potato and thus containing the protein and some of the fibres of the potato; having an off-white slight yellowish colour. Dehydrated potatoes or instant mashed potatoes can also be granular, flakes. Potato flour is cold water soluble.
Rice flour

Rice flour

Rice flour is a form of flour made from finely milled rice. It is distinct from rice starch, which is usually produced by steeping rice in lye....


is ground kernels of rice. It is used in Western countries and especially for people who suffer from gluten intolerance, since rice does not contain gluten.
Rye

Rye

Rye is a grass grown extensively as a grain and as a forage crop. It is a member of the wheat tribe and is closely related to barley and wheat. Rye grain is used for flour, rye bread, rye beer, some whiskeys, some vodkas, and animal fodder...


flour is used to bake the traditional sourdough

Sourdough

Sourdough is a dough containing a Lactobacillus culture, usually in symbiotic combination with yeasts. It is one of two principal means of biological leavening in bread baking, along with the use of cultivated forms of yeast . It is of particular importance in baking rye-based breads, where yeast...


breads of Czech Republic

Czech Republic

The Czech Republic is a landlocked country in Central Europe. The country is bordered by Poland to the northeast, Slovakia to the east, Austria to the south, and Germany to the west and northwest....


, Poland

Poland

Poland , officially the Republic of Poland , is a country in Central Europe bordered by Germany to the west; the Czech Republic and Slovakia to the south; Ukraine, Belarus and Lithuania to the east; and the Baltic Sea and Kaliningrad Oblast, a Russian exclave, to the north...


, Germany

Germany

Germany , officially the Federal Republic of Germany , is a federal parliamentary republic in Europe. The country consists of 16 states while the capital and largest city is Berlin. Germany covers an area of 357,021 km2 and has a largely temperate seasonal climate...


and Scandinavia

Scandinavia

Scandinavia is a cultural, historical and ethno-linguistic region in northern Europe that includes the three kingdoms of Denmark, Norway and Sweden, characterized by their common ethno-cultural heritage and language. Modern Norway and Sweden proper are situated on the Scandinavian Peninsula,...


. Most rye bread

Rye bread

Rye bread is a type of bread made with various percentages of flour from rye grain. It can be light or dark in color, depending on the type of flour used and the addition of coloring agents, and is typically denser than bread made from wheat flour...


s use a mix of rye and wheat flours because rye does not produce a sufficient amount of gluten. Pumpernickel

Pumpernickel

Pumpernickel is a type of very heavy, slightly sweet rye bread traditionally made with coarsely ground rye. It is often made with a combination of rye flour and whole rye berries. It has been long associated with the Westphalia region of Germany. The first written mention of the black bread of...


bread is usually made exclusively of rye, and contains a mixture of rye flour and rye meal.
Tapioca flour, produced from the root of the cassava plant, is used to make breads, pancakes, tapioca pudding

Tapioca pudding

Tapioca pudding is a sweet pudding made with tapioca and either milk, or for lactose intolerant individuals, coconut milk. Coconut milk is also used in cases in which the flavor is preferred or in areas in which it is a commonplace ingredient for cooking...


, a savoury porridge called fufu

Fufu

Fufu, , is a staple snack of West and Central Africa. It is a thick paste usually made by boiling starchy root vegetables in water and pounding with a mortar and pestle until the desired consistency is reached...


in Africa, and is used as a starch.
Teff

Teff

Eragrostis tef, known as teff, taf , or khak shir , is an annual grass, a species of lovegrass native to the northern Ethiopian Highlands of Northeast Africa....


flour is made from the grain teff, and is of considerable importance in eastern Africa (particularly around the horn of Africa). Notably, it is the chief ingredient in the bread injera

Injera

Injera is a yeast-risen flatbread with a unique, slightly spongy texture. Traditionally made out of teff flour, it is a national dish in Ethiopia and Eritrea...


, an important component of Ethiopian cuisine.
More types of flour
Flour can also be made from soy beans,
peanuts
Peanuts
Peanuts is a syndicated daily and Sunday American comic strip written and illustrated by Charles M. Schulz, which ran from October 2, 1950, to February 13, 2000, continuing in reruns afterward...
,
arrowroot
Arrowroot
Arrowroot, or obedience plant , Bermuda arrowroot, araru, ararao, is a large perennial herb found in rainforest habitats...
,
taro
Taro
Taro is a common name for the corms and tubers of several plants in the family Araceae . Of these, Colocasia esculenta is the most widely cultivated, and is the subject of this article. More specifically, this article describes the 'dasheen' form of taro; another variety is called eddoe.Taro is...
,
cattail
Typha
Typha is a genus of about eleven species of monocotyledonous flowering plants in the family Typhaceae. The genus has a largely Northern Hemisphere distribution, but is essentially cosmopolitan, being found in a variety of wetland habitats...
s,
acorn
Acorn
The acorn, or oak nut, is the nut of the oaks and their close relatives . It usually contains a single seed , enclosed in a tough, leathery shell, and borne in a cup-shaped cupule. Acorns vary from 1–6 cm long and 0.8–4 cm broad...
s,
quinoa
Quinoa
Quinoa , a species of goosefoot , is a grain-like crop grown primarily for its edible seeds. It is a pseudocereal rather than a true cereal, or grain, as it is not a member of the grass family...
and other non-cereal foodstuffs.
Flour type numbers
In some markets, the different available flour varieties are labeled according to the ash mass ("mineral content") that remains after a sample is incinerated in a
laboratory oven
Laboratory oven
Laboratory ovens are ovens for high-forced volume thermal convection applications. These ovens generally provide uniform temperatures throughout. Process applications for laboratory ovens can be for annealing, die-bond curing, drying, Polyimide baking, sterilizing, and other industrial laboratory...
(typically at 550 °C or 900 °C, see
international standard
International standard
International standards are standards developed by international standards organizations. International standards are available for consideration and use, worldwide...
s
ISO
International Organization for Standardization
The International Organization for Standardization , widely known as ISO, is an international standard-setting body composed of representatives from various national standards organizations. Founded on February 23, 1947, the organization promulgates worldwide proprietary, industrial and commercial...
2171 and
ICC
International Association for Cereal Science and Technology
The International Association for Cereal Science and Technology was founded in 1955 and was originally called the International Association for Cereal Chemistry. It was set up to develop international standard testing procedures for cereals and flour. It has currently more than fifty member...
104/1
). This is an easily verified indicator for the fraction of the whole grain remains in the flour, because the mineral content of the starchy endosperm is much lower than that of the outer parts of the grain. Flour made from all parts of the grain (extraction rate: 100%) leaves about 2 g ash or more per 100 g dry flour. Plain white flour (extraction rate: 50–60%) leaves only about 0.4 g.
German flour type numbers (Mehltypen) indicate the amount of ash (measured in milligrams) obtained from 100 g of the dry mass of this flour. Standard wheat flours (defined in DIN

Din

DIN or Din or din can have several meanings:* A din is a loud noise.* Dīn, an Arabic term meaning "religion" or "way of life".* Din is one of the ten aspects of the Ein Sof in Kabbalah ....


10355) range from type 405 for normal white wheat flour for baking, to strong bread flour types 550, 650, 812, and the darker types 1050 and 1600 for wholegrain breads.
French flour type numbers (type de farine) are a factor 10 smaller than those used in Germany, because they indicate the ash content (in milligrams) per 10 g flour. Type 55 is the standard, hard-wheat white flour for baking, including puff pastries ("pâte feuilletée"). Type 45 is often called pastry flour, and is generally from a softer wheat (this corresponds to what older French texts call "farine de gruau"). Some recipes use Type 45 for croissants, for instance, although many French bakers use Type 55 or a combination of Types 45 and 55. Types 65, 80, and 110 are strong bread flours of increasing darkness, and type 150 is a wholemeal flour.
In the United States and the United Kingdom, no numbered standardized flour types are defined, and the ash mass is only rarely given on the label by flour manufacturers. However, the legally required standard nutrition label specifies the protein content of the flour, which is also a way for comparing the extraction rates of different available flour types.
In general, as the extraction rate of the flour increases, so do both the protein and the ash content. However, as the extraction rate approaches 100% (whole meal), the protein content drops slightly, while the ash content continues to rise.
The following table shows some typical examples of how protein and ash content relate to each other in wheat flour:
Ash
Protein
Wheat flour type
US
German
French
Italian
~0.4%
~9%
pastry flour
405
40
00
~0.55%
~11%
all-purpose flour
550
55
0
~0.8%
~14%
high gluten flour
812
80
1
~1%
~15%
first clear flour
1050
110
2
>1.5%
~13%
white whole wheat
1600
150
Farina integrale di grano tenero
This table is only a rough guideline for converting bread recipes. Since flour types are not standardized in many countries, the numbers may differ between manufacturers. Note that there is no Type 40 French flour. The closest is Type 45.
It is possible to determine ash content from some US manufacturers. However, US measurements are based on wheat with a 14% moisture content. Thus, a US flour with 0.48% ash would approximate a French Type 55. For US bakers of French pastry seeking an equivalent, for example, they could look at tables published by
King Arthur Flour
, showing their all-purpose flour is a close equivalent to French Type 55.
Other measurable properties of flour as used in
baking
Baking
Baking is the technique of prolonged cooking of food by dry heat acting by convection, and not by radiation, normally in an oven, but also in hot ashes, or on hot stones. It is primarily used for the preparation of bread, cakes, pastries and pies, tarts, quiches, cookies and crackers. Such items...
can be determined using a variety of specialized instruments, such as the
Farinograph
Farinograph
In Baking, a Farinograph measures specific properties of flour. It was first developed and launched in 1928 Brabender History. The Farinograph is used as a tool to measure shear and viscosity of a mixture of flour and water. The primary units of the farinograph are Brabender Units, an arbitrary...
.
Flammability
Flour dust suspended in air is explosive -- as is
any
mixture of a finely powdered flammable substance with air (
see
flour bomb
Flour bomb
There are two types of flour bomb:* The relatively innocuous use of flour in a fragile container, thrown at a person or object to produce an inconvenient stain....
). Some devastating and fatal explosions have occurred at flour mills, including an explosion in 1878 at the Washburn "A" Mill in Minneapolis, the largest flour mill in the United States at the time.
Products
Bread, pasta,
cracker
Cracker (food)
A cracker is a baked good commonly made from grain flour dough and typically made in quantity in various hand-sized or smaller shapes. Flavorings or seasonings, such as salt, herbs, seeds, and/or cheese, may be added to the dough or sprinkled on top before baking...
s, many cakes, and many other foods are made using flour. Wheat flour is also used to make a
roux
Roux
Roux is a cooked mixture of wheat flour and fat, traditionally butter. It is the thickening agent of three of the mother sauces of classical French cooking: sauce béchamel, sauce velouté and sauce espagnole. Clarified butter, vegetable oils, or lard are commonly used fats. It is used as a...
as a base for
gravy
Gravy
Gravy is a sauce made often from the juices that run naturally from meat or vegetables during cooking. In North America the term can refer to a wider variety of sauces and gravy is often thicker than in Britain...
and
sauce
Sauce
In cooking, a sauce is liquid, creaming or semi-solid food served on or used in preparing other foods. Sauces are not normally consumed by themselves; they add flavor, moisture, and visual appeal to another dish. Sauce is a French word taken from the Latin salsus, meaning salted...
s.
It is also the base for
papier-mâché
Papier-mâché
Papier-mâché , alternatively, paper-mache, is a composite material consisting of paper pieces or pulp, sometimes reinforced with textiles, bound with an adhesive, such as glue, starch, or wallpaper paste....
.
Cornstarch is a principal ingredient of many
pudding
Pudding
Pudding most often refers to a dessert, but it can also be a savory dish.In the United States, pudding characteristically denotes a sweet milk-based dessert similar in consistency to egg-based custards, though it may also refer to other types such as bread and rice pudding.In the United Kingdom and...
s or desserts.
External links