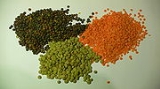 Lentil
The
lentil
(International Feed Number, 5-02-506) is an edible
pulse
Pulse (legume)
A pulse is an annual leguminous crop yielding from one to twelve seeds of variable size, shape, and color within a pod. Pulses are used for food and animal feed. The term "pulse", as used by the Food and Agricultural Organization , is reserved for crops harvested solely for the dry seed...
. It is a bushy
annual plant
Annual plant
An annual plant is a plant that usually germinates, flowers, and dies in a year or season. True annuals will only live longer than a year if they are prevented from setting seed...
of the
legume
Fabaceae
The Fabaceae or Leguminosae, commonly known as the legume, pea, or bean family, is a large and economically important family of flowering plants. The group is the third largest land plant family, behind only the Orchidaceae and Asteraceae, with 730 genera and over 19,400 species...
family, grown for its
lens
Lens (geometry)
In geometry, a lens is a biconvex shape comprising two circular arcs, joined at their endpoints. If the arcs have equal radii, it is called a symmetric lens.A concave-convex shape is called a lune...
-shaped
seed
Seed
A seed is a small embryonic plant enclosed in a covering called the seed coat, usually with some stored food. It is the product of the ripened ovule of gymnosperm and angiosperm plants which occurs after fertilization and some growth within the mother plant...
s. It is about 40 centimetres (15.7 in) tall and the seeds grow in
pod
s, usually with two seeds in each.
Background
The plant likely originated in
India
India
India , officially the Republic of India , is a country in South Asia. It is the seventh-largest country by geographical area, the second-most populous country with over 1.2 billion people, and the most populous democracy in the world...
and
Pakistan
Pakistan
Pakistan , officially the Islamic Republic of Pakistan is a sovereign state in South Asia. It has a coastline along the Arabian Sea and the Gulf of Oman in the south and is bordered by Afghanistan and Iran in the west, India in the east and China in the far northeast. In the north, Tajikistan...
, and lentils have been part of the human diet since the aceramic (
pottery
Pottery
Pottery is the material from which the potteryware is made, of which major types include earthenware, stoneware and porcelain. The place where such wares are made is also called a pottery . Pottery also refers to the art or craft of the potter or the manufacture of pottery...
nonproducing)
Neolithic
Neolithic
The Neolithic Age, Era, or Period, or New Stone Age, was a period in the development of human technology, beginning about 9500 BC in some parts of the Middle East, and later in other parts of the world. It is traditionally considered as the last part of the Stone Age...
times, being one of the
first crops domesticated
Neolithic founder crops
The Neolithic founder crops are the eight plant species that were domesticated by early Holocene farming communities in the Fertile Crescent region of southwest Asia, and which formed the basis of systematic agriculture in the Middle East, North Africa, India, Persia and Europe...
in the Near East. Archeological evidence shows they were eaten 13,000 to 9,500 years ago.
Lentil colors range from yellow to red-orange to green, brown and black. Lentils also vary in size (e.g., Masoor lentils, shown in photos here), and are sold in many forms, with or without the skins, whole or split.
Other pulses are sometimes called lentils, but are actually beans or peas, e.g., "black lentils" (
urad beans
Urad (bean)
Vigna mungo, known as urad, urad dal, udad dal, urd bean, urd, urid, black matpe bean, black gram, black lentil [not to be confused with the much smaller true black lentil ], maas , đậu đen or white lentil, is a bean grown in southern Asia...
).
Types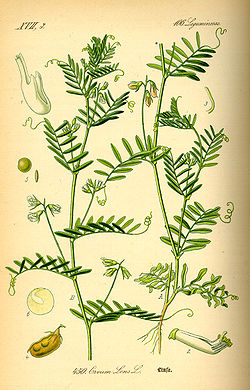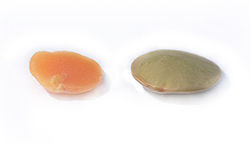 Brown/Spanish pardina
French green/puy lentils

Le Puy Green lentil

The "Le Puy Green Lentil" is a lentil cultivated from the "Lens esculenta puyensis" variety in the region of Le Puy. Its gastronomic qualities come from the "terroir" : soil, micro-climate, ......


(dark speckled blue-green)
Green
Black/beluga (not actually true lentils; see urad bean)
Yellow/tan lentils (red inside)

Red Chief (decorticated yellow lentils)

Eston Green (Small green)
Richlea (medium green)
Laird (large green)
Petite Golden (decorticated lentils)
Masoor (brown-skinned lentils which are orange inside)

Petite crimson/red (decorticated masoor lentils)

Macachiados (big Mexican yellow lentils)
The seeds require a cooking time of 10 to 30 minutes, depending on the variety–shorter for small varieties with the husk removed, such as the common red lentil–and have a distinctive, earthy flavor. Lentils are used throughout
South Asia
South Asia
South Asia, also known as Southern Asia, is the southern region of the Asian continent, which comprises the sub-Himalayan countries and, for some authorities , also includes the adjoining countries to the west and the east...
, the Mediterranean regions and West Asia. They are frequently combined with
rice
Rice
Rice is the seed of the monocot plants Oryza sativa or Oryza glaberrima . As a cereal grain, it is the most important staple food for a large part of the world's human population, especially in East Asia, Southeast Asia, South Asia, the Middle East, and the West Indies...
, which has a similar cooking time. A lentil and rice dish is referred to in western Asia as
mujaddara
Mujaddara
Mujaddara consists of cooked lentils together with groats, generally rice, and garnished with roasted onions that have been sauteed in olive oil or butter.-Name and origin:...
or
mejadra
. Rice and lentils are also cooked together in
khichdi
Khichdi
Khichṛī , alternate spellings khichdi, khichri, khichdee, khichadi, khichuri, khichari, "kitcheree", "kitchree", and many other variants, is a South Asian preparation made from rice and lentils...
, a popular dish in the Indian and pakistan subcontinent; a similar dish,
kushari
Kushari
Kushari, also koshary, kosheri or koshari, is an Egyptian dish of rice, lentils, chickpeas and macaroni. Toppings include tomato sauce, garlic sauce and fried onion.Kushari is a vegetarian dish that is very popular in Egypt...
, made in
Egypt
Egypt
Egypt , officially the Arab Republic of Egypt, Arabic: , is a country mainly in North Africa, with the Sinai Peninsula forming a land bridge in Southwest Asia. Egypt is thus a transcontinental country, and a major power in Africa, the Mediterranean Basin, the Middle East and the Muslim world...
, is considered one of two
national dish
National dish
A national dish is a dish, food or a drink that is considered to represent a particular country, nation or region.A dish can become a national dish for a variety of reasons. It can be the national dish because it is a staple daily food for the majority of the population. It can also be the national...
es. Lentils are used to prepare an inexpensive and nutritious
soup
Soup
Soup is a generally warm food that is made by combining ingredients such as meat and vegetables with stock, juice, water, or another liquid. Hot soups are additionally characterized by boiling solid ingredients in liquids in a pot until the flavors are extracted, forming a broth.Traditionally,...
all over
Europe
Europe
Europe is, by convention, one of the world's seven continents. Comprising the westernmost peninsula of Eurasia, Europe is generally 'divided' from Asia to its east by the watershed divides of the Ural and Caucasus Mountains, the Ural River, the Caspian and Black Seas, and the waterways connecting...
and
North and South America
Americas
The Americas, or America , are lands in the Western hemisphere, also known as the New World. In English, the plural form the Americas is often used to refer to the landmasses of North America and South America with their associated islands and regions, while the singular form America is primarily...
, sometimes combined with some form of
chicken
Chicken (food)
Chicken is the most common type of poultry in the world, and is prepared as food in a wide variety of ways, varying by region and culture.- History :...
or
pork
Pork
Pork is the culinary name for meat from the domestic pig , which is eaten in many countries. It is one of the most commonly consumed meats worldwide, with evidence of pig husbandry dating back to 5000 BC....
.
Dried lentils can also be
sprouted
Sprouting
Sprouting is the practice of germinating seeds to be eaten either raw or cooked.They are a convenient way to have fresh vegetables for salads, or otherwise, in any season and can be germinated at home or produced industrially...
by leaving in water for several days, which changes their nutrition profile.
Lentils with husk remain whole with moderate cooking; lentils without husk tend to disintegrate into a thick purée, which leads to quite different dishes.
Nutritional value and health benefits
With about 30% of their calories from protein, lentils, like other legumes, have the third-highest level of protein, by weight, of any plant-based food, after
soybean
Soybean
The soybean or soya bean is a species of legume native to East Asia, widely grown for its edible bean which has numerous uses...
s and
hemp
Hemp
Hemp is mostly used as a name for low tetrahydrocannabinol strains of the plant Cannabis sativa, of fiber and/or oilseed varieties. In modern times, hemp has been used for industrial purposes including paper, textiles, biodegradable plastics, construction, health food and fuel with modest...
. Proteins include the essential amino acids
isoleucine
Isoleucine
Isoleucine is an α-amino acid with the chemical formula HO2CCHCHCH2CH3. It is an essential amino acid, which means that humans cannot synthesize it, so it must be ingested. Its codons are AUU, AUC and AUA....
and
lysine
Lysine
Lysine is an α-amino acid with the chemical formula HO2CCH4NH2. It is an essential amino acid, which means that the human body cannot synthesize it. Its codons are AAA and AAG....
, and lentils are an essential source of inexpensive protein in many parts of the world, especially in the West Asia and the
Indian subcontinent
Indian subcontinent
The Indian subcontinent, also Indian Subcontinent, Indo-Pak Subcontinent or South Asian Subcontinent is a region of the Asian continent on the Indian tectonic plate from the Hindu Kush or Hindu Koh, Himalayas and including the Kuen Lun and Karakoram ranges, forming a land mass which extends...
, which have large
vegetarian
Vegetarianism
Vegetarianism encompasses the practice of following plant-based diets , with or without the inclusion of dairy products or eggs, and with the exclusion of meat...
populations. Lentils are deficient in two essential amino acids,
methionine
Methionine
Methionine is an α-amino acid with the chemical formula HO2CCHCH2CH2SCH3. This essential amino acid is classified as nonpolar. This amino-acid is coded by the codon AUG, also known as the initiation codon, since it indicates mRNA's coding region where translation into protein...
and
cysteine
Cysteine
Cysteine is an α-amino acid with the chemical formula HO2CCHCH2SH. It is a non-essential amino acid, which means that it is biosynthesized in humans. Its codons are UGU and UGC. The side chain on cysteine is thiol, which is polar and thus cysteine is usually classified as a hydrophilic amino acid...
. However, sprouted lentils contain sufficient levels of all essential amino acids, including methionine and cysteine.
Lentils also contain
dietary fiber
Dietary fiber
Dietary fiber, dietary fibre, or sometimes roughage is the indigestible portion of plant foods having two main components:* soluble fiber that is readily fermented in the colon into gases and physiologically active byproducts, and* insoluble fiber that is metabolically inert, absorbing water as it...
, folate, vitamin B
1
, and minerals. Red (or pink) lentils contain a lower concentration of fiber than green lentils (11% rather than 31%).
Health
magazine has selected lentils as one of the five healthiest foods. Lentils are often mixed with grains, such as rice, which results in a
complete protein
Complete protein
A complete protein is a source of protein that contains an adequate proportion of all nine of the essential amino acids necessary for the dietary needs of humans or other animals...
dish.
Lentils also have antinutritional factors, such as
trypsin inhibitor
Trypsin inhibitor
Trypsin inhibitors are chemicals that reduce the availability of trypsin, an enzyme essential to nutrition of many animals, including humans.There are four commercial sources of trypsin inhibitors....
s and relatively high phytate content. Trypsin is an enzyme involved in digestion, and phytates reduce the bioavailability of dietary minerals. The phytates can be reduced by soaking the lentils in warm water overnight.
Lentils are a good source of
iron
Human iron metabolism
Human iron metabolism is the set of chemical reactions maintaining human homeostasis of iron. Iron is an essential element for most life on Earth, including human beings. The control of this necessary but potentially toxic substance is an important part of many aspects of human health and disease...
.
Production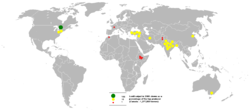 Lentils are relatively tolerant to drought, and are grown throughout the world. FAO reported the world production of lentils for calendar year 2009 was 3.917 million metric tonnes, primarily coming from Canada, India, Turkey and United States.
About a quarter of the worldwide production of lentils is from
India
India
India , officially the Republic of India , is a country in South Asia. It is the seventh-largest country by geographical area, the second-most populous country with over 1.2 billion people, and the most populous democracy in the world...
, most of which is consumed in the domestic market.
Canada
Canada
Canada is a North American country consisting of ten provinces and three territories. Located in the northern part of the continent, it extends from the Atlantic Ocean in the east to the Pacific Ocean in the west, and northward into the Arctic Ocean...
is the largest export producer of lentils in the world, and
Saskatchewan
Saskatchewan
Saskatchewan is a prairie province in Canada, which has an area of . Saskatchewan is bordered on the west by Alberta, on the north by the Northwest Territories, on the east by Manitoba, and on the south by the U.S. states of Montana and North Dakota....
is the most important producing region in Canada.
Statistics Canada
estimates that Canadian lentil production for the 2009/10 year is a record 1.5 million metric tonnes.
The
Palouse
Palouse
The Palouse is a region of the northwestern United States, encompassing parts of southeastern Washington, north central Idaho and, in some definitions, extending south into northeast Oregon. It is a major agricultural area, primarily producing wheat and legumes...
region of eastern Washington and the Idaho Panhandle, with its commercial center at
Pullman, Washington
Pullman, Washington
Pullman is the largest city in Whitman County, Washington, United States. The population was 24,675 at the 2000 census and 29,799 according to the 2010 census...
, constitute the most important lentil-producing region in the United States. Montana and North Dakota are also significant lentil growers. National Agricultural Statistics Service reports United States 2007 production at 154.5 thousand metric tonnes.
Top ten lentil producers – 2009
Country
Production (tonne

Tonne

The tonne, known as the metric ton in the US , often put pleonastically as "metric tonne" to avoid confusion with ton, is a metric system unit of mass equal to 1000 kilograms. The tonne is not an International System of Units unit, but is accepted for use with the SI...


s)
Footnote
1,510,200
950,000
302,181
265,760
143,000
123,777
120,000
102,461
83,985
60,537
World
3,917,923
A
No symbol = official figure, P = official figure, F = FAO estimate, * = Unofficial/semiofficial/mirror data, C = Calculated figure A = Aggregate (may include official, semiofficial or estimates);

Source: Food And Agricultural Organization of United Nations: Economic And Social Department: The Statistical Division
Current United States production numbers can be found at the NASS database
here
by selecting the desired items.
In culture
Lentils are mentioned many times in the
Old Testament
Old Testament
The Old Testament, of which Christians hold different views, is a Christian term for the religious writings of ancient Israel held sacred and inspired by Christians which overlaps with the 24-book canon of the Masoretic Text of Judaism...
, the first time recounting the incident in which
Jacob
Jacob
Jacob "heel" or "leg-puller"), also later known as Israel , as described in the Hebrew Bible, the Talmud, the New Testament and the Qur'an was the third patriarch of the Hebrew people with whom God made a covenant, and ancestor of the tribes of Israel, which were named after his descendants.In the...
purchases the birthright from
Esau
Esau
Esau , in the Hebrew Bible, is the oldest son of Isaac. He is mentioned in the Book of Genesis, and by the minor prophets, Obadiah and Malachi. The New Testament later references him in the Book of Romans and the Book of Hebrews....
with stewed lentils (a "
mess of pottage
Mess of pottage
The phrase mess of pottage means something of little value, with a pottage being a type of soup. Though it can appear in general use, it is usually associated with the exchange by Esau of his birthright for a meal of lentil stew, as described in Genesis 25:29–34 in the Bible...
"). In
Jewish mourning
Bereavement in Judaism
Bereavement in Judaism is a combination of minhag and mitzvah derived from Judaism's classical Torah and rabbinic texts...
tradition, they are considered as food for mourners, together with boiled
eggs
Egg (food)
Eggs are laid by females of many different species, including birds, reptiles, amphibians, and fish, and have probably been eaten by mankind for millennia. Bird and reptile eggs consist of a protective eggshell, albumen , and vitellus , contained within various thin membranes...
, because their round shape symbolizes the life cycle from birth to death.
Lentils were the main ingredient in the diet of ancient Iranians, who consumed lentils daily in the form of a stew poured over rice.
Lentils are also commonly used in Ethiopia in a stew-like dish called
kik
, or
kik wot
, one of the dishes people eat with Ethiopia's national food,
injera
Injera
Injera is a yeast-risen flatbread with a unique, slightly spongy texture. Traditionally made out of teff flour, it is a national dish in Ethiopia and Eritrea...
flat bread. Yellow lentils are used to make a nonspicy stew, which is one of the first solid foods Ethiopian women feed their babies.
In Shia narrations, lentils are said to be blessed by seventy Prophets including Jesus and Mohammed.
In Italy, eating lentils on New Year's Eve traditionally symbolizes the wish to earn more money next year, most likely because of their round coin-like shape.
In "Cinderella", one of
Grimm's Fairy Tales
Grimm's Fairy Tales
Children's and Household Tales is a collection of German origin fairy tales first published in 1812 by Jacob and Wilhelm Grimm, the Brothers Grimm. The collection is commonly known today as Grimms' Fairy Tales .-Composition:...
, a task her stepmother assigns Cinderella is fishing lentils out of ash. If she succeeds, she may go to the ball.
See also
Revalenta arabica

Revalenta arabica

Revalenta Arabica is a name given to a preparation which was sold in the 18th century as an empirical diet for invalids, extraordinary restorative virtues being attributed to it. It was, in reality, only a preparation of the common lentil, its first name being formed for disguise by the...


, a 19th century patent medicine made of lentils
Lentil soup

Lentil soup

Lentil soup, which is usually served hot, may be vegetarian, but can also be made with meat stock or pieces of meat. Red or green lentils may be used. Other ingredients may include vegetables such as carrots, potatoes, celery, parsley, and onion. Common added flavorings include garlic, cumin,...



National Lentil Festival

National Lentil Festival

- Activities:Each year, the citizens of Pullman congregate to enjoy, celebrate, and revel at The National Lentil Festival, a food festival honoring the lentil....



Dal

Dal

Dal is a preparation of pulses which have been stripped of their outer hulls and split. It also refers to the thick stew prepared from these, an important part of Indian, Nepali, Pakistani, Sri Lankan, and Bangladeshi cuisine...



Moujadara
Further reading
Alan Davidson

Alan Davidson (food writer)

Alan Eaton Davidson was a British diplomat and historian best known for his writing and editing on food and gastronomy. He was the author of the 900-page, encyclopedic The Oxford Companion to Food .The son of a Scottish tax inspector, Davidson was born in Londonderry, Northern Ireland...


, The Oxford Companion to Food. ISBN 0-19-211579-0
S S Yadav et al. Lentil: An Ancient Crop for Modern Times. (2007). Springer Verlag. ISBN 9781402063121.
External links