 Stock (food)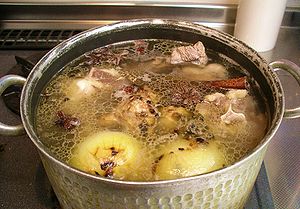 Stock
is a flavoured
water
Water
Water is a chemical substance with the chemical formula H2O. A water molecule contains one oxygen and two hydrogen atoms connected by covalent bonds. Water is a liquid at ambient conditions, but it often co-exists on Earth with its solid state, ice, and gaseous state . Water also exists in a...
preparation. It forms the basis of many
dishes
Dish (food)
A dish in gastronomy is a specific food preparation, a "distinct article or variety of food", with cooking finished, and ready to eat, or be served.A "dish" may be served on dishware, or may be eaten out of hand; but breads are generally not called "dishes"....
, particularly
soup
Soup
Soup is a generally warm food that is made by combining ingredients such as meat and vegetables with stock, juice, water, or another liquid. Hot soups are additionally characterized by boiling solid ingredients in liquids in a pot until the flavors are extracted, forming a broth.Traditionally,...
s and
sauce
Sauce
In cooking, a sauce is liquid, creaming or semi-solid food served on or used in preparing other foods. Sauces are not normally consumed by themselves; they add flavor, moisture, and visual appeal to another dish. Sauce is a French word taken from the Latin salsus, meaning salted...
s.
Preparation
Stock is made by
simmering
Simmering
Simmering is a food preparation technique in which foods are cooked in hot liquids kept at or just below the boiling point of water , but higher than poaching temperature...
various ingredients in water, including some or all of the following
Meat
Meat
Meat is animal flesh that is used as food. Most often, this means the skeletal muscle and associated fat and other tissues, but it may also describe other edible tissues such as organs and offal...
: Leftover cooked meat, such as that remaining on
poultry
Poultry
Poultry are domesticated birds kept by humans for the purpose of producing eggs, meat, and/or feathers. These most typically are members of the superorder Galloanserae , especially the order Galliformes and the family Anatidae , commonly known as "waterfowl"...
carcasses, is often used along with the bones of the bird or joint. Fresh meat makes a superior stock and cuts rich in connective tissue such as shin or shoulder of
beef
Beef
Beef is the culinary name for meat from bovines, especially domestic cattle. Beef can be harvested from cows, bulls, heifers or steers. It is one of the principal meats used in the cuisine of the Middle East , Australia, Argentina, Brazil, Europe and the United States, and is also important in...
or
veal
Veal
Veal is the meat of young cattle , as opposed to meat from older cattle. Though veal can be produced from a calf of either sex and any breed, most veal comes from male calves of dairy cattle breeds...
are commonly recommended, either alone or added in lower proportions to the remains of cooked poultry to provide a richer and fresher-tasting stock. Quantities recommended are in the ratio of 1 part fresh meat to 2 parts water.
Pork
Pork
Pork is the culinary name for meat from the domestic pig , which is eaten in many countries. It is one of the most commonly consumed meats worldwide, with evidence of pig husbandry dating back to 5000 BC....
is considered unsuitable for stock in European cooking due to its greasiness (although 19th century recipes for
consomme
Consommé
In cooking, a consommé is a type of clear soup made from richly flavored stock or bouillon that has been clarified usually through a fining process involving egg protein. It usually requires an advanced knowledge of cooking and past experience to create a high quality consommé...
and traditional
aspic
Aspic
Aspic is a dish in which ingredients are set into a gelatin made from a meat stock or consommé. Non-savory dishes, often made with commercial gelatin mixes without stock or consommé, are usually called gelatin salads....
included slices of mild
ham
Ham
Ham is a cut of meat from the thigh of the hind leg of certain animals, especiallypigs. Nearly all hams sold today are fully cooked or cured.-Etymology:...
) and mutton was traditionally avoided due to the difficulty of avoiding the strong
tallowy
Tallow
Tallow is a rendered form of beef or mutton fat, processed from suet. It is solid at room temperature. Unlike suet, tallow can be stored for extended periods without the need for refrigeration to prevent decomposition, provided it is kept in an airtight container to prevent oxidation.In industry,...
taint imparted from the fat.
Bone
Bone
Bones are rigid organs that constitute part of the endoskeleton of vertebrates. They support, and protect the various organs of the body, produce red and white blood cells and store minerals. Bone tissue is a type of dense connective tissue...
s : Veal, beef, and
chicken
Chicken
The chicken is a domesticated fowl, a subspecies of the Red Junglefowl. As one of the most common and widespread domestic animals, and with a population of more than 24 billion in 2003, there are more chickens in the world than any other species of bird...
bones are most commonly used. The flavour of the stock comes from the
cartilage
Cartilage
Cartilage is a flexible connective tissue found in many areas in the bodies of humans and other animals, including the joints between bones, the rib cage, the ear, the nose, the elbow, the knee, the ankle, the bronchial tubes and the intervertebral discs...
and
connective tissue
Connective tissue
"Connective tissue" is a fibrous tissue. It is one of the four traditional classes of tissues . Connective Tissue is found throughout the body.In fact the whole framework of the skeleton and the different specialized connective tissues from the crown of the head to the toes determine the form of...
in the bones. Connective tissue has
collagen
Collagen
Collagen is a group of naturally occurring proteins found in animals, especially in the flesh and connective tissues of mammals. It is the main component of connective tissue, and is the most abundant protein in mammals, making up about 25% to 35% of the whole-body protein content...
in it, which gets converted into
gelatin
Gelatin
Gelatin is a translucent, colorless, brittle , flavorless solid substance, derived from the collagen inside animals' skin and bones. It is commonly used as a gelling agent in food, pharmaceuticals, photography, and cosmetic manufacturing. Substances containing gelatin or functioning in a similar...
that thickens the liquid. Stock made from bones needs to be simmered for longer than stock made from meat. Pressure cooking methods shorten the time necessary to extract the flavour from the bones.
Mirepoix
Mirepoix (cuisine)
A mirepoix is a combination of celery , onions, and carrots. Mirepoix, either raw, roasted or sautéed with butter, is the flavor base for a wide number of dishes, such as stocks, soups, stews and sauces...
: A combination of onions, carrots,
celery
Celery
Apium graveolens is a plant species in the family Apiaceae commonly known as celery or celeriac , depending on whether the petioles or roots are eaten: celery refers to the former and celeriac to the latter. Apium graveolens grows to 1 m tall...
, and sometimes other vegetables. Often the less desirable parts of the vegetables (such as carrot skins and celery ends) are used since they will not be eaten.
Herbs and spices: The herbs and spices used depend on availability and local traditions. In classical cuisine, the use of a
bouquet garni
Bouquet garni
The bouquet garni is a bundle of herbs usually tied together with string and mainly used to prepare soup, stock, and various stews. The bouquet is cooked with the other ingredients, but is removed prior to consumption....
(or
bundle of herbs
) consisting of
parsley
Parsley
Parsley is a species of Petroselinum in the family Apiaceae, native to the central Mediterranean region , naturalized elsewhere in Europe, and widely cultivated as an herb, a spice and a vegetable.- Description :Garden parsley is a bright green hairless biennial herbaceous plant in temperate...
,
bay leaves
Bay leaf
Bay leaf refers to the aromatic leaf of the bay laurel . Fresh or dried bay leaves are used in cooking for their distinctive flavor and fragrance. The leaves are often used to flavor soups, stews, braises and pâtés in Mediterranean cuisine...
, a sprig of
thyme
Thyme
Thyme is a culinary and medicinal herb of the genus Thymus.-History:Ancient Egyptians used thyme for embalming. The ancient Greeks used it in their baths and burnt it as incense in their temples, believing it was a source of courage...
, and possibly other herbs, is common. This is often placed in a
sachet
Sachet
A sachet or packet, is a small disposable bag or pouch, often used to contain single-use quantities of foods or consumer goods, such as shampoo....
to make it easier to remove once the stock is cooked.
Today, ready-made stock and stock cubes consisting of dried, compressed stock ingredients are readily available. These are commonly known as
bouillon cube
Bouillon cube
A bouillon cube [ˈbuːjɒn kjuːb] or stock cube is dehydrated bouillon or stock formed into a small cube about 15 mm wide. It is made by dehydrating vegetables, meat stock, a small portion of fat, salt and seasonings and shaping them into a small cube...
s, as
cooking base
Cooking base
Cooking base, sometimes called soup base, is a concentrated flavoring compound used in place of stock for the creation of soups, sauces, and gravies. Since it can be purchased rather than prepared fresh, it is commonly used in restaurants where cost is a more important factor than achieving haute...
in the US, or as
Oxo cubes
Oxo (food)
Oxo is a range of food products, consisting of stock cubes, herbs and spices, dried gravy, and yeast extract. In the United Kingdom, Oxo products are manufactured by Premier Foods...
in Britain, after a common brand of stock cube sold there.
Stock or broth?
The difference between broth and stock is one of both cultural and colloquial terminology but certain definitions prevail.
Stock is the thin liquid produced by simmering raw ingredients: solids are removed, leaving a thin, highly-flavoured liquid. This gives classic stock as made from beef, veal, chicken, fish and vegetable stock.
Broth differs in that it is a basic soup where the solid pieces of flavouring meat or fish, along with some vegetables, remain. It is often made more substantial by adding starches such as rice, barley or pulses.
Traditionally, broth contains some form of meat or fish: nowadays it is acceptable to refer to a strictly vegetable soup as a broth.
Types
Chicken stock should be cooked for 3–4 hours.
Fish stock is made with fish bones and finely chopped mirepoix. Fish stock should be cooked for 30–45 minutes—cooking any longer spoils the flavour. Concentrated fish stock is called "fish fumet." In Japanese cooking

Japanese cuisine

Japanese cuisine has developed over the centuries as a result of many political and social changes throughout Japan. The cuisine eventually changed with the advent of the Medieval age which ushered in a shedding of elitism with the age of shogun rule...


, a fish and kelp stock called dashi

Dashi

Dashi is a class of soup and cooking stock, considered fundamental to Japanese cooking. In 1980, Shizuo Tsuji wrote: "Many substitutes for dashi are possible, but without dashi, dishes are merely à la japonaise and lack the authentic flavor." Dashi forms the base for miso soup, clear broth, noodle...


is made by briefly (3–5 minutes) cooking skipjack tuna

Skipjack tuna

The skipjack tuna, Katsuwonus pelamis, is a medium-sized perciform fish in the tuna family, Scombridae. It is otherwise known as the aku, arctic bonito, mushmouth, oceanic bonito, striped tuna, or victor fish...


(bonito

Bonito

Bonito is a name given to various species of medium-sized, predatory fish in the Scombridae family. First, bonito most commonly refers to species in the genus Sarda, including the Atlantic bonito and the Pacific bonito ; second, in Japanese cuisine, bonito refers to the skipjack tuna , which, in...


) flakes called katsuobushi

Katsuobushi

is the Japanese name for dried, fermented, and smoked skipjack tuna .Shaved Katsuobushi and dried kelp - kombu - are the main ingredients of dashi, a broth that forms the basis of many soups and sauces in Japanese cuisine.Katsuobushi's distinct umami flavor comes from its high...


in nearly boiling water.
Fond blanc, or white stock, is made by using raw bones and white mirepoix. Chicken bones are the most common for fond blanc.
Fond brun, or brown stock. The brown color is achieved by roasting the bones and mirepoix

Mirepoix (cuisine)

A mirepoix is a combination of celery , onions, and carrots. Mirepoix, either raw, roasted or sautéed with butter, is the flavor base for a wide number of dishes, such as stocks, soups, stews and sauces...


. This also adds a rich, full flavour. Veal bones are the most common type used in a fond brun. Tomato paste is often added (sometimes thinned tomato paste is painted onto the roasting bones). The acid in the paste helps break down the connective tissue helping accelerating the formation of gelatin, as well as giving color to the stock.
Glace viande is stock made from bones, usually from veal

Veal

Veal is the meat of young cattle , as opposed to meat from older cattle. Though veal can be produced from a calf of either sex and any breed, most veal comes from male calves of dairy cattle breeds...


, that is highly concentrated by reduction.
Ham stock, common in Cajun

Cajun

Cajuns are an ethnic group mainly living in the U.S. state of Louisiana, consisting of the descendants of Acadian exiles...


cooking, is made from ham hock

Ham hock

A ham hock or hough is the joint between the tibia/fibula and the metatarsals of the foot, where the foot was attached to the hog's leg...


s.
Jus is a rich, lightly reduced stock used as a sauce for roasted meats. Many of these are started by deglazing

Deglazing (cooking)

Deglazing is a cooking technique for removing and dissolving caramelized bits of food from a pan to make a pan sauce.When a piece of meat is roasted, pan fried or prepared in a pan with another form of dry heat, a deposit of caramelized sugars, carbohydrates, and/or proteins forms on the bottom of...


the roasting pan, then reducing to achieve the rich flavour desired.
Lamb stock should be cooked for 5 hours. To make a lamb jus, start with a chicken stock and roasted lamb necks and bones.
Master stock

Master stock

A master stock refers to a stock which is repeatedly reused to poach or braise meats. It has its origins in Chinese cuisine and is typically used in Cantonese and Fujian cuisines.-Composition:...


is a special Chinese stock used primarily for poaching meats, flavoured with soy sauce, sugar, ginger, garlic, and other aromatics.
Prawn stock is made from boiling prawn

Prawn

Prawns are decapod crustaceans of the sub-order Dendrobranchiata. There are 540 extant species, in seven families, and a fossil record extending back to the Devonian...


shells. It is used in Southeast Asia

Southeast Asia

Southeast Asia, South-East Asia, South East Asia or Southeastern Asia is a subregion of Asia, consisting of the countries that are geographically south of China, east of India, west of New Guinea and north of Australia. The region lies on the intersection of geological plates, with heavy seismic...


n dishes such as laksa

Laksa

Laksa is a popular spicy noodle soup from the Peranakan culture, which is a merger of Chinese and Malay elements found in Malaysia and Singapore, and to a lesser extent Indonesia.- Origin :The origin of the name "laksa" is unclear...


.
Veal stock should be cooked for 8 hours.
Vegetable stock is made only of vegetables. It is common today.
Preparing stock
A few basic rules are commonly prescribed for preparing stock:
The stock ingredients are simmered starting with cold water. This promotes the extraction of collagen

Collagen

Collagen is a group of naturally occurring proteins found in animals, especially in the flesh and connective tissues of mammals. It is the main component of connective tissue, and is the most abundant protein in mammals, making up about 25% to 35% of the whole-body protein content...


, which may be sealed in by hot water.
Stocks are simmered gently, with bubbles just breaking the surface, and not boiled. If a stock is boiled, it will be cloudy.
Salt is usually not added to a stock, as this causes it to become too salty, since most stocks are reduced to make soups and sauces.
Meat is added to a stock before vegetables, and the "scum" that rises to the surface is skimmed off before further ingredients are added.
If the cook wants to remove the fat, after the stock is finished it is cooled and the fat which floats, separates, and solidifies into globs within the stock, can be removed with ease.
Stocks can be frozen and kept indefinitely but are better fresh.
See also
External links