 Louisiana Creole cuisine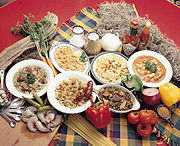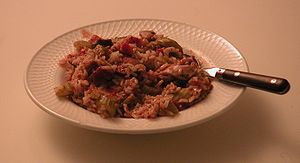 Louisiana Creole cuisine
is a style of
cooking
Cooking
Cooking is the process of preparing food by use of heat. Cooking techniques and ingredients vary widely across the world, reflecting unique environmental, economic, and cultural traditions. Cooks themselves also vary widely in skill and training...
originating in
Louisiana
Louisiana
Louisiana is a state located in the southern region of the United States of America. Its capital is Baton Rouge and largest city is New Orleans. Louisiana is the only state in the U.S. with political subdivisions termed parishes, which are local governments equivalent to counties...
which blends
French
French cuisine
French cuisine is a style of food preparation originating from France that has developed from centuries of social change. In the Middle Ages, Guillaume Tirel , a court chef, authored Le Viandier, one of the earliest recipe collections of Medieval France...
,
Spanish
Spanish cuisine
Spanish cuisine consists of a variety of dishes, which stem from differences in geography, culture and climate. It is heavily influenced by seafood available from the waters that surround the country, and reflects the country's deep maritime roots...
,
Portuguese
Portuguese cuisine
Portuguese cuisine is characterised by rich, filling and full-flavored dishes and is closely related to Mediterranean cuisine. The influence of Portugal's former colonial possessions is also notable, especially in the wide variety of spices used. These spices include piri piri and black pepper, as...
,
Italian
Italian cuisine
Italian cuisine has developed through centuries of social and political changes, with roots as far back as the 4th century BCE. Italian cuisine in itself takes heavy influences, including Etruscan, ancient Greek, ancient Roman, Byzantine, Jewish and Arab cuisines...
, Greek,
Asian Indian
Indian cuisine
Indian cuisine consists of thousands of regional cuisines which date back thousands of years. The dishes of India are characterised by the extensive use of various Indian spices, herbs, vegetables and fruit. Indian cuisine is also known for the widespread practice of vegetarianism in Indian society...
, Native American, and African influences, as well as general Southern cuisine. It is similar to
Cajun cuisine
Cajun cuisine
Cajun cuisine is the style of cooking named for the French-speaking Acadian or "Cajun" immigrants deported by the British from Acadia in Canada to the Acadiana region of Louisiana, USA. It is what could be called a rustic cuisine — locally available ingredients predominate, and preparation...
in ingredients (such as the
holy trinity
Holy trinity (cuisine)
The holy trinity is the Cajun and Louisiana Creole variant of mirepoix: onions, bell peppers, and celery in roughly equal quantities. This mirepoix is the base for much of the cooking in the regional cuisines of Louisiana...
), but the important distinction is that Cajun cuisine arose from the more rustic, provincial French cooking adapted by the
Acadian
Acadian
The Acadians are the descendants of the 17th-century French colonists who settled in Acadia . Acadia was a colony of New France...
s to Louisiana ingredients, whereas the cooking of the
Louisiana Creoles
Louisiana Creole people
Louisiana Creole people refers to those who are descended from the colonial settlers in Louisiana, especially those of French and Spanish descent. The term was first used during colonial times by the settlers to refer to those who were born in the colony, as opposed to those born in the Old World...
tended more toward classical European styles adapted to local foodstuffs. Broadly speaking, the French influence in Cajun cuisine is descended from various French Provincial cuisines of the peasantry, while Creole cuisine evolved in the homes of well-to-do aristocrats, or those who imitated their lifestyle. Although the Creole cuisine is closely identified with New Orleans culture today, much of it evolved in the country plantation estates so beloved of the pre-Civil War Creoles. (Despite its aristocratic French roots, Creole cuisine does not include
Garde Manger
Garde manger
Garde manger , meaning "keep to eat" refers to a cool, well-ventilated area where cold dishes are prepared and other foods are stored under refrigeration...
or other extremely lavish styles of the Classical Paris cuisine.)
Overview
The Spanish, Italian, and Canarian influences on Creole cuisine were in the heat of the
peppers
Chili pepper
Chili pepper is the fruit of plants from the genus Capsicum, members of the nightshade family, Solanaceae. The term in British English and in Australia, New Zealand, India, Malaysia and other Asian countries is just chilli without pepper.Chili peppers originated in the Americas...
, the wide usage of citrus juice marinades, the supreme importance of rice, and the introduction of beans. The Spaniards and the Italians also used tomatoes extensively, which had not been a frequent ingredient in the earlier French era. Pasta and tomato sauces arrived during the period when New Orleans was a popular destination for Italian, and Greek immigrants (roughly, 1815 to 1925). Many Italians and Greeks became grocers, bakers, cheese makers and orchard farmers, and so influenced the Creole cuisine in New Orleans and its suburbs. The African and Indian influences, which were extensive, came about because many of the servants were either African-American or Asian Indian American, as were many of the cooks in restaurants and cafes.
The first French, Spanish and Portuguese Creole cookbooks date back to the era before the Louisiana Purchase. The first Creole cookbook in English was
La Cuisine Creole: A Collection of Culinary Recipes, From Leading Chefs and Noted Creole Housewives, Who Have Made New Orleans Famous For Its Cuisine
, written by
Lafcadio Hearn
Lafcadio Hearn
Patrick Lafcadio Hearn , known also by the Japanese name , was an international writer, known best for his books about Japan, especially his collections of Japanese legends and ghost stories, such as Kwaidan: Stories and Studies of Strange Things...
and published in 1885.
By that time Creole was already an identifiable regional cuisine recognized outside Louisiana: for example, an 1882 Florida hotel menu now in the
New York Public Library
New York Public Library
The New York Public Library is the largest public library in North America and is one of the United States' most significant research libraries...
's collection offered "Chicken Saute, á la Creole."
Starting in the 1980s,
Cajun
Cajun
Cajuns are an ethnic group mainly living in the U.S. state of Louisiana, consisting of the descendants of Acadian exiles...
influence became important, spurred by the popular restaurant of Chef
Paul Prudhomme
Paul Prudhomme
Paul Prudhomme is an American celebrity chef whose specialty is Cajun cuisine. He is also the owner of one of the top restaurants in New Orleans, K-Paul's Louisiana Kitchen.-Early life:...
. A national interest in Cajun cooking developed, and many
tourists
Tourism
Tourism is travel for recreational, leisure or business purposes. The World Tourism Organization defines tourists as people "traveling to and staying in places outside their usual environment for not more than one consecutive year for leisure, business and other purposes".Tourism has become a...
went to New Orleans expecting to find Cajun food there (being unaware that the city was culturally and geographically separate from
Acadiana
Acadiana
Acadiana, or The Heart of Acadiana, is the official name given to the French Louisiana region that is home to a large Francophone population. Of the 64 parishes that make up Louisiana, 22 named parishes and other parishes of similar cultural environment, make up the intrastate...
), so entrepreneurs opened or rebranded restaurants to meet this demand. The "New New Orleans Cooking" of celebrity chef
Emeril Lagasse
Emeril Lagasse
'Emeril John Lagasse is an American celebrity chef, restaurateur, television personality, and cookbook author. A regional James Beard Award winner, he is perhaps most notable for his Food Network shows Emeril Live and Essence of Emeril as well as catchphrases such as "Kick it up a notch!" and...
includes both Cajun and Creole dishes. In his writings and TV shows, Lagasse both draws the distinction between Cajun and Creole and explains where they overlap.
With the rise of southern American Cooking in the 1980s, a New Creole (or Nouvelle Creole) strain began to emerge. This movement is characterized in part by a renewed emphasis on fresh ingredients and lighter preparations, and in part by an outreach to other culinary traditions, including Cajun, Southern, Southwestern, and to a lesser degree Southeast Asian. While the Cajun food craze eventually passed, Modern Creole has remained as a predominant force in most major New Orleans restaurants.
Appetizers
Soups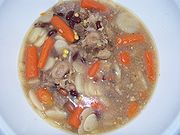 Main dishes
Side Dishes
Desserts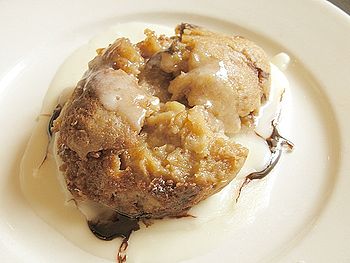 Beverages
Breakfast
See also
New Orleans restaurants
External links