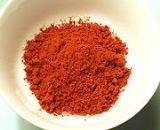 Paprika
Paprika
is a
spice
Spice
A spice is a dried seed, fruit, root, bark, or vegetative substance used in nutritionally insignificant quantities as a food additive for flavor, color, or as a preservative that kills harmful bacteria or prevents their growth. It may be used to flavour a dish or to hide other flavours...
made from the grinding of dried fruits of
Capsicum annuum
Capsicum annuum
Capsicum annuum is a domesticated species of the plant genus Capsicum native to southern North America and northern South America. The three species C. annuum, C. frutescens and C. chinense all evolved from a single common ancestor located somewhere in the northwest Brazil - Colombia area...
(e.g.,
bell pepper
Bell pepper
Bell pepper, also known as sweet pepper or a pepper and capsicum , is a cultivar group of the species Capsicum annuum . Cultivars of the plant produce fruits in different colors, including red, yellow, orange and green. Bell peppers are sometimes grouped with less pungent pepper varieties as...
s or
chili pepper
Chili pepper
Chili pepper is the fruit of plants from the genus Capsicum, members of the nightshade family, Solanaceae. The term in British English and in Australia, New Zealand, India, Malaysia and other Asian countries is just chilli without pepper.Chili peppers originated in the Americas...
s). In many
Europe
Europe
Europe is, by convention, one of the world's seven continents. Comprising the westernmost peninsula of Eurasia, Europe is generally 'divided' from Asia to its east by the watershed divides of the Ural and Caucasus Mountains, the Ural River, the Caspian and Black Seas, and the waterways connecting...
an languages, the word
paprika
refers to bell peppers themselves. The seasoning is used in many cuisines to add color and flavor to dishes. Paprika can range from mild to hot. Flavors also vary from country to country.
Etymology
In modern times, the word paprika is derived from the
Hungarian
Hungarian language
Hungarian is a Uralic language, part of the Ugric group. With some 14 million speakers, it is one of the most widely spoken non-Indo-European languages in Europe....
paprika
or the
Bosnian
Bosnian language
Bosnian is a South Slavic language, spoken by Bosniaks. As a standardized form of the Shtokavian dialect, it is one of the three official languages of Bosnia and Herzegovina....
,
Croatian
Croatian language
Croatian is the collective name for the standard language and dialects spoken by Croats, principally in Croatia, Bosnia and Herzegovina, the Serbian province of Vojvodina and other neighbouring countries...
and
Serbian
Serbian language
Serbian is a form of Serbo-Croatian, a South Slavic language, spoken by Serbs in Serbia, Bosnia and Herzegovina, Montenegro, Croatia and neighbouring countries....
paprika
[паприка]; meaning
pepper
Capsicum
Capsicum is a genus of flowering plants in the nightshade family, Solanaceae. Its species are native to the Americas where they have been cultivated for thousands of years, but they are now also cultivated worldwide, used as spices, vegetables, and medicines - and have become are a key element in...
(
Capsicum
Capsicum
Capsicum is a genus of flowering plants in the nightshade family, Solanaceae. Its species are native to the Americas where they have been cultivated for thousands of years, but they are now also cultivated worldwide, used as spices, vegetables, and medicines - and have become are a key element in...
). The Hungarian
paprika
is a diminutive form of the Bosnian/Croatian/Serbian/Montenegrin
papar,
derived from the Latin
piper
or Modern Greek
piperi.
It came into currency in the 19th century. Many European languages use a similar word whilst examples from other languages include the
Hebrew
Hebrew language
Hebrew is a Semitic language of the Afroasiatic language family. Culturally, is it considered by Jews and other religious groups as the language of the Jewish people, though other Jewish languages had originated among diaspora Jews, and the Hebrew language is also used by non-Jewish groups, such...
paprika
[פפריקה] and the
Japanese
Japanese language
is a language spoken by over 130 million people in Japan and in Japanese emigrant communities. It is a member of the Japonic language family, which has a number of proposed relationships with other languages, none of which has gained wide acceptance among historical linguists .Japanese is an...
papurika
[パプリカ].
Usage
Paprika is produced in a number of places including Spain, Hungary, and California. It is used as an ingredient in a broad variety of dishes throughout the world. Paprika is principally used to season and color rices, stews, and soups, such as
goulash
Goulash
Goulash is a soup or stew of meat, noodles and vegetables , seasoned with paprika and other spices. Originating in Hungary, goulash is also a popular meal in Austria, Croatia, Czech Republic, Romania, Scandinavia, Serbia, Slovakia, Slovenia and the north-eastern Italian region of Friuli Venezia...
, and in the preparation of
sausage
Sausage
A sausage is a food usually made from ground meat , mixed with salt, herbs, and other spices, although vegetarian sausages are available. The word sausage is derived from Old French saussiche, from the Latin word salsus, meaning salted.Typically, a sausage is formed in a casing traditionally made...
s as an ingredient that is mixed with meats and other spices. In the United States, paprika is frequently sprinkled on foods as a garnish, but the flavor is more effectively produced by heating it gently in oil.
Spanish Paprika (
Pimentón
) is available in three versions, mild (
Pimentón Dulce
), moderately spicy (
Pimentón Agridulce
), and very spicy (
Pimentón Picante
.) Some Spanish paprika, including
Pimentón de la Vera
has a distinct smokey flavor and aroma as it is dried by smoking, typically using
oak
Oak
An oak is a tree or shrub in the genus Quercus , of which about 600 species exist. "Oak" may also appear in the names of species in related genera, notably Lithocarpus...
wood.
Hungary
Hungary
Hungary , officially the Republic of Hungary , is a landlocked country in Central Europe. It is situated in the Carpathian Basin and is bordered by Slovakia to the north, Ukraine and Romania to the east, Serbia and Croatia to the south, Slovenia to the southwest and Austria to the west. The...
is a major source of paprika and is thus more commonly used. It is available in grades ranging as follows:
Special quality (Különleges) the mildest, very sweet with a deep bright red color.
Delicate (csípősmentes csemege) – color from light to dark red, a mild paprika with a rich flavor.
Exquisite Delicate (Csemegepaprika) – similar to Delicate, but more pungent.
Pungent Exquisite Delicate (Csípős Csemege, Pikáns) - an even more pungent version of Delicate.
Rose (Rózsa) – pale red in color with strong aroma and mild pungency.
Noble Sweet (Édesnemes) – the most commonly exported paprika; bright red and slightly pungent.
Half-Sweet (Félédes) – A blend of mild and pungent paprikas; medium pungency.
Strong (Erős) – light brown in color, the hottest paprika.
The
Netherlands
Netherlands
The Netherlands is a constituent country of the Kingdom of the Netherlands, located mainly in North-West Europe and with several islands in the Caribbean. Mainland Netherlands borders the North Sea to the north and west, Belgium to the south, and Germany to the east, and shares maritime borders...
is a major production and distribution source of paprika as well, especially grown in greenhouses.
In Moroccan cuisine, paprika (tahmira) is usually found slightly moistened by the addition of a small amount of olive oil blended into it.
Paprika can also be used with
henna
Henna
Henna is a flowering plant used since antiquity to dye skin, hair, fingernails, leather and wool. The name is also used for dye preparations derived from the plant, and for the art of temporary tattooing based on those dyes...
to bring a reddish tint to hair when coloring it. Paprika powder can be added to henna powder when prepared at home.
Nutrition
Capsicum peppers used for paprika are unusually rich in
vitamin C
Vitamin C
Vitamin C or L-ascorbic acid or L-ascorbate is an essential nutrient for humans and certain other animal species. In living organisms ascorbate acts as an antioxidant by protecting the body against oxidative stress...
, a fact discovered in 1932 by Hungary's 1937 Nobel prize-winner
Albert Szent-Györgyi
Albert Szent-Györgyi
Albert Szent-Györgyi de Nagyrápolt was a Hungarian physiologist who won the Nobel Prize in Physiology or Medicine in 1937. He is credited with discovering vitamin C and the components and reactions of the citric acid cycle...
. Much of the vitamin C content is retained in paprika, which contains more vitamin C by weight than does
lemon juice
Lemon juice
The lemon fruit, from a citrus plant, provides a useful liquid when squeezed. Lemon juice, either in natural strength or concentrated, is sold as a bottled product, usually with the addition of preservatives and a small amount of lemon oil.-Uses:...
.
Paprika is also high in other antioxidants. Prevalence of nutrients, however, must be balanced against quantities ingested, which are generally negligible for spices.
The color of paprika is primarily due to the
xanthophyll
Xanthophyll
Xanthophylls are yellow pigments that form one of two major divisions of the carotenoid group. The name is from Greek xanthos + phyllon , due to their formation of the yellow band seen in early chromatography of leaf pigments...
carotenoid
Carotenoid
Carotenoids are tetraterpenoid organic pigments that are naturally occurring in the chloroplasts and chromoplasts of plants and some other photosynthetic organisms like algae, some bacteria, and some types of fungus. Carotenoids can be synthesized fats and other basic organic metabolic building...
zeaxanthin
Zeaxanthin
Zeaxanthin is one of the most common carotenoid alcohols found in nature. It is important in the xanthophyll cycle. Synthesized in plants & some micro-organisms, it is the pigment that gives paprika , corn, saffron, and many other plants & microbes their characteristic color.The name is derived...
.
According to the USDA, 1tbsp (6.8g) of paprika has the following nutritional content:
Calories :19
Fat : 0.88g
Carbohydrates : 3.67g
Fiber: 2.4g
Protein: 0.96g
External links