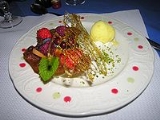 Dessert
In cultures around the world,
dessert
is a course that typically comes at the end of a meal, usually consisting of sweet
food
Food
Food is any substance consumed to provide nutritional support for the body. It is usually of plant or animal origin, and contains essential nutrients, such as carbohydrates, fats, proteins, vitamins, or minerals...
. The word comes from the French language as
dessert
and this from
Old French
Old French
Old French was the Romance dialect continuum spoken in territories that span roughly the northern half of modern France and parts of modern Belgium and Switzerland from the 9th century to the 14th century...
desservir
, "to clear the table" and "to serve." Common Western desserts include
cake
Cake
Cake is a form of bread or bread-like food. In its modern forms, it is typically a sweet and enriched baked dessert. In its oldest forms, cakes were normally fried breads or cheesecakes, and normally had a disk shape...
s,
biscuit
Biscuit
A biscuit is a baked, edible, and commonly flour-based product. The term is used to apply to two distinctly different products in North America and the Commonwealth Nations....
s,
gelatin
Gelatin dessert
Gelatin desserts are desserts made with sweetened and flavored gelatin. They can be made by combining plain gelatin with other ingredients or by using a premixed blend of gelatin with additives...
,
pastries
Pastry
Pastry is the name given to various kinds of baked products made from ingredients such as flour, sugar, milk, butter, shortening, baking powder and/or eggs. Small cakes, tarts and other sweet baked products are called "pastries."...
,
ice cream
Ice cream
Ice cream is a frozen dessert usually made from dairy products, such as milk and cream, and often combined with fruits or other ingredients and flavours. Most varieties contain sugar, although some are made with other sweeteners...
,
pie
Pie
A pie is a baked dish which is usually made of a pastry dough casing that covers or completely contains a filling of various sweet or savoury ingredients....
s, and
candies
Candy
Candy, specifically sugar candy, is a confection made from a concentrated solution of sugar in water, to which flavorings and colorants are added...
.
Fruit
Fruit
In broad terms, a fruit is a structure of a plant that contains its seeds.The term has different meanings dependent on context. In non-technical usage, such as food preparation, fruit normally means the fleshy seed-associated structures of certain plants that are sweet and edible in the raw state,...
may also be eaten with or as a dessert.
Variations of desserts can be found all around the world, such as in Russia, where breakfast foods such as bliny, oladi, and syrniki served with
honey
Honey
Honey is a sweet food made by bees using nectar from flowers. The variety produced by honey bees is the one most commonly referred to and is the type of honey collected by beekeepers and consumed by humans...
and jam are also popular as desserts. Desserts are sometimes eaten with a
dessert spoon
Dessert spoon
thumb|right|From left: [[knife]], [[fork]], dessert spoon, [[teaspoon]] A dessert spoon is a spoon designed specifically for eating dessert and sometimes used for soup or cereals...
, intermediate in size between a
teaspoon
Teaspoon
A teaspoon, an item of cutlery, is a small spoon, commonly part of a silverware place setting, suitable for stirring and sipping the contents of a cup of tea or coffee...
and a
tablespoon
Tablespoon
A tablespoon is a type of large spoon usually used for serving. A tablespoonful, the capacity of one tablespoon, is commonly used as a measure of volume in cooking...
.
History
The first desserts were crusty, made from raw
honeycomb
Honeycomb
A honeycomb is a mass of hexagonal waxcells built by honey bees in their nests to contain their larvae and stores of honey and pollen.Beekeepers may remove the entire honeycomb to harvest honey...
and dried dates. It was not until the Middle Ages, when
sugar
Sugar
Sugar is a class of edible crystalline carbohydrates, mainly sucrose, lactose, and fructose, characterized by a sweet flavor.Sucrose in its refined form primarily comes from sugar cane and sugar beet...
was manufactured, that people began to enjoy more sweets but even then sugar was so expensive that it was only for the wealthy on special ocasions. Early origins of popular frozen desserts, such as ice cream, trace back to the Middle Ages when royalty would request fresh ice flavored with honey or a fruit syrup.
Etymology
The word
dessert
is most commonly used for this course in
U.S.
American English
American English is a set of dialects of the English language used mostly in the United States. Approximately two-thirds of the world's native speakers of English live in the United States....
,
Canada
Canadian English
Canadian English is the variety of English spoken in Canada. English is the first language, or "mother tongue", of approximately 24 million Canadians , and more than 28 million are fluent in the language...
,
Australia
Australian English
Australian English is the name given to the group of dialects spoken in Australia that form a major variety of the English language....
,
New Zealand
New Zealand
New Zealand is an island country in the south-western Pacific Ocean comprising two main landmasses and numerous smaller islands. The country is situated some east of Australia across the Tasman Sea, and roughly south of the Pacific island nations of New Caledonia, Fiji, and Tonga...
and
Ireland
Hiberno-English
Hiberno-English is the dialect of English written and spoken in Ireland .English was first brought to Ireland during the Norman invasion of the late 12th century. Initially it was mainly spoken in an area known as the Pale around Dublin, with Irish spoken throughout the rest of the country...
, while
sweet
,
pudding
Pudding
Pudding most often refers to a dessert, but it can also be a savory dish.In the United States, pudding characteristically denotes a sweet milk-based dessert similar in consistency to egg-based custards, though it may also refer to other types such as bread and rice pudding.In the United Kingdom and...
or
afters
may be alternative terms used in the
UK
British English
British English, or English , is the broad term used to distinguish the forms of the English language used in the United Kingdom from forms used elsewhere...
and some other Commonwealth countries, including
India
India
India , officially the Republic of India , is a country in South Asia. It is the seventh-largest country by geographical area, the second-most populous country with over 1.2 billion people, and the most populous democracy in the world...
. In England, the term
pudding
is usually used among the Upper and Upper-middle classes, with
dessert
only used if the course consists of fruit or sweetmeats, after the cheese and biscuits course (See
U and non-U English
U and non-U English
U and non-U English usage, with U standing for upper class, and non-U representing the aspiring middle classes, were part of the terminology of popular discourse of social dialects in 1950s Britain and New England. The debate did not concern itself with the speech of the working classes, which in...
).
Nutrition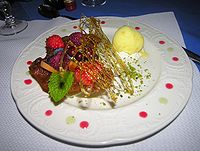 Those attempting to lose weight as part of a
dieting
Dieting
Dieting is the practice of eating food in a regulated fashion to achieve or maintain a controlled weight. In most cases dieting is used in combination with physical exercise to lose weight in those who are overweight or obese. Some athletes, however, follow a diet to gain weight...
program may choose to restrict their intake of dessert foods, as they tend to have a large amount of
calorie
Calorie
The calorie is a pre-SI metric unit of energy. It was first defined by Nicolas Clément in 1824 as a unit of heat, entering French and English dictionaries between 1841 and 1867. In most fields its use is archaic, having been replaced by the SI unit of energy, the joule...
s,
fat
Fat
Fats consist of a wide group of compounds that are generally soluble in organic solvents and generally insoluble in water. Chemically, fats are triglycerides, triesters of glycerol and any of several fatty acids. Fats may be either solid or liquid at room temperature, depending on their structure...
and
sugar
Sugar
Sugar is a class of edible crystalline carbohydrates, mainly sucrose, lactose, and fructose, characterized by a sweet flavor.Sucrose in its refined form primarily comes from sugar cane and sugar beet...
.
External links