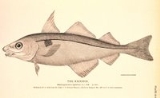 Haddock
The
haddock
also known as the
offshore hake
, is a marine
fish
Fish
Fish are a paraphyletic group of organisms that consist of all gill-bearing aquatic vertebrate animals that lack limbs with digits. Included in this definition are the living hagfish, lampreys, and cartilaginous and bony fish, as well as various extinct related groups...
distributed on both sides of the
North Atlantic
Atlantic Ocean
The Atlantic Ocean is the second-largest of the world's oceanic divisions. With a total area of about , it covers approximately 20% of the Earth's surface and about 26% of its water surface area...
. Haddock is a popular food fish and is widely fished commercially.
The haddock is easily recognized by a black
lateral line
Lateral line
The lateral line is a sense organ in aquatic organisms , used to detect movement and vibration in the surrounding water. Lateral lines are usually visible as faint lines running lengthwise down each side, from the vicinity of the gill covers to the base of the tail...
running along its white side (not to be confused with
pollock
Pollock
Pollock is the common name used for either of the two species of marine fish in the Pollachius genus. Both P. pollachius and P. virens are commonly referred to as pollock. Other names for P...
which has the reverse, i.e. white line on black side) and a distinctive dark blotch above the pectoral fin, often described as a "thumbprint" or even the "Devil's thumbprint" or "St. Peter's mark".
Haddock is most commonly found at depths of 40 to 133 m (131.2 to 436.4 ft), but has a range as deep as 300 m (984.3 ft). It thrives in temperatures of 2 to 10 °C (36 to 50 °F). Juveniles prefer shallower waters and larger adults deeper water. Generally, adult haddock do not engage in long migratory behavior as do the younger fish, but seasonal movements have been known to occur across all ages. Haddock feed primarily on small
invertebrate
Invertebrate
An invertebrate is an animal without a backbone. The group includes 97% of all animal species – all animals except those in the chordate subphylum Vertebrata .Invertebrates form a paraphyletic group...
s, although larger members of the species may occasionally consume fish.
Growth rates of haddock have changed significantly over the past 30 to 40 years. Presently, growth is more rapid, with haddock reaching their adult size much earlier than previously noted. However, the degree to which these younger fish contribute to reproductive success of the population is unknown. Growth rates of haddock, however, have slowed in recent years. There is evidence that this is the result of an exceptionally large year class in 2003.
Spawning
Spawn (biology)
Spawn refers to the eggs and sperm released or deposited, usually into water, by aquatic animals. As a verb, spawn refers to the process of releasing the eggs and sperm, also called spawning...
occurs between January and June, peaking during late March and early April. The most important spawning grounds are in the waters off middle
Norway
Norway
Norway , officially the Kingdom of Norway, is a Nordic unitary constitutional monarchy whose territory comprises the western portion of the Scandinavian Peninsula, Jan Mayen, and the Arctic archipelago of Svalbard and Bouvet Island. Norway has a total area of and a population of about 4.9 million...
, near southwest
Iceland
Iceland
Iceland , described as the Republic of Iceland, is a Nordic and European island country in the North Atlantic Ocean, on the Mid-Atlantic Ridge. Iceland also refers to the main island of the country, which contains almost all the population and almost all the land area. The country has a population...
, and
Georges Bank
Georges Bank
Georges Bank is a large elevated area of the sea floor which separates the Gulf of Maine from the Atlantic Ocean and is situated between Cape Cod, Massachusetts and Cape Sable Island, Nova Scotia ....
. An average-sized female produces approximately 850,000 eggs, and larger females are capable of producing up to 3 million eggs each year.
Fisheries
Reaching sizes up to 1.1 metre, haddock is fished for year-round. Some of the methods used are Danish seine nets, trawlers, long lines and fishing nets. The commercial catch of haddock in
North America
North America
North America is a continent wholly within the Northern Hemisphere and almost wholly within the Western Hemisphere. It is also considered a northern subcontinent of the Americas...
had declined sharply in recent years but is now recovering with recruitment rates running around where they historically were from the 1930s to 1960s.
Sustainable consumption
In 2010, Greenpeace International has added the haddock to its seafood red list. "The Greenpeace International seafood red list is a list of fish that are commonly sold in supermarkets around the world, and which have a very high risk of being sourced from unsustainable fisheries."
Cuisine
Haddock is a very popular food fish, sold fresh, smoked, frozen, dried, or to a small extent canned. Haddock, along with
cod
Cod
Cod is the common name for genus Gadus, belonging to the family Gadidae, and is also used in the common name for various other fishes. Cod is a popular food with a mild flavor, low fat content and a dense, flaky white flesh. Cod livers are processed to make cod liver oil, an important source of...
and
plaice
Plaice
Plaice is the common name of four species of flatfishes.Plaice or PLAICE may also refer to:* USS Plaice , a Balao-class submarine* PLAICE, an open source hardware FLASH programmer, memory emulator, and logic analyzer...
, is one of the most popular fish used in British
fish and chips
Fish and chips
Fish and chips is a popular take-away food in the United Kingdom, Australia, New Zealand and Canada...
.
Fresh haddock has a clean white flesh and can be cooked in the same ways as cod. Freshness of a haddock fillet can be determined by how well it holds together, as a fresh one will be firm; also, fillets should be translucent, while older fillets turn a chalky hue. Young, fresh haddock and cod fillets are often sold as
scrod
Scrod
Scrod is a young cod or, less frequently, when spelled with an 'h', haddock, split and boned. It is a staple in many coastal New England and Atlantic Canada seafood and fish markets....
in Boston, Massachusetts; this refers to the size of the fish which have a variety of sizes, i.e. scrod, markets, and cows. Haddock is the predominant fish of choice in Scotland in a
fish supper
Fish and chips
Fish and chips is a popular take-away food in the United Kingdom, Australia, New Zealand and Canada...
. It is also the main ingredient of Norwegian fishballs (fiskeboller).
Unlike the related
cod
Cod
Cod is the common name for genus Gadus, belonging to the family Gadidae, and is also used in the common name for various other fishes. Cod is a popular food with a mild flavor, low fat content and a dense, flaky white flesh. Cod livers are processed to make cod liver oil, an important source of...
, haddock does not
salt
Salting (food)
Salting is the preservation of food with dry edible salt. It is related to pickling . It is one of the oldest methods of preserving food, and two historically significant salt-cured foods are dried and salted cod and salt-cured meat.Salting is used because most bacteria, fungi and other potentially...
well and is often preserved by
drying
Drying (food)
Drying is a method of food preservation that works by removing water from the food, which inhibits the growth of microorganisms and hinders quality decay. Drying food using sun and wind to prevent spoilage has been practised since ancient times, and was the earliest form of food curing...
and smoking.
The smoking of haddock is something that was highly refined in
Grimsby
Grimsby
Grimsby is a seaport on the Humber Estuary in Lincolnshire, England. It has been the administrative centre of the unitary authority area of North East Lincolnshire since 1996...
. Traditional Grimsby smoked fish (mainly haddock, but sometimes cod) is produced in the traditional smoke houses in Grimsby, which are mostly family run businesses that have developed their skills over many generations. Grimsby fish market sources its haddock from the North East Atlantic, principally Iceland, Norway and Faroe. These fishing grounds are sustainably managed and have not seen the large scale depreciation in fish stocks seen in EU waters.
One popular form of haddock is
Finnan Haddie
Finnan Haddie
Finnan haddie is smoked haddock. Its origin is Findon near Aberdeen, Scotland. It has been a popular dish in Aberdeenshire since at least the 1640s.Finnan haddie is often served poached in milk for breakfast....
, named for the fishing village of Finnan or Findon in Scotland, where it was originally cold-smoked over
peat
Peat
Peat is an accumulation of partially decayed vegetation matter or histosol. Peat forms in wetland bogs, moors, muskegs, pocosins, mires, and peat swamp forests. Peat is harvested as an important source of fuel in certain parts of the world...
. Finnan haddie is often served
poached
Poaching (cooking)
Poaching is the process of gently simmering food in liquid, generally milk, stock or wine.-Utilization:Poaching is particularly suitable for delicate food, such as eggs, poultry, fish and fruit, which might easily fall apart or dry out...
in milk for
breakfast
Breakfast
Breakfast is the first meal taken after rising from a night's sleep, most often eaten in the early morning before undertaking the day's work...
.
The town of
Arbroath
Arbroath
Arbroath or Aberbrothock is a former royal burgh and the largest town in the council area of Angus in Scotland, and has a population of 22,785...
on the east coast of Scotland produces the
Arbroath Smokie
Arbroath Smokie
Arbroath Smokies are a type of smoked haddock – a speciality of the town of Arbroath in Angus, Scotland.-History:The Arbroath Smokie originated in the small fishing village of Auchmithie, three miles northeast of Arbroath. Local legend has it a store caught fire one night, destroying barrels...
. This is a hot-smoked haddock which requires no further cooking before eating.
Smoked haddock naturally has an off-white color; it is very often
dye
Dye
A dye is a colored substance that has an affinity to the substrate to which it is being applied. The dye is generally applied in an aqueous solution, and requires a mordant to improve the fastness of the dye on the fiber....
d yellow, as are other smoked fish. Smoked haddock is the essential ingredient in the Anglo-Indian dish
kedgeree
Kedgeree
Kedgeree is a dish consisting of cooked, flaked fish , boiled rice, parsley, hard-boiled eggs, curry powder, butter or cream and occasionally sultanas.Kedgeree is thought to have originated with an Indian rice-and-bean or rice-and-lentil dish Khichri, traced back to 1340 or...
.
Nutritional value
Haddock is an excellent source of dietary
protein
Protein
Proteins are biochemical compounds consisting of one or more polypeptides typically folded into a globular or fibrous form, facilitating a biological function. A polypeptide is a single linear polymer chain of amino acids bonded together by peptide bonds between the carboxyl and amino groups of...
. It also contains a good deal of
vitamin B12
Vitamin B12
Vitamin B12, vitamin B12 or vitamin B-12, also called cobalamin, is a water-soluble vitamin with a key role in the normal functioning of the brain and nervous system, and for the formation of blood. It is one of the eight B vitamins...
,
pyridoxine
Pyridoxine
Pyridoxine is one of the compounds that can be called vitamin B6, along with pyridoxal and pyridoxamine. It differs from pyridoxamine by the substituent at the '4' position. It is often used as 'pyridoxine hydrochloride'.-Chemistry:...
, and
selenium
Selenium
Selenium is a chemical element with atomic number 34, chemical symbol Se, and an atomic mass of 78.96. It is a nonmetal, whose properties are intermediate between those of adjacent chalcogen elements sulfur and tellurium...
, and a healthy balance of
sodium
Sodium
Sodium is a chemical element with the symbol Na and atomic number 11. It is a soft, silvery-white, highly reactive metal and is a member of the alkali metals; its only stable isotope is 23Na. It is an abundant element that exists in numerous minerals, most commonly as sodium chloride...
and
potassium
Potassium
Potassium is the chemical element with the symbol K and atomic number 19. Elemental potassium is a soft silvery-white alkali metal that oxidizes rapidly in air and is very reactive with water, generating sufficient heat to ignite the hydrogen emitted in the reaction.Potassium and sodium are...
, with very little fat.
Parasites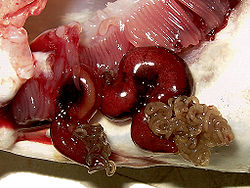 Cod and related species are plagued by parasites. For example the cod worm,
Lernaeocera branchialis
, starts life as a
copepod
Copepod
Copepods are a group of small crustaceans found in the sea and nearly every freshwater habitat. Some species are planktonic , some are benthic , and some continental species may live in limno-terrestrial habitats and other wet terrestrial places, such as swamps, under leaf fall in wet forests,...
, a small free-swimming crustacean
larva
Larva
A larva is a distinct juvenile form many animals undergo before metamorphosis into adults. Animals with indirect development such as insects, amphibians, or cnidarians typically have a larval phase of their life cycle...
. The first host used by cod worm is a
flatfish
Flatfish
The flatfish are an order of ray-finned fish, also called the Heterosomata, sometimes classified as a suborder of Perciformes. In many species, both eyes lie on one side of the head, one or the other migrating through and around the head during development...
or
lumpsucker
Lumpsucker
Lumpsuckers or lumpfish are mostly small scorpaeniform marine fish of the family Cyclopteridae. They are found in the cold waters of the Arctic, North Atlantic, and North Pacific oceans...
, which they capture with grasping hooks at the front of their body. They penetrate the lumpsucker with a thin filament which they use to suck its blood. The nourished cod worms then mate on the lumpsucker.
The female worm, with her now fertilized eggs, then finds a cod, or a cod-like fish such as a haddock or whiting. There the worm clings to the
gill
Gill
A gill is a respiratory organ found in many aquatic organisms that extracts dissolved oxygen from water, afterward excreting carbon dioxide. The gills of some species such as hermit crabs have adapted to allow respiration on land provided they are kept moist...
s while it metamorphoses into a plump, sinusoidal, wormlike body, with a coiled mass of egg strings at the rear. The front part of the worms body penetrates the body of the cod until it enters the rear bulb of the host's
heart
Heart
The heart is a myogenic muscular organ found in all animals with a circulatory system , that is responsible for pumping blood throughout the blood vessels by repeated, rhythmic contractions...
. There, firmly rooted in the cod's circulatory system, the front part of the parasite develops like the branches of a tree, reaching into the main
artery
Artery
Arteries are blood vessels that carry blood away from the heart. This blood is normally oxygenated, exceptions made for the pulmonary and umbilical arteries....
. In this way, the worm extracts nutrients from the cod's blood, remaining safely tucked beneath the cod's gill cover until it releases a new generation of offspring into the water.
External links