 List of United States urban areas
Below is a
list of urban areas

United States urban area

Urban areas in the United States are defined by the U.S. Census Bureau as contiguous census block groups with a population density of at least with any census block groups around this core having a density of at least . Urban areas are delineated without regard to political boundaries. The census...



in the
United States
United States
The United States of America is a federal constitutional republic comprising fifty states and a federal district...
as defined by the U.S. Census Bureau, ordered according to their 2000 Census populations. In the table, UA refers to "urbanized area" (urban areas with population over 50,000) and UC refers to "urban cluster" (urban areas with population less than 50,000). The list includes urban areas with a population of at least 40,000.
For the 2010 census, the Census Bureau redefined the classification of urban areas to "a densely settled core of census tracts and/or census blocks that meet minimum population density requirements, along with adjacent territory containing non-residential urban land uses as well as territory with low population density included to link outlying densely settled territory with the densely settled core. To qualify as an urban area, the territory identified according to criteria must encompass at least 2,500 people, at least 1,500 of which reside outside institutional group quarters." This criterion results in several large urban agglomerations that encompass multiple urban areas from the 2000 census. The Census Bureau is considering whether to split up the larger agglomerations, but published potential agglomerations in August 2010. A list of 2010 urban agglomerations follows the list of 2000 urban areas.
2000 Urban Areas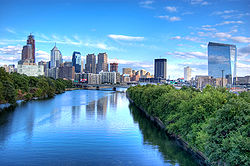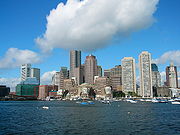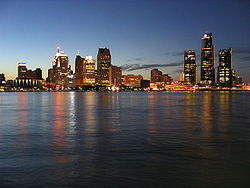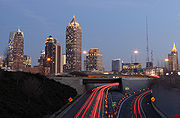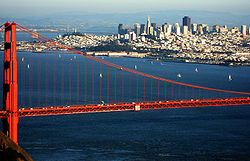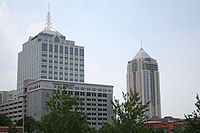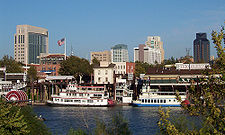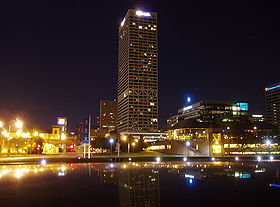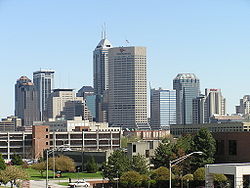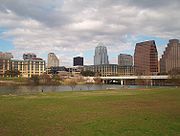 Rank
NameIn order to match the official lists from the U.S. Census Bureau and provide less clutter in the table, postal code abbreviations for the names of states are used in this column. For a list of the states and abbreviations used, please see the table below the map at this list of US States.
Type
(UA/UC)
Population
(2000 census)
Land Area
(km²)
Land Area
(sq mi)
Density
(inh./km²)
Density
(inh./sq mi)
| 1 >
New York

New York City

New York is the most populous city in the United States and the center of the New York Metropolitan Area, one of the most populous metropolitan areas in the world. New York exerts a significant impact upon global commerce, finance, media, art, fashion, research, technology, education, and...


-Newark

Newark, New Jersey

Newark is the largest city in the American state of New Jersey, and the seat of Essex County. As of the 2010 United States Census, Newark had a population of 277,140, maintaining its status as the largest municipality in New Jersey. It is the 68th largest city in the U.S...


, NY-NJ-CT
UA
17,799,861
8683.2
3352.6
2049.9
5309.3
| 2 >
Los Angeles

Los Angeles, California

Los Angeles , with a population at the 2010 United States Census of 3,792,621, is the most populous city in California, USA and the second most populous in the United States, after New York City. It has an area of , and is located in Southern California...


-Long Beach

Long Beach, California

Long Beach is a city situated in Los Angeles County in Southern California, on the Pacific coast of the United States. The city is the 36th-largest city in the nation and the seventh-largest in California. As of 2010, its population was 462,257...


-Santa Ana

Santa Ana, California

Santa Ana is the county seat and second most populous city in Orange County, California, and with a population of 324,528 at the 2010 census, Santa Ana is the 57th-most populous city in the United States....


, CA
UA
11,789,487
4319.9
1667.9
2729.1
7068.3
| 3 >
Chicago

Chicago

Chicago is the largest city in the US state of Illinois. With nearly 2.7 million residents, it is the most populous city in the Midwestern United States and the third most populous in the US, after New York City and Los Angeles...


, IL-IN
UA
8,307,904
5498.1
2122.8
1511.0
3913.6
| 4 >
Philadelphia

Philadelphia, Pennsylvania

Philadelphia is the largest city in the Commonwealth of Pennsylvania and the county seat of Philadelphia County, with which it is coterminous. The city is located in the Northeastern United States along the Delaware and Schuylkill rivers. It is the fifth-most-populous city in the United States,...


, PA-NJ-DE-MD
UA
5,149,079
4660.7
1799.5
1104.8
2861.4
| 5 >
Miami, FL
UA
4,919,036
2890.7
1116.1
1701.7
4407.4
| 6 >
Dallas

Dallas, Texas

Dallas is the third-largest city in Texas and the ninth-largest in the United States. The Dallas-Fort Worth Metroplex is the largest metropolitan area in the South and fourth-largest metropolitan area in the United States...


-Fort Worth

Fort Worth, Texas

Fort Worth is the 16th-largest city in the United States of America and the fifth-largest city in the state of Texas. Located in North Central Texas, just southeast of the Texas Panhandle, the city is a cultural gateway into the American West and covers nearly in Tarrant, Parker, Denton, and...


-Arlington

Arlington, Texas

Arlington is a city in Tarrant County, Texas within the Dallas–Fort Worth metropolitan area. According to the 2010 census results, the city had a population of 365,438, making it the third largest municipality in the Metroplex...


, TX
UA
4,145,659
3644.2
1407.0
1137.6
2946.4
| 7 >
Boston, MA-NH-RI
UA
4,032,484
4496.7
1736.2
896.8
2322.6
| 8 >
Washington

Washington, D.C.

Washington, D.C., formally the District of Columbia and commonly referred to as Washington, "the District", or simply D.C., is the capital of the United States. On July 16, 1790, the United States Congress approved the creation of a permanent national capital as permitted by the U.S. Constitution....


, DC-VA-MD
UA
3,933,920
2996
1156.8
1313.1
3400.8
| 9 >
Detroit

Detroit, Michigan

Detroit is the major city among the primary cultural, financial, and transportation centers in the Metro Detroit area, a region of 5.2 million people. As the seat of Wayne County, the city of Detroit is the largest city in the U.S. state of Michigan and serves as a major port on the Detroit River...


, MI
UA
3,903,377
3267.1
1261.4
1194.8
3094.4
| 10 >
Houston

Houston, Texas

Houston is the fourth-largest city in the United States, and the largest city in the state of Texas. According to the 2010 U.S. Census, the city had a population of 2.1 million people within an area of . Houston is the seat of Harris County and the economic center of , which is the ...


, TX
UA
3,822,509
3354.7
1295.3
1139.4
2951.1
| 11 >
Atlanta

Atlanta, Georgia

Atlanta is the capital and most populous city in the U.S. state of Georgia. According to the 2010 census, Atlanta's population is 420,003. Atlanta is the cultural and economic center of the Atlanta metropolitan area, which is home to 5,268,860 people and is the ninth largest metropolitan area in...


, GA
UA
3,499,840
5083.1
1962.6
688.5
1783.3
| 12 >
San Francisco

San Francisco, California

San Francisco , officially the City and County of San Francisco, is the financial, cultural, and transportation center of the San Francisco Bay Area, a region of 7.15 million people which includes San Jose and Oakland...


-Oakland

Oakland, California

Oakland is a major West Coast port city on San Francisco Bay in the U.S. state of California. It is the eighth-largest city in the state with a 2010 population of 390,724...


, CA
UA
3,228,605
1364
526.6
2367.0
6130.4
| 13 >
Phoenix

Phoenix, Arizona

Phoenix is the capital, and largest city, of the U.S. state of Arizona, as well as the sixth most populated city in the United States. Phoenix is home to 1,445,632 people according to the official 2010 U.S. Census Bureau data...


-Mesa

Mesa, Arizona

According to the 2010 Census, the racial composition of Mesa was as follows:* White: 77.1% * Hispanic or Latino : 26.54%* Black or African American: 3.5%* Two or more races: 3.4%* Native American: 2.4%...


, AZ
UA
2,907,049
2069.4
799.0
1404.8
3638.3
| 14 >
Seattle

Seattle, Washington

Seattle is the county seat of King County, Washington. With 608,660 residents as of the 2010 Census, Seattle is the largest city in the Northwestern United States. The Seattle metropolitan area of about 3.4 million inhabitants is the 15th largest metropolitan area in the country...


, WA
UA
2,712,205
2469.9
953.6
1098.1
2844.1
| 15 >
San Diego

San Diego, California

San Diego is the eighth-largest city in the United States and second-largest city in California. The city is located on the coast of the Pacific Ocean in Southern California, immediately adjacent to the Mexican border. The birthplace of California, San Diego is known for its mild year-round...


, CA
UA
2,674,436
2026.1
782.3
1320.0
3418.7
| 16 >
Minneapolis-Saint Paul, MN
UA
2,388,593
2316
894.2
1031.4
2671.2
| 17 >
Cleveland

Cleveland, Ohio

Cleveland is a city in the U.S. state of Ohio and is the county seat of Cuyahoga County, the most populous county in the state. The city is located in northeastern Ohio on the southern shore of Lake Erie, approximately west of the Pennsylvania border...


, OH
UA
2,250,871
1675.7
647.0
1066.2
2761.4
| 18 >
Saint Louis

St. Louis, Missouri

St. Louis is an independent city on the eastern border of Missouri, United States. With a population of 319,294, it was the 58th-largest U.S. city at the 2010 U.S. Census. The Greater St...


, MO-IL
UA
2,077,662
2147
829.0
967.7
2506.4
| 19 >
Baltimore, MD
UA
2,076,354
1768.3
682.7
1174.3
3041.3
| 20 >
Tampa

Tampa, Florida

Tampa is a city in the U.S. state of Florida. It serves as the county seat for Hillsborough County. Tampa is located on the west coast of Florida. The population of Tampa in 2010 was 335,709....


-Saint Petersburg

St. Petersburg, Florida

St. Petersburg is a city in Pinellas County, Florida, United States. It is known as a vacation destination for both American and foreign tourists. As of 2008, the population estimate by the U.S. Census Bureau is 245,314, making St...


, FL
UA
2,062,339
2077.9
802.3
992.5
2570.6
| 21 >
Denver

Denver, Colorado

The City and County of Denver is the capital and the most populous city of the U.S. state of Colorado. Denver is a consolidated city-county, located in the South Platte River Valley on the western edge of the High Plains just east of the Front Range of the Rocky Mountains...


-Aurora

Aurora, Colorado

City of Aurora is a Home Rule Municipality spanning Arapahoe, Adams, and Douglas counties in Colorado. Aurora is an eastern suburb of the Denver-Aurora-Broomfield, CO Metropolitan Statistical Area . The city is the third most populous city in the Colorado and the 56th most populous city in the...


, CO
UA
1,984,887
1292
498.8
1536.3
3979.1
| 22 >
Pittsburgh

Pittsburgh, Pennsylvania

Pittsburgh is the second-largest city in the US Commonwealth of Pennsylvania and the county seat of Allegheny County. Regionally, it anchors the largest urban area of Appalachia and the Ohio River Valley, and nationally, it is the 22nd-largest urban area in the United States...


, PA
UA
1,753,136
2207.7
852.4
794.1
2056.7
| 23 >
Portland

Portland, Oregon

Portland is a city located in the Pacific Northwest, near the confluence of the Willamette and Columbia rivers in the U.S. state of Oregon. As of the 2010 Census, it had a population of 583,776, making it the 29th most populous city in the United States...


, OR-WA
UA
1,583,138
1227.5
473.9
1289.7
3340.3
| 24 >
San Jose

San Jose, California

San Jose is the third-largest city in California, the tenth-largest in the U.S., and the county seat of Santa Clara County which is located at the southern end of San Francisco Bay...


, CA
UA
1,538,312
673.7
260.1
2283.4
5914.1
| 25 >
Riverside

Riverside, California

Riverside is a city in Riverside County, California, United States, and the county seat of the eponymous county. Named for its location beside the Santa Ana River, it is the largest city in the Riverside-San Bernardino-Ontario metropolitan area of Southern California, 4th largest inland California...


-San Bernardino

San Bernardino, California

San Bernardino is a city located in the Riverside-San Bernardino metropolitan area , and serves as the county seat of San Bernardino County, California, United States...


, CA
UA
1,506,816
1136.4
438.8
1325.9
3434.1
| 26 >
Cincinnati

Cincinnati, Ohio

Cincinnati is a city in the U.S. state of Ohio. Cincinnati is the county seat of Hamilton County. Settled in 1788, the city is located to north of the Ohio River at the Ohio-Kentucky border, near Indiana. The population within city limits is 296,943 according to the 2010 census, making it Ohio's...


, OH-KY-IN
UA
1,503,262
1739.9
671.8
864.0
2237.8
| 27 >
Virginia Beach

Virginia Beach, Virginia

Virginia Beach is an independent city located in the Hampton Roads metropolitan area of Virginia, on the Atlantic Ocean at the mouth of the Chesapeake Bay...


, VA
UA
1,394,439
1364.4
526.8
1022.0
2647.0
| 28 >
Sacramento

Sacramento, California

Sacramento is the capital city of the U.S. state of California and the county seat of Sacramento County. It is located at the confluence of the Sacramento River and the American River in the northern portion of California's expansive Central Valley. With a population of 466,488 at the 2010 census,...


, CA
UA
1,393,498
955.8
369.0
1458.0
3776.1
| 29 >
Kansas City

Kansas City, Missouri

Kansas City, Missouri is the largest city in the U.S. state of Missouri and is the anchor city of the Kansas City Metropolitan Area, the second largest metropolitan area in Missouri. It encompasses in parts of Jackson, Clay, Cass, and Platte counties...


, MO-KS
UA
1,361,744
1513.6
584.4
899.7
2330.1
| 30 >
San Antonio

San Antonio, Texas

San Antonio is the seventh-largest city in the United States of America and the second-largest city within the state of Texas, with a population of 1.33 million. Located in the American Southwest and the south–central part of Texas, the city serves as the seat of Bexar County. In 2011,...


, TX
UA
1,327,554
1055.6
407.6
1257.6
3257.3
| 31 >
Las Vegas

Las Vegas, Nevada

Las Vegas is the most populous city in the U.S. state of Nevada and is also the county seat of Clark County, Nevada. Las Vegas is an internationally renowned major resort city for gambling, shopping, and fine dining. The city bills itself as The Entertainment Capital of the World, and is famous...


, NV
UA
1,314,357
740.5
285.9
1774.9
4597.1
| 32 >
Milwaukee

Milwaukee, Wisconsin

Milwaukee is the largest city in the U.S. state of Wisconsin, the 28th most populous city in the United States and 39th most populous region in the United States. It is the county seat of Milwaukee County and is located on the southwestern shore of Lake Michigan. According to 2010 census data, the...


, WI
UA
1,308,913
1261.4
487.0
1037.6
2687.5
| 33 >
Indianapolis

Indianapolis, Indiana

Indianapolis is the capital of the U.S. state of Indiana, and the county seat of Marion County, Indiana. As of the 2010 United States Census, the city's population is 839,489. It is by far Indiana's largest city and, as of the 2010 U.S...


, IN
UA
1,218,919
1432.1
552.9
851.2
2204.5
| 34 >
Providence

Providence, Rhode Island

Providence is the capital and most populous city of Rhode Island and was one of the first cities established in the United States. Located in Providence County, it is the third largest city in the New England region...


, RI-MA
UA
1,174,548
1304.4
503.6
900.5
2332.2
| 35 >
Orlando

Orlando, Florida

Orlando is a city in the central region of the U.S. state of Florida. It is the county seat of Orange County, and the center of the Greater Orlando metropolitan area. According to the 2010 US Census, the city had a population of 238,300, making Orlando the 79th largest city in the United States...


, FL
UA
1,157,431
1173.8
453.2
986.1
2554.0
| 36 >
Columbus

Columbus, Ohio

Columbus is the capital of and the largest city in the U.S. state of Ohio. The broader metropolitan area encompasses several counties and is the third largest in Ohio behind those of Cleveland and Cincinnati. Columbus is the third largest city in the American Midwest, and the fifteenth largest city...


, OH
UA
1,133,193
1030.1
397.7
1100.1
2849.3
| 37 >
New Orleans

New Orleans, Louisiana

New Orleans is a major United States port and the largest city and metropolitan area in the state of Louisiana. The New Orleans metropolitan area has a population of 1,235,650 as of 2009, the 46th largest in the USA. The New Orleans – Metairie – Bogalusa combined statistical area has a population...


, LA
UA
1,009,283
512.4
197.8
1969.7
5101.6
| 38 >
Buffalo

Buffalo, New York

Buffalo is the second most populous city in the state of New York, after New York City. Located in Western New York on the eastern shores of Lake Erie and at the head of the Niagara River across from Fort Erie, Ontario, Buffalo is the seat of Erie County and the principal city of the...


, NY
UA
976,703
949.7
366.7
1028.4
2663.5
| 39 >
Memphis

Memphis, Tennessee

Memphis is a city in the southwestern corner of the U.S. state of Tennessee, and the county seat of Shelby County. The city is located on the 4th Chickasaw Bluff, south of the confluence of the Wolf and Mississippi rivers....


, TN-MS-AR
UA
972,091
1035.5
399.8
938.7
2431.3
| 40 >
Austin

Austin, Texas

Austin is the capital city of the U.S. state of :Texas and the seat of Travis County. Located in Central Texas on the eastern edge of the American Southwest, it is the fourth-largest city in Texas and the 14th most populous city in the United States. It was the third-fastest-growing large city in...


, TX
UA
901,920
823.9
318.1
1094.6
2835.1
| 41 >
Bridgeport

Bridgeport, Connecticut

Bridgeport is the most populous city in the U.S. state of Connecticut. Located in Fairfield County, the city had an estimated population of 144,229 at the 2010 United States Census and is the core of the Greater Bridgeport area...


-Stamford

Stamford, Connecticut

Stamford is a city in Fairfield County, Connecticut, United States. According to the 2010 census, the population of the city is 122,643, making it the fourth largest city in the state and the eighth largest city in New England...


, CT-NY
UA
888,890
1205.1
465.3
737.6
1910.3
| 42 >
Salt Lake City

Salt Lake City, Utah

Salt Lake City is the capital and the most populous city of the U.S. state of Utah. The name of the city is often shortened to Salt Lake or SLC. With a population of 186,440 as of the 2010 Census, the city lies in the Salt Lake City metropolitan area, which has a total population of 1,124,197...


, UT
UA
887,650
597.6
230.7
1485.4
3847.3
| 43 >
Jacksonville

Jacksonville, Florida

Jacksonville is the largest city in the U.S. state of Florida in terms of both population and land area, and the largest city by area in the contiguous United States. It is the county seat of Duval County, with which the city government consolidated in 1968...


, FL
UA
882,295
1063.2
410.5
829.8
2149.2
| 44 >
Louisville

Louisville, Kentucky

Louisville is the largest city in the U.S. state of Kentucky, and the county seat of Jefferson County. Since 2003, the city's borders have been coterminous with those of the county because of a city-county merger. The city's population at the 2010 census was 741,096...


, KY-IN
UA
863,582
1013.5
391.3
852.1
2207.0
| 45 >
Hartford

Hartford, Connecticut

Hartford is the capital of the U.S. state of Connecticut. The seat of Hartford County until Connecticut disbanded county government in 1960, it is the second most populous city on New England's largest river, the Connecticut River. As of the 2010 Census, Hartford's population was 124,775, making...


, CT
UA
851,535
1215.6
469.3
700.5
1814.3
| 46 >
Richmond

Richmond, Virginia

Richmond is the capital of the Commonwealth of Virginia, in the United States. It is an independent city and not part of any county. Richmond is the center of the Richmond Metropolitan Statistical Area and the Greater Richmond area...


, VA
UA
818,836
1131.2
436.8
723.9
1874.8
| 47 >
Charlotte

Charlotte, North Carolina

Charlotte is the largest city in the U.S. state of North Carolina and the seat of Mecklenburg County. In 2010, Charlotte's population according to the US Census Bureau was 731,424, making it the 17th largest city in the United States based on population. The Charlotte metropolitan area had a 2009...


, NC-SC
UA
758,927
1126.4
434.9
673.7
1745.0
| 48 >
Nashville-Davidson

Nashville, Tennessee

Nashville is the capital of the U.S. state of Tennessee and the county seat of Davidson County. It is located on the Cumberland River in Davidson County, in the north-central part of the state. The city is a center for the health care, publishing, banking and transportation industries, and is home...


, TN
UA
749,935
1115.7
430.8
672.2
1740.9
| 49 >
Oklahoma City

Oklahoma City, Oklahoma

Oklahoma City is the capital and the largest city in the state of Oklahoma. The county seat of Oklahoma County, the city ranks 31st among United States cities in population. The city's population, from the 2010 census, was 579,999, with a metro-area population of 1,252,987 . In 2010, the Oklahoma...


, OK
UA
747,003
834.9
322.4
894.8
2317.4
| 50 >
Tucson

Tucson, Arizona

Tucson is a city in and the county seat of Pima County, Arizona, United States. The city is located 118 miles southeast of Phoenix and 60 miles north of the U.S.-Mexico border. The 2010 United States Census puts the city's population at 520,116 with a metropolitan area population at 1,020,200...


, AZ
UA
720,425
754.6
291.4
954.7
2472.7
| 51 >
Honolulu

Honolulu, Hawaii

Honolulu is the capital and the most populous city of the U.S. state of Hawaii. Honolulu is the southernmost major U.S. city. Although the name "Honolulu" refers to the urban area on the southeastern shore of the island of Oahu, the city and county government are consolidated as the City and...


, HI
UA
718,182
399.2
154.1
1799.2
4659.8
| 52 >
Dayton

Dayton, Ohio

Dayton is the 6th largest city in the U.S. state of Ohio and the county seat of Montgomery County, the fifth most populous county in the state. The population was 141,527 at the 2010 census. The Dayton Metropolitan Statistical Area had a population of 841,502 in the 2010 census...


, OH
UA
703,444
838
323.6
839.4
2174.1
| 53 >
Rochester

Rochester, New York

Rochester is a city in Monroe County, New York, south of Lake Ontario in the United States. Known as The World's Image Centre, it was also once known as The Flour City, and more recently as The Flower City...


, NY
UA
694,396
764.4
295.1
908.4
2352.7
| 54 >
El Paso

El Paso, Texas

El Paso, is a city in and the county seat of El Paso County, Texas, United States, and lies in far West Texas. In the 2010 census, the city had a population of 649,121. It is the sixth largest city in Texas and the 19th largest city in the United States...


, TX-NM
UA
674,801
567.5
219.1
1189.0
3079.6
| 55 >
Birmingham

Birmingham, Alabama

Birmingham is the largest city in Alabama. The city is the county seat of Jefferson County. According to the 2010 United States Census, Birmingham had a population of 212,237. The Birmingham-Hoover Metropolitan Area, in estimate by the U.S...


, AL
UA
663,615
1015.5
392.1
653.5
1692.5
| 56 >
Omaha

Omaha, Nebraska

Omaha is the largest city in the state of Nebraska, United States, and is the county seat of Douglas County. It is located in the Midwestern United States on the Missouri River, about 20 miles north of the mouth of the Platte River...


, NE-IA
UA
626,623
586.3
226.4
1068.8
2768.3
| 57 >
Albuquerque

Albuquerque, New Mexico

Albuquerque is the largest city in the state of New Mexico, United States. It is the county seat of Bernalillo County and is situated in the central part of the state, straddling the Rio Grande. The city population was 545,852 as of the 2010 Census and ranks as the 32nd-largest city in the U.S. As...


, NM
UA
598,191
580
223.9
1031.3
2671.1
| 58 >
Allentown

Allentown, Pennsylvania

Allentown is a city located in Lehigh County, Pennsylvania, in the United States. It is Pennsylvania's third most populous city, after Philadelphia and Pittsburgh, and the 215th largest city in the United States. As of the 2010 census, the city had a total population of 118,032 and is currently...


-Bethlehem

Bethlehem, Pennsylvania

Bethlehem is a city in Lehigh and Northampton Counties in the Lehigh Valley region of eastern Pennsylvania, in the United States. As of the 2010 census, the city had a total population of 74,982, making it the seventh largest city in Pennsylvania, after Philadelphia, Pittsburgh, Allentown, Erie,...


, PA-NJ
UA
576,408
749.8
289.5
768.8
1991.1
| 59 >
Springfield

Springfield, Massachusetts

Springfield is the most populous city in Western New England, and the seat of Hampden County, Massachusetts, United States. Springfield sits on the eastern bank of the Connecticut River near its confluence with three rivers; the western Westfield River, the eastern Chicopee River, and the eastern...


, MA-CT
UA
573,610
800.3
309.0
716.8
1856.5
| 60 >
Akron

Akron, Ohio

Akron , is the fifth largest city in the U.S. state of Ohio and the county seat of Summit County. It is located in the Great Lakes region approximately south of Lake Erie along the Little Cuyahoga River. As of the 2010 census, the city had a population of 199,110. The Akron Metropolitan...


, OH
UA
570,215
797.2
307.8
715.3

align="left" > Scranton

Scranton, Pennsylvania

Scranton is a city in the northeastern part of Pennsylvania, United States. It is the county seat of Lackawanna County and the largest principal city in the Scranton/Wilkes-Barre metropolitan area. Scranton had a population of 76,089 in 2010, according to the U.S...


-Wilkes-Barre

Wilkes-Barre, Pennsylvania

Wilkes-Barre is a city in the U.S. state of Pennsylvania, the county seat of Luzerne County. It is at the center of the Wyoming Valley area and is one of the principal cities in the Scranton/Wilkes-Barre metropolitan area, which had a population of 563,631 as of the 2010 Census...


, PA
| 61
563,631
| 61 >
Sarasota

Sarasota, Florida

Sarasota is a city located in Sarasota County on the southwestern coast of the U.S. state of Florida. It is south of the Tampa Bay Area and north of Fort Myers...


-Bradenton

Bradenton, Florida

Bradenton is a city in Manatee County, Florida, United States. The U.S. Census Bureau estimated the city's 2007 population to be 53,471. Bradenton is the largest Principal City of the Bradenton-Sarasota-Venice, Florida Metropolitan Statistical Area, which had a 2007 estimated population of 682,833...


, FL
UA
559,229
700.4
270.4
798.4
2067.8
| 62 >
Albany

Albany, New York

Albany is the capital city of the U.S. state of New York, the seat of Albany County, and the central city of New York's Capital District. Roughly north of New York City, Albany sits on the west bank of the Hudson River, about south of its confluence with the Mohawk River...


, NY
UA
558,947
736.2
284.2
759.2
1966.4
| 63 >
Tulsa

Tulsa, Oklahoma

Tulsa is the second-largest city in the state of Oklahoma and 46th-largest city in the United States. With a population of 391,906 as of the 2010 census, it is the principal municipality of the Tulsa Metropolitan Area, a region with 937,478 residents in the MSA and 988,454 in the CSA. Tulsa's...


, OK
UA
558,329
677
261.4
824.7
2135.9
| 64 >
Fresno

Fresno, California

Fresno is a city in central California, United States, the county seat of Fresno County. As of the 2010 census, the city's population was 510,365, making it the fifth largest city in California, the largest inland city in California, and the 34th largest in the nation...


, CA
UA
554,923
359
138.6
1545.6
4003.1
| 65 >
Concord

Concord, California

Concord is the largest city in Contra Costa County, California, USA. At the 2010 census, the city had a population of 122,067. Originally founded in 1869 as the community of Todos Santos by Salvio Pacheco, the name was changed to Concord within months...


, CA
UA
552,624
457
176.4
1209.2
3131.8
| 66 >
Raleigh

Raleigh, North Carolina

Raleigh is the capital and the second largest city in the state of North Carolina as well as the seat of Wake County. Raleigh is known as the "City of Oaks" for its many oak trees. According to the U.S. Census Bureau, the city's 2010 population was 403,892, over an area of , making Raleigh...


, NC
UA
541,527
827.8
319.6
654.2
1694.3
| 67 >
Grand Rapids

Grand Rapids, Michigan

Grand Rapids is a city in the U.S. state of Michigan. The city is located on the Grand River about 40 miles east of Lake Michigan. As of the 2010 census, the city population was 188,040. In 2010, the Grand Rapids metropolitan area had a population of 774,160 and a combined statistical area, Grand...


, MI
UA
539,080
666.5
257.3
808.8
2094.7
| 68 >
Mission Viejo

Mission Viejo, California

Mission Viejo is a city located in southern Orange County, California, U.S. in the Saddleback Valley. Mission Viejo is considered one of the largest master-planned communities ever built under a single project in the United States, and is rivaled only by Highlands Ranch, Colorado, in its size...


, CA
UA
533,015
354.5
136.9
1503.4
3893.9
| 69 >
New Haven

New Haven, Connecticut

New Haven is the second-largest city in Connecticut and the sixth-largest in New England. According to the 2010 Census, New Haven's population increased by 5.0% between 2000 and 2010, a rate higher than that of the State of Connecticut, and higher than that of the state's five largest cities, and...


, CT
UA
531,314
738.9
285.3
719.0
1862.2
| 70 >
McAllen

McAllen, Texas

McAllen is the largest city in Hidalgo County, Texas, United States. It is located at the southern tip of Texas in an area known as the Rio Grande Valley and is part of the . Its southern boundary is located about five miles from the U.S.–Mexico border and the Mexican city of Reynosa, the Rio...


, TX
UA
523,144
812.8
313.8
643.6
1667.0
| 71 >
Toledo

Toledo, Ohio

Toledo is the fourth most populous city in the U.S. state of Ohio and is the county seat of Lucas County. Toledo is in northwest Ohio, on the western end of Lake Erie, and borders the State of Michigan...


, OH-MI
UA
503,008
524
202.3
959.9
2486.1
| 72 >
Baton Rouge

Baton Rouge, Louisiana

Baton Rouge is the capital of the U.S. state of Louisiana. It is located in East Baton Rouge Parish and is the second-largest city in the state.Baton Rouge is a major industrial, petrochemical, medical, and research center of the American South...


, LA
UA
479,019
726.9
280.7
659.0
1706.8
| 73 >
Colorado Springs

Colorado Springs, Colorado

Colorado Springs is a Home Rule Municipality that is the county seat and most populous city of El Paso County, Colorado, United States. Colorado Springs is located in South-Central Colorado, in the southern portion of the state. It is situated on Fountain Creek and is located south of the Colorado...


, CO
UA
466,122
511.2
197.4
911.9
2361.7
| 74 >
Worcester

Worcester, Massachusetts

Worcester is a city and the county seat of Worcester County, Massachusetts, United States. Named after Worcester, England, as of the 2010 Census the city's population is 181,045, making it the second largest city in New England after Boston....


, MA-CT
UA
429,882
648.3
250.3
663.1
1717.3
| 75 >
Charleston

Charleston, South Carolina

Charleston is the second largest city in the U.S. state of South Carolina. It was made the county seat of Charleston County in 1901 when Charleston County was founded. The city's original name was Charles Towne in 1670, and it moved to its present location from a location on the west bank of the...


-North Charleston

North Charleston, South Carolina

North Charleston is the 3rd largest city in the U.S. state of South Carolina with incorporated areas in Berkeley, Charleston, and Dorchester counties. On June 12, 1972 the city of North Charleston incorporated and was the 9th largest city in South Carolina. According to the 2010 Census, North...


, SC
UA
423,410
598.1
230.9
707.9
1833.4
| 76 >
Wichita

Wichita, Kansas

Wichita is the largest city in the U.S. state of Kansas.As of the 2010 census, the city population was 382,368. Located in south-central Kansas on the Arkansas River, Wichita is the county seat of Sedgwick County and the principal city of the Wichita metropolitan area...


, KS
UA
422,301
464.9
179.5
908.3
2352.5
| 77 >
Columbia

Columbia, South Carolina

Columbia is the state capital and largest city in the U.S. state of South Carolina. The population was 129,272 according to the 2010 census. Columbia is the county seat of Richland County, but a portion of the city extends into neighboring Lexington County. The city is the center of a metropolitan...


, SC
UA
420,537
696.5
268.9
603.7
1563.7
| 78 >
Knoxville

Knoxville, Tennessee

Founded in 1786, Knoxville is the third-largest city in the U.S. state of Tennessee, U.S.A., behind Memphis and Nashville, and is the county seat of Knox County. It is the largest city in East Tennessee, and the second-largest city in the Appalachia region...


, TN
UA
419,830
879.3
339.5
477.5
1236.7
| 79 >
Ogden

Ogden, Utah

Ogden is a city in Weber County, Utah, United States. Ogden serves as the county seat of Weber County. The population was 82,825 according to the 2010 Census. The city served as a major railway hub through much of its history, and still handles a great deal of freight rail traffic which makes it a...


-Layton

Layton, Utah

-External links:*...


, UT
UA
417,933
466.3
180.0
896.2
2321.1
| 80 >
Youngstown

Youngstown, Ohio

Youngstown is a city in the U.S. state of Ohio and the county seat of Mahoning County; it also extends into Trumbull County. The municipality is situated on the Mahoning River, approximately southeast of Cleveland and northwest of Pittsburgh, Pennsylvania...


, OH-PA
UA
417,437
591.2
228.3
706.1
1828.7
| 81 >
Syracuse

Syracuse, New York

Syracuse is a city in and the county seat of Onondaga County, New York, United States, the largest U.S. city with the name "Syracuse", and the fifth most populous city in the state. At the 2010 census, the city population was 145,170, and its metropolitan area had a population of 742,603...


, NY
UA
402,267
465.3
179.7
864.5
2239.1
| 82 >
Bakersfield

Bakersfield, California

Bakersfield is a city near the southern end of the San Joaquin Valley in Kern County, California. It is roughly equidistant between Fresno and Los Angeles, to the north and south respectively....


, CA
UA
396,125
285.7
110.3
1386.3
3590.5
| 83 >
Palm Bay

Palm Bay, Florida

Palm Bay is a city in Brevard County, Florida, United States. The U.S. Census Bureau estimated the city's population as 100,786 on 1 July 2008; it is the most populous city in the county...


-Melbourne

Melbourne, Florida

Melbourne is a city in Brevard County, Florida, United States. As of 2009, the population estimated by the U.S. Census Bureau is 78,323. The municipal area is the second largest by size and by population in the county. Melbourne is a principal city of the Palm Bay – Melbourne – Titusville, Florida...


, FL
UA
393,289
569.1
219.7
691.0
1789.8
| 85 >
Des Moines

Des Moines, Iowa

Des Moines is the capital and the most populous city in the US state of Iowa. It is also the county seat of Polk County. A small portion of the city extends into Warren County. It was incorporated on September 22, 1851, as Fort Des Moines which was shortened to "Des Moines" in 1857...


, IA
UA
370,505
363.4
140.3
1019.5
2640.4
| 86 >
Flint

Flint, Michigan

Flint is a city in the U.S. state of Michigan and is located along the Flint River, northwest of Detroit. The U.S. Census Bureau reports the 2010 population to be placed at 102,434, making Flint the seventh largest city in Michigan. It is the county seat of Genesee County which lies in the...


, MI
UA
365,096
598.6
231.1
609.9
1579.7
| 87 >
Harrisburg

Harrisburg, Pennsylvania

Harrisburg is the capital of Pennsylvania. As of the 2010 census, the city had a population of 49,528, making it the ninth largest city in Pennsylvania...


, PA
UA
362,782
539.7
208.4
672.2
1740.9
| 88 >
Little Rock

Little Rock, Arkansas

Little Rock is the capital and the largest city of the U.S. state of Arkansas. The Metropolitan Statistical Area had a population of 699,757 people in the 2010 census...


, AR
UA
360,331
532.4
205.6
676.8
1752.8
| 89 >
Poughkeepsie

Poughkeepsie (city), New York

Poughkeepsie is a city in the state of New York, United States, which serves as the county seat of Dutchess County. Poughkeepsie is located in the Hudson River Valley midway between New York City and Albany...


-Newburgh

Newburgh (city), New York

Newburgh is a city located in Orange County, New York, United States, north of New York City, and south of Albany, on the Hudson River. Newburgh is a principal city of the Poughkeepsie-Newburgh-Middletown metropolitan area, which includes all of Dutchess and Orange counties. The Newburgh area was...


, NY
UA
351,982
686.3
265.0
512.9
1328.3
| 90 >
Chattanooga

Chattanooga, Tennessee

Chattanooga is the fourth-largest city in the US state of Tennessee , with a population of 169,887. It is the seat of Hamilton County...


, TN-GA
UA
343,509
751.1
290.0
457.3
1184.5
| 91 >
Oxnard

Oxnard, California

Oxnard is the 113th largest city in the United States, 19th largest city in California and largest city in Ventura County, California, by way of population. It is located at the western edge of the fertile Oxnard Plain, and is an important agricultural center, with its distinction as the...


, CA
UA
337,591
196.1
75.7
1721.9
4459.7
| 92 >
Augusta

Augusta, Georgia

Augusta is a consolidated city in the U.S. state of Georgia, located along the Savannah River. As of the 2010 census, the Augusta–Richmond County population was 195,844 not counting the unconsolidated cities of Hephzibah and Blythe.Augusta is the principal city of the Augusta-Richmond County...


-Richmond County

Richmond County, Georgia

Richmond County is a county located in the U.S. state of Georgia. It is one of the original counties of Georgia, created February 5, 1777. As of 2010, the population was 200,549. The 2007 Census Estimate showed a population of 199,486....


, GA-SC
UA
335,630
600.3
231.8
559.1
1448.0
| 93 >
Spokane

Spokane, Washington

Spokane is a city located in the Northwestern United States in the state of Washington. It is the largest city of Spokane County of which it is also the county seat, and the metropolitan center of the Inland Northwest region...


, WA-ID
UA
334,858
370.5
143.1
903.8
2340.8
| 94 >
Cape Coral

Cape Coral, Florida

Cape Coral is a municipality located in Lee County, Florida, United States, on the Gulf of Mexico. Founded in 1957 and developed as a master-planned, pre-platted community, the city grew to a population of 154,305 by the year 2010. With an area of , Cape Coral is the largest city between Tampa and...


, FL
UA
329,757
496.8
191.8
663.7
1719.1
| 95 >
Madison, WI

Madison Metro Area

The Madison metro area is a region in south central Wisconsin. The main city is Madison, which is known for its diverse demographics and abundant lakes and rivers. The area officially covers three counties: Dane, Columbia, and Iowa, but can also include Rock, Green and Sauk, and sometimes Jefferson...



UA
329,533
582.1
224.8
1116.9
2892.7
| 96 >
Pensacola

Pensacola, Florida

Pensacola is the westernmost city in the Florida Panhandle and the county seat of Escambia County, Florida, United States of America. As of the 2000 census, the city had a total population of 56,255 and as of 2009, the estimated population was 53,752...


, FL-AL
UA
323,783
568.1
219.3
569.9
1476.0
| 97 >
Lancaster

Lancaster, Pennsylvania

Lancaster is a city in the south-central part of the Commonwealth of Pennsylvania. It is the county seat of Lancaster County and one of the older inland cities in the United States, . With a population of 59,322, it ranks eighth in population among Pennsylvania's cities...


, PA
UA
323,554
516.5
199.4
626.4
1622.4
| 98 >
Mobile

Mobile, Alabama

Mobile is the third most populous city in the Southern US state of Alabama and is the county seat of Mobile County. It is located on the Mobile River and the central Gulf Coast of the United States. The population within the city limits was 195,111 during the 2010 census. It is the largest...


, AL
UA
317,605
545.9
210.8
581.8
1506.9
| 99 >
Stockton

Stockton, California

Stockton, California, the seat of San Joaquin County, is the fourth-largest city in the Central Valley of the U.S. state of California. With a population of 291,707 at the 2010 census, Stockton ranks as this state's 13th largest city...


, CA
UA
313,392
192.4
74.3
1628.7
4218.4
| 100 >
Modesto

Modesto, California

Modesto is a city in, and is the county seat of, Stanislaus County, California. With a population of approximately 201,165 at the 2010 census, Modesto ranks as the 18th largest city in the state of California....


, CA
UA
310,945
222.9
86.1
1394.8
3612.4
| 101 >
Reno

Reno, Nevada

Reno is the county seat of Washoe County, Nevada, United States. The city has a population of about 220,500 and is the most populous Nevada city outside of the Las Vegas metropolitan area...


, NV
UA
303,689
307.2
118.6
988.6
2560.5
| 102 >
Provo

Provo, Utah

Provo is the third largest city in the U.S. state of Utah, located about south of Salt Lake City along the Wasatch Front. Provo is the county seat of Utah County and lies between the cities of Orem to the north and Springville to the south...


-Orem

Orem, Utah

Orem is a city in Utah County, Utah, United States, in the north-central part of the state. It is adjacent to Provo, Lindon, and Vineyard and is about south of Salt Lake City. Orem is one of the principal cities of the Provo-Orem, Utah Metropolitan Statistical Area, which includes all of Utah and...


, UT
UA
303,680
220.2
85.0
1379.4
3572.7
| 103 >
Greenville

Greenville, South Carolina

-Law and government:The city of Greenville adopted the Council-Manager form of municipal government in 1976.-History:The area was part of the Cherokee Nation's protected grounds after the Treaty of 1763, which ended the French and Indian War. No White man was allowed to enter, though some families...


, SC
UA
302,194
586.7
226.5
515.1
1334.0
| 104 >
Lansing

Lansing, Michigan

Lansing is the capital of the U.S. state of Michigan. It is located mostly in Ingham County, although small portions of the city extend into Eaton County. The 2010 Census places the city's population at 114,297, making it the fifth largest city in Michigan...


, MI
UA
300,032
354.5
136.9
846.4
2192.1
| 105 >
Denton

Denton, Texas

The city of Denton is the county seat of Denton County, Texas in the United States. Its population was 119,454 according to the 2010 U.S. Census, making it the eleventh largest city in the Dallas/Fort Worth Metroplex...


-Lewisville

Lewisville, Texas

Lewisville is a city in Denton County in the U.S. state of Texas. The 2010 United States Census placed the population at 95,290 within . The city also includes of Lewisville Lake....


, TX
UA
299,823
314.9
121.6
952.2
2466.2
| 106 >
Winston-Salem

Winston-Salem, North Carolina

Winston-Salem is a city in the U.S. state of North Carolina, with a 2010 population of 229,617. Winston-Salem is the county seat and largest city of Forsyth County and the fourth-largest city in the state. Winston-Salem is the second largest municipality in the Piedmont Triad region and is home to...


, NC
UA
299,290
651.1
251.4
459.7
1190.6
| 107 >
Corpus Christi

Corpus Christi, Texas

Corpus Christi is a coastal city in the South Texas region of the U.S. state of Texas. The county seat of Nueces County, it also extends into Aransas, Kleberg, and San Patricio counties. The MSA population in 2008 was 416,376. The population was 305,215 at the 2010 census making it the...


, TX
UA
293,925
285.7
110.3
1029.0
2665.0
| 108 >
Jackson

Jackson, Mississippi

Jackson is the capital and the most populous city of the US state of Mississippi. It is one of two county seats of Hinds County ,. The population of the city declined from 184,256 at the 2000 census to 173,514 at the 2010 census...


, MS
UA
292,637
416.6
160.9
702.5
1819.4
| 109 >
Durham

Durham, North Carolina

Durham is a city in the U.S. state of North Carolina. It is the county seat of Durham County and also extends into Wake County. It is the fifth-largest city in the state, and the 85th-largest in the United States by population, with 228,330 residents as of the 2010 United States census...


, NC
UA
287,796
406.1
156.8
708.8
1835.7
| 110 >
Fort Wayne

Fort Wayne, Indiana

Fort Wayne is a city in the US state of Indiana and the county seat of Allen County. The population was 253,691 at the 2010 Census making it the 74th largest city in the United States and the second largest in Indiana...


, IN
UA
287,759
350.3
135.3
821.5
2127.6
| 111 >
Santa Rosa

Santa Rosa, California

Santa Rosa is the county seat of Sonoma County, California, United States. The 2010 census reported a population of 167,815. Santa Rosa is the largest city in California's Wine Country and fifth largest city in the San Francisco Bay Area, after San Jose, San Francisco, Oakland, and Fremont and 26th...


, CA
UA
285,408
264.1
102.0
1080.5
2798.5
| 112 >
Ann Arbor

Ann Arbor, Michigan

Ann Arbor is a city in the U.S. state of Michigan and the county seat of Washtenaw County. The 2010 census places the population at 113,934, making it the sixth largest city in Michigan. The Ann Arbor Metropolitan Statistical Area had a population of 344,791 as of 2010...


, MI
UA
283,904
333.5
128.8
851.4
2205.0
| 113 >
South Bend

South Bend, Indiana

The city of South Bend is the county seat of St. Joseph County, Indiana, United States, on the St. Joseph River near its southernmost bend, from which it derives its name. As of the 2010 Census, the city had a total of 101,168 residents; its Metropolitan Statistical Area had a population of 316,663...


, IN-MI
UA
276,498
403.5
155.8
685.2
1774.7
| 114 >
Fayetteville

Fayetteville, North Carolina

Fayetteville is a city located in Cumberland County, North Carolina, United States. It is the county seat of Cumberland County, and is best known as the home of Fort Bragg, a U.S. Army post located northwest of the city....


, NC
UA
276,368
432.9
167.1
638.5
1653.6
| 115 >
Shreveport

Shreveport, Louisiana

Shreveport is the third largest city in Louisiana. It is the principal city of the fourth largest metropolitan area in the state of Louisiana and is the 109th-largest city in the United States....


, LA
UA
275,213
400.6
154.7
687.0
1779.4
| 116 >
Boise

Boise, Idaho

Boise is the capital and most populous city of the U.S. state of Idaho, as well as the county seat of Ada County. Located on the Boise River, it anchors the Boise City-Nampa metropolitan area and is the largest city between Salt Lake City, Utah and Portland, Oregon.As of the 2010 Census Bureau,...


, ID
UA
272,625
281.5
108.7
968.5
2508.5
| 117 >
Port Saint Lucie

Port St. Lucie, Florida

Port St. Lucie is a city in St. Lucie County, Florida, United States. The population of Port St. Lucie was 88,769 at the 2000 census but grew rapidly during the 2000s. In 2009 the State of Florida estimated the City's population at 155,251. Port St. Lucie forms part of a metropolitan area called...


, FL
UA
270,774
437.8
169.0
618.5
1602.0
| 118 >
Davenport

Davenport, Iowa

Davenport is a city located along the Mississippi River in Scott County, Iowa, United States. Davenport is the county seat of and largest city in Scott County. Davenport was founded on May 14, 1836 by Antoine LeClaire and was named for his friend, George Davenport, a colonel during the Black Hawk...


, IA-IL
UA
270,626
320.8
123.9
843.6
2184.8
| 119 >
Rockford

Rockford, Illinois

Rockford is a mid-sized city located on both banks of the Rock River in far northern Illinois. Often referred to as "The Forest City", Rockford is the county seat of Winnebago County, Illinois, USA. As reported in the 2010 U.S. census, the city was home to 152,871 people, the third most populated...


, IL
UA
270,414
360.2
139.1
750.7
1944.3
| 120 >
Trenton

Trenton, New Jersey

Trenton is the capital of the U.S. state of New Jersey and the county seat of Mercer County. As of the 2010 United States Census, Trenton had a population of 84,913...


, NJ
UA
268,472
238.6
92.1
1125.3
2914.4
| 121 >
Greensboro

Greensboro, North Carolina

Greensboro is a city in the U.S. state of North Carolina. It is the third-largest city by population in North Carolina and the largest city in Guilford County and the surrounding Piedmont Triad metropolitan region. According to the 2010 U.S...


, NC
UA
267,884
350.9
135.5
763.5
1977.5
| 122 >
Canton

Canton, Ohio

Canton is the county seat of Stark County in northeastern Ohio, approximately south of Akron and south of Cleveland.The City of Caton is the largest incorporated area within the Canton-Massillon Metropolitan Statistical Area...


, OH
UA
266,595
371.7
143.5
717.3
1857.7
| 123 >
Lancaster

Lancaster, California

Lancaster is a charter city in northern Los Angeles County, in the high desert, near the Kern County line. Lancaster currently ranks as the 30th largest city in California, and the 148th largest city in the United States. Lancaster is the principal city within the Antelope Valley...


-Palmdale

Palmdale, California

Palmdale is a city located in the center of northern Los Angeles County, California, United States.Palmdale was the first community within the Antelope Valley to incorporate as a city on August 24, 1962; 47 years later, voters approved creating a charter city in November, 2009. Palmdale is...


, CA
UA
263,532
234.1
90.4
1125.6
2915.3
| 124 >
Daytona Beach

Daytona Beach, Florida

Daytona Beach is a city in Volusia County, Florida, USA. According to 2008 U.S. Census Bureau estimates, the city has a population of 64,211. Daytona Beach is a principal city of the Deltona – Daytona Beach – Ormond Beach, Florida Metropolitan Statistical Area, which the census bureau estimated had...


-Port Orange

Port Orange, Florida

Port Orange is a city in Volusia County, Florida, United States. In 2006, the U.S. Census Bureau estimated the city's population as 52,793. The city is part of the Deltona-Daytona Beach-Ormond Beach, Florida Metropolitan Statistical Area; the metropolitan area's 2006 population was estimated at...


, FL
UA
255,353
294.1
113.6
868.2
2248.6
| 125 >
Indio

Indio, California

Indio is a city in Riverside County, California, United States, located in the Coachella Valley of Southern California's Colorado Desert region. It lies east of Palm Springs, east of Riverside, and east of Los Angeles. It is about north of Mexicali, Baja California on the U.S.-Mexican border...


-Cathedral City

Cathedral City, California

Cathedral City is a city in Riverside County, California, United States. The population was 51,200 at the 2010 census. Sandwiched between Palm Springs and Rancho Mirage, it is one of the cities in the Coachella Valley of southern California...


-Palm Springs

Palm Springs, California

Palm Springs is a desert city in Riverside County, California, within the Coachella Valley. It is located approximately 37 miles east of San Bernardino, 111 miles east of Los Angeles and 136 miles northeast of San Diego...


, CA
UA
254,856
255.3
98.6
998.1
2585.0
| 126 >
Lexington

Lexington, Kentucky

Lexington is the second-largest city in Kentucky and the 63rd largest in the US. Known as the "Thoroughbred City" and the "Horse Capital of the World", it is located in the heart of Kentucky's Bluegrass region...


-Fayette County

Fayette County, Kentucky

Fayette County is a county located in the U.S. state of Kentucky. The population was 295,083 in the 2010 Census. Its territory, population and government are coextensive with the city of Lexington, which also serves as county seat....


, KY
UA
250,994
180.1
69.5
1393.4
3608.9
| 127 >
Peoria

Peoria, Illinois

Peoria is the largest city on the Illinois River and the county seat of Peoria County, Illinois, in the United States. It is named after the Peoria tribe. As of the 2010 census, the city was the seventh-most populated in Illinois, with a population of 115,007, and is the third-most populated...


, IL
UA
247,172
318.9
123.1
775.0
2007.2
| 128 >
Barnstable

Barnstable, Massachusetts

Barnstable is a city, referred to as the Town of Barnstable, in the U.S. state of Massachusetts and the county seat of Barnstable County. Barnstable is the largest community, both in land area and population, on Cape Cod. The town contains seven villages within its boundaries...


, MA
UA
243,667
741.1
286.1
328.8
851.5
| 129 >
Columbus

Columbus, Georgia

Columbus is a city in and the county seat of Muscogee County, Georgia, United States, with which it is consolidated. As of the 2010 census, the city had a population of 189,885. It is the principal city of the Columbus, Georgia metropolitan area, which, in 2009, had an estimated population of 292,795...


, GA-AL
UA
242,324
352.6
136.1
687.2
1779.8
| 130 >
Reading

Reading, Pennsylvania

Reading is a city in southeastern Pennsylvania, USA, and seat of Berks County. Reading is the principal city of the Greater Reading Area and had a population of 88,082 as of the 2010 census, making it the fifth most populated city in the state after Philadelphia, Pittsburgh, Allentown and Erie,...


, PA
UA
240,264
260.7
100.7
921.7
2387.2
| 131 >
Temecula

Temecula, California

Temecula is a city in southwestern Riverside County, California, United States with a population of 100,097 according to the 2010 United States Census, making it the lowest populated American city over 100,000 population. It was incorporated on December 1, 1989...


-Murrieta

Murrieta, California

Murrieta has a Mediterranean climate or Dry-Summer Subtropical . Murrieta has plenty of sunshine throughout the year, with an average of 263 sunshine days and 35 days with measurable precipitation annually....


, CA
UA
229,810
247.6
95.6
928.2
2404.0
| 132 >
Atlantic City

Atlantic City, New Jersey

Atlantic City is a city in Atlantic County, New Jersey, United States, and a nationally renowned resort city for gambling, shopping and fine dining. The city also served as the inspiration for the American version of the board game Monopoly. Atlantic City is located on Absecon Island on the coast...


, NJ
UA
227,180
313
120.8
725.8
1879.7
| 133 >
Round Lake Beach

Round Lake Beach, Illinois

Round Lake Beach is a village in Lake County, Illinois, United States. The population was 25,859 at the 2000 census, and estimated to be 28,253 as of 2005.-Geography:Round Lake Beach is a mid-size town located at ....


-McHenry

McHenry, Illinois

McHenry is a city in McHenry County, Illinois, United States. In 2005, its population was estimated to be 24,631. McHenry was at one time the county seat of McHenry County...


-Grayslake

Grayslake, Illinois

Grayslake is a village in Lake County in the U.S. state of Illinois. It is located in the Chicago metropolitan area, about north of Chicago's downtown, west of Lake Michigan, and south of the Wisconsin border....


, IL-WI
UA
226,848
344.9
133.2
657.8
1703.7
| 134 >
Lincoln

Lincoln, Nebraska

The City of Lincoln is the capital and the second-most populous city of the US state of Nebraska. Lincoln is also the county seat of Lancaster County and the home of the University of Nebraska. Lincoln's 2010 Census population was 258,379....


, NE
UA
226,582
202.3
78.1
1119.9
2900.6
| 135 >
Anchorage

Anchorage, Alaska

Anchorage is a unified home rule municipality in the southcentral part of the U.S. state of Alaska. It is the northernmost major city in the United States...


, AK
UA
225,744
204.2
78.8
1105.4
2863.0
| 136 >
Eugene

Eugene, Oregon

Eugene is the second largest city in the U.S. state of Oregon and the seat of Lane County. It is located at the south end of the Willamette Valley, at the confluence of the McKenzie and Willamette rivers, about east of the Oregon Coast.As of the 2010 U.S...


, OR
UA
224,049
177.4
68.5
1262.9
3270.8
| 137 >
Asheville

Asheville, North Carolina

Asheville is a city in and the county seat of Buncombe County, North Carolina, United States. It is the largest city in Western North Carolina, and the 11th largest city in North Carolina. The City is home to the United States National Climatic Data Center , which is the world's largest active...


, NC
UA
221,570
535.5
206.8
413.7
1071.6
| 138 >
Bonita Springs

Bonita Springs, Florida

Bonita Springs is a city in Lee County, Florida, United States. The population was 43,914 at the 2010 census. It is part of the Cape Coral–Fort Myers Metropolitan Statistical Area. The city is located on the southwest coast of the state....


-Naples

Naples, Florida

Naples is a city in Collier County, Florida, United States. As of July 1, 2007, the U.S. Census Bureau estimated the city's population at 21,653. Naples is a principal city of the Naples–Marco Island Metropolitan Statistical Area, which had an estimated total population of 315,839 on July 1, 2007...


, FL
UA
221,251
389.1
150.2
568.7
1472.9
| 139 >
Antioch

Antioch, California

Antioch is a city in Contra Costa County, California. Located in the East Bay region of the San Francisco Bay Area along the San Joaquin-Sacramento River Delta, it is a suburb of San Francisco and Oakland. The city's population was 102,372 at the U.S...


, CA
UA
217,591
156.1
60.3
1393.8
3609.8
| 140 >
Springfield

Springfield, Missouri

Springfield is the third largest city in the U.S. state of Missouri and the county seat of Greene County. According to the 2010 census data, the population was 159,498, an increase of 5.2% since the 2000 census. The Springfield Metropolitan Area, population 436,712, includes the counties of...


, MO
UA
215,004
294
113.5
731.4
1894.2
| 141 >
Huntsville

Huntsville, Alabama

Huntsville is a city located primarily in Madison County in the central part of the far northern region of the U.S. state of Alabama. Huntsville is the county seat of Madison County. The city extends west into neighboring Limestone County. Huntsville's population was 180,105 as of the 2010 Census....


, AL
UA
213,253
407.2
157.2
523.7
1356.5
| 142 >
Evansville

Evansville, Indiana

Evansville is the third-largest city in the U.S. state of Indiana and the largest city in Southern Indiana. As of the 2010 census, the city had a total population of 117,429. It is the county seat of Vanderburgh County and the regional hub for both Southwestern Indiana and the...


, IN-KY
UA
211,989
273.8
105.7
774.2
2005.2
| 143 >
Thousand Oaks

Thousand Oaks, California

Thousand Oaks is a city in southeastern Ventura County, California, in the United States. It was named after the many oak trees that grace the area, and the city seal is adorned with an oak....


, CA
UA
210,990
223.2
86.2
945.4
2448.6
| 144 >
Savannah

Savannah, Georgia

Savannah is the largest city and the county seat of Chatham County, in the U.S. state of Georgia. Established in 1733, the city of Savannah was the colonial capital of the Province of Georgia and later the first state capital of Georgia. Today Savannah is an industrial center and an important...


, GA
UA
208,886
265.2
102.4
787.7
2040.1
| 145 >
Salem

Salem, Oregon

Salem is the capital of the U.S. state of Oregon, and the county seat of Marion County. It is located in the center of the Willamette Valley alongside the Willamette River, which runs north through the city. The river forms the boundary between Marion and Polk counties, and the city neighborhood...


, OR
UA
207,229
179.3
69.2
1156.0
2993.9
| 146 >
Fort Collins

Fort Collins, Colorado

Fort Collins is a Home Rule Municipality situated on the Cache La Poudre River along the Colorado Front Range, and is the county seat and most populous city of Larimer County, Colorado, United States. Fort Collins is located north of the Colorado State Capitol in Denver. With a 2010 census...


, CO
UA
206,757
216.7
83.7
954.3
2471.6
| 147 >
Gulfport

Gulfport, Mississippi

Gulfport is the second largest city in Mississippi after the state capital Jackson. It is the larger of the two principal cities of the Gulfport-Biloxi, Mississippi Metropolitan Statistical Area, which is included in the Gulfport-Biloxi-Pascagoula, Mississippi Combined Statistical Area. As of the...


-Biloxi

Biloxi, Mississippi

Biloxi is a city in Harrison County, Mississippi, in the United States. The 2010 census recorded the population as 44,054. Along with Gulfport, Biloxi is a county seat of Harrison County....


, MS
UA
205,754
349.4
134.9
588.8
1525.1
| 148 >
Tallahassee

Tallahassee, Florida

Tallahassee is the capital of the U.S. state of Florida. It is the county seat and only incorporated municipality in Leon County, and is the 128th largest city in the United States. Tallahassee became the capital of Florida, then the Florida Territory, in 1824. In 2010, the population recorded by...


, FL
UA
204,260
294.9
113.9
692.6
1793.7
| 149 >
Lubbock

Lubbock, Texas

Lubbock is a city in and the county seat of Lubbock County, Texas, United States. The city is located in the northwestern part of the state, a region known historically as the Llano Estacado, and the home of Texas Tech University and Lubbock Christian University...


, TX
UA
202,225
193
74.5
1047.8
2713.7
| 150 >
Victorville

Victorville, California

Victorville is a city located in the Victor Valley of southwestern San Bernardino County, California. According to the U.S. Census Bureau's 2010 census, the city had a population of 115,903, up from 64,030 at the 2000 census.-Geography and climate:...


-Hesperia

Hesperia, California

Hesperia is a city in San Bernardino County, California, United States. It is located in the Mojave Desert north of San Bernardino. The locals refer to the surrounding area as the High Desert...


-Apple Valley

Apple Valley, California

-Climate:*On average, the warmest month is July.*The highest recorded temperature was in 2002.*On average, the coolest month is December.*The lowest recorded temperature was in 1949.*The most precipitation on average occurs in February.-History:...


, CA
UA
200,436
321.1
124.0
624.2
1616.8
| 151 >
Lakeland

Lakeland, Florida

Lakeland is a city in Polk County, Florida, United States, located approximately midway between Tampa and Orlando along Interstate 4. According to the 2008 U.S. Census Bureau estimate, the city had a population of 94,406...


, FL
UA
199,487
312.3
120.6
638.7
1654.1
| 152 >
Roanoke

Roanoke, Virginia

Roanoke is an independent city in the Mid-Atlantic U.S. state of Virginia and is the tenth-largest city in the Commonwealth. It is located in the Roanoke Valley of the Roanoke Region of Virginia. The population within the city limits was 97,032 as of 2010...


, VA
UA
197,442
290
112.0
680.8
1763.3
| 153 >
Nashua

Nashua, New Hampshire

-Climate:-Demographics:As of the census of 2010, there were 86,494 people, 35,044 households, and 21,876 families residing in the city. The population density was 2,719.9 people per square mile . There were 37,168 housing units at an average density of 1,202.8 per square mile...


, NH-MA
UA
197,155
356.6
137.7
552.8
1431.8
| 154 >
Montgomery

Montgomery, Alabama

Montgomery is the capital of the U.S. state of Alabama, and is the county seat of Montgomery County. It is located on the Alabama River southeast of the center of the state, in the Gulf Coastal Plain. As of the 2010 census, Montgomery had a population of 205,764 making it the second-largest city...


, AL
UA
196,892
255.8
98.8
769.7
1993.6
| 155 >
Santa Barbara

Santa Barbara, California

Santa Barbara is the county seat of Santa Barbara County, California, United States. Situated on an east-west trending section of coastline, the longest such section on the West Coast of the United States, the city lies between the steeply-rising Santa Ynez Mountains and the Pacific Ocean...


, CA
UA
196,263
154.8
59.8
1267.6
3283.2
| 156 >
Erie

Erie, Pennsylvania

Erie is a city located in northwestern Pennsylvania in the United States. Named for the lake and the Native American tribe that resided along its southern shore, Erie is the state's fourth-largest city , with a population of 102,000...


, PA
UA
194,804
204.1
78.8
954.6
2472.3
| 157 >
Lorain

Lorain, Ohio

Lorain is a city in Lorain County, Ohio, United States. The municipality is located in northeastern Ohio on Lake Erie, at the mouth of the Black River, about 30 miles west of Cleveland....


-Elyria

Elyria, Ohio

-Community:Elyria has an extensive, although financially burdened, community food pantry and "Hot Meals" program administered through the Second Harvest Food Bank and several churches Elyria is served by Elyria Memorial Hospital.-Recreation and parks:...


, OH
UA
193,586
226.9
87.6
853.1
2209.6
| 158 >
York

York, Pennsylvania

York, known as the White Rose City , is a city located in York County, Pennsylvania, United States which is in the South Central region of the state. The population within the city limits was 43,718 at the 2010 census, which was a 7.0% increase from the 2000 count of 40,862...


, PA
UA
192,903
307.1
118.6
628.1
1626.8
| 159 >
Waterbury

Waterbury, Connecticut

Waterbury is a city in New Haven County, Connecticut, on the Naugatuck River, 33 miles southwest of Hartford and 77 miles northeast of New York City...


, CT
UA
189,026
253.5
97.9
745.6
1931.2
| 160 >
Portland

Portland, Maine

Portland is the largest city in Maine and is the county seat of Cumberland County. The 2010 city population was 66,194, growing 3 percent since the census of 2000...


, ME
UA
188,080
320.6
123.8
586.6
1519.4
| 161 >
Kalamazoo

Kalamazoo, Michigan

The area on which the modern city stands was once home to Native Americans of the Hopewell culture, who migrated into the area sometime before the first millennium. Evidence of their early residency remains in the form of a small mound in downtown's Bronson Park. The Hopewell civilization began to...


, MI
UA
187,961
279.1
107.8
673.6
1744.5
| 162 >
Hickory

Hickory, North Carolina

Hickory is a city in Catawba County, North Carolina. Hickory has the 162nd largest urban area in the United States. As of the 2000 census, the Metropolitan Statistical Area had a population of 341,851, making it the 4th largest metropolitan area in North Carolina. The city's population was 37,222...


, NC
UA
187,808
546
210.8
344.0
890.9
| 163 >
Appleton

Appleton, Wisconsin

Appleton is a city in Outagamie, Calumet, and Winnebago Counties in the U.S. state of Wisconsin. It is situated on the Fox River, 30 miles southwest of Green Bay and 100 miles north of Milwaukee. Appleton is the county seat of Outagamie County. The population was 78,086 at the 2010 census...


, WI
UA
187,683
189.2
73.1
992.1
2569.4
| 164 >
Green Bay

Green Bay, Wisconsin

Green Bay is a city in and the county seat of Brown County in the U.S. state of Wisconsin, located at the head of Green Bay, a sub-basin of Lake Michigan, at the mouth of the Fox River. It has an elevation of above sea level and is located north of Milwaukee. As of the 2010 United States Census,...


, WI
UA
187,316
212.7
82.1
880.8
2281.2
| 165 >
Kissimmee

Kissimmee, Florida

Kissimmee is a city in Osceola County, Florida, United States. As of the 2010 census, the population was 59,682. It is the county seat of Osceola County...


, FL
UA
186,667
271.3
104.7
688.1
1782.1
| 166 >
Charleston

Charleston, West Virginia

Charleston is the capital and largest city of the U.S. state of West Virginia. It is located at the confluence of the Elk and Kanawha Rivers in Kanawha County. As of the 2010 census, it has a population of 51,400, and its metropolitan area 304,214. It is the county seat of Kanawha County.Early...


, WV
UA
182,991
293.7
113.4
623.1
1613.7
| 167 >
Amarillo

Amarillo, Texas

Amarillo is the 14th-largest city, by population, in the state of Texas, the largest in the Texas Panhandle, and the seat of Potter County. A portion of the city extends into Randall County. The population was 190,695 at the 2010 census...


, TX
UA
179,312
191.9
74.1
934.6
2420.5
| 168 >
Salinas

Salinas, California

Salinas is the county seat and the largest municipality of Monterey County, California. Salinas is located east-southeast of the mouth of the Salinas River, at an elevation of about 52 feet above sea level. The population was 150,441 at the 2010 census...


, CA
UA
179,173
116.3
44.9
1540.8
3990.7
| 169 >
Bremerton

Bremerton, Washington

Bremerton is a city in Kitsap County, Washington, United States. The population was 38,790 at the 2011 State Estimate, making it the largest city on the Olympic Peninsula. Bremerton is home to Puget Sound Naval Shipyard and the Bremerton Annex of Naval Base Kitsap...


, WA
UA
178,369
304.3
117.5
586.1
1518.0
| 170 >
Lafayette

Lafayette, Louisiana

Lafayette is a city in and the parish seat of Lafayette Parish, Louisiana, United States, on the Vermilion River. The population was 120,623 at the 2010 census...


, LA
UA
178,079
322.7
124.6
551.8
1429.2
| 171 >
Huntington

Huntington, West Virginia

Huntington is a city in Cabell and Wayne counties in the U.S. state of West Virginia, along the Ohio River. Most of the city is in Cabell County, for which it is the county seat. A small portion of the city, mainly the neighborhood of Westmoreland, is in Wayne County. Its population was 49,138 at...


, WV-KY-OH
UA
177,550
276.6
106.8
641.9
1662.5
| 172 >
Laredo

Laredo, Texas

Laredo is the county seat of Webb County, Texas, United States, located on the north bank of the Rio Grande in South Texas, across from Nuevo Laredo, Tamaulipas, Mexico. According to the 2010 census, the city population was 236,091 making it the 3rd largest on the United States-Mexican border,...


, TX
UA
175,586
110.1
42.5
1594.6
4130.1
| 173 >
Aberdeen

Aberdeen, Maryland

As of the census of 2000, there were 13,842 people, 5,475 households, and 3,712 families residing in the city. The population density was 2,166.2 people per square mile . There were 5,894 housing units at an average density of 922.4 per square mile...


-Havre de Grace

Havre de Grace, Maryland

Havre de Grace is a city in Harford County, Maryland, United States. Located at the mouth of the Susquehanna River and the head of the Chesapeake Bay, Havre de Grace is named after the port city of Le Havre, France, which was first named Le Havre de Grâce, meaning in French "Harbor of Grace." As...


-Bel Air

Bel Air, Harford County, Maryland

The town of Bel Air is the county seat of Harford County, Maryland, United States. According to the 2000 census the population of the town was 10,080. In 2009 the town's estimated population was 10,368...


, MD
UA
174,598
264.3
102.0
660.5
1710.8
| 174 >
Norwich

Norwich, Connecticut

Regular steamship service between New York and Boston helped Norwich to prosper as a shipping center through the early part of the 20th century. During the Civil War, Norwich once again rallied and saw the growth of its textile, armaments, and specialty item manufacturing...


-New London

New London, Connecticut

New London is a seaport city and a port of entry on the northeast coast of the United States.It is located at the mouth of the Thames River in New London County, southeastern Connecticut....


, CT
UA
173,160
318.7
123.1
543.4
1407.4
| 175 >
Fayetteville

Fayetteville, Arkansas

Fayetteville is the county seat of Washington County, and the third largest city in Arkansas. The city is centrally located within the county and is home to the University of Arkansas. Fayetteville is also deep in the Boston Mountains, a subset of The Ozarks...


-Springdale

Springdale, Arkansas

As of the census of 2010, there were 69,797 people, 22,805 households, and 16,640 families residing in the city. The racial makeup of the city was 64.7% White, 0.82% Black or African American, 1.8% Native American, 1.4% Asian, 5.7% Pacific Islander, 22% from other races, and 2.9% from two or more...


, AR
UA
172,585
281.8
108.8
612.4
1586.1
| 176 >
Santa Clarita

Santa Clarita, California

Santa Clarita is the fourth largest city in Los Angeles County, California, United States and the twenty-fourth largest city in the state of California. The 2010 US Census reported the city's population grew 16.7% from the year 2000 to 176,320 residents. It is located about northwest of downtown...


, CA
UA
170,481
140.7
54.3
1211.5
3137.7
| 177 >
Killeen

Killeen, Texas

Killeen is a city in Bell County, Texas, The United States. The population was 86,911 at the 2000 census. As of 2009, Killeen had 119,510 people. In 2010 Killeen's population shot to 127,921...


, TX
UA
167,976
166
64.1
1012.2
2621.5
| 178 >
Brownsville

Brownsville, Texas

Brownsville is a city in the southernmost tip of the state of Texas, in the United States. It is located on the northern bank of the Rio Grande, directly north and across the border from Matamoros, Tamaulipas, Mexico. Brownsville is the 16th largest city in the state of Texas with a population of...


, TX
UA
165,776
148.5
57.3
1116.4
2891.5
| 179 >
Wilmington

Wilmington, North Carolina

Wilmington is a port city in and is the county seat of New Hanover County, North Carolina, United States. The population is 106,476 according to the 2010 Census, making it the eighth most populous city in the state of North Carolina...


, NC
UA
161,149
308
118.9
523.2
1355.1
| 180 >
Gainesville

Gainesville, Florida

Gainesville is the largest city in, and the county seat of, Alachua County, Florida, United States as well as the principal city of the Gainesville, Florida Metropolitan Statistical Area . The preliminary 2010 Census population count for Gainesville is 124,354. Gainesville is home to the sixth...


, FL
UA
159,508
200.6
77.5
795.0
2059.0
| 181 >
Vallejo

Vallejo, California

Vallejo is the largest city in Solano County, California, United States. The population was 115,942 at the 2010 census. It is located in the San Francisco Bay Area on the northeastern shore of San Pablo Bay...


, CA
UA
158,967
87.9
33.9
1807.7
4681.9
| 182 >
Binghamton

Binghamton, New York

Binghamton is a city in the Southern Tier of New York in the United States. It is near the Pennsylvania border, in a bowl-shaped valley at the confluence of the Susquehanna and Chenango Rivers...


, NY-PA
UA
158,884
197.9
76.4
802.9
2079.4
| 183 >
Santa Cruz

Santa Cruz, California

Santa Cruz is the county seat and largest city of Santa Cruz County, California in the US. As of the 2010 U.S. Census, Santa Cruz had a total population of 59,946...


, CA
UA
157,348
142.2
54.9
1106.6
2866.0
| 184 >
Cedar Rapids

Cedar Rapids, Iowa

Cedar Rapids is the second largest city in Iowa and is the county seat of Linn County. The city lies on both banks of the Cedar River, north of Iowa City and east of Des Moines, the state's capital and largest city...


, IA
UA
155,334
153.7
59.3
1010.9
2618.1
| 185 >
Muskegon

Muskegon, Michigan

Muskegon is a city in the U.S. state of Michigan. As of the 2010 census, the city population was 38,401. The city is the county seat of Muskegon County...


, MI
UA
154,729
258.1
99.7
599.5
1552.8
| 186 >
Danbury

Danbury, Connecticut

Danbury is a city in northern Fairfield County, Connecticut, United States. It had population at the 2010 census of 80,893. Danbury is the fourth largest city in Fairfield County and is the seventh largest city in Connecticut....


, CT-NY
UA
154,455
320.1
123.6
482.6
1249.9
| 187 >
Winter Haven

Winter Haven, Florida

Winter Haven is a city in Polk County, Florida, United States. The population was 26,487 at the 2000 census. According to the U.S. Census Bureau's 2007 estimates, the city had a population of 32,577, making it the second most populated city in Polk County...


, FL
UA
153,924
269.8
104.2
570.5
1477.7
| 188 >
Kennewick-Richland

Tri-Cities, Washington

The Tri-Cities is a mid-sized metropolitan area in the southeastern part of the U.S. state of Washington, consisting of three neighboring cities: Kennewick, Pasco, and Richland. The cities are located at the confluence of the Yakima, Snake, and Columbia rivers in the semi-arid region of...


, WA
UA
153,851
219.5
84.7
700.8
1815.0
| 189 >
Springfield

Springfield, Illinois

Springfield is the third and current capital of the US state of Illinois and the county seat of Sangamon County with a population of 117,400 , making it the sixth most populated city in the state and the second most populated Illinois city outside of the Chicago Metropolitan Area...


, IL
UA
153,516
225.6
87.1
680.5
1762.4
| 190 >
Waco

Waco, Texas

Waco is a city in and the county seat of McLennan County, Texas. Situated along the Brazos River and on the I-35 corridor, halfway between Dallas and Austin, it is the economic, cultural, and academic center of the 'Heart of Texas' region....


, TX
UA
153,198
180.6
69.7
848.2
2196.8
| 191 >
Fort Walton Beach

Fort Walton Beach, Florida

Fort Walton Beach is a city in southern Okaloosa County, Florida, United States. As of 2005, the population estimate for Fort Walton Beach was 19,992, and as of 2010, the population estimate for Fort Walton Beach is 19,507 recorded by the U.S. Census Bureau...


, FL
UA
152,741
250
96.5
610.9
1582.2
| 192 >
Deltona

Deltona, Florida

Deltona is a city in the central region of the U.S. state of Florida and is the largest city in Volusia County. It is located east of DeBary and north of Lake Monroe. It is the twenty-ninth largest city in Florida, with a 2010 Census population of 85,182...


, FL
UA
147,713
231.9
89.5
637.0
1649.9
| 193 >
New Bedford

New Bedford, Massachusetts

New Bedford is a city in Bristol County, Massachusetts, United States, located south of Boston, southeast of Providence, Rhode Island, and about east of Fall River. As of the 2010 census, the city had a total population of 95,072, making it the sixth-largest city in Massachusetts...


, MA
UA
146,730
161.9
62.5
906.1
2346.9
| 194 >
Spartanburg

Spartanburg, South Carolina

thgSpartanburg is the largest city in and the county seat of Spartanburg County, South Carolina, United States. It is the second-largest city of the three primary cities in the Upstate region of South Carolina, and is located northwest of Columbia, west of Charlotte, and about northeast of...


, SC
UA
145,058
356.1
137.5
407.3
1054.9
| 195 >
Olympia

Olympia, Washington

Olympia is the capital city of the U.S. state of Washington and the county seat of Thurston County. It was incorporated on January 28, 1859. The population was 46,478 at the 2010 census...


-Lacey

Lacey, Washington

Lacey is a city in Thurston County, Washington, United States. Established as a suburb of Olympia, its population was 42,393 at the 2010 census out of a county population of 252,264.-History:...


, WA
UA
143,826
238.1
91.9
603.9
1564.2
| 196 >
Manchester

Manchester, New Hampshire

Manchester is the largest city in the U.S. state of New Hampshire, the tenth largest city in New England, and the largest city in northern New England, an area comprising the states of Maine, New Hampshire, and Vermont. It is in Hillsborough County along the banks of the Merrimack River, which...


, NH
UA
143,549
184
71.0
780.0
2020.1
| 197 >
Fargo–Moorhead, ND-MN
UA
142,477
118.6
45.8
1200.9
3110.4
| 198 >
Topeka

Topeka, Kansas

Topeka |Kansa]]: Tó Pee Kuh) is the capital city of the U.S. state of Kansas and the county seat of Shawnee County. It is situated along the Kansas River in the central part of Shawnee County, located in northeast Kansas, in the Central United States. As of the 2010 census, the city population was...


, KS
UA
142,411
181.8
70.2
783.2
2028.5
| 199 >
Gastonia

Gastonia, North Carolina

Gastonia is the largest city and county seat of Gaston County, North Carolina, United States. It is also the third largest suburb of the Charlotte Area, behind Concord and Rock Hill. The population was 71,226 as of Gastonia is the largest city and county seat of Gaston County, North Carolina,...


, NC
UA
141,407
307.8
118.8
459.4
1189.9
| 200 >
Saginaw

Saginaw, Michigan

Saginaw is a city in the U.S. state of Michigan and the seat of Saginaw County. The city of Saginaw was once a thriving lumber town and manufacturing center. Saginaw and Saginaw County lie in the Flint/Tri-Cities region of Michigan...


, MI
UA
140,985
191
73.7
738.1
1911.8
| 201 >
Beaumont

Beaumont, Texas

Beaumont is a city in and county seat of Jefferson County, Texas, United States, within the Beaumont–Port Arthur Metropolitan Statistical Area. The city's population was 118,296 at the 2010 census. With Port Arthur and Orange, it forms the Golden Triangle, a major industrial area on the...


, TX
UA
139,304
210.9
81.4
660.5
1710.8
| 202 >
Murfreesboro

Murfreesboro, Tennessee

Murfreesboro is a city in and the county seat of Rutherford County, Tennessee, United States. The population was 108,755 according to the United States Census Bureau's 2010 U.S. Census, up from 68,816 residents certified during the 2000 census. The center of population of Tennessee is located in...


, TN
UA
135,855
228.8
88.3
593.8
1538.0
| 203 >
Macon

Macon, Georgia

Macon is a city located in central Georgia, US. Founded at the fall line of the Ocmulgee River, it is part of the Macon metropolitan area, and the county seat of Bibb County. A small portion of the city extends into Jones County. Macon is the biggest city in central Georgia...


, GA
UA
135,170
208.6
80.5
648.1
1678.5
| 204 >
Lake Charles

Lake Charles, Louisiana

Lake Charles is the fifth-largest incorporated city in the U.S. state of Louisiana, located on Lake Charles, Prien Lake, and the Calcasieu River. Located in Calcasieu Parish, a major cultural, industrial, and educational center in the southwest region of the state, and one of the most important in...


, LA
UA
132,977
237.4
91.7
560.2
1451.0
| 205 >
High Point

High Point, North Carolina

High Point is a city located in the Piedmont Triad region of North Carolina. As of 2010 the city had a total population of 104,371, according to the US Census Bureau. High Point is currently the eighth-largest municipality in North Carolina....


, NC
UA
132,844
243.6
94.1
545.3
1412.4
| 206 >
College Station

College Station, Texas

College Station is a city in Brazos County, Texas, situated in East Central Texas in the heart of the Brazos Valley. The city is located within the most populated region of Texas, near three of the 10 largest cities in the United States - Houston, Dallas, and San Antonio...


-Bryan

Bryan, Texas

Bryan is a city in Brazos County, Texas, United States. As of the 2010 census, the city had a total population of 76,201. It is the county seat of Brazos County and is located in the heart of the Brazos Valley . It shares its border with the city of College Station, which lies to its south...


, TX
UA
132,500
127.3
49.2
1040.9
2696.0
| 207 >
Panama City

Panama City, Florida

-Personal income:The median income for a household in the city was $31,572, and the median income for a family was $40,890. Males had a median income of $30,401 versus $21,431 for females. The per capita income for the city was $17,830...


, FL
UA
132,419
263.4
101.7
502.8
1302.3
| 208 >
Elkhart

Elkhart, Indiana

Elkhart is a city in Elkhart County, Indiana, United States. The city is located east of South Bend, northwest of Fort Wayne, east of Chicago, and north of Indianapolis...


, IN-MI
UA
131,226
200.7
77.5
653.8
1693.4
| 209 >
Racine

Racine, Wisconsin

Racine is a city in and the county seat of Racine County, Wisconsin, United States. According to 2008 U.S. Census Bureau estimates, the city had a population of 82,196...


, WI
UA
129,545
118.8
45.9
1090.8
2825.1
| 210 >
Medford

Medford, Oregon

Medford is a city in Jackson County, Oregon, United States. As of the 2010 US Census, the city had a total population of 74,907 and a metropolitan area population of 207,010, making the Medford MSA the 4th largest metro area in Oregon...


, OR
UA
128,780
152
58.7
847.2
2194.2
| 211 >
Houma

Houma, Louisiana

Houma is a city in and the parish seat of Terrebonne Parish, Louisiana, and the largest principal city of the Houma–Bayou Cane–Thibodaux Metropolitan Statistical Area. The city's powers of government have been absorbed by the parish, which is now run by the Terrebonne Parish...


, LA
UA
125,929
199.2
76.9
632.2
1637.3
| 212 >
Lafayette

Lafayette, Indiana

Lafayette is a city in and the county seat of Tippecanoe County, Indiana, United States, northwest of Indianapolis. As of the 2010 census, the city had a total population of 67,140. West Lafayette, on the other side of the Wabash River, is home to Purdue University, which has a large impact on...


, IN
UA
125,738
141.6
54.7
887.7
2299.2
| 213 >
Seaside

Seaside, California

Seaside is a city in Monterey County, California, United States, with a population of 33,025 as of the 2010 census. Seaside is located east-northeast of Monterey, at an elevation of 33 feet...


-Monterey

Monterey, California

The City of Monterey in Monterey County is located on Monterey Bay along the Pacific coast in Central California. Monterey lies at an elevation of 26 feet above sea level. As of the 2010 census, the city population was 27,810. Monterey is of historical importance because it was the capital of...


-Marina

Marina, California

Marina is a city in Monterey County, California, United States. The population was 19,718 at the 2010 census. Marina is located along the central coast of California, west of Salinas, and 8 miles north of Monterey, at an elevation of 43 feet . Marina was incorporated in 1975 and is the newest city...


, CA
UA
125,503
105.3
40.7
1192.4
3088.3
| 214 >
Sioux Falls

Sioux Falls, South Dakota

Sioux Falls is the largest city in the U.S. state of South Dakota. Sioux Falls is the county seat of Minnehaha County, and also extends into Lincoln County to the south...


, SD
UA
124,269
118.2
45.6
1051.0
2722.2
| 215 >
Champaign

Champaign, Illinois

Champaign is a city in Champaign County, Illinois, in the United States. The city is located south of Chicago, west of Indianapolis, Indiana, and 178 miles northeast of St. Louis, Missouri. Though surrounded by farm communities, Champaign is notable for sharing the campus of the University of...


, IL
UA
123,938
106.3
41.0
1165.9
3019.7
| 216 >
Pueblo

Pueblo, Colorado

Pueblo is a Home Rule Municipality that is the county seat and the most populous city of Pueblo County, Colorado, United States. The population was 106,595 in 2010 census, making it the 246th most populous city in the United States....


, CO
UA
123,351
139.1
53.7
886.9
2297.1
| 217 >
Myrtle Beach

Myrtle Beach, South Carolina

Myrtle Beach is a coastal city on the east coast of the United States in Horry County, South Carolina. It is situated on the center of a large and continuous stretch of beach known as the Grand Strand in northeastern South Carolina. It is considered to be a major tourist destination in the...


, SC
UA
122,984
261.4
100.9
470.5
1218.6
| 218 >
North Port

North Port, Florida

North Port is a city in southern Sarasota County, Florida, United States. The population was 22,797 at the 2000 census. As of 2007, the population recorded by the U.S. Census Bureau is 54,308. It is part of the Bradenton–Sarasota–Venice Metropolitan Statistical Area...


-Punta Gorda

Punta Gorda, Florida

Punta Gorda is a city in Charlotte County, Florida, United States. According to the U.S. Census Bureau estimates of 2007, the city had a population of 16,762. It is the county seat of Charlotte County and the only incorporated municipality in the county...


, FL
UA
122,421
231.5
89.4
528.8
1369.6
| 219 >
Clarksville

Clarksville, Tennessee

Clarksville is a city in and the county seat of Montgomery County, Tennessee, United States, and the fifth largest city in the state. The population was 132,929 in 2010 United States Census...


, TN-KY
UA
121,775
204.2
78.8
596.3
1544.3
| 220 >
Vero Beach

Vero Beach, Florida

Vero Beach is a city in Indian River County, Florida, USA. According to the U.S. Census Bureau's 2006 estimates, the city had a population of 16,939. It is the county seat of Indian River County...


-Sebastian

Sebastian, Florida

Sebastian is a city in Indian River County, in the Treasure Coast region of Florida, United States. The population was 16,181 at the 2000 census. In 2004, the population recorded by the U.S. Census Bureau was 18,671. As of 2010, the population recorded by the U.S...


, FL
UA
120,962
211
81.5
573.3
1484.9
| 221 >
Hagerstown

Hagerstown, Maryland

Hagerstown is a city in northwestern Maryland, United States. It is the county seat of Washington County, and, by many definitions, the largest city in a region known as Western Maryland. The population of Hagerstown city proper at the 2010 census was 39,662, and the population of the...


, MD-WV-PA
UA
120,326
198.7
76.7
605.6
1568.4
| 222 >
Santa Maria

Santa Maria, California

Santa Maria is a city in Santa Barbara County, on the Central Coast of California. The 2010 census population was 100,062, putting it ahead of Santa Barbara for the first time and making it the largest city in the county...


, CA
UA
120,297
92.1
35.6
1306.7
3384.3
| 223 >
Visalia

Visalia, California

Visalia is a Central California city situated in the heart of California's agricultural San Joaquin Valley, approximately southeast of San Francisco and north of Los Angeles...


, CA
UA
120,044
103.4
39.9
1161.2
3007.6
| 224 >
Frederick

Frederick, Maryland

Frederick is a city in north-central Maryland. It is the county seat of Frederick County, the largest county by area in the state of Maryland. Frederick is an outlying community of the Washington-Arlington-Alexandria, DC-VA-MD-WV Metropolitan Statistical Area, which is part of a greater...


, MD
UA
119,144
203.7
78.6
585.0
1515.1
| 225 >
Duluth

Duluth, Minnesota

Duluth is a port city in the U.S. state of Minnesota and is the county seat of Saint Louis County. The fourth largest city in Minnesota, Duluth had a total population of 86,265 in the 2010 census. Duluth is also the second largest city that is located on Lake Superior after Thunder Bay, Ontario,...


, MN-WI
UA
118,265
171.6
66.3
689.1
1784.7
| 226 >
Kailua-Kaneohe, HI
UA
117,730
84.5
32.6
1393.7
3609.6
| 227 >
Hemet

Hemet, California

Hemet is a city in the San Jacinto Valley in Riverside County, California, United States. It covers a total area of , about half of the valley, which it shares with the neighboring city of San Jacinto. The population was 78,657 at the 2010 census....


, CA
UA
117,200
108.3
41.8
1082.3
2803.1
| 228 >
Tuscaloosa

Tuscaloosa, Alabama

Tuscaloosa is a city in and the seat of Tuscaloosa County in west central Alabama . Located on the Black Warrior River, it is the fifth-largest city in Alabama, with a population of 90,468 in 2010...


, AL
UA
116,888
196.8
76.0
593.8
1538.0
| 229 >
Concord

Concord, North Carolina

Concord is a city in the U.S. state of North Carolina. According to Census 2010, the city has a current population of 79,066. It is the largest city in Cabarrus County and is the county seat. In terms of population, the city of Concord is the second largest city in the Charlotte Metropolitan Area...


, NC
UA
115,057
236.2
91.2
487.1
1261.6
| 230 >
Port Arthur

Port Arthur, Texas

-Demographics:As of the 2000 census, there were 57,755 people, 21,839 households, and 14,675 families residing in the city. The population density was 696.5 people per square mile . There were 24,713 housing units at an average density of 298.0 per square mile...


, TX
UA
114,656
118.8
45.9
965.3
2500.2
| 231 >
Marysville

Marysville, Washington

Marysville is a city in Snohomish County, Washington, United States. The population was 60,020 at the 2010 census. Marysville is known as "The Strawberry City" due to the large number of strawberry farms that once surrounded the city in its earlier days. Over the past decade, and continuing...


, WA
UA
114,372
190.5
73.6
600.4
1555.1
| 232 >
Monroe

Monroe, Louisiana

Monroe is a city in and the parish seat of Ouachita Parish, Louisiana, United States. As of the 2000 census, the city had a total population of 53,107, making it the eighth largest city in Louisiana. A July 1, 2007, United States Census Bureau estimate placed the population at 51,208, but 51,636...


, LA
UA
113,818
203.2
78.5
560.2
1450.9
| 233 >
Utica

Utica, New York

Utica is a city in and the county seat of Oneida County, New York, United States. The population was 62,235 at the 2010 census, an increase of 2.6% from the 2000 census....


, NY
UA
113,409
142.3
54.9
796.8
2063.7
| 234 >
Leominster

Leominster, Massachusetts

Leominster is a city in Worcester County, Massachusetts, United States. It is the second-largest city in Worcester County, with a population of 40,759 at the 2010 census. Leominster is located north of Worcester and west of Boston. Both Route 2 and Route 12 pass through Leominster. Interstate 190,...


-Fitchburg

Fitchburg, Massachusetts

Fitchburg is the third largest city in Worcester County, Massachusetts, United States. The population was 40,318 at the 2010 census. Fitchburg is home to Fitchburg State University as well as 17 public and private elementary and high schools.- History :...


, MA
UA
112,943
162.2
62.6
696.2
1803.1
| 235 >
Yakima

Yakima, Washington

Yakima is an American city southeast of Mount Rainier National Park and the county seat of Yakima County, Washington, United States, and the eighth largest city by population in the state itself. As of the 2010 census, the city had a total population of 91,196 and a metropolitan population of...


, WA
UA
112,816
130.4
50.3
865.0
2240.4
| 236 >
Fairfield

Fairfield, California

Fairfield is a city located in Solano County in Northern California, USA. It is generally considered the midpoint between the cities of San Francisco and Sacramento, approximately from the city center of both cities, approximately from the city center of Oakland, less than from Napa Valley, 18...


, CA
UA
112,446
66.9
25.8
1681.7
4355.7
| 237 >
Bloomington

Bloomington, Illinois

Bloomington is a city in McLean County, Illinois, United States and the county seat. It is adjacent to Normal, Illinois, and is the more populous of the two principal municipalities of the Bloomington-Normal metropolitan area...


-Normal

Normal, Illinois

Normal is an incorporated town in McLean County, Illinois, United States. It had a population of 52,497 as of the 2010 census. Normal is the smaller of two principal municipalities of the Bloomington-Normal metropolitan area...


, IL
UA
112,415
96.3
37.2
1167.7
3024.3
| 238 >
Simi Valley

Simi Valley, California

-2010:The 2010 United States Census reported that Simi Valley had a population of 124,237. The population density was 2,940.8 people per square mile...


, CA
UA
112,345
70.1
27.1
1602.1
4149.4
| 239 >
Boulder

Boulder, Colorado

Boulder is the county seat and most populous city of Boulder County and the 11th most populous city in the U.S. state of Colorado. Boulder is located at the base of the foothills of the Rocky Mountains at an elevation of...


, CO
UA
112,299
85.1
32.9
1318.8
3415.8
| 240 >
Odessa

Odessa, Texas

Odessa is a city in and the county seat of Ector County, Texas, United States. It is located primarily in Ector County, although a small portion of the city extends into Midland County. Odessa's population was 99,940 at the 2010 census. It is the principal city of the Odessa, Texas Metropolitan...


, TX
UA
111,395
137.9
53.2
807.6
2091.6
| 241 >
Kenosha

Kenosha, Wisconsin

Kenosha is a city and the county seat of Kenosha County in the State of Wisconsin in United States. With a population of 99,218 as of May 2011, Kenosha is the fourth-largest city in Wisconsin. Kenosha is also the fourth-largest city on the western shore of Lake Michigan, following Chicago,...


, WI
UA
110,942
109.2
42.2
1016.3
2632.1
| 242 >
Harlingen

Harlingen, Texas

Harlingen is a city in Cameron County in the heart of the Rio Grande Valley of south Texas, United States, about from the coast of the Gulf of Mexico. The city covers more than , and is the second largest city in Cameron County and the sixth largest in the Rio Grande Valley...


, TX
UA
110,770
153.1
59.1
723.3
1873.3
| 243 >
Merced

Merced, California

Merced is a city in, and the county seat of, Merced County, California in the San Joaquin Valley of Northern California. As of the 2010 census, the city had a population of 78,958. Incorporated in 1889, Merced is a charter city that operates under a council-manager government...


, CA
UA
110,483
93.2
36.0
1186.0
3071.7
| 244 >
Waterloo

Waterloo, Iowa

Waterloo is a city in and the county seat of Black Hawk County, Iowa, United States. As of the 2010 United States Census the population decreased by 0.5% to 68,406. Waterloo is part of the Waterloo – Cedar Falls Metropolitan Statistical Area, and is the more populous of the two...


, IA
UA
108,298
136.6
52.7
792.6
2052.9
| 245 >
Abilene

Abilene, Texas

Abilene is a city in Taylor and Jones counties in west central Texas. The population was 117,063 at the 2010 census. It is the principal city of the Abilene Metropolitan Statistical Area, which had a 2006 estimated population of 158,063. It is the county seat of Taylor County...


, TX
UA
107,041
123.2
47.6
869.0
2250.6
| 246 >
Ocala

Ocala, Florida

Ocala is a city in Marion County, Florida. As of 2007, the population recorded by the U.S. Census Bureau was 53,491. It is the county seat of Marion County, and the principal city of the Ocala, Florida Metropolitan Statistical Area, which had an estimated 2007 population of 324,857.-History:Ocala...


, FL
UA
106,542
230.4
89.0
462.4
1197.7
| 247 >
Athens

Athens, Georgia

Athens-Clarke County is a consolidated city–county in U.S. state of Georgia, in the northeastern part of the state, comprising the former City of Athens proper and Clarke County. The University of Georgia is located in this college town and is responsible for the initial growth of the city...


-Clarke County

Clarke County, Georgia

Clarke County is a county in the U.S. state of Georgia. As of the 2000 census, the population was 101,489. The 2007 Census Estimate shows a population of 114,063...


, GA
UA
106,482
206.1
79.6
516.8
1338.4
| 248 >
Fort Smith

Fort Smith, Arkansas

Fort Smith is the second-largest city in Arkansas and one of the two county seats of Sebastian County. With a population of 86,209 in 2010, it is the principal city of the Fort Smith, Arkansas-Oklahoma Metropolitan Statistical Area, a region of 298,592 residents which encompasses the Arkansas...


, AR-OK
UA
106,470
143.2
55.3
743.4
1925.5
| 249 >
South Lyon

South Lyon, Michigan

South Lyon is a city in Oakland County in the U.S. state of Michigan. The population was 11,327 at the 2010 census. The city is part of the South Lyon-Howell-Brighton Urban Area, which had a population of 106,139 according to the 2000 census...


-Howell

Howell, Michigan

Howell is a city in the U.S. state of Michigan. As of the 2010 census, the city had a total population of 9,489. It is the county seat of Livingston County and is located mostly within Howell Township, but is politically independent from Howell Township...


-Brighton

Brighton, Michigan

Brighton is a principal satellite city of Metro Detroit located in the southeast portion of Livingston County in the U.S. state of Michigan. As of the 2010 census, the city population was 7,444. Brighton forms part of the South Lyon-Howell-Brighton Urban Area...


, MI
UA
106,139
246.1
95.0
431.3
1117.1
| 250 >
Sioux City

Sioux City, Iowa

Sioux City is a city in Plymouth and Woodbury counties in the western part of the U.S. state of Iowa. The population was 82,684 in the 2010 census, a decline from 85,013 in the 2000 census, which makes it currently the fourth largest city in the state....


, IA-NE-SD
UA
106,119
136.7
52.8
776.4
2010.8
| 251 >
Burlington

Burlington, Vermont

Burlington is the largest city in the U.S. state of Vermont and the shire town of Chittenden County. Burlington lies south of the U.S.-Canadian border and some south of Montreal....


, VT
UA
105,365
160.1
61.8
657.9
1704.0
| 252 >
Redding

Redding, California

Redding is a city in far-Northern California. It is the county seat of Shasta County, California, USA. With a population of 89,861, according to the 2010 Census...


, CA
UA
105,267
182.9
70.6
575.4
1490.2
| 253 >
Las Cruces

Las Cruces, New Mexico

Las Cruces, also known as "The City of the Crosses", is the county seat of Doña Ana County, New Mexico, United States. The population was 97,618 in 2010 according to the 2010 Census, making it the second largest city in the state....


, NM
UA
104,186
166.1
64.1
627.2
1624.5
| 254 >
Johnson City

Johnson City, Tennessee

Johnson City is a city in Carter, Sullivan, and Washington counties in the U.S. state of Tennessee, with most of the city being in Washington County...


, TN
UA
102,456
235.5
90.9
435.1
1126.8
| 255 >
Brooksville

Brooksville, Florida

Brooksville is an incorporated city in Hernando County, Florida, in the United States. It is the county seat of Hernando County. It is a suburban city included in the Tampa-St. Petersburg-Clearwater, Florida Metropolitan Statistical Area.-Geography:...


, FL
UA
102,193
216.9
83.7
471.2
1220.5
| 256 >
Tyler

Tyler, Texas

Tyler is a city in and the county seat of Smith County, Texas, in the United States. It takes its name from President John Tyler . The city had a population of 109,000 in 2010, according to the United States Census Bureau...


, TX
UA
101,494
148.8
57.5
682.0
1766.4
| 257 >
Billings

Billings, Montana

Billings is the largest city in the U.S. state of Montana, and is the principal city of the Billings Metropolitan Area, the largest metropolitan area in over...


, MT
UA
100,317
118.5
45.8
846.3
2191.8
| 258 >
Wichita Falls

Wichita Falls, Texas

Wichita Falls is a city in and the county seat of Wichita County, Texas, United States, United States. Wichita Falls is the principal city of the Wichita Falls Metropolitan Statistical Area, which encompasses all of Archer, Clay and Wichita counties. According to the U.S. Census estimate of 2010,...


, TX
UA
99,396
134.5
51.9
738.9
1913.7
| 259 >
Midland

Midland, Texas

Midland is a city in and the county seat of Midland County, Texas, United States, on the Southern Plains of the state's western area. A small portion of the city extends into Martin County. As of 2010, the population of Midland was 111,147. It is the principal city of the Midland, Texas...


, TX
UA
99,221
117.2
45.3
846.4
2192.1
| 260 >
Columbia

Columbia, Missouri

Columbia is the fifth-largest city in Missouri, and the largest city in Mid-Missouri. With a population of 108,500 as of the 2010 Census, it is the principal municipality of the Columbia Metropolitan Area, a region of 164,283 residents. The city serves as the county seat of Boone County and as the...


, MO
UA
98,779
133.4
51.5
740.2
1917.2
| 261 >
Lynchburg

Lynchburg, Virginia

Lynchburg is an independent city in the Commonwealth of Virginia. The population was 75,568 as of 2010. Located in the foothills of the Blue Ridge Mountains along the banks of the James River, Lynchburg is known as the "City of Seven Hills" or "The Hill City." Lynchburg was the only major city in...


, VA
UA
98,714
193
74.5
511.6
1325.0
| 262 >
Yuba City, CA
UA
97,645
91.6
35.4
1066.0
2760.9
| 263 >
Leesburg-Eustis, FL
UA
97,497
183.9
71.0
530.1
1373.0
| 264 >
Fredericksburg, VA
UA
97,102
169.3
65.4
573.7
1485.8
| 265 >
Anderson, IN
UA
97,038
164.1
63.4
591.5
1531.9
| 266 >
Decatur, IL
UA
96,454
129.9
50.2
742.6
1923.3
| 267 >
Texas City, TX
UA
96,417
151.7
58.6
635.7
1646.5
| 268 >
Nampa, ID
UA
95,909
119.2
46.0
804.8
2084.3
| 269 >
Kingsport, TN-VA
UA
95,766
253.8
98.0
377.3
977.3
| 270 >
Jacksonville, NC
UA
95,514
166
64.1
575.3
1490.1
| 271 >
Albany, GA
UA
95,450
170.7
65.9
559.3
1448.7
| 272 >
Yuma, AZ-CA
UA
94,950
97.1
37.5
977.5
2531.8
| 273 >
Middletown, OH
UA
94,355
124.4
48.0
758.5
1964.4
| 274 >
Burlington, NC
UA
94,248
167.7
64.7
562.0
1455.5
| 275 >
Greeley, CO
UA
93,879
87.4
33.7
1074.6
2783.1
| 276 >
Bloomington, IN
UA
92,456
111.4
43.0
830.2
2150.3
| 277 >
Grand Junction, CO
UA
92,362
145.1
56.0
636.3
1648.1
| 278 >
Holland, MI
UA
91,921
124.2
48.0
740.2
1917.0
| 279 >
Eau Claire, WI
UA
91,393
148.9
57.5
613.7
1589.6
| 280 >
Saint Cloud, MN
UA
91,305
102.3
39.5
892.9
2312.5
| 281 >
Rochester, MN
UA
91,271
104.3
40.3
875.3
2267.1
| 282 >
Warner Robins, GA
UA
90,838
209.6
80.9
433.5
1122.7
| 283 >
Muncie, IN
UA
90,673
111.4
43.0
814.3
2109.0
| 284 >
Vacaville, CA
UA
90,264
65.6
25.3
1376.0
3563.9
| 285 >
La Crosse, WI-MN
UA
89,966
104.6
40.4
860.1
2227.6
| 286 >
Springfield, OH
UA
89,684
113.6
43.9
789.7
2045.3
| 287 >
Lawton, OK
UA
89,556
143
55.2
626.5
1622.6
| 288 >
The Woodlands, TX
UA
89,445
108
41.7
828.3
2145.3
| 289 >
Chico, CA
UA
89,221
90.5
34.9
986.3
2554.4
| 290 >
Vineland, NJ
UA
88,724
159.5
61.6
556.3
1440.8
| 291 >
Gainesville, GA
UA
88,680
234
90.3
378.9
981.3
| 292 >
Jackson, MI
UA
88,050
133.7
51.6
658.7
1706.1
| 293 >
San Angelo, TX
UA
87,969
118.1
45.6
744.8
1928.9
| 294 >
Wheeling, WV-OH
UA
87,613
140.6
54.3
623.0
1613.6
| 295 >
Port Huron, MI
UA
86,486
143.8
55.5
601.3
1557.4
| 296 >
Norman, OK
UA
86,478
78.3
30.2
1104.2
2859.9
| 297 >
Parkersburg, WV-OH
UA
85,605
130.6
50.4
655.3
1697.1
| 298 >
Iowa City, IA
UA
85,247
92.6
35.8
920.6
2384.3
| 299 >
Alton, IL
UA
84,655
132.5
51.2
638.8
1654.4
| 300 >
Gilroy-Morgan Hill, CA
UA
84,620
99.2
38.3
853.1
2209.6
| 301 >
Bellingham, WA
UA
84,324
91.9
35.5
917.5
2376.4
| 302 >
Greenville, NC
UA
84,059
116.4
44.9
722.5
1871.2
| 303 >
Lodi, CA
UA
83,735
61
23.6
1373.6
3557.5
| 304 >
Altoona, PA
UA
82,520
97.3
37.6
848.0
2196.4
| 305 >
Charlottesville, VA
UA
81,449
97
37.5
839.3
2173.9
| 306 >
Dover-Rochester, NH-ME

Maine

Maine is a state in the New England region of the northeastern United States, bordered by the Atlantic Ocean to the east and south, New Hampshire to the west, and the Canadian provinces of Quebec to the northwest and New Brunswick to the northeast. Maine is both the northernmost and easternmost...



UA
80,456
164.5
63.5
489.1
1266.7
| 307 >
Santa Fe, NM
UA
80,337
117.5
45.4
683.6
1770.4
| 308 >
Slidell, LA
UA
79,926
145.5
56.2
549.3
1422.8
| 309 >
Napa, CA
UA
79,867
60.9
23.5
1310.8
3395.0
| 310 >
Mansfield, OH
UA
79,698
131.3
50.7
606.9
1571.9
| 311 >
Lawrence, KS
UA
79,647
58.8
22.7
1354.5
3508.1
| 312 >
Terre Haute, IN
UA
79,376
112
43.2
708.8
1835.8
| 313 >
Battle Creek, MI
UA
79,135
132.5
51.2
597.2
1546.7
| 314 >
Alexandria, LA
UA
78,504
151.1
58.3
519.7
1345.9
| 315 >
Longview, TX
UA
78,070
131.1
50.6
595.6
1542.7
| 316 >
Mauldin-Simpsonville, SC
UA
77,831
144.7
55.9
538.0
1393.4
| 317 >
Saint Joseph, MO-KS
UA
77,231
100.2
38.7
771.1
1997.1
| 318 >
Logan, UT
UA
76,187
99.3
38.3
766.9
1986.2
| 319 >
Johnstown, PA
UA
76,113
110.8
42.8
686.7
1778.6
| 320 >
Anniston, AL
UA
75,840
202.8
78.3
374.0
968.7
| 321 >
Livermore, CA
UA
75,202
54.1
20.9
1391.0
3602.8
| 322 >
Bismarck, ND
UA
74,991
87.9
33.9
853.5
2210.5
| 323 >
Coeur d'Alene, ID
UA
74,800
109.2
42.2
685.3
1774.8
| 324 >
Saint Charles, MD
UA
74,765
119.7
46.2
624.8
1618.3
| 325 >
Lima, OH
UA
74,071
120
46.3
617.4
1599.0
| 326 >
Bay City, MI
UA
74,048
103
39.8
718.7
1861.3
| 327 >
Weirton

Weirton, West Virginia

Weirton is a city located in the Northern Panhandle of West Virginia, United States. Most of the city is in Hancock County, with the remainder in Brooke County. As of the 2000 census, the city population was 20,411...


-Steubenville

Steubenville, Ohio

Steubenville is a city located along the Ohio River in Jefferson County, Ohio on the Ohio-West Virginia border in the United States. It is the political county seat of Jefferson County. It is also a principal city of the Weirton–Steubenville, WV-OH Metropolitan Statistical Area...


, WV-OH-PA
UA
73,710
130.9
50.5
563.1
1458.4
| 328 >
Pottstown, PA
UA
73,597
142.4
55.0
517.0
1339.0
| 329 >
Lake Jackson-Angleton, TX
UA
73,416
87.6
33.8
838.0
2170.5
| 330 >
Longmont, CO
UA
72,929
58.7
22.7
1243.1
3219.7
| 331 >
Texarkana, TX-AR
UA
72,288
150.3
58.0
480.9
1245.5
| 332 >
Joplin, MO
UA
72,089
148.4
57.3
485.7
1258.0
| 333 >
Temple, TX
UA
71,937
107.1
41.4
671.8
1739.9
| 334 >
State College, PA
UA
71,301
55.4
21.4
1286.6
3332.4
| 335 >
Florence, AL
UA
71,299
133.8
51.7
532.9
1380.2
| 336 >
Oshkosh, WI
UA
71,070
68.8
26.6
1032.8
2674.9
| 337 >
Anderson, SC
UA
70,436
178.4
68.9
394.8
1022.6
| 338 >
Rock Hill, SC
UA
70,007
158.5
61.2
441.8
1144.2
| 339 >
Newark, OH
UA
70,001
91.7
35.4
763.3
1977.0
| 340 >
Hightstown, NJ
UA
69,977
77.5
29.9
903.1
2339.1
| 341 >
Hanford, CA
UA
69,639
66
25.5
1055.7
2734.2
| 342 >
Turlock, CA
UA
69,507
48.3
18.6
1438.4
3725.4
| 343 >
Missoula, MT
UA
69,491
94.2
36.4
737.4
1909.9
| 344 >
Sheboygan, WI
UA
68,600
66.7
25.8
1028.2
2663.1
| 345 >
Wausau, WI
UA
68,221
96.7
37.3
705.3
1826.6
| 346 >
Cheyenne, WY
UA
68,202
87.7
33.9
777.8
2014.4
| 347 >
Avondale, AZ
UA
67,875
76.2
29.4
890.4
2306.2
| 348 >
Owensboro, KY
UA
67,665
99.8
38.5
678.1
1756.3
| 349 >
Florence, SC
UA
67,314
162
62.5
415.5
1076.2
| 350 >
Elmira, NY
UA
67,159
89.6
34.6
749.3
1940.6
| 351 >
Idaho Falls, ID
UA
66,973
80.3
31.0
834.6
2161.5
| 352 >
Rapid City, SD
UA
66,780
78.7
30.4
848.5
2197.5
| 353 >
Watsonville, CA
UA
66,500
49.5
19.1
1343.1
3478.6
| 354 >
Michigan City, IN-MI
UA
66,199
86.1
33.2
768.9
1991.5
| 355 >
Janesville, WI
UA
66,034
76
29.3
868.7
2249.8
| 356 >
Davis, CA
UA
66,022
35.3
13.6
1870.8
4845.4
| 357 >
Dubuque, IA-IL-WI
UA
65,251
78.3
30.2
833.4
2158.5
| 358 >
Jackson, TN
UA
65,086
100.4
38.8
648.1
1678.7
| 359 >
Kankakee, IL
UA
65,073
71.5
27.6
910.4
2357.8
| 360 >
Dover, DE
UA
65,044
112.5
43.4
578.4
1498.0
| 361 >
Westminster, MD
UA
65,034
138.4
53.4
470.0
1217.2
| 362 >
Radcliff-Elizabethtown, KY
UA
64,504
112.7
43.5
572.4
1482.6
| 363 >
Great Falls, MT
UA
64,387
74.3
28.7
866.3
2243.7
| 364 >
Sumter, SC
UA
64,320
115.7
44.7
555.8
1439.4
| 365 >
Kokomo, IN
UA
63,739
91.9
35.5
693.7
1796.7
| 366 >
Lebanon, PA
UA
63,681
77.2
29.8
824.6
2135.7
| 367 >
Mandeville-Covington, LA
UA
62,866
120.1
46.4
523.2
1355.2
| 368 >
Camarillo, CA
UA
62,798
55.2
21.3
1137.1
2945.0
| 369 >
Saint George, UT
UA
62,630
87.1
33.6
719.4
1863.3
| 370 >
Pocatello, ID
UA
62,498
77.5
29.9
806.0
2087.5
| 371 >
Prescott, AZ
UA
61,909
100.5
38.8
616.0
1595.4
| 372 >
Benton Harbor-Saint Joseph, MI
UA
61,745
117.6
45.4
525.1
1360.1
| 373 >
Gadsden, AL
UA
61,709
154.7
59.7
399.0
1033.3
| 374 >
Rocky Mount, NC
UA
61,657
105.7
40.8
583.6
1511.5
| 375 >
Victoria, TX
UA
61,529
132.1
51.0
465.7
1206.2
| 376 >
Hattiesburg, MS
UA
61,465
101
39.0
608.8
1576.9
| 377 >
Dothan, AL
UA
60,792
138.5
53.5
439.0
1137.0
| 378 >
Longview, WA-OR
UA
60,443
69.6
26.9
868.7
2250.0
| 379 >
Lafayette-Louisville, CO

Louisville, Colorado

Louisville is a Home Rule Municipality in Boulder County, Colorado, United States. The population was 18,937 at the 2000 census. Louisville began as a rough mining community in 1877, suffered through a period of extraordinary labor violence early in the 20th century, and then, when the mines...



UA
60,387
81
31.3
745.4
1930.5
| 380 >
Porterville, CA
UA
60,261
54.6
21.1
1102.9
2856.5
| 381 >
Auburn, AL
UA
60,137
103.5
40.0
580.9
1504.6
| 382 >
Petaluma, CA
UA
59,958
47.8
18.5
1253.3
3246.0
| 383 >
Salisbury, MD-DE
UA
59,426
111.2
42.9
534.3
1383.9
| 384 >
Tracy, CA
UA
59,020
33.1
12.8
1784.4
4621.6
| 385 >
Bangor, ME
UA
58,983
100.3
38.7
588.0
1523.0
| 386 >
Williamsport, PA
UA
58,693
69.9
27.0
840.1
2175.9
| 387 >
Pine Bluff, AR
UA
58,584
91.9
35.5
637.5
1651.1
| 388 >
Bristol, TN-VA
UA
58,472
132.3
51.1
442.0
1144.7
| 389 >
Uniontown-Connellsville, PA
UA
58,442
115.5
44.6
505.8
1310.1
| 390 >
Bowling Green, KY
UA
58,314
94.4
36.4
617.9
1600.3
| 391 >
Rome, GA
UA
58,287
105.8
40.8
551.1
1427.3
| 392 >
Carson City, NV
UA
58,263
72.7
28.1
801.1
2074.9
| 393 >
Corvallis, OR
UA
58,229
75.1
29.0
775.7
2009.0
| 394 >
Cleveland, TN
UA
58,192
124.9
48.2
465.8
1206.4
| 395 >
Madera, CA
UA
58,027
58.6
22.6
990.7
2565.9
| 396 >
Goldsboro, NC
UA
57,915
113.3
43.7
511.2
1324.0
| 397 >
Casper, WY
UA
57,719
67.7
26.1
853.1
2209.6
| 398 >
Dalton, GA
UA
57,666
140.9
54.4
409.3
1060.0
| 399 >
Valdosta, GA
UA
57,647
98.2
37.9
586.8
1519.9
| 400 >
Glens Falls, NY
UA
57,627
91.5
35.3
629.5
1630.3
| 401 >
Bend, OR
UA
57,525
94.2
36.4
610.4
1580.9
| 402 >
Blacksburg, VA
UA
57,236
68.2
26.3
839.7
2174.8
| 403 >
Flagstaff, AZ
UA
57,050
84.1
32.5
678.7
1757.7
| 404 >
Grand Forks, ND-MN
UA
56,573
43.4
16.8
1303.6
3376.4
| 405 >
Monessen, PA
UA
56,508
94.6
36.5
597.1
1546.6
| 406 >
Beloit, WI-IL
UA
56,462
72.1
27.8
782.7
2027.1
| 407 >
Sherman, TX
UA
56,168
82.6
31.9
680.4
1762.1
| 408 >
Morgantown, WV
UA
55,997
88.4
34.1
633.4
1640.6
| 409 >
DeKalb, IL
UA
55,805
46.3
17.9
1205.1
3121.3
| 410 >
Lompoc, CA
UA
55,667
155.7
60.1
357.6
926.2
| 411 >
Wenatchee, WA
UA
55,425
69
26.6
803.4
2080.9
| 412 >
Lee's Summit, MO
UA
55,285
58.9
22.7
939.3
2432.8
| 413 >
Galveston, TX
UA
54,770
31.3
12.1
1748.2
4527.7
| 414 >
Atascadero-El Paso de Robles (Paso Robles), CA

Paso Robles, California

Paso Robles is a city in San Luis Obispo County, California, United States. Paso Robles is the fastest growing city in San Luis Obispo County: Its population at the 2000 census was 24,297; in 2010 it recorded some 29,793 residentsLocated on the Salinas River north of San Luis Obispo, California,...



UA
54,762
79.7
30.8
686.7
1778.5
| 415 >
McKinney, TX
UA
54,525
70.3
27.1
776.1
2010.1
| 416 >
Morristown, TN
UA
54,368
117.6
45.4
462.4
1197.5
| 417 >
Pascagoula, MS
UA
54,190
88.2
34.1
614.4
1591.3
| 418 >
Zephyrhills, FL
UA
53,979
106.8
41.2
505.5
1309.2
| 419 >
Jefferson City, MO
UA
53,714
98.8
38.1
543.5
1407.6
| 420 >
Winchester, VA
UA
53,559
85.8
33.1
624.1
1616.3
| 421 >
Ithaca, NY
UA
53,528
76.9
29.7
695.7
1801.8
| 422 >
Saint Augustine, FL
UA
53,519
89.7
34.6
596.9
1545.9
| 423 >
San Luis Obispo, CA
UA
53,498
38.4
14.8
1392.6
3606.9
| 424 >
Kingston, NY
UA
53,458
87.2
33.7
613.2
1588.3
| 425 >
Farmington, NM
UA
53,294
111.5
43.1
477.9
1237.7
| 426 >
Danville, IL
UA
53,223
80.1
30.9
664.3
1720.6
| 427 >
Monroe, MI
UA
53,153
76.6
29.6
693.5
1796.1
| 428 >
El Centro, CA
UA
52,954
42.7
16.5
1238.9
3208.8
| 429 >
Titusville, FL
UA
52,922
81.6
31.5
648.3
1679.1
| 430 >
Pittsfield, MA
UA
52,772
87.6
33.8
602.2
1559.7
| 431 >
Harrisonburg, VA
UA
52,647
69.1
26.7
761.5
1972.3
| 432 >
Wildwood-North Wildwood-Cape May, NJ
UA
52,550
100.4
38.8
523.3
1355.4
| 433 >
Decatur, AL
UA
52,315
73
28.2
716.5
1855.6
| 434 >
Cumberland, MD-WV-PA
UA
52,115
84.8
32.7
614.9
1592.6
| 435 >
Fairbanks, AK
UA
51,926
111.7
43.1
465.1
1204.5
| 436 >
Jonesboro, AR
UA
51,804
103.4
39.9
501.2
1298.1
| 437 >
Hot Springs, AR
UA
51,763
117.4
45.3
440.8
1141.7
| 438 >
Hazleton, PA
UA
51,746
74.8
28.9
691.9
1791.9
| 439 >
Brunswick, GA
UA
51,653
111.4
43.0
463.6
1200.7
| 440 >
Manteca, CA
UA
51,176
35.2
13.6
1451.9
3760.4
| 441 >
Mount Vernon, WA
UA
51,174
82.2
31.7
622.8
1613.1
| 442 >
Saratoga Springs, NY
UA
51,172
95.6
36.9
535.4
1386.8
| 443 >
Portsmouth, NH-ME
UA
50,912
111.2
42.9
458.0
1186.2
| 444 >
Danville, VA
UA
50,902
84.4
32.6
602.8
1561.2
| 445 >
Ames, IA
UA
50,726
40.9
15.8
1240.1
3211.9
| 446 >
Lady Lake, FL
UA
50,721
129.4
50.0
391.8
1014.8
| 447 >
Sandusky, OH
UA
50,693
75.9
29.3
668.2
1730.6
| 448 >
Lewiston, ME
UA
50,567
53.5
20.7
945.9
2449.9
| 449 >
Hinesville, GA
UA
50,360
70.3
27.1
716.0
1854.4
| 450 >
Lewiston, ID-WA
UA
50,317
73.3
28.3
686.1
1777.1
| 451 >
Columbus, IN
UA
50,227
67
25.9
749.8
1941.9
| 452 >
Middletown, NY

Middletown, Orange County, New York

Middletown is a city in Orange County, New York, United States. It lies in New York's Hudson Valley region, near the Wallkill River and the foothills of the Shawangunk Mountains. Middletown is situated between Port Jervis and Newburgh, New York. The city's population was 25,388 at the 2000 census...



UA
50,071
73
28.2
686.1
1777.1
| 453 >
Fond du Lac, WI
UA
50,058
52.7
20.3
949.3
2458.7
| 454 >
Midland, MI
UC
49,387
30.7
11.9
621.3
1609.2
| 455 >
Woodland, CA
UC
49,168
8.7
3.4
2180.1
5646.5
| 456 >
Hanover, PA
UC
48,696
26.7
10.3
703.9
1823.0
| 457 >
Salisbury, NC
UC
48,404
42.4
16.4
440.3
1140.4
| 458 >
Bloomsburg

Bloomsburg, Pennsylvania

Bloomsburg is a town in Columbia County, Pennsylvania, 40 miles southwest of Wilkes Barre along the Susquehanna River. In 1900, the population of Bloomsburg stood at 6,170; in 1910, 7,413; in 1940, 9,799, and in 1990, 12,439. The population was 14,855 at the 2010 census...


-Berwick, PA
UC
48,245
25.3
9.8
737.4
1909.8
| 459 >
Paducah, KY-IL

Illinois

Illinois is the fifth-most populous state of the United States of America, and is often noted for being a microcosm of the entire country. With Chicago in the northeast, small industrial cities and great agricultural productivity in central and northern Illinois, and natural resources like coal,...



UC
48,035
43.6
16.8
424.9
1100.6
| 460 >
Arroyo Grande

Arroyo Grande, California

Arroyo Grande is a city in San Luis Obispo County, California, United States. The population was 17,252 at the 2010 census.-Geography:Arroyo Grande is a small coastal town with historic, suburban, and rural elements located at...


-Grover Beach, CA
UC
47,550
18.5
7.1
993.9
2574.2
| 461 >
San Marcos, TX
UC
47,333
25
9.7
731.7
1895.0
| 462 >
Hilo, HI
UC
47,315
31.3
12.1
584.3
1513.3
| 463 >
Tulare, CA
UC
47,294
16.4
6.3
1112.5
2881.3
| 464 >
Manitowoc, WI
UC
47,218
19.2
7.4
948.8
2457.3
| 465 >
Roswell, NM
UC
47,176
26.9
10.4
675.9
1750.6
| 466 >
Mankato, MN
UC
47,115
20.8
8.0
875.4
2267.4
| 467 >
Cape Girardeau, MO-IL

Illinois

Illinois is the fifth-most populous state of the United States of America, and is often noted for being a microcosm of the entire country. With Chicago in the northeast, small industrial cities and great agricultural productivity in central and northern Illinois, and natural resources like coal,...



UC
46,968
25
9.7
724.1
1875.3
| 468 >
Sierra Vista, AZ
UC
46,941
80.4
31.0
225.3
583.6
| 469 >
Beckley, WV
UC
46,860
40.1
15.5
451.1
1168.4
| 470 >
Manhattan, KS
UC
46,671
15.8
6.1
1143.8
2962.5
| 471 >
Concord, NH
UC
46,449
33.3
12.9
538.2
1394.0
| 472 >
Watertown, NY
UC
46,434
23.9
9.2
750.3
1943.2
| 473 >
Beaufort, SC
UC
46,227
60.3
23.3
296.2
767.1
| 474 >
Jamestown, NY
UC
46,070
22.4
8.6
793.5
2055.2
| 475 >
Marion, IN
UC
45,867
24.9
9.6
711.1
1841.7
| 476 >
Enid, OK
UC
45,654
24
9.3
733.0
1898.5
| 477 >
Salina, KS
UC
45,654
18.5
7.1
953.9
2470.6
| 478 >
Marion, OH
UC
45,645
22.5
8.7
782.4
2026.3
| 479 >
Grand Island, NE
UC
45,499
22.7
8.8
775.0
2007.2
| 480 >
Quincy, IL
UC
45,326
20.1
7.8
868.5
2249.5
| 481 >
Findlay, OH
UC
45,284
22.8
8.8
765.7
1983.2
| 482 >
Richmond, IN-OH

Ohio

Ohio is a Midwestern state in the United States. The 34th largest state by area in the U.S.,it is the 7th‑most populous with over 11.5 million residents, containing several major American cities and seven metropolitan areas with populations of 500,000 or more.The state's capital is Columbus...



UC
45,245
22.9
8.8
764.2
1979.2
| 483 >
Sebring

Sebring, Florida

Sebring is a city in Highlands County, Florida, United States, nicknamed "The City on the Circle", in reference to Circle Drive, the center of the Sebring Downtown Historic District...


-Avon Park, FL
UC
45,123
34.4
13.3
505.9
1310.3
| 484 >
New Philadelphia

New Philadelphia, Ohio

New Philadelphia is a city in Tuscarawas County, Ohio, United States, 71 miles south of Cleveland on the Tuscarawas River. It was first incorporated in 1808. Coal and clay are found in the vicinity...


-Dover, OH
UC
45,072
24.6
9.5
706.1
1828.9
| 485 >
Leavenworth, KS
UC
44,113
19.8
7.6
860.3
2228.2
| 486 >
Wilson, NC
UC
44,003
19.1
7.4
891.4
2308.8
| 487 >
Conway, AR
UC
43,891
23.3
9.0
728.1
1885.9
| 488 >
Grants Pass, OR
UC
43,811
25.4
9.8
666.0
1724.9
| 489 >
Hammond, LA
UC
43,458
48.8
18.8
344.1
891.3
| 490 >
Eureka, CA
UC
43,452
20.3
7.8
825.5
2138.0
| 491 >
Greenville, MS
UC
43,387
25.6
9.9
655.3
1697.3
| 492 >
Walla Walla, WA
UC
43,366
23
8.9
727.9
1885.3
| 493 >
New Castle, PA
UC
43,222
23.9
9.2
698.6
1809.3
| 494 >
Chesapeake Ranch Estates-Drum Point, MD
UC
43,196
35
13.5
476.3
1233.5
| 495 >
Pottsville, PA
UC
43,033
20.3
7.8
818.9
2121.0
| 496 >
Lake Havasu City, AZ
UC
42,787
26.8
10.3
615.8
1594.9
| 497 >
Albany, OR
UC
42,193
16.2
6.3
1004.6
2602.0
| 498 >
Clemson, SC
UC
42,064
37.2
14.4
437.1
1132.2
| 499 >
Adrian, MI
UC
41,983
21.4
8.3
756.3
1958.9
| 500 >
Zanesville, OH
UC
41,841
28.2
10.9
572.6
1483.0
| 501 >
Eagle Pass, TX
UC
41,829
15.9
6.1
1015.2
2629.4
| 502 >
New Iberia, LA
UC
41,588
22.4
8.6
716.8
1856.5
| 503 >
Conroe, TX
UC
41,402
25
9.7
638.3
1653.1
| 504 >
Klamath Falls, OR
UC
41,153
22
8.5
722.1
1870.2
| 505 >
Woodburn, OR
UC
41,150
17.1
6.6
927.8
2403.1
| 506 >
Stevens Point, WI
UC
40,983
22
8.5
718.7
1861.3
| 507 >
Browns Mills, NJ
UC
40,882
31.2
12.0
505.6
1309.5
| 508 >
Ashtabula, OH
UC
40,785
27.5
10.6
572.0
1481.6
| 509 >
East Stroudsburg, PA
UC
40,664
40.6
15.7
386.4
1000.9
| 510 >
Stillwater, MN-WI

Wisconsin

Wisconsin is a U.S. state located in the north-central United States and is part of the Midwest. It is bordered by Minnesota to the west, Iowa to the southwest, Illinois to the south, Lake Michigan to the east, Michigan to the northeast, and Lake Superior to the north. Wisconsin's capital is...



UC
40,642
24.3
9.4
647.1
1675.9
| 511 >
Butler, PA
UC
40,622
29.4
11.4
533.1
1380.8
| 512 >
Kahului, HI
UC
40,499
13.3
5.1
1177.9
3050.8
| 513 >
Meridian, MS
UC
40,373
25.8
10.0
604.1
1564.5
| 514 >
Del Rio, TX
UC
40,335
14.6
5.6
1066.0
2761.0
2010 Urban Agglomerations
Rank
Potential urban agglomeration
Census 2000 UAs contained within the potential agglomeration
Estimated population
(2006–2008)
1
New York-Philadelphia-Connecticut
New York

New York City

New York is the most populous city in the United States and the center of the New York Metropolitan Area, one of the most populous metropolitan areas in the world. New York exerts a significant impact upon global commerce, finance, media, art, fashion, research, technology, education, and...


-Newark

Newark, New Jersey

Newark is the largest city in the American state of New Jersey, and the seat of Essex County. As of the 2010 United States Census, Newark had a population of 277,140, maintaining its status as the largest municipality in New Jersey. It is the 68th largest city in the U.S...


, NY-NJ-CT; Philadelphia

Philadelphia, Pennsylvania

Philadelphia is the largest city in the Commonwealth of Pennsylvania and the county seat of Philadelphia County, with which it is coterminous. The city is located in the Northeastern United States along the Delaware and Schuylkill rivers. It is the fifth-most-populous city in the United States,...


, PA-NJ-DE-MD; Allentown

Allentown, Pennsylvania

Allentown is a city located in Lehigh County, Pennsylvania, in the United States. It is Pennsylvania's third most populous city, after Philadelphia and Pittsburgh, and the 215th largest city in the United States. As of the 2010 census, the city had a total population of 118,032 and is currently...


-Bethlehem

Bethlehem, Pennsylvania

Bethlehem is a city in Lehigh and Northampton Counties in the Lehigh Valley region of eastern Pennsylvania, in the United States. As of the 2010 census, the city had a total population of 74,982, making it the seventh largest city in Pennsylvania, after Philadelphia, Pittsburgh, Allentown, Erie,...


PA-NJ; Lancaster

Lancaster, Pennsylvania

Lancaster is a city in the south-central part of the Commonwealth of Pennsylvania. It is the county seat of Lancaster County and one of the older inland cities in the United States, . With a population of 59,322, it ranks eighth in population among Pennsylvania's cities...


, PA; Pottstown

Pottstown, Pennsylvania

Pottstown is a borough in Montgomery County, Pennsylvania, United States northwest of Philadelphia and southeast of Reading, on the Schuylkill River. Pottstown was laid out in 1752–53 and named Pottsgrove in honor of its founder, John Potts. The old name was abandoned at the time of the...


, PA; Reading

Reading, Pennsylvania

Reading is a city in southeastern Pennsylvania, USA, and seat of Berks County. Reading is the principal city of the Greater Reading Area and had a population of 88,082 as of the 2010 census, making it the fifth most populated city in the state after Philadelphia, Pittsburgh, Allentown and Erie,...


, PA; Trenton

Trenton, New Jersey

Trenton is the capital of the U.S. state of New Jersey and the county seat of Mercer County. As of the 2010 United States Census, Trenton had a population of 84,913...


, NJ; Hightstown

Hightstown, New Jersey

Hightstown is a Borough in Mercer County, New Jersey, United States. As of the 2010 United States Census, the borough population was 5,494.Hightstown was incorporated as a borough by an Act of the New Jersey Legislature on March 5, 1853, within portions of East Windsor Township. The borough became...


, NJ; Vineland

Vineland, New Jersey

Vineland is a city in Cumberland County, New Jersey, United States. As of the 2010 United States Census, the city had a total population of 60,724...


, NJ; Poughkeepsie-Newburgh, NY; Bridgeport

Bridgeport, Connecticut

Bridgeport is the most populous city in the U.S. state of Connecticut. Located in Fairfield County, the city had an estimated population of 144,229 at the 2010 United States Census and is the core of the Greater Bridgeport area...


-Stamford

Stamford, Connecticut

Stamford is a city in Fairfield County, Connecticut, United States. According to the 2010 census, the population of the city is 122,643, making it the fourth largest city in the state and the eighth largest city in New England...


, CT; Danbury

Danbury, Connecticut

Danbury is a city in northern Fairfield County, Connecticut, United States. It had population at the 2010 census of 80,893. Danbury is the fourth largest city in Fairfield County and is the seventh largest city in Connecticut....


, CT-NY; Hartford

Hartford, Connecticut

Hartford is the capital of the U.S. state of Connecticut. The seat of Hartford County until Connecticut disbanded county government in 1960, it is the second most populous city on New England's largest river, the Connecticut River. As of the 2010 Census, Hartford's population was 124,775, making...


, CT; New Haven

New Haven, Connecticut

New Haven is the second-largest city in Connecticut and the sixth-largest in New England. According to the 2010 Census, New Haven's population increased by 5.0% between 2000 and 2010, a rate higher than that of the State of Connecticut, and higher than that of the state's five largest cities, and...


, CT; Norwich

Norwich, Connecticut

Regular steamship service between New York and Boston helped Norwich to prosper as a shipping center through the early part of the 20th century. During the Civil War, Norwich once again rallied and saw the growth of its textile, armaments, and specialty item manufacturing...


-New London

New London, Connecticut

New London is a seaport city and a port of entry on the northeast coast of the United States.It is located at the mouth of the Thames River in New London County, southeastern Connecticut....


, CT; Waterbury

Waterbury, Connecticut

Waterbury is a city in New Haven County, Connecticut, on the Naugatuck River, 33 miles southwest of Hartford and 77 miles northeast of New York City...


, CT; Springfield

Springfield, Massachusetts

Springfield is the most populous city in Western New England, and the seat of Hampden County, Massachusetts, United States. Springfield sits on the eastern bank of the Connecticut River near its confluence with three rivers; the western Westfield River, the eastern Chicopee River, and the eastern...


, MA-CT
29,028,337
2
Los Angeles-Riverside-San Bernardino
Los Angeles

Los Angeles, California

Los Angeles , with a population at the 2010 United States Census of 3,792,621, is the most populous city in California, USA and the second most populous in the United States, after New York City. It has an area of , and is located in Southern California...


-Long Beach

Long Beach, California

Long Beach is a city situated in Los Angeles County in Southern California, on the Pacific coast of the United States. The city is the 36th-largest city in the nation and the seventh-largest in California. As of 2010, its population was 462,257...


-Santa Ana

Santa Ana, California

Santa Ana is the county seat and second most populous city in Orange County, California, and with a population of 324,528 at the 2010 census, Santa Ana is the 57th-most populous city in the United States....


, CA; Riverside

Riverside, California

Riverside is a city in Riverside County, California, United States, and the county seat of the eponymous county. Named for its location beside the Santa Ana River, it is the largest city in the Riverside-San Bernardino-Ontario metropolitan area of Southern California, 4th largest inland California...


-San Bernardino

San Bernardino, California

San Bernardino is a city located in the Riverside-San Bernardino metropolitan area , and serves as the county seat of San Bernardino County, California, United States...


, CA; Camarillo

Camarillo, California

Camarillo is a city in Ventura County, California, United States. The population was 65,201 at the 2010 census, up from 57,084 at the 2000 census. The Ventura Freeway Camarillo is a city in Ventura County, California, United States. The population was 65,201 at the 2010 census, up from 57,084 at...


, CA; Hemet

Hemet, California

Hemet is a city in the San Jacinto Valley in Riverside County, California, United States. It covers a total area of , about half of the valley, which it shares with the neighboring city of San Jacinto. The population was 78,657 at the 2010 census....


, CA; Oxnard

Oxnard, California

Oxnard is the 113th largest city in the United States, 19th largest city in California and largest city in Ventura County, California, by way of population. It is located at the western edge of the fertile Oxnard Plain, and is an important agricultural center, with its distinction as the...


, CA; Santa Barbara

Santa Barbara, California

Santa Barbara is the county seat of Santa Barbara County, California, United States. Situated on an east-west trending section of coastline, the longest such section on the West Coast of the United States, the city lies between the steeply-rising Santa Ynez Mountains and the Pacific Ocean...


, CA; Santa Clarita

Santa Clarita, California

Santa Clarita is the fourth largest city in Los Angeles County, California, United States and the twenty-fourth largest city in the state of California. The 2010 US Census reported the city's population grew 16.7% from the year 2000 to 176,320 residents. It is located about northwest of downtown...


, CA; Simi Valley

Simi Valley, California

-2010:The 2010 United States Census reported that Simi Valley had a population of 124,237. The population density was 2,940.8 people per square mile...


, CA; Temecula

Temecula, California

Temecula is a city in southwestern Riverside County, California, United States with a population of 100,097 according to the 2010 United States Census, making it the lowest populated American city over 100,000 population. It was incorporated on December 1, 1989...


-Murrieta

Murrieta, California

Murrieta has a Mediterranean climate or Dry-Summer Subtropical . Murrieta has plenty of sunshine throughout the year, with an average of 263 sunshine days and 35 days with measurable precipitation annually....


, CA; Thousand Oaks

Thousand Oaks, California

Thousand Oaks is a city in southeastern Ventura County, California, in the United States. It was named after the many oak trees that grace the area, and the city seal is adorned with an oak....


, CA
15,492,749
3
Chicago-Kenosha-Racine-Round Lake Beach
Chicago

Chicago

Chicago is the largest city in the US state of Illinois. With nearly 2.7 million residents, it is the most populous city in the Midwestern United States and the third most populous in the US, after New York City and Los Angeles...


, IL-IN; Kenosha

Kenosha, Wisconsin

Kenosha is a city and the county seat of Kenosha County in the State of Wisconsin in United States. With a population of 99,218 as of May 2011, Kenosha is the fourth-largest city in Wisconsin. Kenosha is also the fourth-largest city on the western shore of Lake Michigan, following Chicago,...


, WI; Round Lake Beach

Round Lake Beach, Illinois

Round Lake Beach is a village in Lake County, Illinois, United States. The population was 25,859 at the 2000 census, and estimated to be 28,253 as of 2005.-Geography:Round Lake Beach is a mid-size town located at ....


-McHenry

McHenry, Illinois

McHenry is a city in McHenry County, Illinois, United States. In 2005, its population was estimated to be 24,631. McHenry was at one time the county seat of McHenry County...


-Grayslake

Grayslake, Illinois

Grayslake is a village in Lake County in the U.S. state of Illinois. It is located in the Chicago metropolitan area, about north of Chicago's downtown, west of Lake Michigan, and south of the Wisconsin border....


, IL-WI; Racine

Racine, Wisconsin

Racine is a city in and the county seat of Racine County, Wisconsin, United States. According to 2008 U.S. Census Bureau estimates, the city had a population of 82,196...


, WI
8,944,789
4
Boston-Providence-Worcester
Boston

Boston

Boston is the capital of and largest city in Massachusetts, and is one of the oldest cities in the United States. The largest city in New England, Boston is regarded as the unofficial "Capital of New England" for its economic and cultural impact on the entire New England region. The city proper had...


, MA; Providence

Providence, Rhode Island

Providence is the capital and most populous city of Rhode Island and was one of the first cities established in the United States. Located in Providence County, it is the third largest city in the New England region...


, RI-MA; Worcester

Worcester, Massachusetts

Worcester is a city and the county seat of Worcester County, Massachusetts, United States. Named after Worcester, England, as of the 2010 Census the city's population is 181,045, making it the second largest city in New England after Boston....


, MA-CT; Barnstable Town, MA; Leominster

Leominster, Massachusetts

Leominster is a city in Worcester County, Massachusetts, United States. It is the second-largest city in Worcester County, with a population of 40,759 at the 2010 census. Leominster is located north of Worcester and west of Boston. Both Route 2 and Route 12 pass through Leominster. Interstate 190,...


-Fitchburg

Fitchburg, Massachusetts

Fitchburg is the third largest city in Worcester County, Massachusetts, United States. The population was 40,318 at the 2010 census. Fitchburg is home to Fitchburg State University as well as 17 public and private elementary and high schools.- History :...


, MA; New Bedford

New Bedford, Massachusetts

New Bedford is a city in Bristol County, Massachusetts, United States, located south of Boston, southeast of Providence, Rhode Island, and about east of Fall River. As of the 2010 census, the city had a total population of 95,072, making it the sixth-largest city in Massachusetts...


, MA; Dover

Dover, New Hampshire

Dover is a city in Strafford County, New Hampshire, in the United States of America. The population was 29,987 at the 2010 census, the largest in the New Hampshire Seacoast region...


-Rochester

Rochester, New Hampshire

Rochester is a city in Strafford County, New Hampshire, United States. As of the 2010 census, the city population was 29,752. The city includes the villages of East Rochester and Gonic. Rochester is home to Skyhaven Airport and the annual Rochester Fair....


, NH; Manchester

Manchester, New Hampshire

Manchester is the largest city in the U.S. state of New Hampshire, the tenth largest city in New England, and the largest city in northern New England, an area comprising the states of Maine, New Hampshire, and Vermont. It is in Hillsborough County along the banks of the Merrimack River, which...


, NH; Nashua

Nashua, New Hampshire

-Climate:-Demographics:As of the census of 2010, there were 86,494 people, 35,044 households, and 21,876 families residing in the city. The population density was 2,719.9 people per square mile . There were 37,168 housing units at an average density of 1,202.8 per square mile...


, NH; Portsmouth

Portsmouth, New Hampshire

Portsmouth is a city in Rockingham County, New Hampshire in the United States. It is the largest city but only the fourth-largest community in the county, with a population of 21,233 at the 2010 census...


, NH
6,692,295
5
Baltimore-Washington
Aberdeen

Aberdeen, Maryland

As of the census of 2000, there were 13,842 people, 5,475 households, and 3,712 families residing in the city. The population density was 2,166.2 people per square mile . There were 5,894 housing units at an average density of 922.4 per square mile...


, MD; Baltimore, MD; Washington, DC-VA-MD; St. Charles

St. Charles, Maryland

St. Charles is a census-designated place and planned community in Charles County, Maryland, United States. It is south-southeast of Washington, D.C., from northern Virginia and immediately south of Waldorf, which is the mailing address....


, MD
6,585,315
6
San Francisco-Oakland-San Jose
San Francisco

San Francisco, California

San Francisco , officially the City and County of San Francisco, is the financial, cultural, and transportation center of the San Francisco Bay Area, a region of 7.15 million people which includes San Jose and Oakland...


-Oakland

Oakland, California

Oakland is a major West Coast port city on San Francisco Bay in the U.S. state of California. It is the eighth-largest city in the state with a 2010 population of 390,724...


, CA; San Jose

San Jose, California

San Jose is the third-largest city in California, the tenth-largest in the U.S., and the county seat of Santa Clara County which is located at the southern end of San Francisco Bay...


, CA; Antioch

Antioch, California

Antioch is a city in Contra Costa County, California. Located in the East Bay region of the San Francisco Bay Area along the San Joaquin-Sacramento River Delta, it is a suburb of San Francisco and Oakland. The city's population was 102,372 at the U.S...


, CA; Concord

Concord, California

Concord is the largest city in Contra Costa County, California, USA. At the 2010 census, the city had a population of 122,067. Originally founded in 1869 as the community of Todos Santos by Salvio Pacheco, the name was changed to Concord within months...


, CA; Livermore

Livermore, California

Livermore is a city in Alameda County. The population as of 2010 was 80,968. Livermore is located on the eastern edge of California's San Francisco Bay Area....


, CA; Vallejo

Vallejo, California

Vallejo is the largest city in Solano County, California, United States. The population was 115,942 at the 2010 census. It is located in the San Francisco Bay Area on the northeastern shore of San Pablo Bay...


, CA
5,870,212
7
Dallas-Fort Worth
Dallas

Dallas, Texas

Dallas is the third-largest city in Texas and the ninth-largest in the United States. The Dallas-Fort Worth Metroplex is the largest metropolitan area in the South and fourth-largest metropolitan area in the United States...


-Fort Worth

Fort Worth, Texas

Fort Worth is the 16th-largest city in the United States of America and the fifth-largest city in the state of Texas. Located in North Central Texas, just southeast of the Texas Panhandle, the city is a cultural gateway into the American West and covers nearly in Tarrant, Parker, Denton, and...


-Arlington

Arlington, Texas

Arlington is a city in Tarrant County, Texas within the Dallas–Fort Worth metropolitan area. According to the 2010 census results, the city had a population of 365,438, making it the third largest municipality in the Metroplex...


, TX; Denton

Denton, Texas

The city of Denton is the county seat of Denton County, Texas in the United States. Its population was 119,454 according to the 2010 U.S. Census, making it the eleventh largest city in the Dallas/Fort Worth Metroplex...


-Lewisville

Lewisville, Texas

Lewisville is a city in Denton County in the U.S. state of Texas. The 2010 United States Census placed the population at 95,290 within . The city also includes of Lewisville Lake....


, TX; McKinney

McKinney, Texas

McKinney is a city in and the county seat of Collin County, Texas, United States, and the second in population to Plano. According to the U.S. Census Bureau, the city's 2010 population was 131,117 The Census Bureau listed McKinney as the nation's fastest growing city from 2000 to 2003 and again in...


, TX
5,006,527
8
Houston-Texas City
Houston

Houston, Texas

Houston is the fourth-largest city in the United States, and the largest city in the state of Texas. According to the 2010 U.S. Census, the city had a population of 2.1 million people within an area of . Houston is the seat of Harris County and the economic center of , which is the ...


, TX; Texas City

Texas City, Texas

Texas City is a city in Chambers and Galveston counties in the U.S. state of Texas. The population was 41,521 at the 2000 census. It is a part of the Houston–Sugar Land–Baytown, Texas Metropolitan Statistical Area.-History:...


, TX; Galveston

Galveston, Texas

Galveston is a coastal city located on Galveston Island in the U.S. state of Texas. , the city had a total population of 47,743 within an area of...


, TX; The Woodlands

The Woodlands, Texas

The Woodlands is a master-planned community and a Census-designated place in the U.S. state of Texas within the metropolitan area. The population of the CDP was 55,649 at the 2000 census—a 90 percent increase over its 1990 population. According to the 2010 census, The Woodlands' population rose...


, TX
4,599,176
9
Detroit-Ann Arbor-Port Huron
Detroit

Detroit, Michigan

Detroit is the major city among the primary cultural, financial, and transportation centers in the Metro Detroit area, a region of 5.2 million people. As the seat of Wayne County, the city of Detroit is the largest city in the U.S. state of Michigan and serves as a major port on the Detroit River...


, MI; Ann Arbor

Ann Arbor, Michigan

Ann Arbor is a city in the U.S. state of Michigan and the county seat of Washtenaw County. The 2010 census places the population at 113,934, making it the sixth largest city in Michigan. The Ann Arbor Metropolitan Statistical Area had a population of 344,791 as of 2010...


, MI; Port Huron

Port Huron, Michigan

Port Huron is a city in the U.S. state of Michigan and the county seat of St. Clair County. The population was 30,184 at the 2010 census. The city is adjacent to Port Huron Township but is administratively autonomous. It is joined by the Blue Water Bridge over the St. Clair River to Sarnia,...


, MI; South Lyon

South Lyon, Michigan

South Lyon is a city in Oakland County in the U.S. state of Michigan. The population was 11,327 at the 2010 census. The city is part of the South Lyon-Howell-Brighton Urban Area, which had a population of 106,139 according to the 2000 census...


-Howell

Howell, Michigan

Howell is a city in the U.S. state of Michigan. As of the 2010 census, the city had a total population of 9,489. It is the county seat of Livingston County and is located mostly within Howell Township, but is politically independent from Howell Township...


-Brighton

Brighton, Michigan

Brighton is a principal satellite city of Metro Detroit located in the southeast portion of Livingston County in the U.S. state of Michigan. As of the 2010 census, the city population was 7,444. Brighton forms part of the South Lyon-Howell-Brighton Urban Area...


, MI
4,326,040
10
Atlanta-Gainesville
Atlanta

Atlanta, Georgia

Atlanta is the capital and most populous city in the U.S. state of Georgia. According to the 2010 census, Atlanta's population is 420,003. Atlanta is the cultural and economic center of the Atlanta metropolitan area, which is home to 5,268,860 people and is the ninth largest metropolitan area in...


, GA; Gainesville

Gainesville, Georgia

-Severe Weather:Gainesville sits on the very fringe of Tornado Alley, a region of the United States where severe weather is common. Supercell thunderstorms can sweep through any time between March and November, but are concentrated most in the spring...


, GA
4,196,670
-
San Juan-Aguadilla-Ponce
San Juan

San Juan, Puerto Rico

San Juan , officially Municipio de la Ciudad Capital San Juan Bautista , is the capital and most populous municipality in Puerto Rico, an unincorporated territory of the United States. As of the 2010 census, it had a population of 395,326 making it the 46th-largest city under the jurisdiction of...


, PR; Aguadilla

Aguadilla, Puerto Rico

Aguadilla , founded in 1775 by Luis de Córdova, is a city located in the northwestern tip of Puerto Rico bordered by the Atlantic Ocean to the north and west, north of Aguada, and Moca and west of Isabela. Aguadilla is spread over 15 wards and Aguadilla Pueblo...


-Isabela

Isabela, Puerto Rico

Isabela is a municipality of Puerto Rico located in the north-western region of the island, north of San Sebastián; west of Quebradillas; and east of Aguadilla and Moca. Isabela is spread over 13 wards and Isabela Pueblo...


-San Sebastián

San Sebastián, Puerto Rico

San Sebastián is a municipality of Puerto Rico located northwest of the island south of Isabela and Quebradillas; north of Las Marías; east of Moca and Añasco; and west of Lares. San Sebastián is spread over twenty-four wards and San Sebastián Pueblo...


, PR; Arecibo

Arecibo, Puerto Rico

Arecibo is a municipality in the northern midwest coast of Puerto Rico and located by the Atlantic Ocean, north of Utuado and Ciales; east of Hatillo; and west of Barceloneta, and Florida. Arecibo is spread over 18 wards and Arecibo Pueblo...


, PR; Fajardo

Fajardo, Puerto Rico

Fajardo is a small city in Puerto Rico located in the east region of the island, bordering the Atlantic Ocean, north of Ceiba and east of Luquillo.Fajardo is spread over 7 wards and Downtown Fajardo , which serves as the administrative center of the city...


, PR; Florida

Florida, Puerto Rico

Florida is a municipality of Puerto Rico located north of Ciales, south of Barceloneta, east of Arecibo, and west of Manatí. Florida is spread over one ward and Florida Pueblo...


-Barceloneta

Barceloneta, Puerto Rico

Barceloneta is a municipality in Puerto Rico and is located in the north region, bordering the Atlantic Ocean, north of Florida, east of Arecibo and west of Manati. Barceloneta is spread over 3 wards and Barceloneta Pueblo...


-Bajadero

Bajadero, Puerto Rico

Bajadero is a barrio of Arecibo, Puerto Rico. It is known for its class B baseball team, the Atleticos of Bajadero. Bajadero has its own post office and has a joint elementary and intermediate school, Ramon Emeterio Betancez....


, PR; Guayama

Guayama, Puerto Rico

Guayama is a municipality of Puerto Rico founded on January 29, 1736 and located on the Southern Coastal Valley region, bordering the Caribbean, south of Cayey; east of Salinas; and west of Patillas and Arroyo. Guayama is spread over 9 wards and Guayama Pueblo...


, PR; Juana Díaz

Juana Díaz, Puerto Rico

Juana Díaz is a municipality of Puerto Rico located in the southern coast of the island, south of Jayuya, Ciales, Orocovis and Villalba; east of Ponce; and west of Coamo and Santa Isabel and the Caribbean Sea to the south. Juana Díaz is spread over 12 wards and Juana Diaz Pueblo...


, PR; Mayagüez

Mayagüez, Puerto Rico

Mayagüez is the eighth-largest municipality of Puerto Rico. Originally founded as "Nuestra Señora de la Candelaria" it is also known as "La Sultana del Oeste" , "Ciudad de las Aguas Puras" , or "Ciudad del Mangó"...


, PR; Ponce

Ponce, Puerto Rico

Ponce is both a city and a municipality in the southern part of Puerto Rico. The city is the seat of the municipal government.The city of Ponce, the fourth most populated in Puerto Rico, and the most populated outside of the San Juan metropolitan area, is named for Juan Ponce de León y Loayza, the...


, PR; San Germán

San Germán, Puerto Rico

San Germán is a municipality located in the southwestern region of Puerto Rico, south of Mayagüez and Maricao; north of Lajas; east of Hormigueros and Cabo Rojo; and west of Sabana Grande. San Germán is spread over 18 wards and San Germán Pueblo...


-Cabo Rojo

Cabo Rojo, Puerto Rico

Cabo Rojo is a municipality situated on the southwest coast of Puerto Rico and forms part of the San Germán–Cabo Rojo metropolitan area as well as the larger Mayagüez–San Germán–Cabo Rojo Combined Statistical Area....


-Sabana Grande

Sabana Grande, Puerto Rico

Sabana Grande is a municipality of Puerto Rico located north of Lajas and Guánica; south of Maricao; east of San Germán; and west of Yauco. Sabana Grande is spread over seven wards and Sabana Grande Pueblo...


, PR; Yauco

Yauco, Puerto Rico

Yauco is a city and municipality in southwestern Puerto Rico located in the southern coast of the island by the Caribbean, south of Maricao, Lares and Adjuntas; east of Sabana Grande and Guánica; and west of Guayanilla. Yauco is spread over 20 wards and Yauco Pueblo...


, PR
3,591,491
11
Phoenix-Mesa-Avondale
Phoenix

Phoenix, Arizona

Phoenix is the capital, and largest city, of the U.S. state of Arizona, as well as the sixth most populated city in the United States. Phoenix is home to 1,445,632 people according to the official 2010 U.S. Census Bureau data...


-Mesa

Mesa, Arizona

According to the 2010 Census, the racial composition of Mesa was as follows:* White: 77.1% * Hispanic or Latino : 26.54%* Black or African American: 3.5%* Two or more races: 3.4%* Native American: 2.4%...


, AZ; Avondale

Avondale, Arizona

Avondale is a city in Maricopa County, Arizona, USA, adjacent to Phoenix, Arizona. According to 2010 Census Bureau, the population of the city is 76,238.Avondale is the home of Phoenix International Raceway, an auto racing facility...


, AZ
3,328,183
12
San Diego-Mission Viejo
San Diego

San Diego, California

San Diego is the eighth-largest city in the United States and second-largest city in California. The city is located on the coast of the Pacific Ocean in Southern California, immediately adjacent to the Mexican border. The birthplace of California, San Diego is known for its mild year-round...


, CA; Mission Viejo

Mission Viejo, California

Mission Viejo is a city located in southern Orange County, California, U.S. in the Saddleback Valley. Mission Viejo is considered one of the largest master-planned communities ever built under a single project in the United States, and is rivaled only by Highlands Ranch, Colorado, in its size...


, CA
3,273,255
13
Seattle-Bremerton-Marysville
Seattle

Seattle, Washington

Seattle is the county seat of King County, Washington. With 608,660 residents as of the 2010 Census, Seattle is the largest city in the Northwestern United States. The Seattle metropolitan area of about 3.4 million inhabitants is the 15th largest metropolitan area in the country...


, WA; Bremerton

Bremerton, Washington

Bremerton is a city in Kitsap County, Washington, United States. The population was 38,790 at the 2011 State Estimate, making it the largest city on the Olympic Peninsula. Bremerton is home to Puget Sound Naval Shipyard and the Bremerton Annex of Naval Base Kitsap...


, WA; Marysville

Marysville, Washington

Marysville is a city in Snohomish County, Washington, United States. The population was 60,020 at the 2010 census. Marysville is known as "The Strawberry City" due to the large number of strawberry farms that once surrounded the city in its earlier days. Over the past decade, and continuing...


, WA
3,206,057
14
Cleveland-Akron-Canton-Lorain-Elyria
Cleveland

Cleveland, Ohio

Cleveland is a city in the U.S. state of Ohio and is the county seat of Cuyahoga County, the most populous county in the state. The city is located in northeastern Ohio on the southern shore of Lake Erie, approximately west of the Pennsylvania border...


, OH; Akron

Akron, Ohio

Akron , is the fifth largest city in the U.S. state of Ohio and the county seat of Summit County. It is located in the Great Lakes region approximately south of Lake Erie along the Little Cuyahoga River. As of the 2010 census, the city had a population of 199,110. The Akron Metropolitan...


, OH; Canton

Canton, Ohio

Canton is the county seat of Stark County in northeastern Ohio, approximately south of Akron and south of Cleveland.The City of Caton is the largest incorporated area within the Canton-Massillon Metropolitan Statistical Area...


, OH; Lorain

Lorain, Ohio

Lorain is a city in Lorain County, Ohio, United States. The municipality is located in northeastern Ohio on Lake Erie, at the mouth of the Black River, about 30 miles west of Cleveland....


-Elyria

Elyria, Ohio

-Community:Elyria has an extensive, although financially burdened, community food pantry and "Hot Meals" program administered through the Second Harvest Food Bank and several churches Elyria is served by Elyria Memorial Hospital.-Recreation and parks:...


, OH
2,722,194
15
Tampa-St. Petersburg-Lakeland-Winter Haven
Tampa

Tampa, Florida

Tampa is a city in the U.S. state of Florida. It serves as the county seat for Hillsborough County. Tampa is located on the west coast of Florida. The population of Tampa in 2010 was 335,709....


-St. Petersburg

St. Petersburg, Florida

St. Petersburg is a city in Pinellas County, Florida, United States. It is known as a vacation destination for both American and foreign tourists. As of 2008, the population estimate by the U.S. Census Bureau is 245,314, making St...


, FL; Lakeland

Lakeland, Florida

Lakeland is a city in Polk County, Florida, United States, located approximately midway between Tampa and Orlando along Interstate 4. According to the 2008 U.S. Census Bureau estimate, the city had a population of 94,406...


, FL; Winter Haven

Winter Haven, Florida

Winter Haven is a city in Polk County, Florida, United States. The population was 26,487 at the 2000 census. According to the U.S. Census Bureau's 2007 estimates, the city had a population of 32,577, making it the second most populated city in Polk County...


, FL; Brooksville

Brooksville, Florida

Brooksville is an incorporated city in Hernando County, Florida, in the United States. It is the county seat of Hernando County. It is a suburban city included in the Tampa-St. Petersburg-Clearwater, Florida Metropolitan Statistical Area.-Geography:...


, FL
2,719,812
16
Cincinnati-Dayton-Middletown
Cincinnati

Cincinnati, Ohio

Cincinnati is a city in the U.S. state of Ohio. Cincinnati is the county seat of Hamilton County. Settled in 1788, the city is located to north of the Ohio River at the Ohio-Kentucky border, near Indiana. The population within city limits is 296,943 according to the 2010 census, making it Ohio's...


, OH-KY-IN; Dayton

Dayton, Ohio

Dayton is the 6th largest city in the U.S. state of Ohio and the county seat of Montgomery County, the fifth most populous county in the state. The population was 141,527 at the 2010 census. The Dayton Metropolitan Statistical Area had a population of 841,502 in the 2010 census...


, OH; Middletown

Middletown, Ohio

Middletown is an All-America City located in Butler and Warren counties in the southwestern part of the U.S. state of Ohio. Formerly in Lemon, Turtlecreek, and Franklin townships, Middletown was incorporated by the Ohio General Assembly on February 11, 1833, and became a city in 1886...


, OH; Springfield

Springfield, Ohio

Springfield is a city in the U.S. state of Ohio and the county seat of Clark County. The municipality is located in southwestern Ohio and is situated on the Mad River, Buck Creek and Beaver Creek, approximately west of Columbus and northeast of Dayton. Springfield is home to Wittenberg...


, OH
2,426,070
17
Denver-Boulder-Longmont
Denver

Denver, Colorado

The City and County of Denver is the capital and the most populous city of the U.S. state of Colorado. Denver is a consolidated city-county, located in the South Platte River Valley on the western edge of the High Plains just east of the Front Range of the Rocky Mountains...


-Aurora

Aurora, Colorado

City of Aurora is a Home Rule Municipality spanning Arapahoe, Adams, and Douglas counties in Colorado. Aurora is an eastern suburb of the Denver-Aurora-Broomfield, CO Metropolitan Statistical Area . The city is the third most populous city in the Colorado and the 56th most populous city in the...


, CO; Boulder

Boulder, Colorado

Boulder is the county seat and most populous city of Boulder County and the 11th most populous city in the U.S. state of Colorado. Boulder is located at the base of the foothills of the Rocky Mountains at an elevation of...


, CO; Longmont

Longmont, Colorado

Longmont is a Home Rule Municipality in Boulder and Weld counties in the U.S. state of Colorado. Longmont is located in Northern Colorado. Longmont is the 13th most populous city in the State of Colorado. The word "Longmont" comes from Longs Peak, a prominent mountain named for explorer Stephen H....


, CO; Lafayette

Lafayette, Colorado

The City of Lafayette is a Home Rule Municipality located in Boulder County, Colorado, United States. The United States Census Bureau estimates that the city population was 23,884 on 2005-07-01.- Geography :Lafayette is located at ....


-Louisville

Louisville, Colorado

Louisville is a Home Rule Municipality in Boulder County, Colorado, United States. The population was 18,937 at the 2000 census. Louisville began as a rough mining community in 1877, suffered through a period of extraordinary labor violence early in the 20th century, and then, when the mines...


, CO
2,339,587
18
St. Louis-Alton
St. Louis

St. Louis, Missouri

St. Louis is an independent city on the eastern border of Missouri, United States. With a population of 319,294, it was the 58th-largest U.S. city at the 2010 U.S. Census. The Greater St...


, MO-IL; Alton

Alton, Illinois

Alton is a city on the Mississippi River in Madison County, Illinois, United States, about north of St. Louis, Missouri. The population was 27,865 at the 2010 census. It is a part of the Metro-East region of the Greater St. Louis metropolitan area in Southern Illinois...


, IL
2,184,037
19
Orlando-Ocala-Kissimmee
Orlando

Orlando, Florida

Orlando is a city in the central region of the U.S. state of Florida. It is the county seat of Orange County, and the center of the Greater Orlando metropolitan area. According to the 2010 US Census, the city had a population of 238,300, making Orlando the 79th largest city in the United States...


, FL; Ocala

Ocala, Florida

Ocala is a city in Marion County, Florida. As of 2007, the population recorded by the U.S. Census Bureau was 53,491. It is the county seat of Marion County, and the principal city of the Ocala, Florida Metropolitan Statistical Area, which had an estimated 2007 population of 324,857.-History:Ocala...


, FL; Kissimmee

Kissimmee, Florida

Kissimmee is a city in Osceola County, Florida, United States. As of the 2010 census, the population was 59,682. It is the county seat of Osceola County...


, FL; Lady Lake

Lady Lake, Florida

Lady Lake is a town in Lake County, Florida, United States. The population was 11,828 at the 2000 census. As of 2005, the population recorded by the U.S. Census Bureau is 13,244...


, FL; Leesburg

Leesburg, Florida

Leesburg is a city in Lake County, Florida, United States. The population was 15,956 at the 2000 census. As of 2005, the population recorded by the U.S. Census Bureau is 19,086.. Leesburg is located in central Florida, between Lake Harris and Lake Griffin, at the head of the Oklawaha River system....


-Eustis

Eustis, Florida

Eustis is a city in Lake County, Florida, United States. The population was 15,106 at the 2000 census. The Census Bureau estimated the population in 2008 to be 19,129. It is part of the Orlando–Kissimmee Metropolitan Statistical Area.-Geography:...


, FL
1,814,061
20
Pittsburgh-Uniontown-Monessen
Pittsburgh

Pittsburgh, Pennsylvania

Pittsburgh is the second-largest city in the US Commonwealth of Pennsylvania and the county seat of Allegheny County. Regionally, it anchors the largest urban area of Appalachia and the Ohio River Valley, and nationally, it is the 22nd-largest urban area in the United States...


, PA; Uniontown

Uniontown, Pennsylvania

Uniontown is a city in Fayette County, Pennsylvania, southeast of Pittsburgh and part of the Pittsburgh Metro Area. Population in 1900, 7,344; in 1910, 13,344; in 1920, 15,692; and in 1940, 21,819. The population was 10,372 at the 2010 census...


-Connellsville

Connellsville, Pennsylvania

Connellsville is a city in Fayette County, Pennsylvania, USA, 57 miles southeast of Pittsburgh on the Youghiogheny River, a tributary of the Monongahela River. It is part of the Pittsburgh Metro Area. In 1890, 5,629 people lived in Connellsville, which was a borough at that time...


, PA; Monessen

Monessen, Pennsylvania

Monessen is a city in Westmoreland County, Pennsylvania, United States. The population was 8,669 at the 2000 census. In 1940, 20,257 people lived there. In 1990 the population was 13,026. Steel-making was a prominent industry in Monessen, which was a Rust Belt borough in the "Mon Valley" of...


, PA
1,792,892
21
Kansas City-Lee's Summit
Kansas City

Kansas City, Missouri

Kansas City, Missouri is the largest city in the U.S. state of Missouri and is the anchor city of the Kansas City Metropolitan Area, the second largest metropolitan area in Missouri. It encompasses in parts of Jackson, Clay, Cass, and Platte counties...


, MO-KS; Lee's Summit

Lee's Summit, Missouri

Lee's Summit is a city in the U.S. state of Missouri, and is contained within the counties of Jackson and Cass. As of the 2010 census found the population at 91,364 making it the sixth-largest city in the Kansas City Metropolitan Area and the sixth-largest city in Missouri...


, MO
1,468,106
22
Salt Lake City-Ogden-Layton
Salt Lake City

Salt Lake City, Utah

Salt Lake City is the capital and the most populous city of the U.S. state of Utah. The name of the city is often shortened to Salt Lake or SLC. With a population of 186,440 as of the 2010 Census, the city lies in the Salt Lake City metropolitan area, which has a total population of 1,124,197...


, UT; Ogden

Ogden, Utah

Ogden is a city in Weber County, Utah, United States. Ogden serves as the county seat of Weber County. The population was 82,825 according to the 2010 Census. The city served as a major railway hub through much of its history, and still handles a great deal of freight rail traffic which makes it a...


-Layton

Layton, Utah

-External links:*...


, UT
1,439,004
23
Indianapolis-Anderson
Indianapolis

Indianapolis, Indiana

Indianapolis is the capital of the U.S. state of Indiana, and the county seat of Marion County, Indiana. As of the 2010 United States Census, the city's population is 839,489. It is by far Indiana's largest city and, as of the 2010 U.S...


, IN; Anderson

Anderson, Indiana

Anderson is a city in and the county seat of Madison County, Indiana, United States. It is the principal city of the Anderson, Indiana Metropolitan Statistical Area which encompasses Madison county. Anderson is the headquarters of the Church of God and home of Anderson University, which is...


, IN
1,367,392
24
Charlotte-Gastonia-Concord
Charlotte

Charlotte, North Carolina

Charlotte is the largest city in the U.S. state of North Carolina and the seat of Mecklenburg County. In 2010, Charlotte's population according to the US Census Bureau was 731,424, making it the 17th largest city in the United States based on population. The Charlotte metropolitan area had a 2009...


, NC-SC; Gastonia

Gastonia, North Carolina

Gastonia is the largest city and county seat of Gaston County, North Carolina, United States. It is also the third largest suburb of the Charlotte Area, behind Concord and Rock Hill. The population was 71,226 as of Gastonia is the largest city and county seat of Gaston County, North Carolina,...


, NC; Concord

Concord, North Carolina

Concord is a city in the U.S. state of North Carolina. According to Census 2010, the city has a current population of 79,066. It is the largest city in Cabarrus County and is the county seat. In terms of population, the city of Concord is the second largest city in the Charlotte Metropolitan Area...


, NC; Rock Hill

Rock Hill, South Carolina

Rock Hill is the largest city in York County, South Carolina and the fourth-largest city in the state. It is also the third-largest city of the Charlotte metropolitan area, behind Charlotte and Concord, North Carolina. The population was 71,459 as of . Rock Hill has undergone rapid growth between...


, SC
1,282,839
25
Nashville-Murfreesboro
Nashville

Nashville, Tennessee

Nashville is the capital of the U.S. state of Tennessee and the county seat of Davidson County. It is located on the Cumberland River in Davidson County, in the north-central part of the state. The city is a center for the health care, publishing, banking and transportation industries, and is home...


-Davidson

Davidson County, Tennessee

Davidson County is a county located in the U.S. state of Tennessee. As of 2010, the population was 626,681. Its county seat is Nashville.In 1963, the City of Nashville and the Davidson County government merged, so the county government is now known as the "Metropolitan Government of Nashville and...


, TN; Murfreesboro

Murfreesboro, Tennessee

Murfreesboro is a city in and the county seat of Rutherford County, Tennessee, United States. The population was 108,755 according to the United States Census Bureau's 2010 U.S. Census, up from 68,816 residents certified during the 2000 census. The center of population of Tennessee is located in...


, TN
983,180
See also
Table of United States Combined Statistical Areas

Table of United States Combined Statistical Areas

thumb|An enlargeable map of the 125 [[Combined Statistical Area]]s of the [[United States]]The United States Office of Management and Budget has defined 125 Combined Statistical Areas for the United States of America...


(CSA)
Table of United States Metropolitan Statistical Areas

Table of United States Metropolitan Statistical Areas

thumb|An enlargeable map of the 942 [[Core Based Statistical Area]]s of the [[United States]]. The 367 [[Metropolitan Statistical Area]]s are shown in red....


(MSA)
Table of United States Micropolitan Statistical Areas

Table of United States Micropolitan Statistical Areas

thumb|An enlargeable map of the 942 [[Core Based Statistical Area]]s of the [[United States]]. The 576 [[Micropolitan Statistical Area]]s are shown in blue....


(μSA)
Combined Statistical Area

Combined Statistical Area

The United States Office of Management and Budget defines micropolitan and metropolitan statistical areas. Metropolitan and micropolitan statistical areas consist of one or more counties...



Core Based Statistical Area

Core based statistical area

A Core Based Statistical Area is a U.S. geographic area defined by the Office of Management and Budget based around an urban center of at least 10,000 people and adjacent areas that are socioeconomically tied to the urban center by commuting. Areas defined on the basis of these standards applied...



Metropolitan Statistical Area
Micropolitan Statistical Area
External links