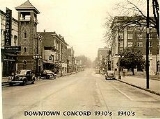 Concord, North Carolina
Concord
is a city in the
U.S. state
U.S. state
A U.S. state is any one of the 50 federated states of the United States of America that share sovereignty with the federal government. Because of this shared sovereignty, an American is a citizen both of the federal entity and of his or her state of domicile. Four states use the official title of...
of
North Carolina
North Carolina
North Carolina is a state located in the southeastern United States. The state borders South Carolina and Georgia to the south, Tennessee to the west and Virginia to the north. North Carolina contains 100 counties. Its capital is Raleigh, and its largest city is Charlotte...
. According to Census 2010, the city has a current population of 79,066. It is the largest city in
Cabarrus County
Cabarrus County, North Carolina
-Demographics:As of the census of 2000, there were 131,063 people, 49,519 households, and 36,545 families residing in the county. The population density was 360 people per square mile . There were 52,848 housing units at an average density of 145 per square mile...
and is the
county seat
County seat
A county seat is an administrative center, or seat of government, for a county or civil parish. The term is primarily used in the United States....
. In terms of population, the city of Concord is the second largest city in the
Charlotte Metropolitan Area
Charlotte metropolitan area
The Charlotte metropolitan area is a metropolitan area/region of North and South Carolina within and surrounding the city of Charlotte...
. According to the North Carolina State Demographer's Office, Concord is the twelfth largest city in North Carolina. The city was also a winner of the
All-America City Award
All-America City Award
The All-America City Award is given by the National Civic League annually to ten cities in the United States.The oldest community recognition program in the nation, the award recognizes communities whose citizens work together to identify and tackle community-wide challenges and achieve uncommon...
in 2004. Located near the center of Cabarrus County, it is twenty miles (32 km) northeast of Uptown Charlotte.
Concord is located at 35°24′16"N 80°36′2"W (35.404340, -80.600474).
The city is located in the
piedmont
Piedmont (United States)
The Piedmont is a plateau region located in the eastern United States between the Atlantic Coastal Plain and the main Appalachian Mountains, stretching from New Jersey in the north to central Alabama in the south. The Piedmont province is a physiographic province of the larger Appalachian division...
area of North Carolina which is characterized by rolling hills and forest.